THE TOP 22 IN 2022: Here is the ALL ISRAEL NEWS list of the 22 most powerful, provocative and popular Israelis to watch this year
Who's up? Who's down? And who is new to the list?
JERUSALEM—Who will be the biggest Israeli newsmakers this year? 
Our team here at ALL ISRAEL NEWS has been discussing many contenders in recent weeks, including Israelis who are major players or rising stars in the area of politics, law, culture, business, entertainment and sports.
We have also been comparing the finalists against those on our list last year.
Here, now, is our list of the 22 Israelis – both Jews and Arabs – who have caught our eye and will likely prove the most powerful, provocative and/or popular in 2022.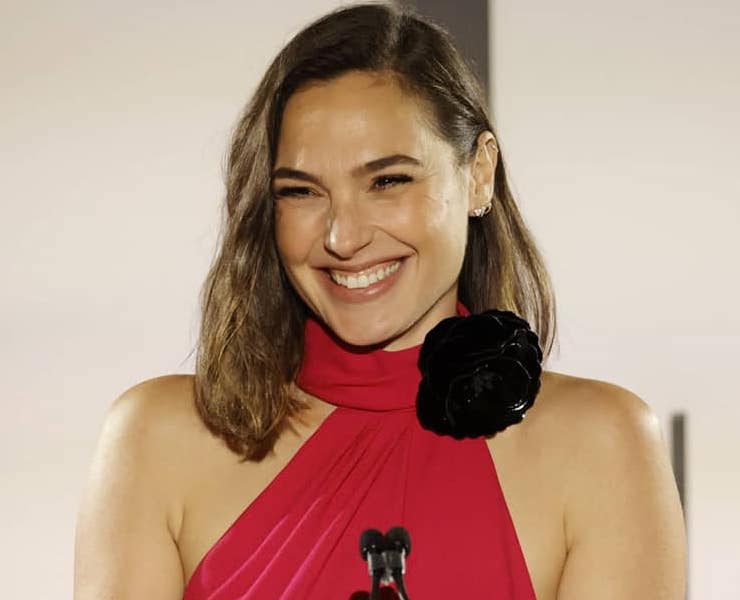 Gal Gadot (Photo: Gal Gadot/Facebook)
1. GAL GADOT
She was No. 1 on our list last year, and she remains there today. Why? Because Gal Gadot is not only the most famous Israeli on the planet, she's one of the most popular and in-demand actresses on the planet. And her influence is only set to grow in 2022.
Now 36, Gadot first appeared in "Fast and Furious" back in 2009 and had small parts in many films after that. She became a global superstar after starring in "Wonder Woman" in 2017, which raked in more than $822 million worldwide, followed by the sequel, "Wonder Woman 1984" which was released in 2020.
Last year, Gadot starred alongside Dwayne Johnson and Ryan Reynolds in the Netflix action-comedy film, "Red Notice," released in November.
On Feb. 11, her new film, "Death on the Nile" – a remake of the classic film based on the beloved Agatha Christie mystery novel – will open. Gadot has others in the works, including a remake of Alfred Hitchcock's "To Catch a Thief" and "Cleopatra," two vehicles that could propel Gadot into a new level of stardom. 
After being crowned Miss Israel 2004 at the age of 18, Gadot served two years in the Israel Defense Forces as a soldier. She began studying law and attended the IDC Herzliya college.
But her modeling and acting careers took off instead and the rest is history. 
Gadot is married to Israeli real estate developer Yaron Varsano. Their third daughter was born last year.
Gadot recently revealed on Twitter that her favorite American "fast food" is mac and cheese. In November, Gadot and her husband released GOODLES – a healthy mac and cheese brand that comes in four flavors and with vegetables and is reported to pack 6 grams of fiber and 14 grams of protein.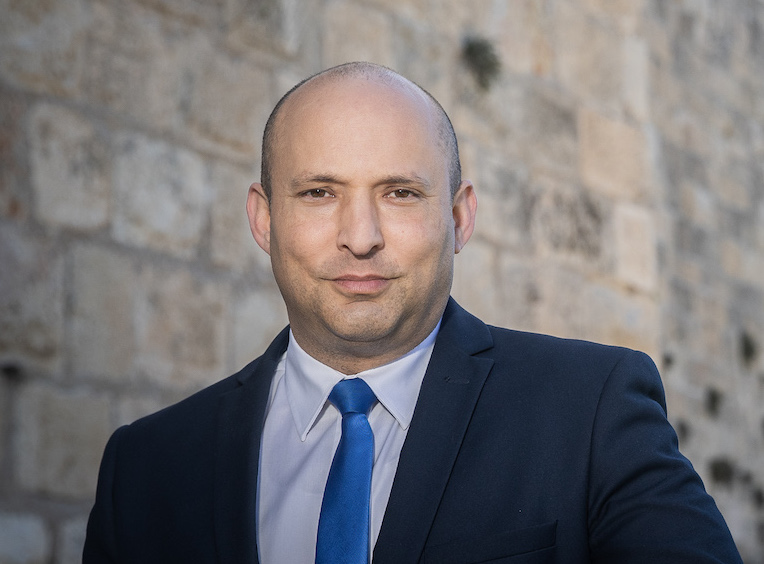 Naftali Bennett (Photo: Yonatan Sindel/Flash90)
2. NAFTALI BENNETT
We saw Bennett's potential to become a major player. He was on our list of 21 Israelis to watch in 2021. That said, we underestimated him, placing him only at No. 17. 
Yet Bennett pulled off the the most stunning political move not only of 2021 but arguably in all of modern Israeli history. This 49-year-old former high-tech CEO toppled Benjamin Netanyahu, the longest-serving premier since 1948. Bennett was then able to slingshot himself around the 119 other Knesset members to emerge as the new prime minister of Israel, despite the fact that his Yamina ("Rightward") party has only seven seats, and one of its members refused to back Bennett for PM.
Most political analysts said the coalition would collapse within weeks. But it hasn't. Since coming to power in June, Bennett has proven himself both shrewd and resilient. Indeed, he is the Israeli leader to watch. He formed a unique governing coalition that is diverse (with eight parties included), controversial (with an Arab Islamist party in the mix), and razor thin (with only 60 seats). And to the shock and defiance of the vast majority of political pundits, he has (so far) kept the coalition together despite everything the Opposition has thrown at them. 
A former special forces commando in the IDF's elite Sayeret Matkal unit, Bennett's resume is intriguing.  This successful entrepreneur-turned-millionaire previously served as Israel's education minister, and later as defense minister and is now the first kippah-wearing premier of Israel, given that he is the first modern-Orthodox Jew to ever lead the state. But the clock is ticking on his time in high office. To become PM, Bennett created a rotation deal with Yesh Atid party leader Yair Lapid. For now, Lapid is serving as foreign minister. But in September 2023, Lapid will become Prime Minister and Bennett will become foreign minister.
In the meantime, Bennett's mission is to live up to his campaign promises which was more or less summed up as "anything but Bibi." And so far, he's been remarkably successful. His management of the pandemic has certainly been starkly different from Netanyahu who used national lockdowns of the economy and education system. In sharp contrast, Bennett has managed to keep these open. Israelis, by and large, have been able to get back to work. Most children are back in their classrooms, foreigners are now able to re-enter the country (subject to some restrictions), and the tourism industry is in the early stages of trying to get back on its feet. What's more, he successfully passed the 2021 budget and a two-year budget to take the country through 2023. Netanyahu hadn't passed a state budget in more than three years.
Becoming the first Israeli premier to make a state visit to the United Arab Emirates, Bennett has worked hard to strengthen the Abraham Accords and build stronger ties with Israel's Arab peace partners. He has traveled to Amman to meet with Jordan's King Abdullah II and to Cairo to meet with Egyptian President Abdel Fattah el-Sisi. Trade is surging with the Arab world, up 511% with the UAE alone in the past year. He has also authorized members of his Cabinet to meet with senior Palestinian officials in Ramallah, even though  he opposes a Palestinian state and has said he "would not give another centimeter to the Arabs." 
What Bennett has not done – not yet, anyway – is begin actively building relationships with the leaders of the world's 600 million Evangelical Christians. To be sure, his first six months in office were incredibly busy and enormously challenging. And he did record a video for the government's Christian Media Summit. But that's not nearly enough. With Christian tourists now being permitted back into the Holy Land, Bennett should begin meeting with key Evangelical leaders and finding ways to deepen and expand this vital strategic alliance.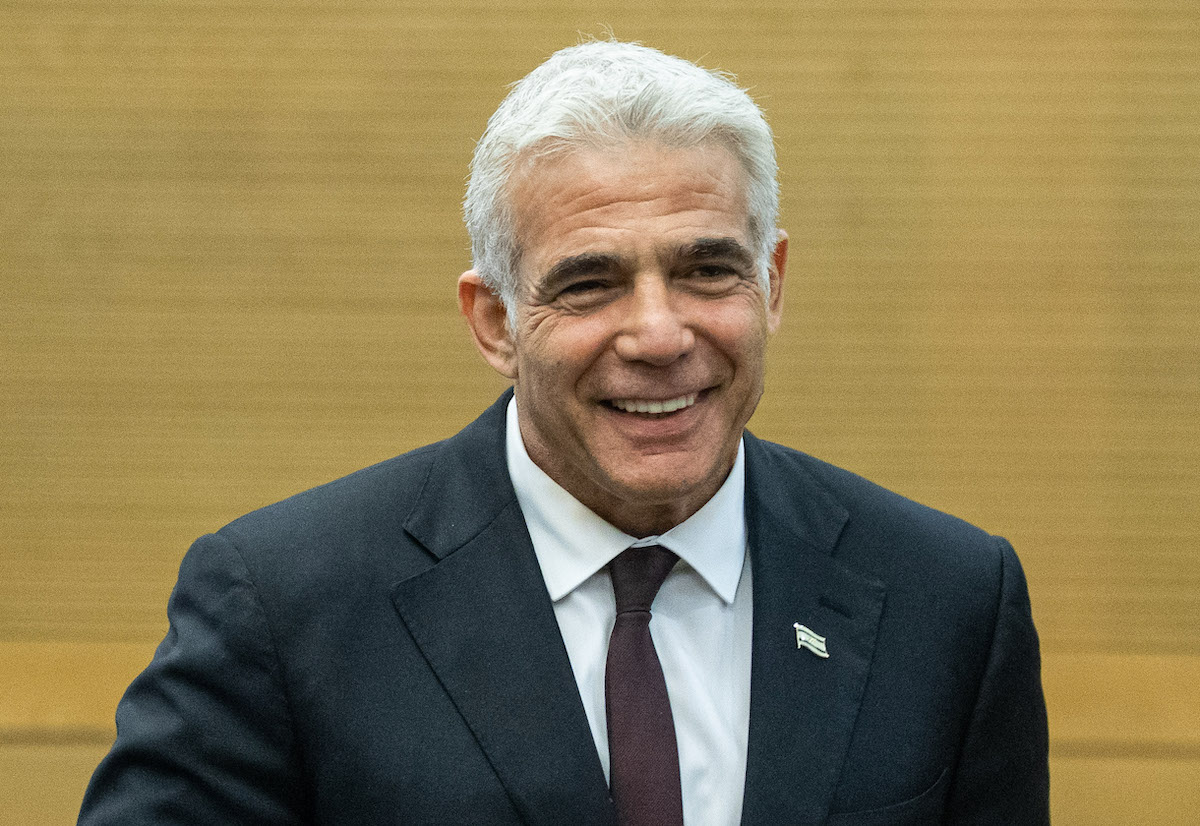 Yair Lapid (Photo: Yonatan Sindel/Flash90)
3. YAIR LAPID
Last year, we placed Yair Lapid, then leader of the opposition, at No. 11 on our list of the 21 Israelis to keep a close eye on. This year he has surged into one of the top spots, having emerged as Israel's foreign minister and alternate-prime minister, on track to become the nation's next prime minister in September 2023.
Netanyahu had long served as his own de facto foreign minister. Bennett, however, has focused mostly on economic and domestic matters, giving Lapid almost full reign over foreign relations. 
Lapid has thrived in the position, becoming the first Israeli foreign minister to make official visits to the United Arab Emirates, Bahrain, and Morocco and doing an excellent job actively building upon the Abraham Accords. 
A force that cannot be ignored in Israeli politics, Lapid in 2012 founded his centrist yet Zionist party – Yesh Atid (There is a Future) – on a mission to clean up the political system, create a balance between religious and secular Jews, support the rights of women, LGBT and other minority groups, strengthen Israeli law enforcement and improve education and science.
In the 2013 election, Yesh Atid became the second-largest party in the Knesset with 19 seats. Lapid appeared in TIME magazine's 2013 list of the 100 most influential people in the world and Foreign Policy's 100 Leading Global Thinkers.
In this latest election, Yesh Atid won 17 seats – the second biggest party in the Knesset after Bibi's Likud faction – and Lapid received the mandate to form a new government. To the shock of most pundits, he successfully formed a highly-diverse and theoretically unwieldy governing coalition by giving Naftali Bennett the first rotation as prime minister. 
This humble yet shrewd decision broke the deadlock that had set Israel in a two-year cycle of elections with no government.
Before entering politics, Lapid was a journalist who also published 12 bestselling books. The most popular was Memories After My Death, about his late father, Tommy Lapid, a journalist who created his own centrist party called Shinui (Change) and became a popular Knesset member.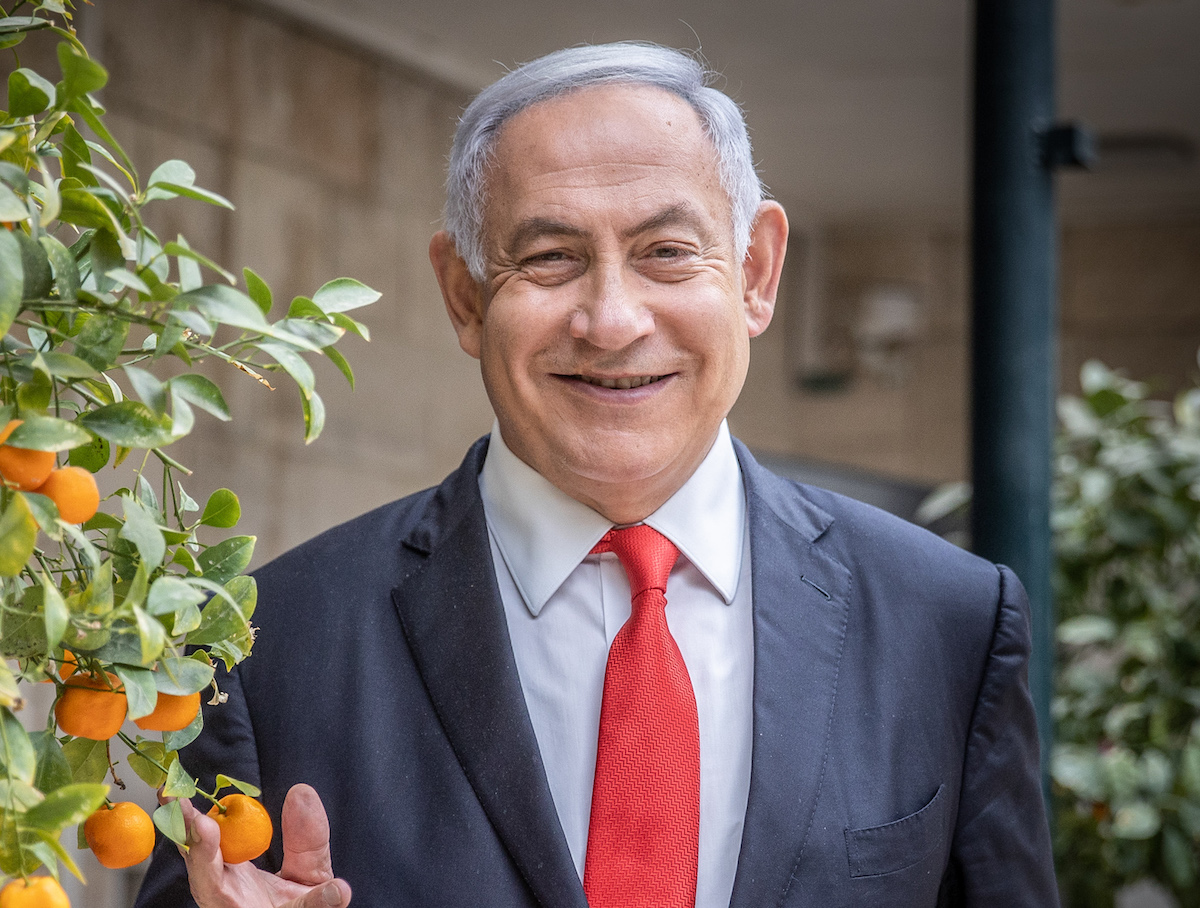 Benjamin Netanyahu (Photo: Yonatan Sindel/Flash90)
4. BENJAMIN "BIBI" NETANYAHU
Everything has changed for Benjamin Netanyahu.
Last year, he was prime minister. Many in his Likud party called him "King Bibi."
Since then, he has been dethroned and is merely head of the opposition.
Now 72, Bibi was the longest-serving prime minister in Israel's history. But The Mentor has been toppled by The Protégé (Bennett). He has thus been  stripped of his security detail and all the trappings of high office. 
What's more, he has been beset by a trial on three separate corruption indictments, charges that, if proven, could send him to prison. For the last several weeks, the media was filled with reports that Bibi was seriously considering a plea deal that would have dropped some of the lesser charges and kept him out of jail, but would also force him out of politics for seven years. 
Now that the negotiations have broken down with the outgoing attorney general, the big question is this: What does the future hold for Netanyahu? One of our staff put it this way: "If Bibi is possibly on his way out of politics, why would we put him on this year's list?" The answer is simple: Netanyahu is a shrewd political cat, and it is by no means clear that his nine political lives are up. He always seems to find his way back into the spotlight. Could he end up toppling the Bennett-Lapid government after all and re-take the top spot? Or will he decide to retire, go into the business world, make millions, write books, and hit the global lecture circuit?
In any case, Netanyahu has a remarkably positive legacy that cannot be erased. He served over 14 years in office as prime minister, from 1996 to 1999, then from 2009 to 2021. 
He negotiated four Arab-Israeli peace agreements. He persuaded the U.S. to move its embassy to Jerusalem. He also persuaded Washington to recognize Israeli sovereignty over the Golan Heights and sell F-35 stealth fighters to Israel. If that weren't enough, he sent the Mossad into Iran on a daring raid to steal a treasure trove of Tehran's nuclear secrets. He kept Israel out of any major new war, and vastly expanded Israeli relations with India, China, Africa, Latin America and so many other countries. He also did more than any other leader in modern Israeli history to build a strategic alliance with the world's 600 million Evangelical Christians, something that no other Israeli leader has ever tried, though they should have. And these are just a few of his many extraordinary achievements.
Even his political enemies credit Bibi for making history. 
"This moment is his, no less than it is ours," Foreign Minister Yair Lapid said during a ceremony to inaugurate the first-ever Israeli embassy in Abu Dhabi, one of the first fruits of the Abraham Accords.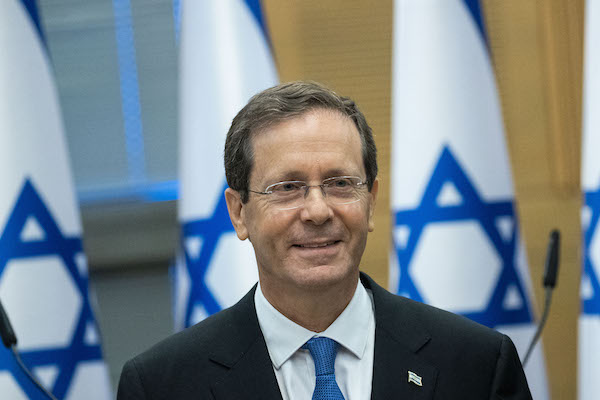 Isaac Herzog (Photo: Avshalom Sassoni/Flash90)
5. ISAAC HERZOG
Hailing from a nearly royal line in Israeli politics and society, Isaac "Buji" Herzog was sworn in as Israel's 11th president around the same time the new coalition was also taking office in June.
His father, Chaim Herzog, was Israel's sixth president, as well as once Israel's ambassador to the United Nations. 
His grandfather, Rabbi Yitzhak Herzog, was the first chief rabbi of Ireland and later served as the Ashkenazi chief rabbi in Israel.
When Buji" Herzog replaced the beloved Reuven Rivlin, who served as Israel's 10th president for seven years, he knew he had big shoes to fill. But he is off to a very impressive start, bringing not simply his family lineage to bear but his own immense experience and connections to the office.
Born in 1960 and trained as a lawyer, Herzog spent 15 years in the Knesset, serving in various roles such as minister of Housing and Construction, Tourism, Diaspora Affairs, as well as minister of Welfare and Social Services. He rose to lead the Labor Party. He later led a coalition of center-left parties called the Zionist Union. He served as head of the Opposition during many of the Netanyahu years and later was elected head of the Jewish Agency, one of the most influential and prestigious roles in the Jewish world, where he served for three years.
Mild-mannered and widely respected at home and abroad, Herzog is proving to be a critical asset to the state, serving almost as a second foreign minister, strengthening long-term Israeli relations and alliances around the world in a non-partisan fashion. On Sunday, Herzog and his wife will make the first-ever presidential visit to the United Arab Emirates. Next month, Herzog may travel to Turkey to improve relations with President Recep Tayyip Erdogan. 
From the beginning, Herzog set out to establish a non-partisan tone to his role.
"I will be the president of everyone," Herzog said, promising that as president he would do everything he could to ensure the integration of Israel's minorities.  
More than any other Israeli leader aside from Netanyahu, Herzog has shown interest in reaching out to Christians. In November 2021, Herzog hosted an event with Muslim, Jewish, Christian, Druze and Bahai leaders in Israel. In December, he hosted Christian clergy for both Christmas and New Year receptions.
"Interfaith cooperation is hugely powerful," said Herzog. "I think that the fact that this fantastic call is coming out of the Holy Land truly sets an example and serves as a model."
One more thing: As president, Herzog has the legal authority to pardon and grant clemency. Will that become a factor in the course of Netanyahu's corruption trial? We'll be watching.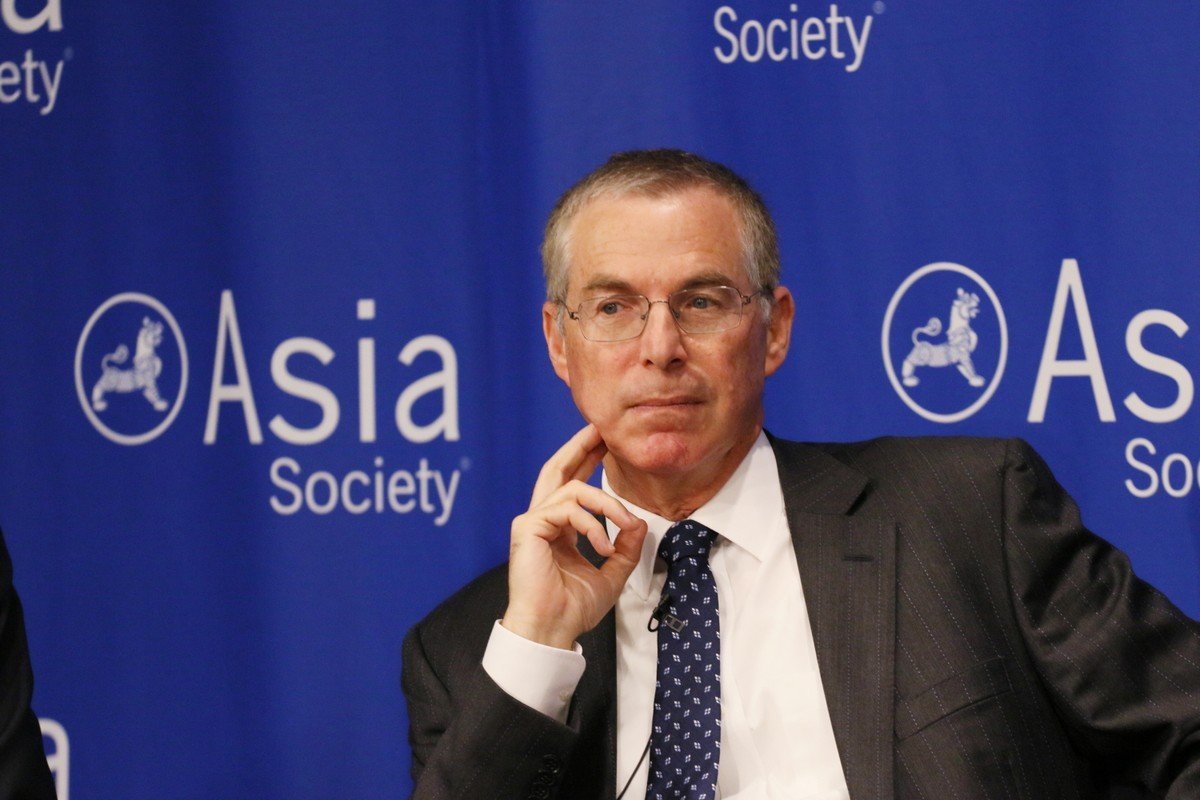 Michael Herzog (Photo: Asia Society/Flickr)
6. MICHAEL HERZOG
The Herzog brothers have suddenly emerged as Israel's "Diplomatic Duo," among two of the most powerful and influential leaders on the Israeli scene.
Michael Herzog – the older brother of President Isaac Herzog – is the newest Israeli ambassador to the United States having been appointed in November.
Prime Minister Bennett said he appointed Herzog because of "his rich, years-long experience in the security and diplomatic fields and his deep familiarity with the strategic challenges Israel is facing, foremost the Iranian nuclear threat."
At 69, Herzog boasts a 40-year career in the Israeli military, serving as a general, as head of IDF strategic planning, and later as chief of staff, as well as military secretary to four former defense ministers. 
He once served as permanent representative of Israel to the United Nations.
Under Netanyahu, Herzog was a special envoy for the peace process in 2009-2010 and served as a negotiator in the secret channel between Israel and the Palestinians in 2013-2014.
All of this – plus his unique and extraordinary family background – has prepared him exceptionally well to serve as ambassador to Israel's most important ally.
In his new role, Herzog wants to focus on building broad bipartisan support for Israel in the U.S. and to counter the "international campaign to delegitimize Israel," which he says is also prevalent in the U.S.
Herzog also believes that a dialogue needs to be fostered between Jewish groups.
"The tent is a big one and we have to talk to everyone inside the tent," he once said.
"I would like Jews in America to feel that when we talk about Israel as a nation-state of the Jewish people that they are, in one way or another, stakeholders," he said.
It will also be vital for Herzog to actively and consistently reach out to the American Christian community, just as his predecessor, Ron Dermer, did during the Netanyahu years.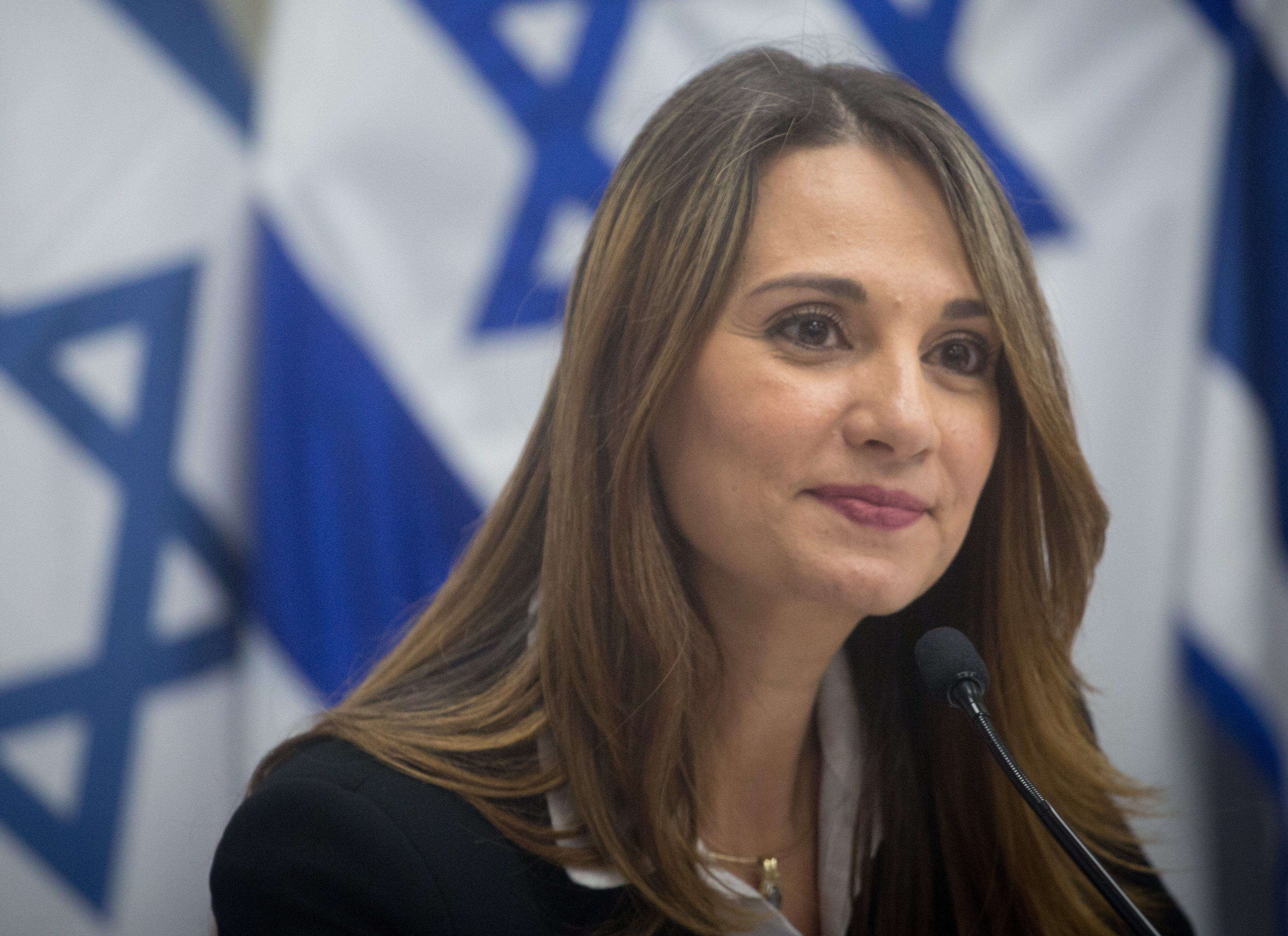 Yifat Shasha-Biton (Photo: Miriam Alster/Flash90)
7. YIFAT SHASHA-BITON
Last year, we ranked Yifat Shasha-Biton at No. 7. This year, she remains in that slot, proving to be a star in Israel's political orbit.
Today, as a member of the New Hope party, she serves as education minister in the new government. This has kept her in the spotlight – and in the hot seat.
The 48-year-old from Kiryat Shmona holds a doctorate in education from the University of Haifa and served as the vice president of an Israeli college making her uniquely qualified for the position – a rare quality for an Israeli Cabinet minister. 
Shasha-Biton is also an advocate for the rights and protection of women and children. She has adamantly opposed administering the COVID-19 vaccine at schools, arguing that it would distract from learning and could create pressure between children who get the shot and those who do not. 
She even said earlier this year that vaccinating students at school is a "crime," drawing the ire of other ministers and the Ministry of Health, which is now rolling out the vaccine to all children ages 5 and up – at schools. 
Shasha-Biton has had a tough half year in her new role. In August, her advisor (and No. 17 on the New Hope party's Knesset list) Sahar Ismael was shot dead in his hometown in the North in what appeared to be a targeted attack, but unrelated to his role in the education ministry.
Last month, Shasha-Biton dismissed the Education Ministry's director-general following accusations he made about the education system's handling of the COVID-19 crisis. 
Shasha-Biton shot to fame at the outset of the pandemic as she led the coronavirus committee discussions and questioned government decisions on lockdowns and restrictions, frequently butting heads with members of her own party at the time, Likud.
Benny Gantz (Photo: Flash90)
8. BENNY GANTZ
If slow and steady wins the race, the prize goes to Benny Gantz.
Last year, we ranked Gantz No. 18. Today, he shoots way up the list, still serving as defense minister but under an entirely different government. 
After then-Prime Minister Netanyahu reneged on his rotation deal with Gantz – and Gantz was widely ridiculed for having been suckered by Bibi – many thought the defense minister would retire from politics and disappear. Instead, he reinvigorated his Blue and White party, brought in new faces, won 10 seats and threw his support behind Bennett and Lapid to oust Bibi and form a new government. 
A highly decorated former IDF chief of staff, and a political centrist, Gantz is learning how to be an increasingly canny politician and a remarkably effective Cabinet minister. Bennett made him the go-to guy to head up a discreet and behind-the-scenes outreach strategy to the Jordanian government. Gantz has risen to the task, helping to significantly improve ties with Amman after chilly and worsening relations during the Netanyahu years.  
Indeed, Gantz's visit to meet with the Jordanian monarch and other senior officials in Amman paved the way for other high level Israeli officials to visit the Kingdom, including Bennett himself. As a result, Israel recently struck a hugely important energy deal with Jordan.
Today, Gantz is laser focused on military threats facing Israel, the foremost of which comes from Iran. The defense minister has made it clear to his American counterpart that Israel will launch preemptive and devastating military strikes if Iran gets too close to building a nuclear weapon and the U.S. refuses to take decisive action of its own.
"The use of force should be on the table," he said. 
That said, he knows how messy such a war with Iran and its terror proxies could be. He is not, therefore, advocating such strikes. Not yet. He just wants Israel to be ready.
"There is room for international pressure – political, economic and also military – in order to convince Iran to stop its fantasies about a nuclear program," Gantz says.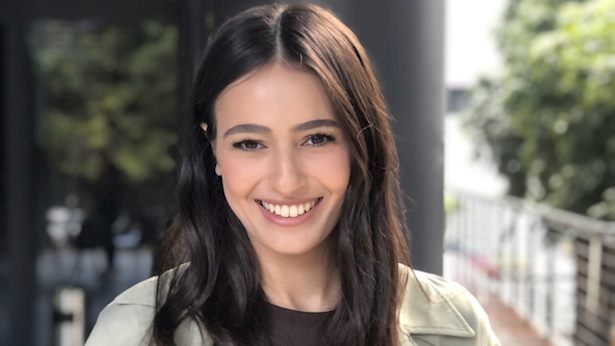 Lucy Ayoub (Public relations photo)
9. LUCY AYOUB
Born in Haifa in 1992, Lucy Ayoub is quickly emerging as one of Israel's most promising new acting talents. She will be co-starring in the upcoming season of Fauda on Netflix, alongside Lior Raz who appeared on our list last year. Two years ago, Ayoub was chosen as one of the co-hosts of the annual 2019 Eurovision Song Competition which took place in Tel Aviv.
Her personal story is fascinating. Ayoub's father is an Arab-Christian. Her mother is an Ashkenazi Jew who converted to Christianity when they got married. She speaks both Arabic and Hebrew – and English.
Ayoub says of her identity: "Some of you will say I will always be the daughter of the Arab, and at the same time, in the eyes of others, I will always be the daughter of the Jewess. So, do not suddenly tell me that I cannot be both."
Her paternal grandmother was the daughter of Palestinian refugees who fled to Lebanon during the 1948 Arab-Israeli War and left her in a convent in Israel where she  was later was adopted by a wealthy Arab-Christian woman named Lucy Khayat. 
Her maternal grandparents were Holocaust survivors. 
Her grandfather had been in a Nazi concentration camp, while her Romanian grandmother survived.
Ayoub performed her military service as a flight simulator instructor in the Israeli Air Force for two years. She then studied philosophy, politics, economics, and law at Tel Aviv University.
She celebrates both the Christian and Jewish holidays with different parts of her family, while personally professing to be an atheist.
In addition to Fauda, which will likely propel her to international fame, Ayoub is about to appear in the Israeli version of "Dancing with the Stars." She has worked also for the Israeli Public Broadcasting Corporation and hosts the Israeli version of The Chase, a TV quiz show.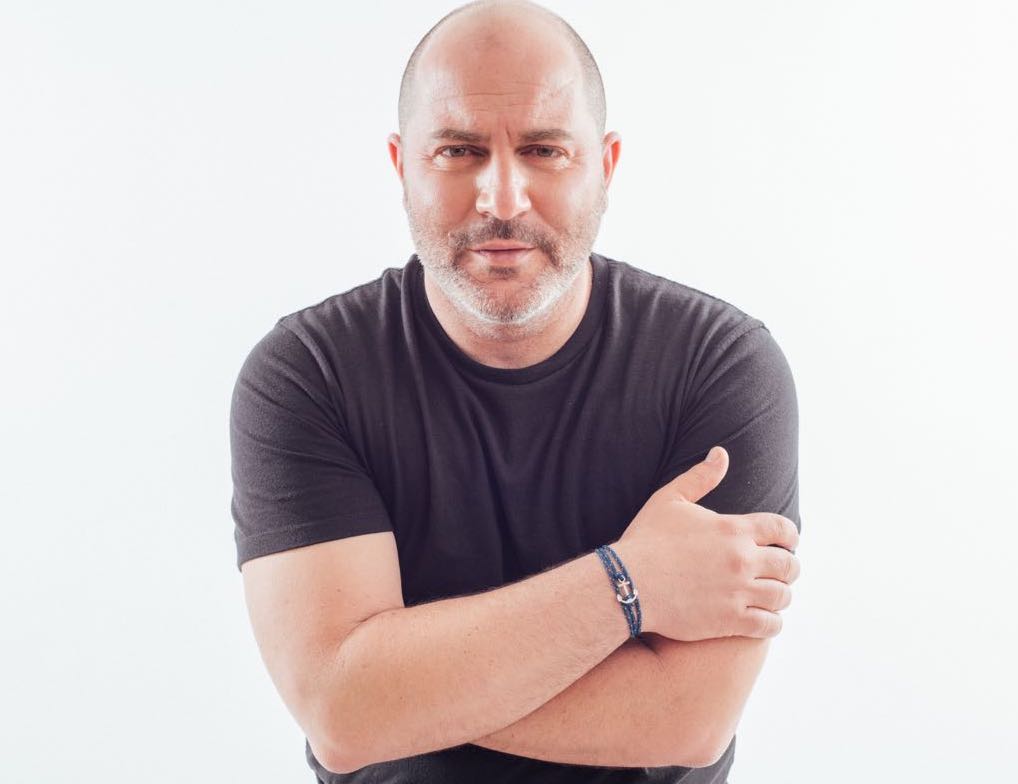 Lior Raz (Photo: Lior Raz/Facebook)
10. LIOR RAZ
The 50-year old actor was No. 2 on our list last year due to his popularity as star and co-creator of "Fauda," the massively popular Israeli TV series that Netflix picked up and turned into a global phenomenon, including in the Arab world. The show , which debuted in 2015, focuses on  an undercover Israeli special forces team that hunts terrorists in the West Bank and Gaza. 
Raz remains popular, not just in Israel and the U.S., but his ranking has dropped for two reasons.
First, season four of "Fauda" still hasn't been released, plagued by COVID delays.
Second, Raz and his business and creative partner Avi Issacharoff, the co-creators of "Fauda," released another series for Netflix in 2021 that turned out to be a flop. The show, "Hit & Run," was about a man whose wife is killed in a mysterious hit-and-run accident in Tel Aviv. Each episode reportedly cost the streaming network $4 million. Yet it was canceled after one season.
Fleur Hassan-Nahoum (Photo courtesy)
11. FLEUR HASSAN-NAHOUM
As Jerusalem's deputy mayor responsible for the city's foreign relations, Fleur Hassan-Nahoum appeared on our list last year at No. 10. She remains in the spot due to her extensive involvement in leveraging the Abraham Accords peace deals and because she is a finalist to become the head of the Jewish Agency, replacing Isaac Herzog.
If elected, she would become the first woman to head the prestigious agency.
Hassan-Nahoum has been active in promoting business and tourism deals between Israel and its new partners in the Arab world through the UAE-Israel Business Council and the Gulf-Israel Women's Forum, both of which she co-founded.
She was in Dubai for the opening of the Israel Pavilion at the World Expo in September. She returned in December to speak at the Global Investment Summit organized by the Jerusalem Post and Khaleej Times. She continues to connect Israelis with Emirati and Bahraini businesspeople and loves it.
"One can't overestimate the power of a mutual desire for peace. Business is one of the best forums to create a warm peace, by learning to trust each other and learn each side's cultural sensitivities," she said.   
Born in London, raised in Gibraltar and with Moroccan heritage, Hassan-Nahoum immigrated to Israel in 2001 and speaks the languages of 90% of the Jewish world – English, Spanish, Hebrew, and some French.
Hassan-Nahoum is in the top 35 pro-Israel social media influencers, according to the ranking by digital marketing firm Social Lite Creative, making her well-positioned to reach young Jews around the world.
Part of her work on the Abraham Accords was to bring together Israeli, American and Emirati best practices for people with special needs. She is working with Shalva – a center in Jerusalem – in conjunction with the UAE.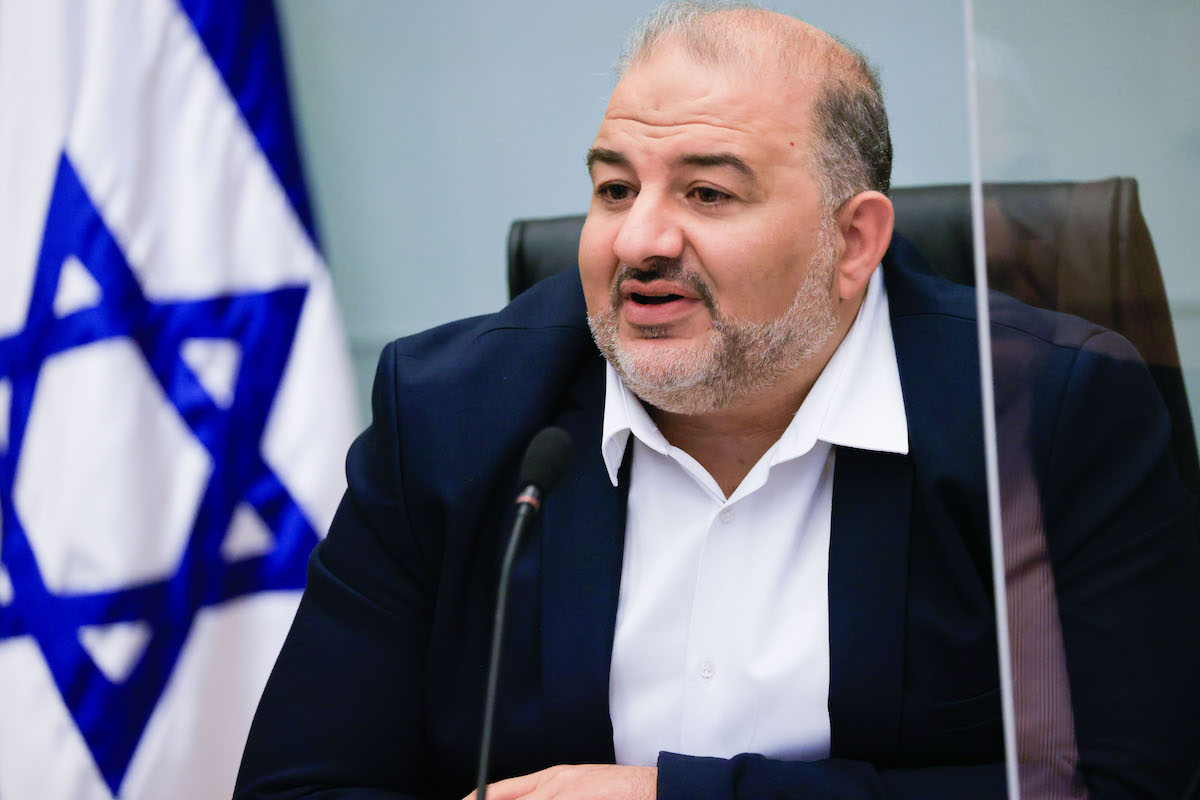 Mansour Abbas (Photo: Olivier Fitoussi/Flash90)
12. MANSOUR ABBAS
Haters around the world call Israel an "apartheid state." 
Nothing could be further from the truth. Israeli Arabs have equal rights under the law and play a vital role in society.
Mansour Abbas is a case in point. Last year, we surprised many by ranking him on our list at all, much less at No. 12. Turns out we were right.
And this year, he moves up on our list. Why? Because this high-profile and increasingly powerful Israeli-Arab is not only a member of Knesset but the country's new king-maker. 
The head of the Ra'am party, Abbas broke with fellow Arab parties in parliament to vote for the establishment of the Bennett-Lapid government, thus ending Netanyahu's reign of power. 
Last year, we noted that Abbas was publicly talking about building alliances with mainstream Israeli political parties in order to improve the economy and quality of life for Arab Israelis who make up 20% of the population. He came under blistering attack from many of his Arab colleagues in the Knesset, but stood his ground and kept his promise to shake up Israel's political order like never before. 
"Most of the time, the Arab parties automatically are part of the Left, without considering key issues," he told the Jerusalem Post. "I say this approach is mistaken and that we need to reposition ourselves toward the entire Israeli political spectrum, and not one side. We are not in the pockets of the Left or the Right. We need to act within the interests of the Arab society that chose us."
By supporting the government – though not serving in the Cabinet – Abbas is getting additional funding for Israeli Arab communities and persuading the government to do more to fight rampant crime in these communities.
What will he do next?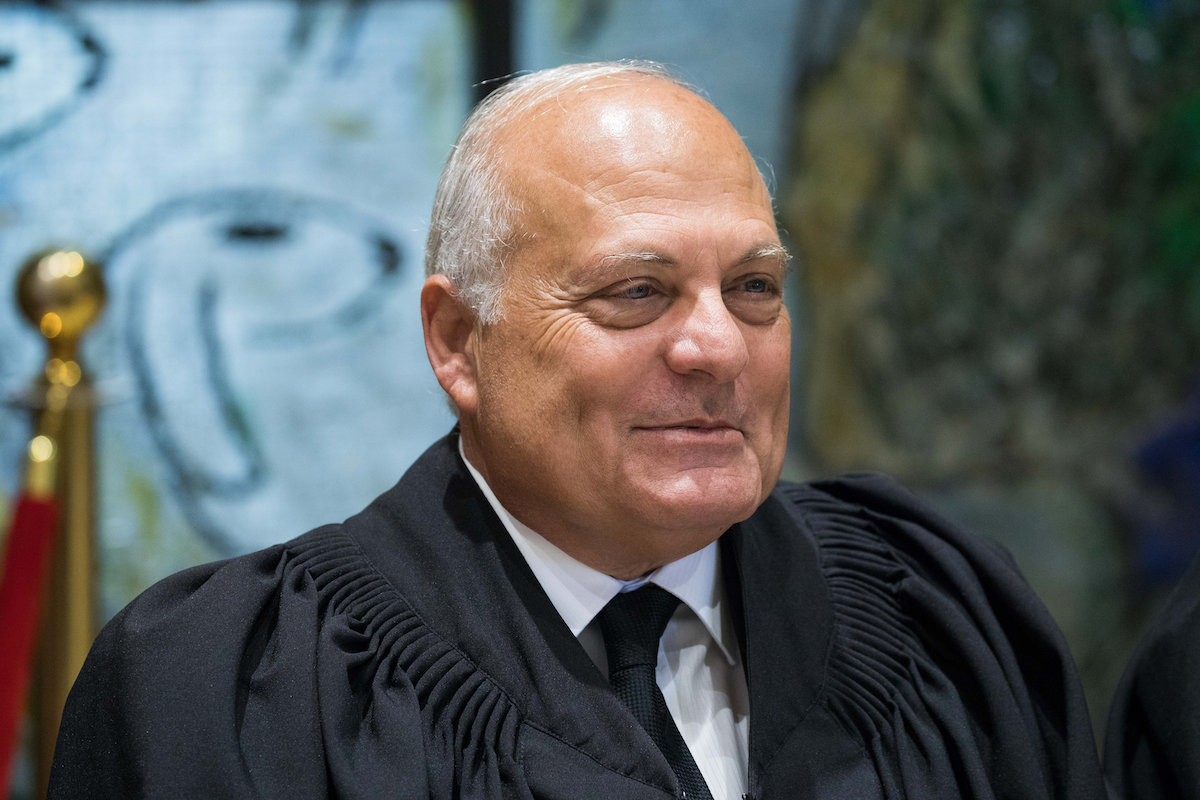 George Karra (Photo: Yonatan Sindel/Flash90)
13. GEORGE KARRA
George Karra is another high profile and powerful Israeli Arab, a Christian who serves on Israel's Supreme Court. 
Though he is retiring this year, he is still someone to watch closely. 
Karra has been an integral part of overturning government decisions related to the COVID-19 pandemic. In October, for example, the Supreme Court ordered the government to release the minutes of its Corona Cabinet meetings to the press after having refused to do so. 
Born to a distinguished Arab-Christian family in Jaffa, Karra completed his law degree at Tel Aviv University in 1973 and began his own law practice. He was appointed a judge on the Tel Aviv Magistrate's Court and worked his way up the legal system before being appointed as a justice of the Supreme Court in 2017.
In July, Karra was the only Supreme Court justice who voted in opposition to the controversial nation-state law, which designates Israel as a Jewish state, a law deemed by some as discriminating against minority populations. 
Karra argued that portions of the law "deny the core of the democratic identity of the state and shock the thresholds of the constitutional structure" and that it disrupts the balance of Israel as a Jewish and a democratic state, instead intensifying "the violation of the principle of equality" against Arab and Druze citizens.
Karra was the judge who convicted former Israeli President Moshe Katsav of rape and obstruction of justice in 2010 and, in another high-profile case, convicted a newspaper editor for ordering illegal wiretapping.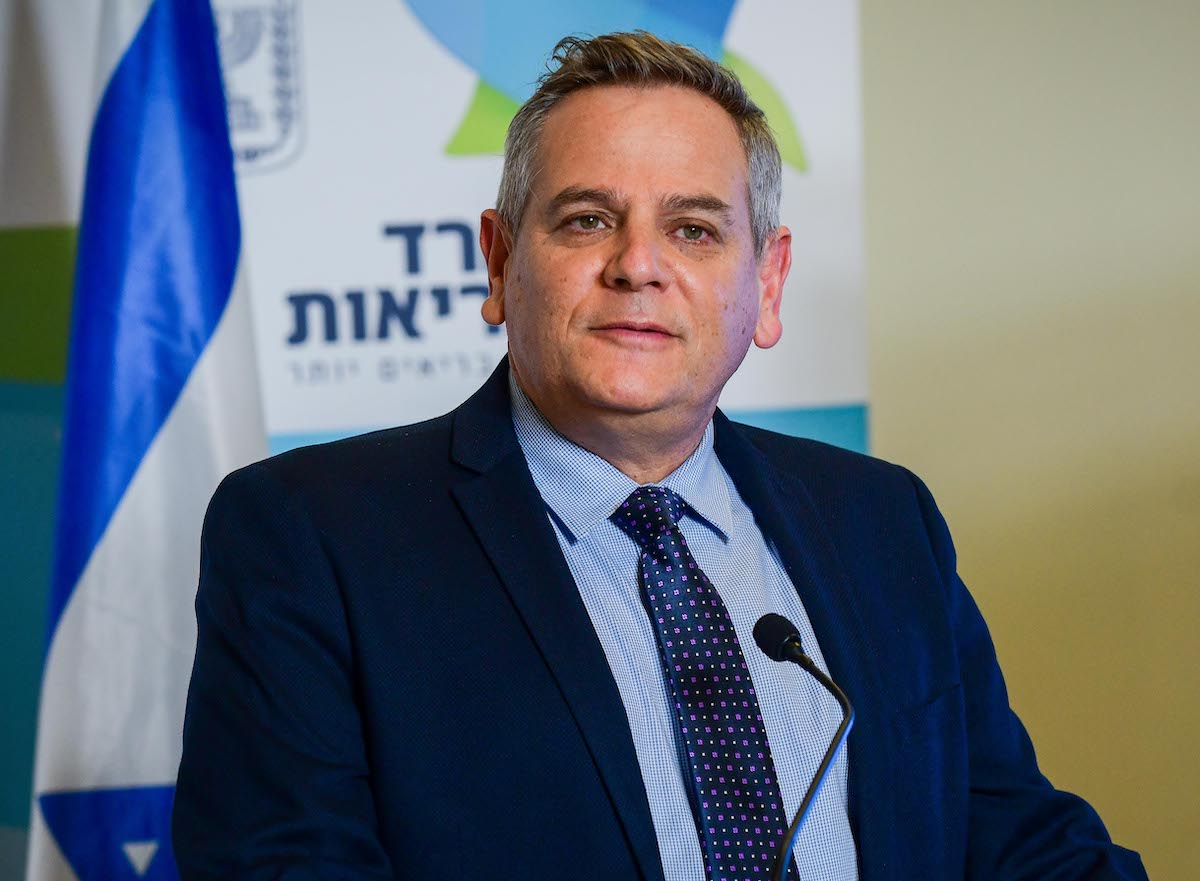 Nitzan Horowitz (Photo: Avshalom Sassoni/Flash90)
14. NITZAN HOROWITZ
When his far left-wing party, Meretz, joined the new coalition that was sworn in six months ago, Nitzan Horowitz stepped into one of the country's most high-profile roles: Minister of Health. 
At the height of a pandemic – and a rising public movement against the previous government's management of it – Horowitz, 56, suddenly became responsible for Israel's ever-changing COVID policies, vaccinations, Green Passport restrictions and mandatory quarantines. He hasn't handled things well but he has certainly emerged as one of Israel's most influential and controversial officials.
In September, Horowitz was caught on a hot mic admitting that Israel's Green Passport system pressures people to get vaccinated, but is not based on epidemiology. 
In December 2021, Horowitz said he wanted to further liberalize Israel's already extremely lax abortion restrictions, making abortion more prevalent in society, not less. He laid out his reform plan to what he referred to as Israel's "chauvinistic" abortion laws and insisted, "It should be a given – the rights to a woman's body are the woman's alone." 
Horowitz, who is gay and lives with his partner in Tel Aviv, also reportedly advocates allowing lesbian couples who seek to conceive via sperm donations to have access to a sperm bank just like heterosexual couples.
Prior to entering politics, Horowitz was the chief U.S. correspondent and commentator for Israel's news network, Channel 2 News.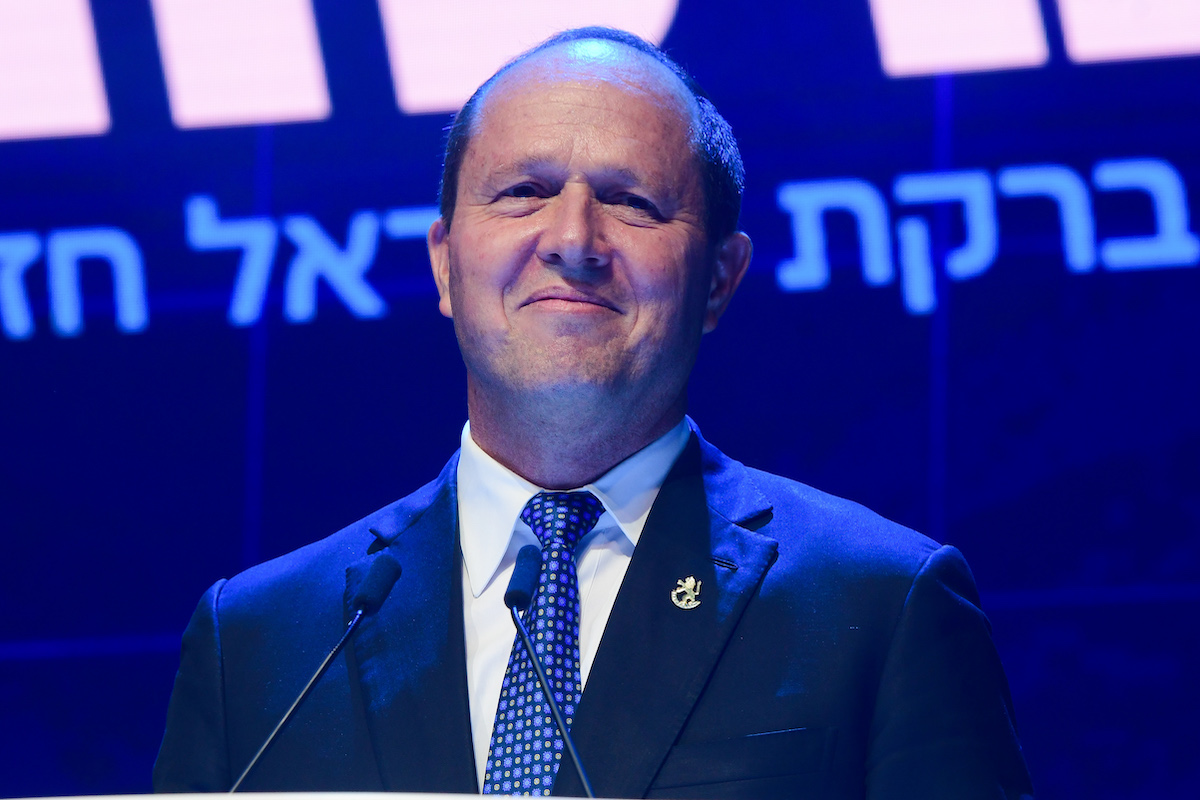 Nir Barkat (Photo: Avshalom Sassoni/Flash90)
15. NIR BARKAT 
Polls show Nir Barkat is the most popular member of Likud after Netanyahu, positioning him as the odd-on favorite to replace the beleaguered leader, should Bibi retire from politics or be convicted on the corruption charges facing him.
Barkat says he does not plan on challenging Netanyahu in a primary and would only run if and when Netanyahu moves on.
But keep your eye on him.
His name is familiar to anyone who recalls his tenure as Jerusalem's mayor. Among other accomplishments, he restarted the annual Jerusalem Marathon and brought in Formula One to the Holy city.
Now he serves in the Knesset as a member of Likud, the largest faction with 30 seats. 
Barkat is the Knesset's wealthiest member and its first billionaire, having been involved in multiple successful companies, including eToro, a Nasdaq-listed Fintech company that Barkat owns with his brother. The company currently has a $10 billion value.
However, Barkat's company may violate Knesset Ethics Committee guidelines, according to documents leaked by a group of investigative journalists in Israel based on the publication Pandora Papers. According to the report, the eToro company is registered in the Virgin Islands, despite the majority of its offices being located in Israel which may not be illegal but may be unethical.
"It is hard to disconnect the political interests at play in the publication of this ridiculous 'investigation,'" Barkat said.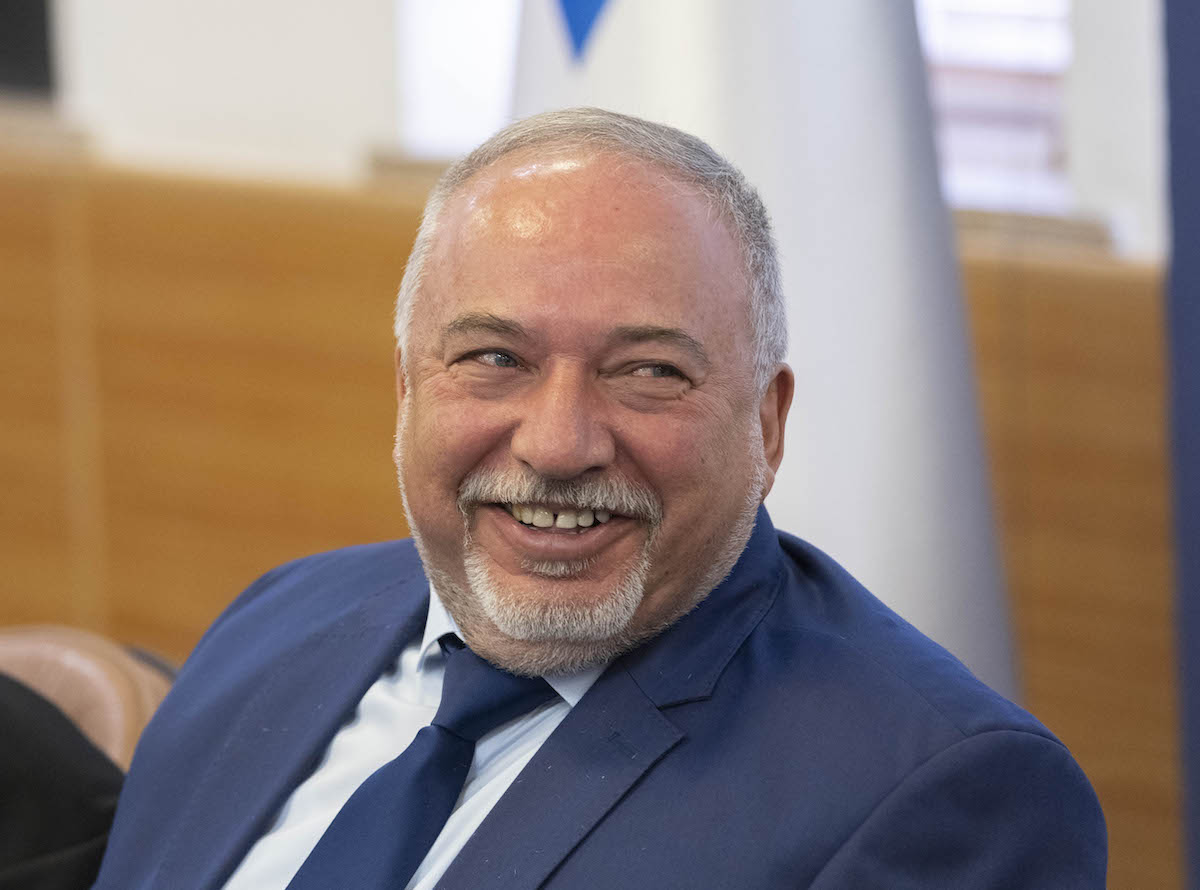 Avigdor Liberman (Photo: Olivier Fitoussi/Flash90)
16. AVIGDOR LIBERMAN
As Israel's new finance minister, appointed in June 2021, many are looking to Avigdor "Yvette" Liberman to provide them with compensation, or save them from further economic damage brought on by COVID lockdowns and the shuttering of the tourism sector.
One of Liberman's driving objectives – and that of the entire Bennett-Lapid government – has been to avoid another lockdown for which they all criticized Netanyahu.
Liberman sparked outrage when he said that tourism industry workers should switch careers rather than wait for compensation or for the borders to reopen and tourists to flood back into the Holy Land. His comments were met with protests by tourism workers. 
He also made waves when a leaked recording showed him equating the latest variant, Omicron, with the flu.
"In terms of the influence of Omicron, I don't see it as being any more disruptive at the moment than flu. And just as we live with flu, now we live with Omicron," Liberman said in December.
Born in Moldova in 1958, Liberman immigrated to Israel in 1978. After serving in the Likud movement in the 1990s, he founded the ultra-nationalist, right-wing Yisrael Beytenu (« Israel Our Home ») party in 1999. It grew into a serious political bloc due to the sheer number of votes from Russian-speaking immigrants.
The party is staunchly secular and fiercely at odds with the ultra-Orthodox parties. In fact, Liberman could have been the "king maker" in the election cycle before this current government was formed, but he refused to serve in a Netanyahu coalition if Bibi included the ultra-Orthodox factions. When Netanyahu refused to let go of the religious bloc, he lost Liberman's seats that would have tipped him over the 61-seat majority. The government collapsed and new elections were called.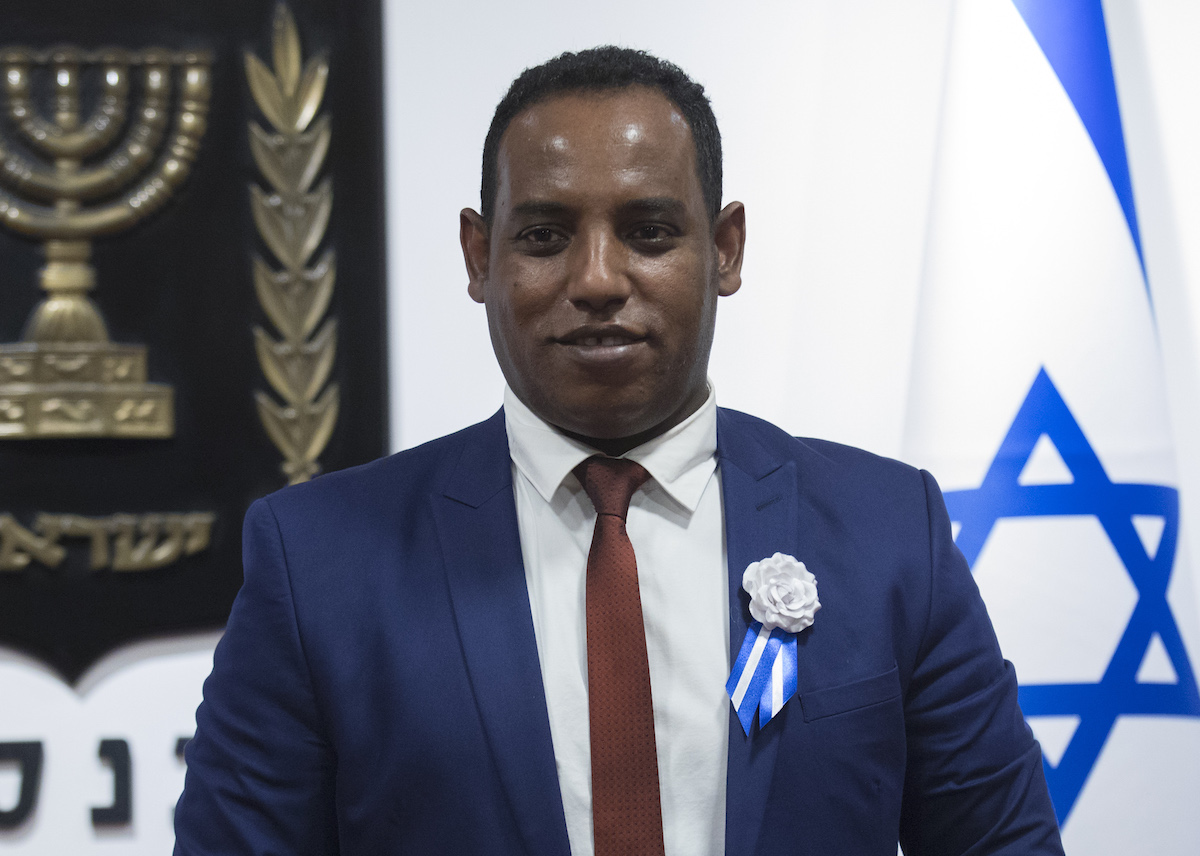 Gadi Yevarkan (Photo: Olivier Fitoussi/Flash90)
17. GADI YEVARKAN
Desta "Gadi" Yevarkan is quickly emerging as the most interesting and influential Ethiopian-Israeli in the Knesset, serving in the Likud party.
He emigrated to Israel with his family from Ethiopia in 1991 as part of Operation Solomon and went on to serve in the Israel Defense Forces in the reconnaissance unit of the Givati Brigade, becoming a lieutenant. 
Yevarkan has made a name for himself in this Knesset as the only one of the 120 members who has voiced opposition to the Green Passport – Israel's vaccine passport – calling it a violation of human rights and a means to force the public to get vaccinated. 
The lawmaker said it "creates social hierarchy without any justice, separating 'accepted' citizens and 'unaccepted' citizens in their own country."
The 41-year-old Likud member has always been fighting for justice, especially on behalf of the Ethiopian community. As a high school student, he was sidelined along with other Ethiopian students in classes because administrators expected Africans to focus on sports rather than academics "because Ethiopians are good long-distance runners." But Yevarkan fought for himself and his peers against such bias to get an equal education, taking his battle all the way to the Ministry of Education. He succeeded and says that increasingly Ethiopian students finish on par with their native-born Israeli peers. 
Yevarkan switched from the Blue and White party to Likud in 2020, but says, "my opinions and principles have remained consistent."
Recently he doubled down on his stance against the Green Passport and has positioned himself as a human rights activist, a job he says has been abandoned by left-wing parties. 
"I will continue to speak for 5 million citizens whose voices are not heard," Yevarkan said of the Israelis who do not currently have a Green Passport.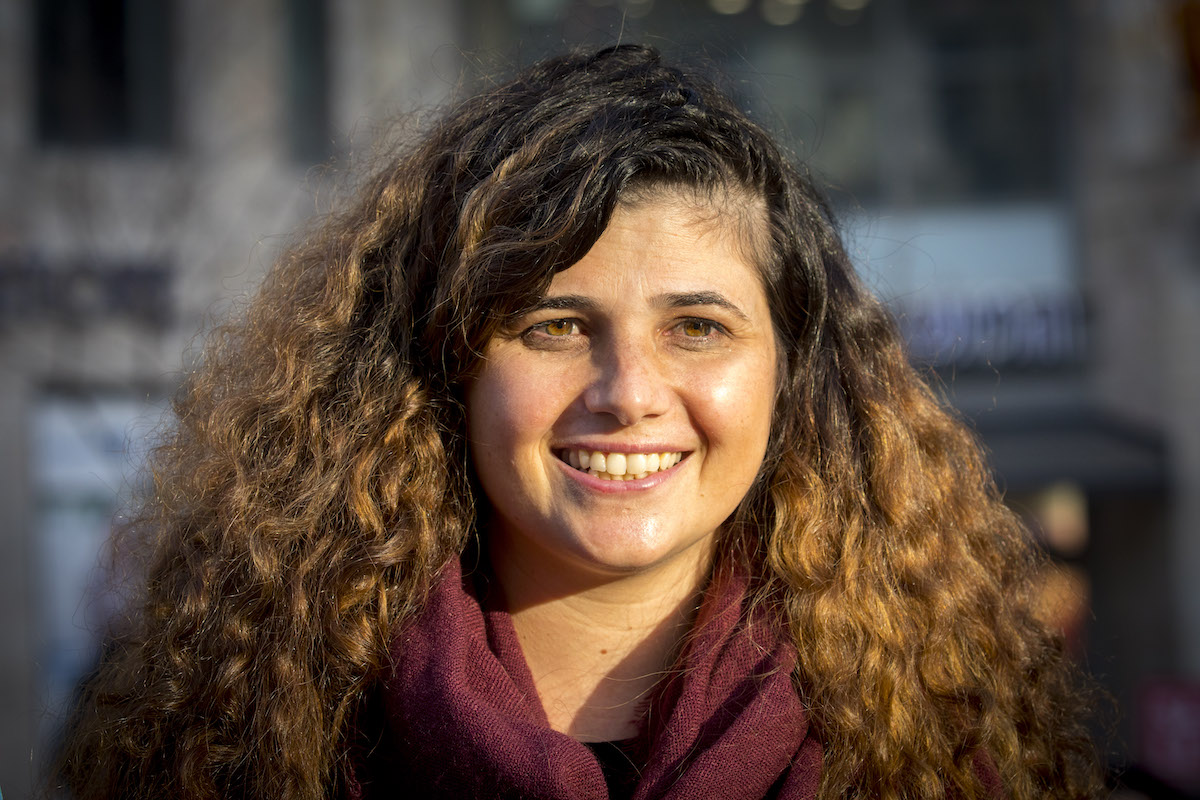 Sharren Haskel (Photo: Olivier Fitoussi/Flash90)
18. SHARREN HASKEL
At 37, Sharren Haskel is the second youngest Knesset member, and she has the attention of Israeli parents as she chairs the Education, Culture and Sports Committee. 
Haskel sharply criticizes the excessive lockdowns that kept students at home for about a year under the previous government. Soon after her appointment, Haskel addressed the challenges in the education system saying, "Not only were great educational gaps created during this year, but the psychological, emotional and social harm caused to the students was unprecedented."
In December 2020, Haskel – who served in the Likud party under Netanyahu – announced she would join Gideon Sa'ar's new political party.
At the age of 18, Haskel enlisted in the Israel Border Police where she served in a combat unit. During the Second Intifada, she manned checkpoints and attended home demolitions and demonstrations. She narrowly escaped two suicide bombings and lost two friends in terrorist attacks, which she says helped shape her ideology.
A hawk on security issues, Haskel embodies the conundrum of Israeli politics as she sways far left on social matters. Haskel is head of the LGBT Knesset caucus and is active on environmental and animal rights issues. She is a primary proponent of cannabis legalization and advocates for the use of medical cannabis.
Born in Toronto in 1984, Haskel and her family moved to Israel one year later. 
In 2016, Haskel was recognized by the Jewish Journal of Greater Los Angeles as leader of a new generation of women in politics, mainly due to her extensive work around the world to defend the Israeli government and its policies.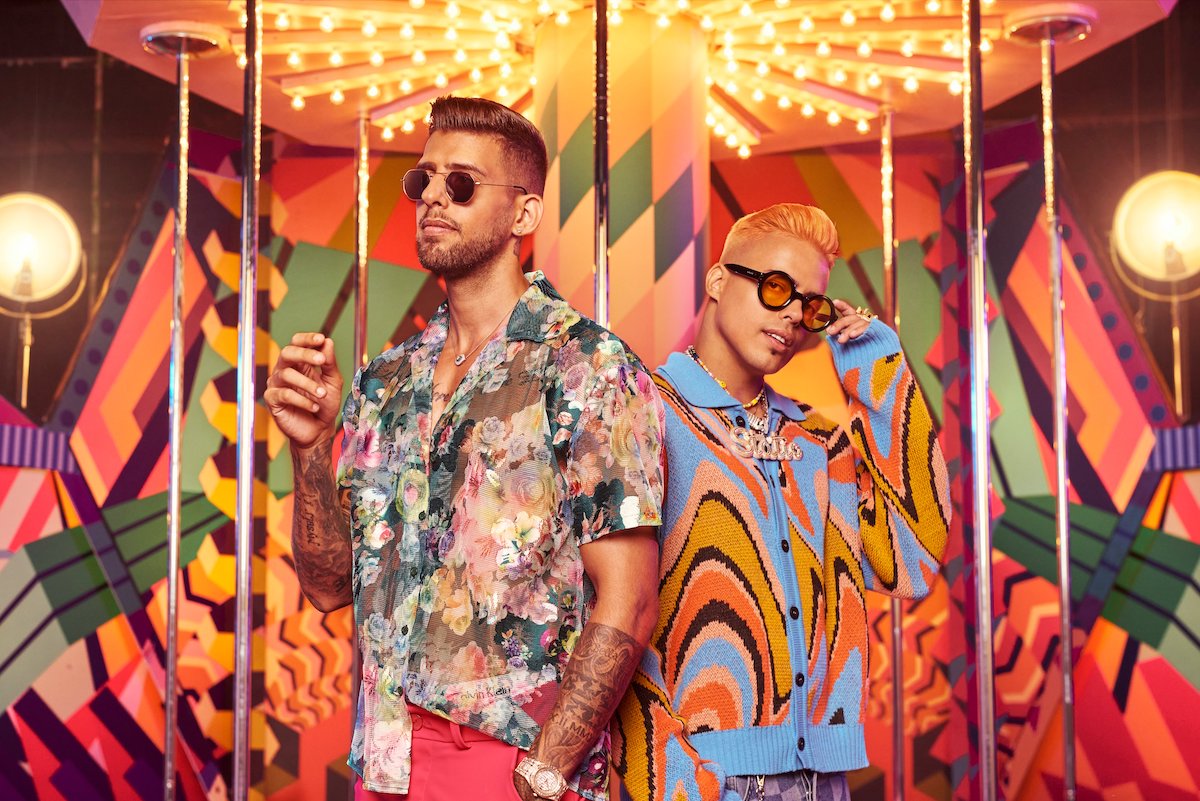 Static and Ben El (Photo: Static and Ben El Twitter feed)
19. STATIC & BEN EL
They may sound like odd names, but they are big names here in Israel – and yes, they are always treated a two-in-one. 
Meet Static & Ben El.
The pop duo, featuring Liraz Russo (Static) and Ben El Tavori, have been performing together since 2015. They have had 13 #1 hits on the Israeli pop charts since 2016. The pair not only produce music together, but they are always paired as one vote in musical Israeli reality shows having to share the vote. 
With their flamboyant costumes, catchy videos and mix of rap (Static) and Mizrachi or Oriental style singing (Ben El), the two have caught the attention of American producers as well. They ranked No. 15 on the U.S./Latin chart in 2020 and made their first U.S. televised appearance in April on the "Late Late Show with James Corden."
Russo was adopted by an affluent Israeli couple at four months old and grew up in Haifa. He was raised Jewish but does not know his country of birth. He believes he might be from Latin America.
El Tavori hails from Israeli pop royalty as the son of singer Shimi Tavori, a superstar in the early 1980s. 
Their biggest collaboration so far has been "Shake Ya Boom Boom" featuring the Black Eyed Peas, released in late 2020. 
The pair also collaborated with Armando Christian Pérez, known as Pitbull – an American rapper and singer – in a music video.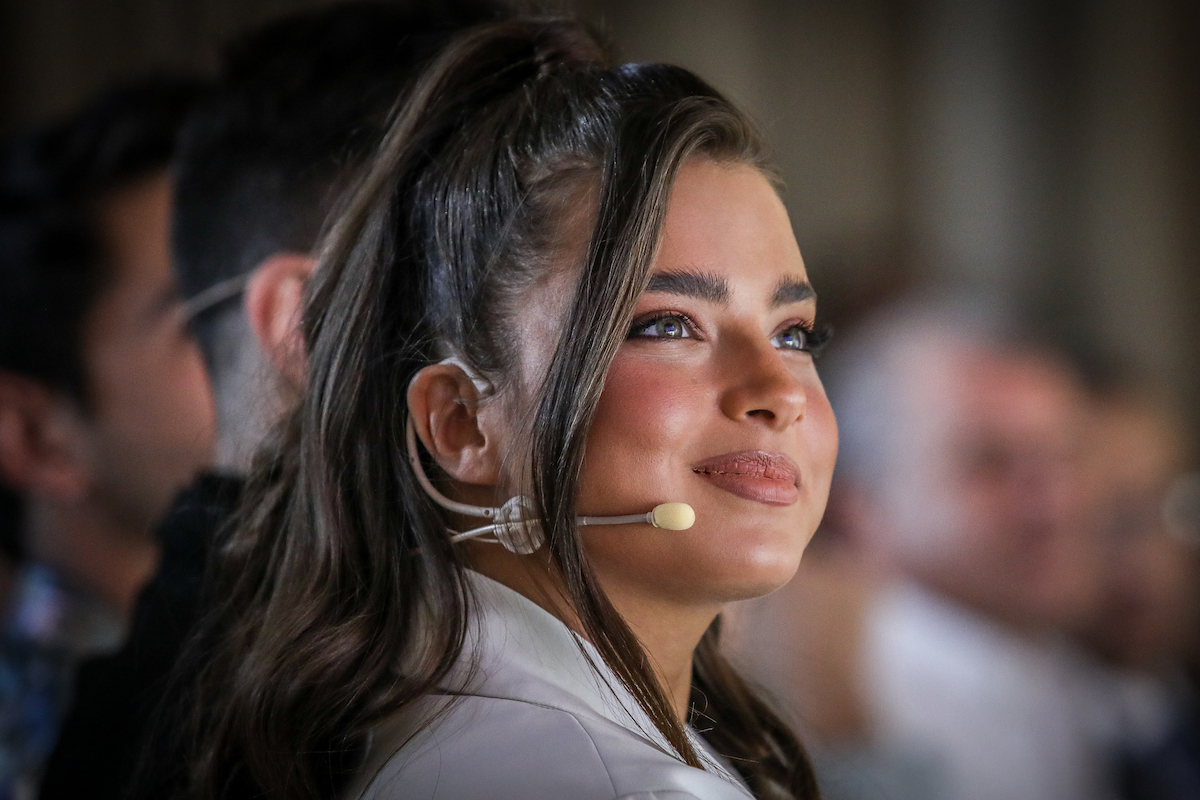 Noa Kirel (Photo: Flash90)
20. NOA KIREL
After signing one of – if not – the largest deals with Atlantic Records for an Israeli artist, 20-year-old pop artist Noa Kirel is already on her way to fulfill the lyrics of her own hit song: "Million Dollar."
Kirel was diagnosed with a serious kidney illness when she was three months old. She starred in a popular Israeli teen TV series and recently became the youngest artist ever to serve as a judge on Israeli talent reality shows. 
In 2017, MTV European Music Awards named Kirel the best Israeli act. In 2021, Kirel released her first international single with Atlantic Records.
The busy Kirel also serves in the Israel Defense Forces (IDF) and currently performs with the military band as part of her mandatory army service. But unlike her peers, Kirel had a private room and shower during basic training and enjoys 90 days off per year to further develop her career, which she certainly has done. 
She now appears in several advertising campaigns for Israeli companies, including Yes satellite company. Last month, Kirel performed her popular hit, "Bad Little Thing," at the Miss Universe 2021 competition in Eilat.
The young wonder has her own line of perfume, clothing and hair products and will reportedly co-produce and star in a "globe-spanning escapist event film" for Picturestart Productions.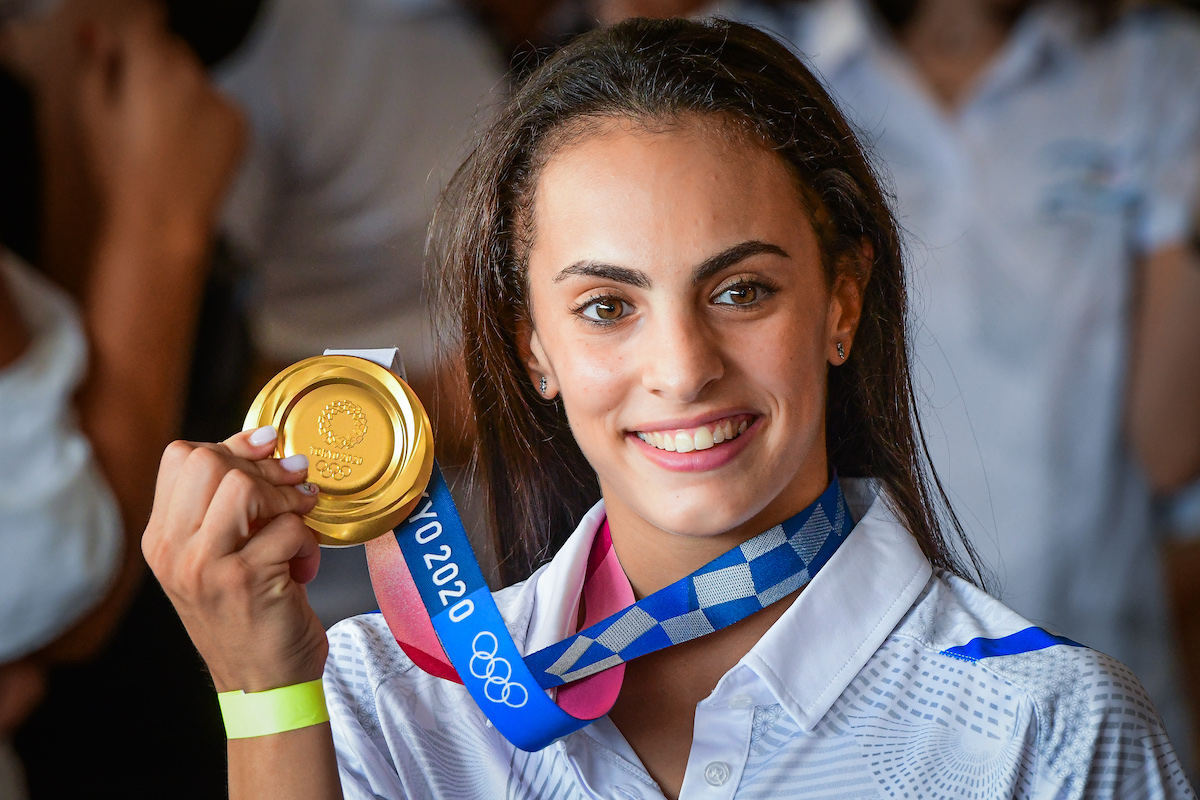 Linoy Ashram (Photo: Avshalom Sassoni/Flash90)
21. LINOY ASHRAM
Israeli rhythmic gymnast, Linoy Ashram, made history when she became Israel's first woman to win an Olympic gold medal in any sport, and the first national rhythmic gymnast to win an Olympic medal for the Jewish state in August. 
Her win at the Tokyo Olympics was the second Olympic medal won by an Israeli at the competition last year (the first was achieved just one week prior by gymnast Artem Dolgopyat in the men's floor exercise competition).
Ashram, 22, has been rising in the ranks of her sport for several years, but she really took the world by storm in the summer of 2021 when she became the first rhythmic gymnast from outside the post-Soviet republics to win a gold medal at an Olympic event where former Soviet states competed.
"It's what I dreamed of for all my life," Ashram said. "It's an amazing feeling to stand in this place, at this time, on the podium and in first place."
Prior to Ashram's Olympic gold medal win, then 22-year-old rhythmic gymnast had 92 medals under her belt, having dominated the sport in international competitions since 2014.
Merav Michaeli, Israel's minister of Transportation, told Ashram, "Each woman and girl looks at you and sees how much talent, how much strength, how much courage, how much determination, how much personality you exude. Each of us looks at you and sees how far you can go."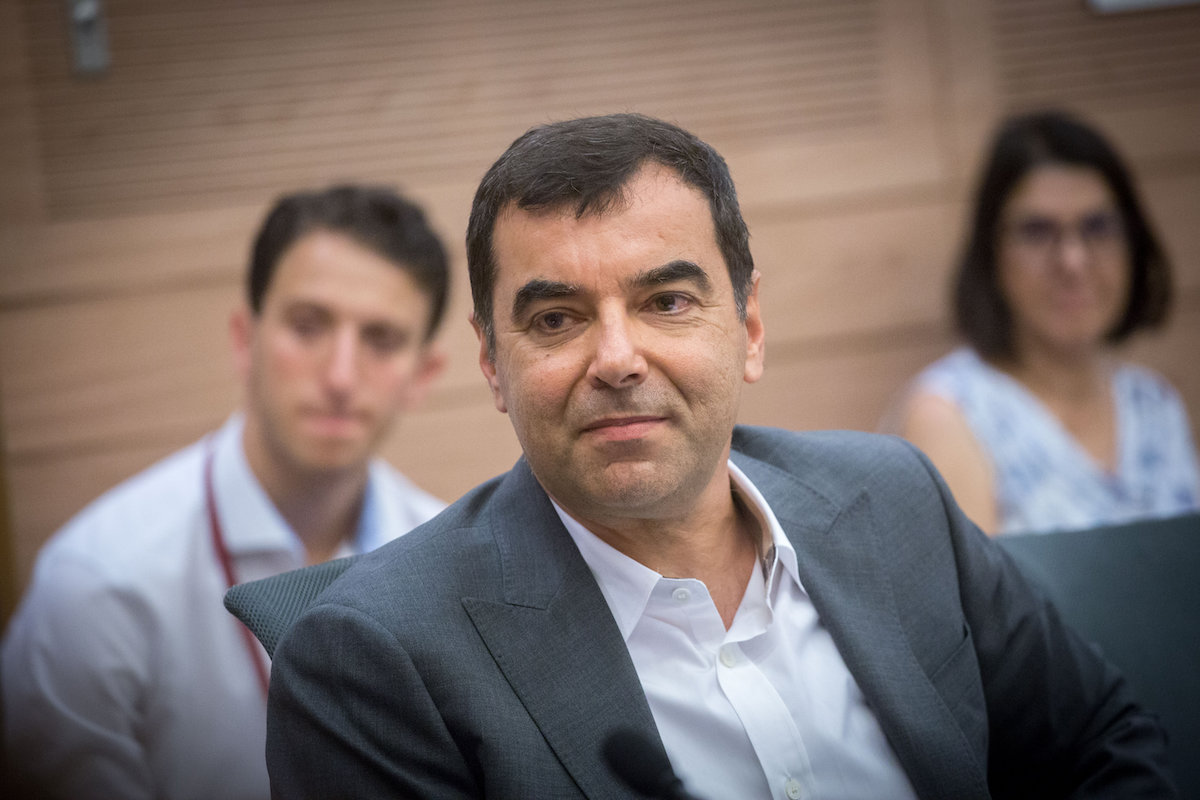 Amnon Shashua, co-founder and chairman of Mobileye (Photo: Miriam Alster/Flash90)
22. AMNON SHASHUA
Sixty-one-year-old Amnon Shashua – up until now best known as the co-founder and CEO of Mobileye – is an Israeli businessman to keep an eye on in 2022.
Mobileye is the developer of self-driving vehicle technologies and was acquired by U.S. tech giant Intel in 2017 for a whopping $15.3 billion.
Now Shashua is about to launch Israel's first digital bank.
Indeed, this will be the first new bank in the Jewish state in over 40 years. It has been in a pilot stage until now and is expected to launch to the Israeli public early this year.  
One Zero Bank, formerly First Digital Bank (FDB), will likely test the international waters as well. 
The bank aspires to spearhead autonomous banking using proprietary AI tools and technologies. One Zero will offer a variety of private banking services within a 100% digital framework. Bankers will be available around the clock to provide customer service by phone and chat.  
In 2010, Shashua co-founded OrCam, an Israeli company that launched a device to assist the blind and visually impaired based on computer vision capabilities.
Shashua received one of the highest honors in Israeli society when he was invited to light a torch at the 2017 Independence Day ceremony on Mt. Herzl. He was chosen for his contribution to the development of cutting-edge technology that assists in the reduction of road accidents and assistance to the visually impaired.

Joel C. Rosenberg is the editor-in-chief of ALL ISRAEL NEWS and ALL ARAB NEWS and the President and CEO of Near East Media. A New York Times best-selling author, Middle East analyst, and Evangelical leader, he lives in Jerusalem with his wife and sons.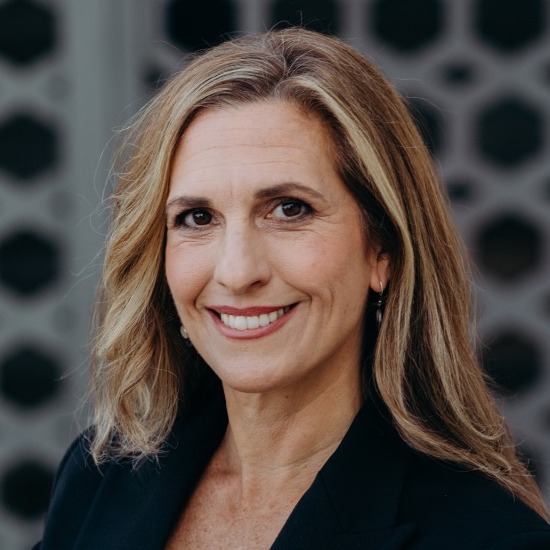 Nicole Jansezian was the news editor and senior correspondent for ALL ISRAEL NEWS.
Popular Articles
A message from All Israel News
Help us educate Christians on a daily basis about what is happening in Israel & the Middle East and why it matters.
For as little as $5, you can support ALL ISRAEL NEWS, a non-profit media organization that is supported by readers like you.
Donate to ALL ISRAEL NEWS
Latest Stories
Comments