Changing of the Guard: Israel swears in new president, Isaac Herzog – 'I will be the president of everyone'
In a ceremony replete with pomp and circumstance, Israelis bid farewell to beloved 10th president, Reuven Rivlin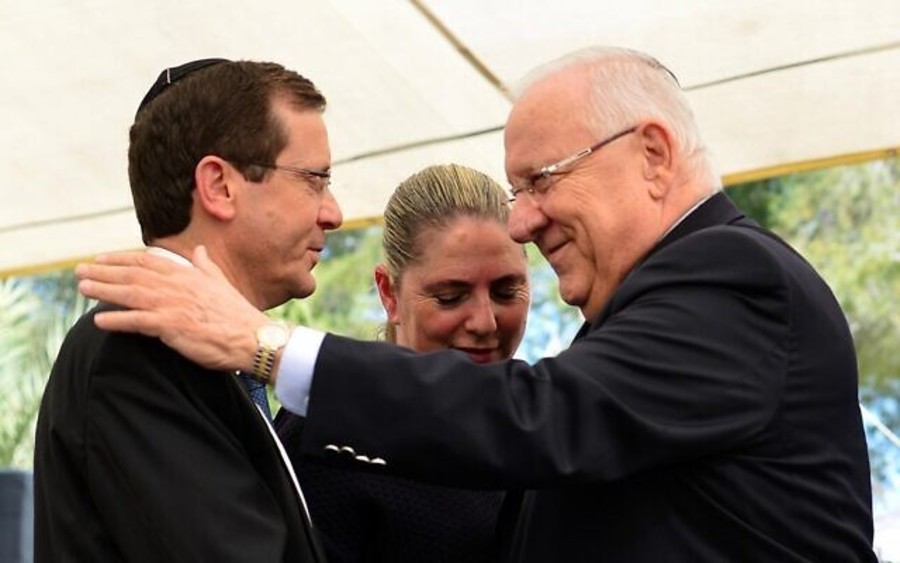 President Reuven Rivlin (right) with his successor Isaac Herzog (Photo: Kobi Gideon/GPO)
Israelis have bid farewell to Reuven (Ruvi) Rivlin with the swearing in this afternoon of the nation's 11th president, Isaac Herzog, at the Knesset.
In a ceremony of pomp and circumstance, with escorts on horseback and a military band, the celebration concluded a week of parting events for Rivlin before Herzog officially took office.
Herzog was sworn in on the same Bible as his father was in 1983, followed by the blowing of shofars on the Knesset floor.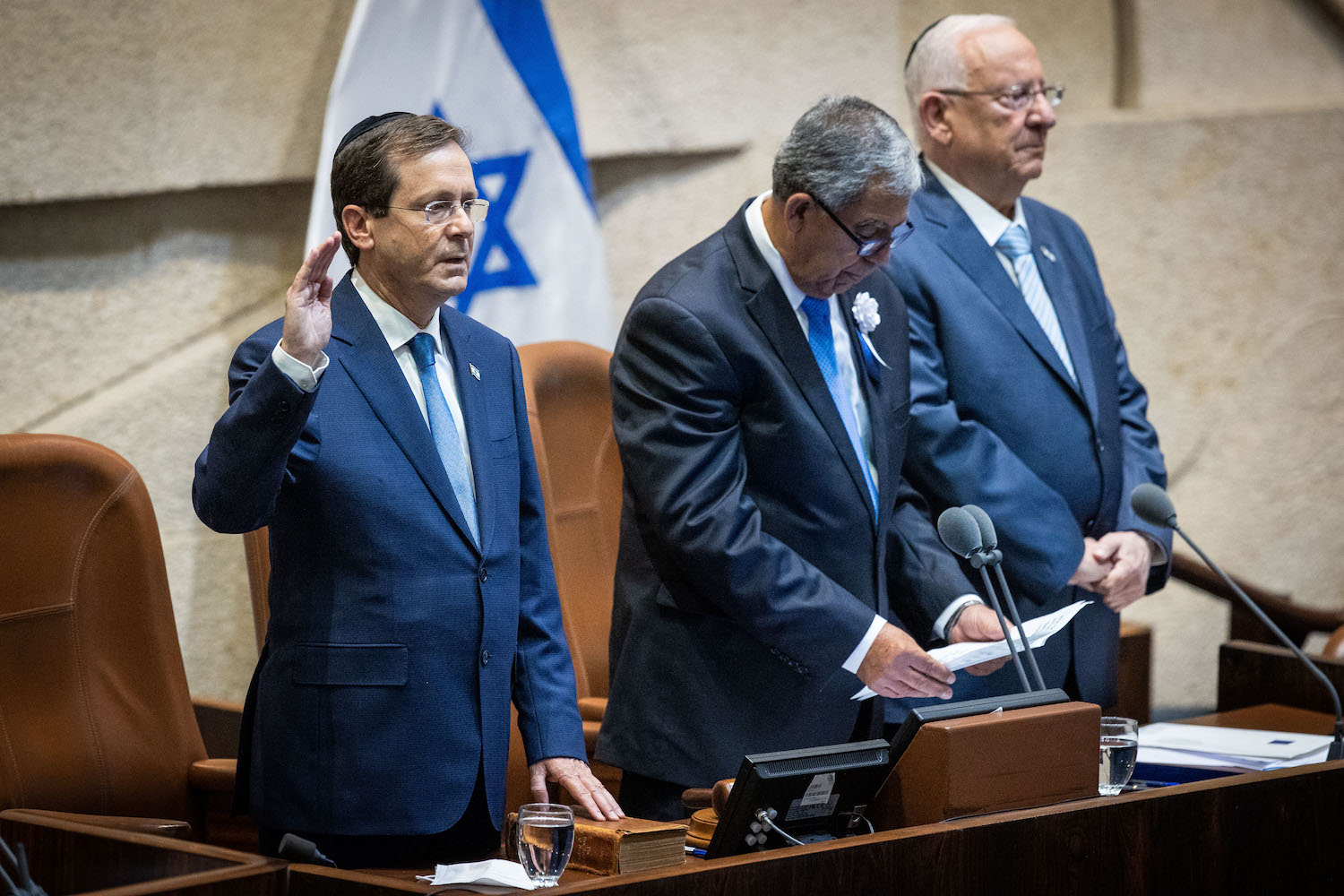 Newly elected Israeli President Isaac Herzog is sworn in at the Knesset in Jerusalem, July 7, 2021. (Photo: Yonatan Sindel/Flash90)
He promised to be the president of all people – including the minority groups in Israel.
"As a Jewish and democratic state, we must do everything to ensure the integration of the minorities who live among us," Herzog said. "We must do everything to reduce every serious phenomenon, such as the terrible and murderous violence in Arab communities, and reduce the gaps."
Rivlin, a beloved president, sought to include all Israelis and was known for his outreach to minority groups, among them Christian Arabs and Muslims.
"The different tribes of Israeli society are here to stay. We must always ensure that in the natural tension between the statehood and tribalism it is the state, the republic, that prevails over cultural autonomy and communal tribalism," he said, adding "… we were not doomed to live together, but rather destined to do so."
Rivlin spoke of the changes sweeping the Middle East referring to the Abraham Accords, the historic peace agreement between Israel and four Muslim states.
"We must strengthen this process by deepening our familiarity and understanding of the language, the history and the culture around us. This is an important and vital process, an imperative. Israel plays a critical role in the regional system."
Rivlin lost his wife, Nechama, to lung disease during his tenure as president. Breaking into tears while making his parting speech, he said that he misses her every day. 
He also spoke of his love for his country. 
"I was nine years old when the State of Israel was established. I saw the Israeli flag, blue and white, flying on the flagpole then. For me, the State of Israel will never be something I take for granted," he said. "Long live the eleventh President of the State of Israel. Long live the State of Israel." 
He exhorted the nation to seek change and innovation but to never take their nation for granted: "My dears, the next generation of the State of Israel, continue to innovate. If something isn't working – change it. Don't take things for granted because of the simple fact that the State of Israel isn't to be taken for granted. It is a miracle, and miracles must be jealously guarded. It is a miracle, too, because we have turned every challenge into an opportunity. And I also want to say this to you: the Jewish state is not something to be taken for granted. A democratic state is not something to be taken for granted. And there will be no Israel if it is not democratic and Jewish, Jewish and democratic, in the same breath."
Rivlin received a standing ovation as he ended his speech. He blew kisses as he left the Knesset hall.
The role of president in Israel is largely ceremonial but has important sway in the formation of the Knesset, tapping the head of a party to form a coalition – something that Rivlin did five times during this seven-year term.
During Rivlin's term, Israel went to elections four times in two years, but he provided a stabilizing factor for the nation.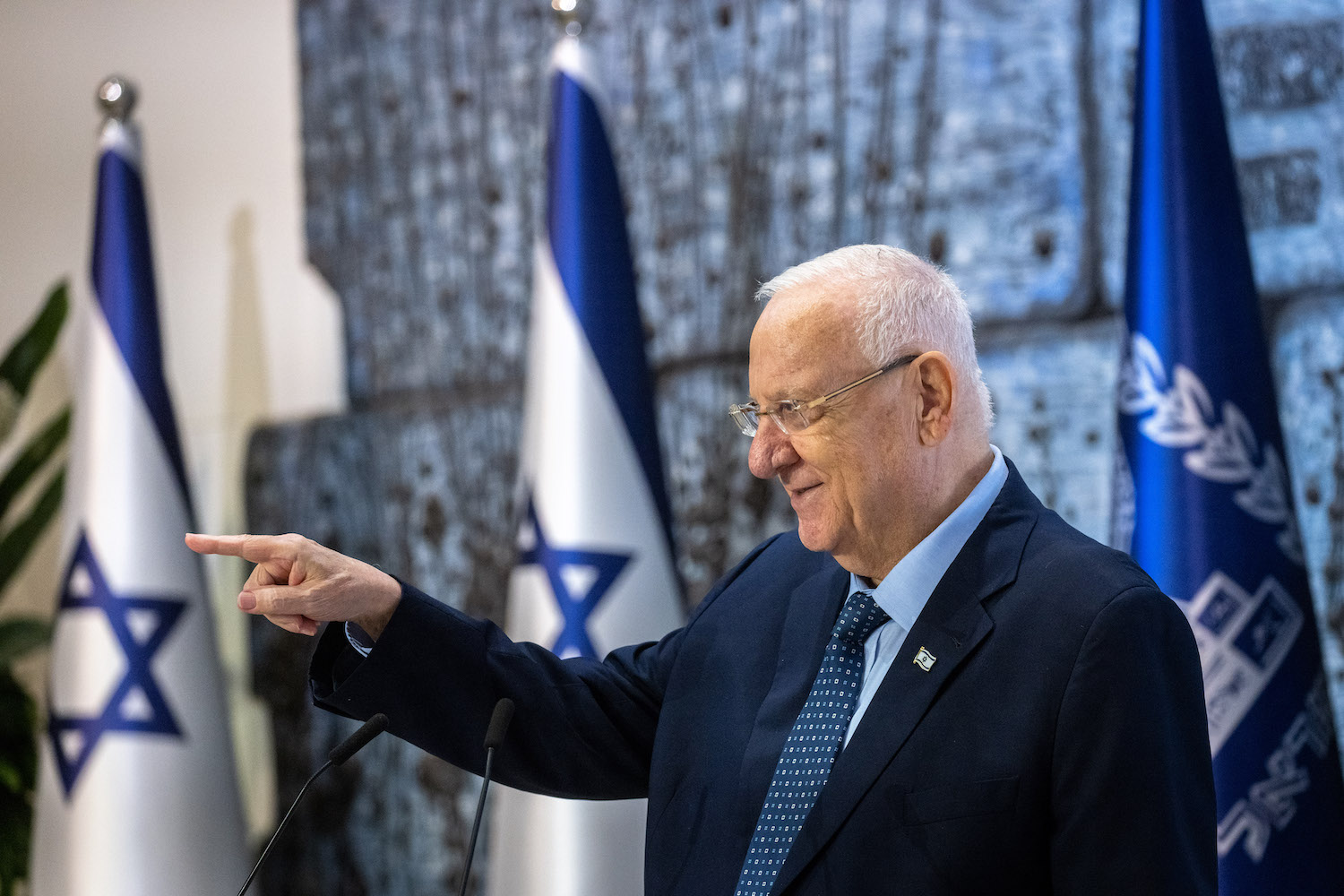 Israeli President Reuven Rivlin hosts the Israeli Olympic delegation competing at the upcoming Olympic Games in Tokyo at the President's Residence in Jerusalem, June 23, 2021. (Photo: Olivier Fitoussi/Flash90)
Herzog, the incoming president elected by Knesset members last month, was most recently chairman of the Jewish Agency for three years. He stepped down from the position on Monday.
"The Jewish Agency is doing holy work on behalf of the Jewish people. After 2,000 years of exile, we had the opportunity to return and build a miraculous and robust country," said Herzog. "I'm grateful for the incredible opportunity to lead such an amazing organization that works day and night for Jews around the world, serving as a bridge upon which four and a half million immigrants made Aliyah to Israel and established more than 900 communities throughout the country."
The new president has an impressive lineage in Israeli politics. Herzog, who was head of the Labor party and the Zionist Union, held several ministerial roles during his own career. His father, Chaim Herzog, was Israel's sixth president and ambassador to the United Nations. His grandfather, Rabbi Yitzhak HaLevi Herzog, was the first chief rabbi of Ireland and later served as the Ashkenazi chief rabbi in Israel.
On a lighter note, one Israeli news anchor quipped it was ironic that at the age of 60 Herzog had to go back and live in his parents' house. But surely, Bougie – as he is widely known by his nickname – isn't complaining.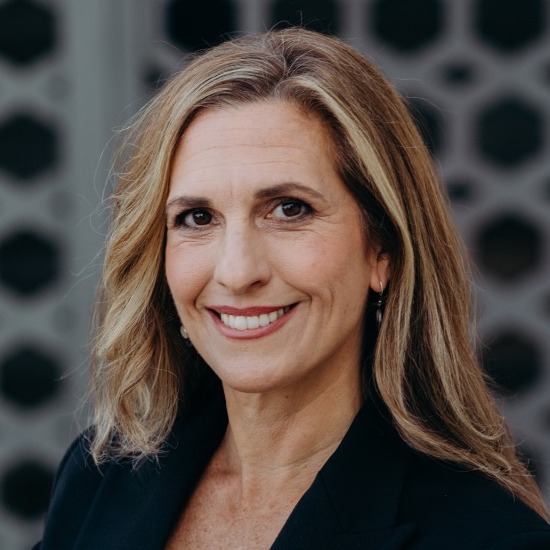 Nicole Jansezian was the news editor and senior correspondent for ALL ISRAEL NEWS.
A message from All Israel News
Help us educate Christians on a daily basis about what is happening in Israel & the Middle East and why it matters.
For as little as $5, you can support ALL ISRAEL NEWS, a non-profit media organization that is supported by readers like you.
Donate to ALL ISRAEL NEWS
Current Top Stories
Comments