BIBI IS BACK: Congrats to Netanyahu for his dramatic return to power – now, how will he handle these 3 enormous challenges?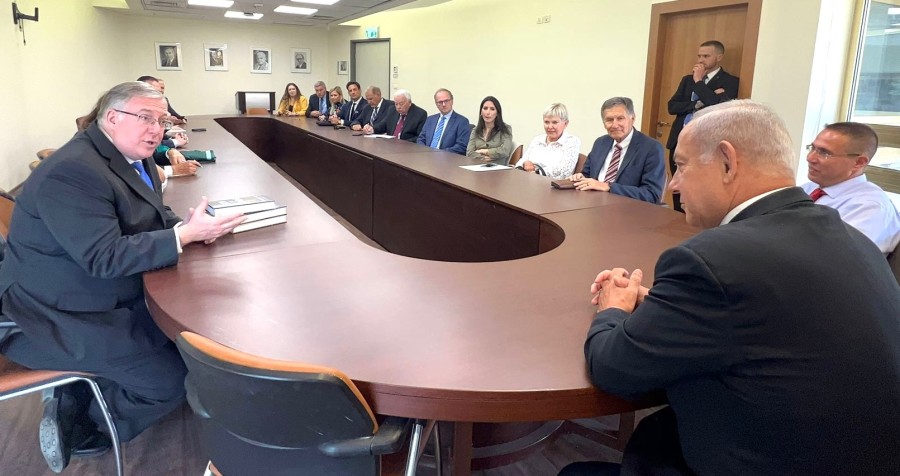 Joel C. Rosenberg and a delegation of Evangelical business and media leaders meet with then-opposition leader Benjamin Netanyahu, May, 2022 (Photo: ALL ISRAEL NEWS)
JERUSALEM—On my New Year's edition of THE ROSENBERG REPORT television show last night, I did a countdown of the Top 10 biggest, most important, most talked about and most-read stories affecting Israel in 2022.
Coming in at number one – without a doubt – was the dramatic return to power of Benjamin "Bibi" Netanyahu.
Speculation over Bibi's possible return to power dominated our coverage at ALL ISRAEL NEWS this year.
On May, I wrote a column based on an hour-long meeting I had with Netanyahu and a delegation of Evangelical business and media leaders I had taken to Bahrain, the United Arab Emirates and Israel.
Though the meeting was off-the-record, I was allowed to write my impressions of the then-leader of the opposition in Israel's Knesset.
Describing Netanyahu as "tanned, rested, and ready," I explained that he seemed confident that he was heading for an historic and unprecedented political comeback. Never before has an Israeli prime minister come back from the political wilderness – not just once but twice.
In July, I argued on Newsmax TV and here on ALL ISRAEL NEWS that based on all the trendlines that I was seeing, I believed Bibi had a 60% chance of returning as prime minister.
Throughout the summer and fall, my colleagues and I closely covered his campaign and in October – on the very first episode of THE ROSENBERG REPORT – I profiled Netanyahu in a story we called, "Comeback Kid, or Bye, Bye, Bibi?"
Bibi is "a shrewd political cat, and it's by no means clear that his nine lives are up," I noted, suggesting viewers prepare for the likelihood that the longest-serving premier in modern Israeli history was about to return to power.
And sure enough, Netanyahu and his allies won the election decisively, securing a 64-seat majority out of the 120 seats in our parliament.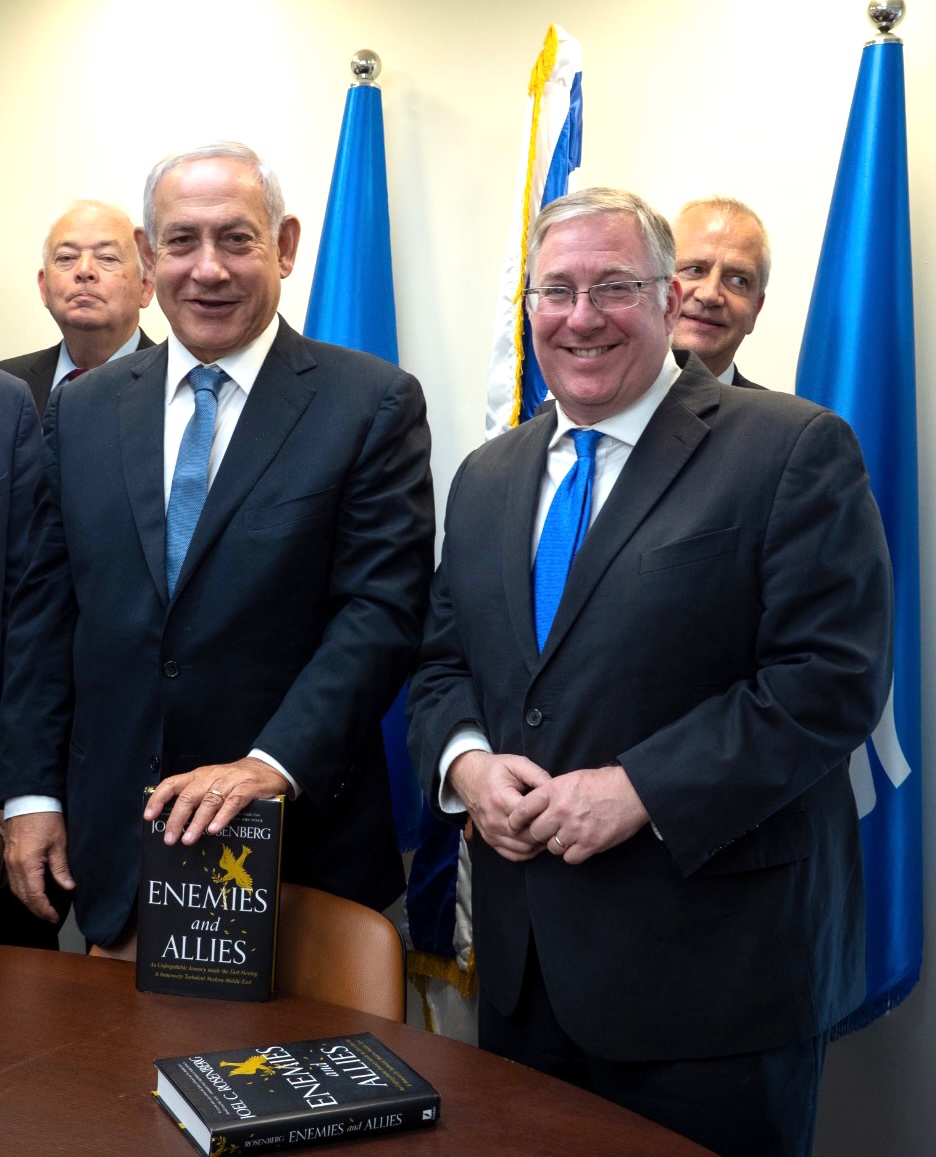 Joel C. Rosenberg presents a copy of his book "Enemies & Allies" to then-opposition leader Benjamin Netanyahu, May, 2022 (Photo: ALL ISRAEL NEWS)
NETANYAHU AND TEAM SWORN IN YESTERDAY
This week, Netanyahu finalized all of his coalition agreements, named all of his Cabinet ministers, and informed Israeli President Isaac Herzog that he had successfully formed his sixth government.
Yesterday, Bibi and his colleagues were officially sworn in.
The five successive campaigns over the last four years were challenging.
So were the nearly two months of intense and pain-staking negotiations with his coalition partners – and his fellow Likudniks, some of whom are furious that they didn't get the Cabinet positions they wanted.
But all that may prove easy for Netanyahu compared to the challenges that lie ahead now that he and his family are moving back into the prime minister's official residence on Balfour Street here in Jerusalem.
The 37th government of Israel poses for the traditional photograph at the President's Residence in Jerusalem after its swearing-in (Photo: Avi Ohayon/GPO)
WHAT ARE THE THREE BIGGEST CHALLENGES NETANYAHU FACES IN 2023?
Here are three of those challenges that I highlighted on last night's program.
Can Bibi continue his free market revolution, as he hopes? Can he implement much-needed additional reforms, turbocharge economic growth which was strong in 2022 but expected to slow significantly in 2023, restrain inflation, and help Israelis truly earn higher wages and buy more affordable apartments?

After working with former U.S. President Donald Trump to broker the Abraham Accords and making peace with four Arab countries, can Bibi now strike a peace deal with Saudi Arabia? He's been saying in almost every interview over the last several months that this is one of his top foreign policy priorities. And he's just named his most trusted foreign policy advisor – Ron Dermer, who served as Israel's ambassador to the U.S. for seven years – as his minister of Strategic Affairs, responsible for the U.S. and Saudi portfolios. If anyone can make it happen, it's them. But for a range of reasons that I'll lay out in another column, it is certainly not going to be a cake walk, especially with highly-religious zealots in his Cabinet who are on record making hateful and incendiary comments about Israeli and Palestinian Arabs and want to aggressively seize control of the whole of Judea and Samaria – what the world calls the West Bank of the Jordan River.

Can Bibi truly neutralize the Iran nuclear threat, with or without the help of the Biden administration, even as Putin and the Iranians forge an ever-closer alliance, as he has also promised? Is there a way to accomplish this diplomatically, through a radically re-written nuclear deal with Iran? Are there ways to thwart the terror-masters in Tehran through clever cyber warfare strategies or other clandestine measures? Or will Netanyahu actually have to launch pre-emptive military strikes against Iran's nuclear and other strategic sites, running the risk of engulfing the entire region in a major new war? At his side will be Tzachi Hanegbi, a long-time advisor and confidante whom Bibi has just appointed as his National Security advisor. In November, I conducted an exclusive interview with Hanegbi on THE ROSENBERG REPORT. He told me Netanyahu is ready to order an attack on Iran if the Biden team fails to neutralize the Iranian threat soon – and that decision time is increasingly close at hand. "Netanyahu came back to office, I think, mainly because of his recognition [that] the time has come for a decision that is going to be probably one of the most radical decisions ever made – or profound decision ever made – by an Israeli leader," the veteran Knesset member told me. 
AND THERE ARE MORE CHALLENGES, TOO
These are not the only complex issues Netanyahu will face.
As we will cover in a range of stories in the days and weeks ahead, Bibi will also have to figure out how to:
PLEASE PRAY FOR NETANYAHU AND ALL ISRAEL AS WE HEAD INTO 2023
Most of the mainstream media is completely ignoring what's happening in Israel and the broader Middle East.
But, as I noted in my year end show, you can count on THE ROSENBERG REPORT – and my colleagues here at ALL ISRAEL NEWS and ALL ARAB NEWS – to tell you what's happening in the Epicenter, why it matters, and who and what to pray for.
Let's be sure to start the New Year by praying faithfully for Prime Minister Netanyahu, his family, and his team, and the rest of the government and Knesset.
The new year is going to be a very challenging one and our leaders need Evangelicals to be praying for them without ceasing.

Joel C. Rosenberg is the editor-in-chief of ALL ISRAEL NEWS and ALL ARAB NEWS and the President and CEO of Near East Media. A New York Times best-selling author, Middle East analyst, and Evangelical leader, he lives in Jerusalem with his wife and sons.
A message from All Israel News
Help us educate Christians on a daily basis about what is happening in Israel & the Middle East and why it matters.
For as little as $5, you can support ALL ISRAEL NEWS, a non-profit media organization that is supported by readers like you.
Donate to ALL ISRAEL NEWS
Current Top Stories
Comments