I just spent an hour with Benjamin Netanyahu – looking 'tanned, rested and ready,' is a comeback in the cards for the former prime minister?
Some clues: Bibi has just finished writing a new book, is surging in the polls, and is meeting with Evangelical business and media leaders. Here's my report.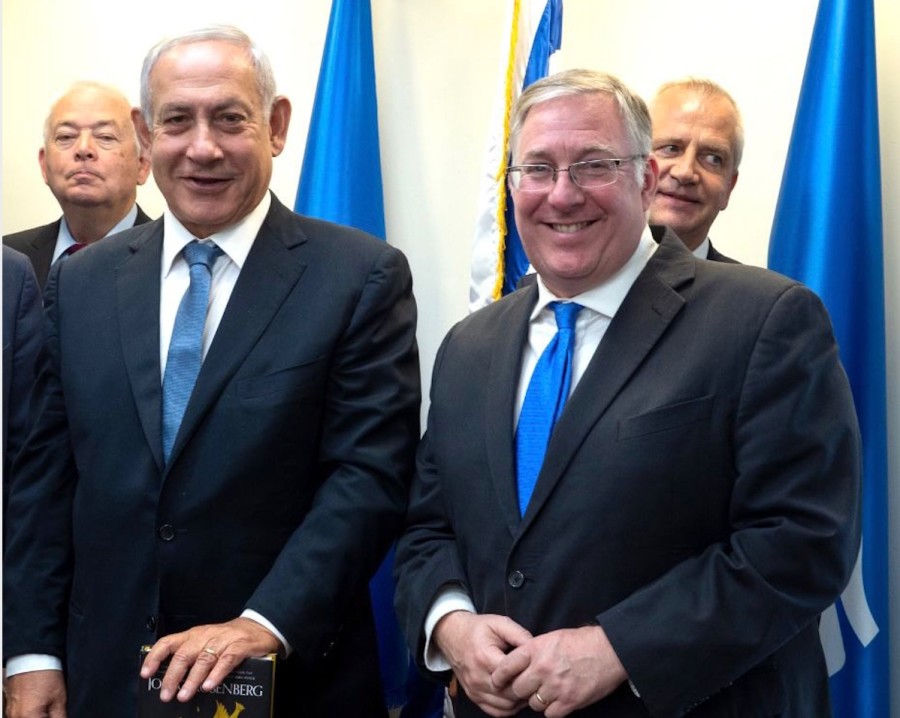 Joel C. Rosenberg and a delegation of Evangelicals meet with former Israeli Prime Minister Benjamin Netanyahu, Apr. 28, 2022 (Photo: Yehuda Chamorro/CBN News)
JERUSALEM—To all those who hate Benjamin "Bibi" Netanyahu and hope that he never returns to power, I recommend you skip this column.
Last Thursday, I spent an hour with the longest-serving prime minister in the history of the modern state of Israel, who is currently serving as leader of the Opposition.
And I have to tell you: he doesn't look depressed, dejected, discouraged or distraught.
This is not a man licking his wounds and contemplating retirement.
On the contrary, the first thing that came to mind when Netanyahu and I shook hands was that I was looking into the eye of a man preparing to make a political comeback and supremely confident of his chances of success.
"TANNED, RESTED AND READY"
Indeed, the line that immediately came to mind was that of Richard Nixon in 1968 that he was "tanned, rested and ready" to lead the nation, despite losing the presidency in 1960 to Jack Kennedy, and subsequently losing his bid to become governor of California in 1962.
Bibi's critics will say the Nixon reference is apt, given the serious legal challenges that Netanyahu now faces.
But I'm not referring to Nixon's Watergate troubles.
The "tanned, rested and ready" line predated all that. It was uttered by Nixon as he was surging back into popularity and positioning himself to win the presidency in '68.
Today, Bibi looks healthy, fit and at peace with himself and the world.
After being driven out of office by Naftali Bennett and Yair Lapid last summer, he and his wife, Sara, took an extended vacation in Hawaii.
Then they moved out of the prime minister's residence to their home in Caesarea, a resort community on the coast of the Mediterranean.
They're taking regular walks along the shore.
They're visiting old friends and political allies in cities and towns that are Likud strongholds.
For the first time since he re-entered office as premier in 2009, Bibi has time to read and relax and recharge.
And it shows.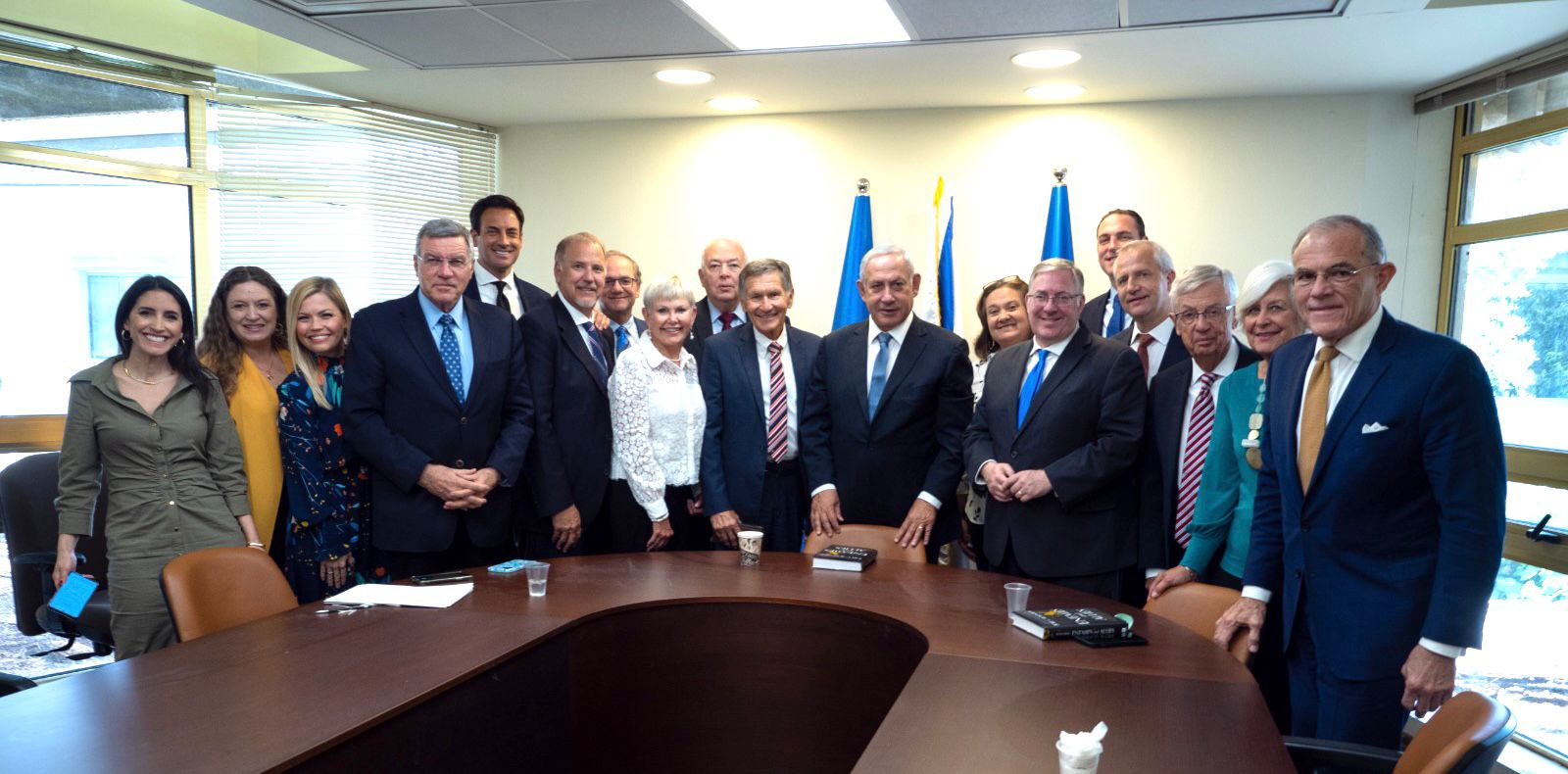 Joel C. Rosenberg and a delegation of Evangelicals meet with former Israeli Prime Minister Benjamin Netanyahu, Apr. 28, 2022 (Photo: Yehuda Chamorro/CBN News)
WRITING HIS MEMOIRS
Bibi isn't just reading, however.
He's also had the time to write.
In fact, he recently finished writing a book about his last twelve years in office and the extraordinary accomplishments that he racked up during that time.
·      Negotiated peace and normalization agreements with four Arab states – the United Arab Emirates, Bahrain, Morocco, and Sudan – known as the "Abraham Accords."
·      Persuaded the U.S. to finally recognize Jerusalem as the true capital of the State of Israel.
·      Persuaded the U.S. to move its embassy to Jerusalem.
·      Persuaded Washington to recognize Israeli sovereignty over the Golan Heights.
·      Purchased squadrons of state-of-the-art F-35 stealth fighters for the Israeli air force.
·      Sent the Mossad into Iran on a daring raid to steal a treasure trove of Tehran's nuclear secrets.
·      Kept Israel out of any major new war.
·      Vastly improved and expanded Israeli relations with India, China, Africa and Latin America.
·      Managed delicate relations with Russian President Vladimir Putin.
·      Strengthened and expanded Israel's high-tech economy.
·      Oversaw and developed the discovery of trillions of cubic feet of natural gas off of Israel's coastline.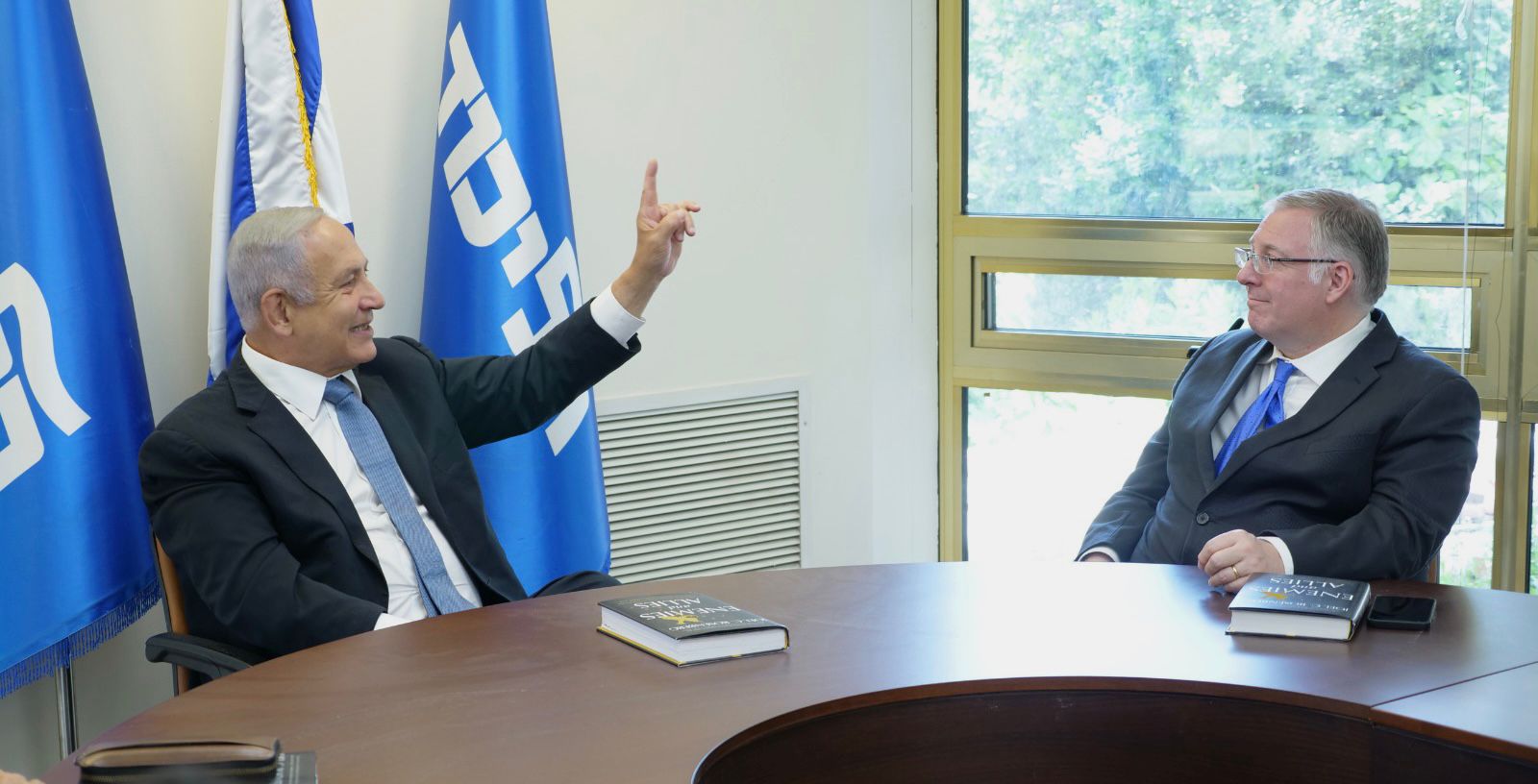 Joel C. Rosenberg and former Israeli Prime Minister Benjamin Netanyahu, Apr. 28, 2022 (Photo: ALL ISRAEL NEWS)
SURGING IN THE POLLS
Despite being driven out of office and currently on trial on various corruption charges, Netanyahu and his Likud party are not sinking in the polls.
They are actually surging.
Currently, Likud has 30 seats in the Knesset, but the latest polls suggest they could pick up between 35 and 38 seats.
Many Israeli voters believe Netanyahu is innocent of the legal charges against him and say the prosecution is engaged in a political vendetta against a highly successful if controversial prime minister.
Meanwhile, recent defections inside Naftali Bennett's Yamina party have eliminated any margin of error for the first-term prime minister.
Bennett's coalition has 60 seats.
The opposition also has 60 seats.
Meanwhile, Bennett's party – along with several right-wing parties in his coalition – are slipping in the polls, and teetering on the edge of the minimum threshold necessary to re-enter the Knesset.
This is why people close to Netanyahu believe it is just a matter of time before the government collapses, the nation goes back to the polls, and Netanyahu becomes prime minister once again.
MEETING WITH EVANGELICAL CHRISTIANS
In January, ALL ISRAEL NEWS listed Netanyahu at #4 on our list of the 22 Israelis to watch in 2022.
"What does the future hold for Netanyahu?" I wrote at the time, noting that one of our staff had asked me, "If Bibi is possibly on his way out of politics, why would we put him on this year's list?"
My answer was simple: "Netanyahu is a shrewd political cat, and it is by no means clear that his nine political lives are up. He always seems to find his way back into the spotlight."
That's why I was grateful that Netanyahu accepted my invitation to meet with our "Abraham Accords Delegation of Evangelical Business & Media Leaders."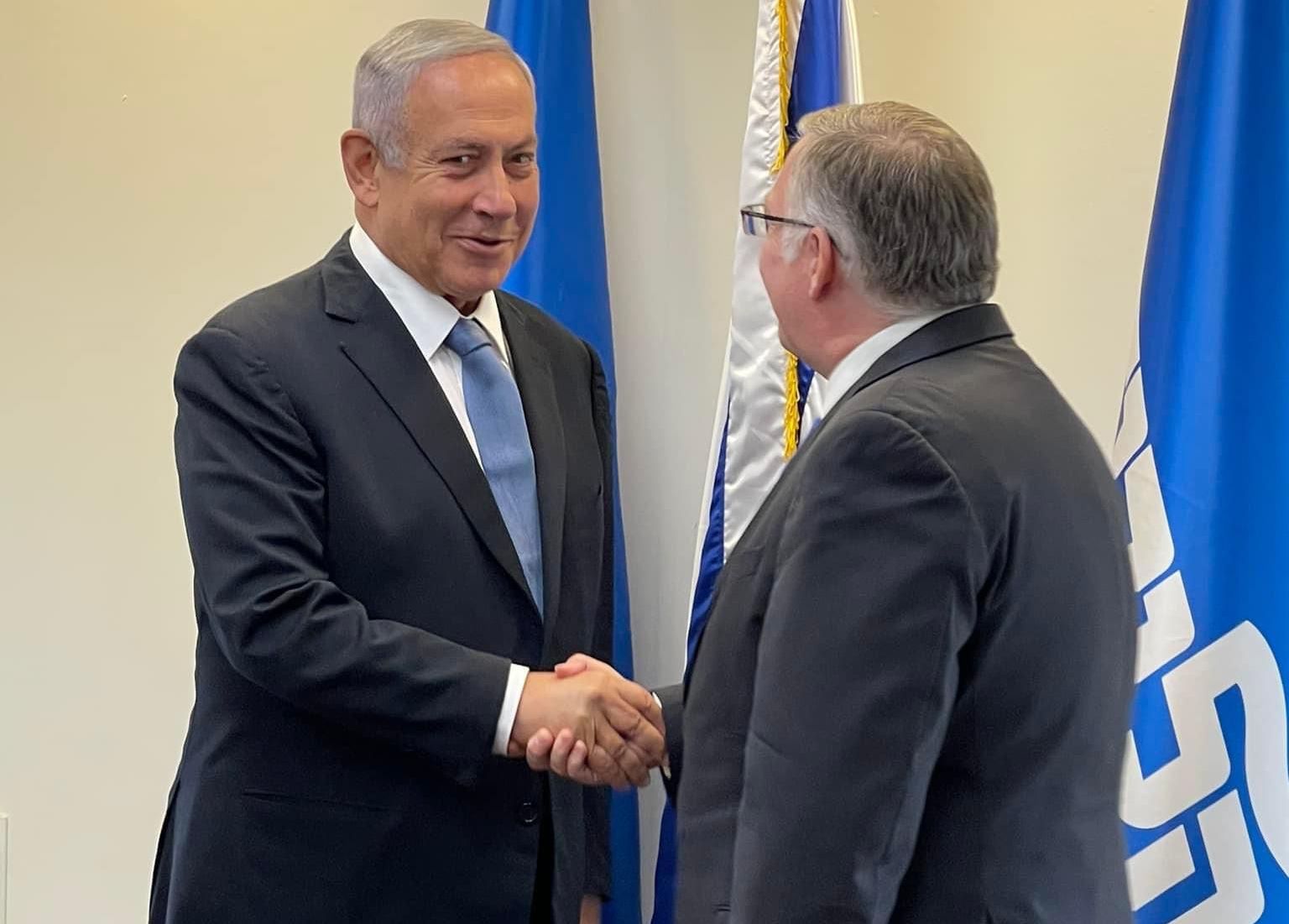 Joel C. Rosenberg and former Israeli Prime Minister Benjamin Netanyahu, Apr. 28, 2022 (Photo: ALL ISRAEL NEWS)
Having just met with senior government officials in Bahrain and the United Arab Emirates, involved in brokering and implementing the Accords, I wanted these Evangelicals to have the opportunity to meet with the Israeli leader responsible for those accords, to be able to ask him why he was about to forge agreements with four Arab states, how he thinks the accords are working so far, and which Arab countries might be the next to join.
I also wanted our group to be able to ask him about his views regarding the Iran nuclear and terror threat, and what Israel needs to do going forward to protect itself from a second Holocaust.
ALL ISRAEL NEWS is a non-profit and thus non-partisan organization.
We don't endorse political candidates in Israel, the United States or anywhere else.
We do, however, seek to meet and interview leaders across the political spectrum in order to understand their vision, values and views, and then be able to accurately and fairly convey what we learn to our readers.
This particular meeting with Netanyahu was not on-the-record.
Thus, I can't share with you specifically what he told us.
That said, I wanted to share with you my impressions.
I can't tell you whether another political comeback is in the cards for Netanyahu.
But I can tell you that I have no doubt that Bibi and his team are ready to try, and they feel increasingly confident that they will succeed.
Stay tuned.

Joel C. Rosenberg is the editor-in-chief of ALL ISRAEL NEWS and ALL ARAB NEWS and the President and CEO of Near East Media. A New York Times best-selling author, Middle East analyst, and Evangelical leader, he lives in Jerusalem with his wife and sons.
A message from All Israel News
Help us educate Christians on a daily basis about what is happening in Israel & the Middle East and why it matters.
For as little as $5, you can support ALL ISRAEL NEWS, a non-profit media organization that is supported by readers like you.
Donate to ALL ISRAEL NEWS
Current Top Stories
Comments