Netanyahu enters sixth term as prime minister at raucous ceremony on Thursday
Opposition vows to fight the 64-seat majority and slow down its progress on controversial legislation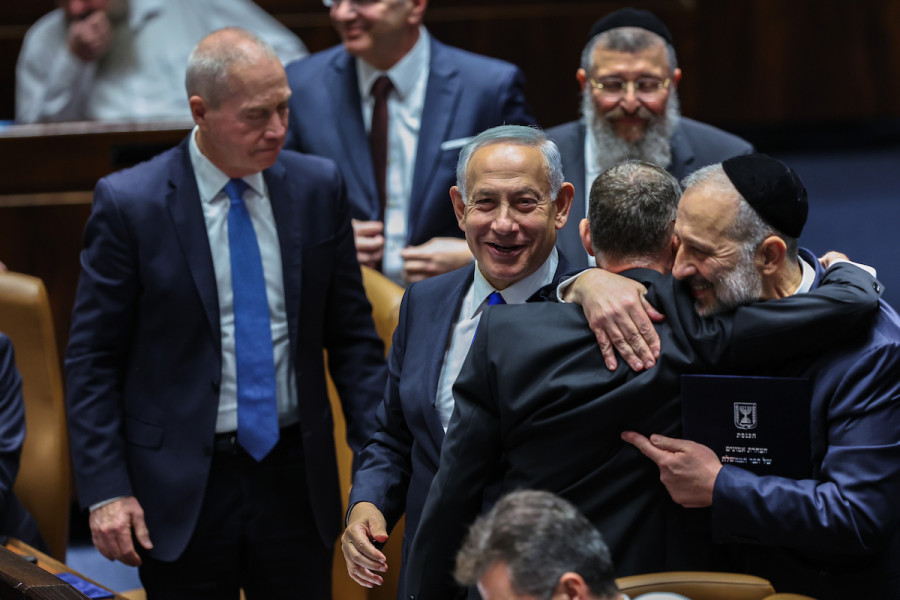 Netanyahu celebrates after the Knesset vote of confidence for the 37th government, Dec. 29, 2022. (Photo: Yonatan Sindel/Flash90)
JERUSALEM—Some opposition members walked out in protest while others were kicked out for heckling, as Benjamin Netanyahu gave his speech at the beginning of the swearing-in of Israel's 37th government on Thursday.
"Losing elections isn't the end of democracy – it's the essence of democracy," Netanyahu retorted to his detractors. 
"In a democracy, we don't climb the fences of the Capitol, and we don't climb the fences of the Knesset," he said referring to the break in of the U.S. Capitol building on Jan. 6, 2021.
The returning premier ended his speech with a prayer, the shehecheyanu: "Blessed are You, Lord our God, King of the Universe, who has granted us life, sustained us and enabled us to reach this season."
In his remarks, Netanyahu extolled his previous government's accomplishments, including bringing the Pfizer COVID vaccine to Israel. He also laid out four goals of his new government including preventing a nuclear Iran, restoring internal security, dealing with the high cost of living and the housing problem and expanding the Abraham Accords.
In his final moments as prime minister, Yair Lapid defended his coalition's record and even credited his government with laying "the foundations full Saudi Arabia's full accession to the Abraham Accords."
Lapid said that "the full classified details" will be handed over to the incoming prime minister.
"If the new government continues on the path we've set, full normalization with the Saudis can be obtained soon," he said.
"We are transferring a country to you in excellent condition. With a strong economy, with improved security capabilities and powerful deterrence, with some of the best international standing ever. Try not to ruin it, we'll be back soon," he said.
The raucous atmosphere was echoed outside the Knesset with hundreds of protestors gathered to protest the new government.
The new government is Israel's most religious in its history and is comprised of several right- to far-right parties, along with two representing the ultra-Orthodox community. 
Mansour Abbas – the leader of Ra'am, the only Arab party to serve in an Israeli government – will now enter the opposition again after a one-year stint with Arab representation in the coalition.
"The first rule of democracy is even if you are elected by half the country you can't ignore the rest of the country. Arabs are 20% of the country," he told ALL ISRAEL NEWS. "It can't be that a government that formulates its policies over dozens of pages – and the Arab community is not represented in even one or two clauses."
Indeed, opposition members who spoke with ALL ISRAEL NEWS said they see their mission to put a stop to the highly publicized and controversial agenda of the new government.
"It's a black day for Israel. We are witnessing the establishment of the most racist, homophobic, violent government that ever existed in Israel. And we're not going to stand by quietly. We're going to fight for our rights, for our lives," said Yorai Lahav-Hertzano.
Lahav-Hertzano, who serves with Yesh Atid, noted that the plenary was devoid of foreign dignitaries who were invited to the session, but apparently chose not to attend. 
"I see a hardening of the international tone towards Israel," he observed. "You can see the invitations that were sent to all of the diplomats and all the (diplomatic) staff in the country – no one was there. It was empty."
Sharren Haskel, who served in the previous government and now enters the opposition with the New Hope party, said it is incumbent on the new government to "fight any legislation that" harms minority and women's rights. 
Despite three pieces of legislation already pushed through by the new government before it was sworn in, Haskel noted that the opposition put up enough of a fight to delay it by several weeks.
"You can't take that for granted," she said. "The swearing in of the government was held back three weeks as well. That is part of our work as an opposition. 
Lahav-Hertzano echoed Haskel's sentiments.
"We disrupted Netanyahu's program and plans and schedule. He wanted to form the government a day after the elections. We are now two months after it," he said. We are not going to sit quietly. We're going to fight. We are going to delay it as much as possible."
Netanyahu – who now enters his sixth term as prime minister – listed his final picks for Cabinet positions and ministers, some of which came as a surprise. For example, the American-born Ron Dermer, Israel's former ambassador to the United States, having been rumored as a candidate for foreign minister, will serve as minister of Strategic Affairs. Likud Knesset Member Eli Cohen will be the foreign minister. 
In the end, Netanyahu's government will have more than 30 ministers, which – although double that of two decades ago – is on par for Israeli governments in recent history.  
Though most of the plumb positions went to other coalitions members, Netanyahu distributed several positions to several of his own Likud members.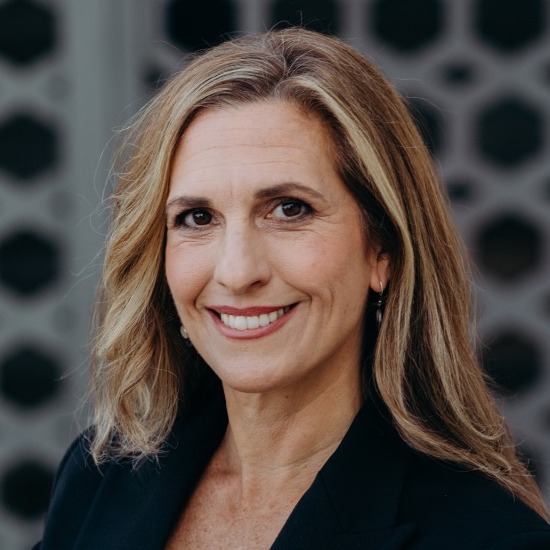 Nicole Jansezian is the news editor for both ALL ISRAEL NEWS and ALL ARAB NEWS and senior correspondent for ALL ISRAEL NEWS
A message from All Israel News
Help us educate Christians on a daily basis about what is happening in Israel & the Middle East and why it matters.
For as little as $5, you can support ALL ISRAEL NEWS, a non-profit media organization that is supported by readers like you.
Donate to ALL ISRAEL NEWS
Current Top Stories
Comments