Rising rapidly in Israeli polls, are Bezalel Smotrich and Itamar Ben Gvir the 'radicals', 'racists' and 'extremists' their critics claim?
US leaders warn Netanyahu not to associate with them but their party – 'Religious Zionism' – is poised to become 3rd largest in the Knesset after Nov. 1 elections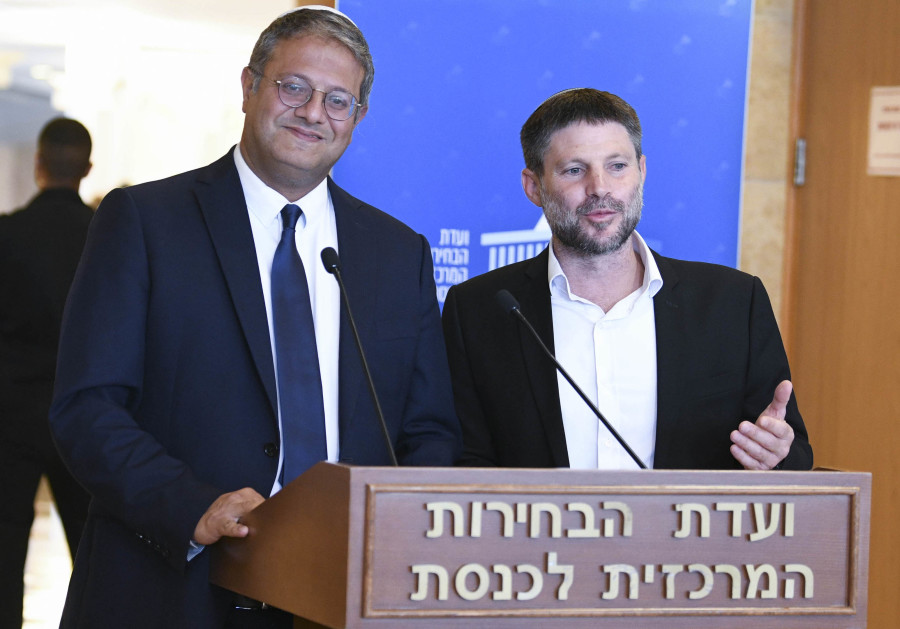 Itamar Ben Gvir and Bezalel Smotrich of the Religious Zionism party registering their party for the upcoming elections, at the Knesset in Jerusalem, Sept. 14, 2022. (Photo: Arie Leib Abrams/Flash90)
JERUSALEM—In just two weeks, Israeli voters head to the polls in yet another round of high-stakes elections.
The two latest media surveys, released yesterday, reveal that the fastest-rising faction is the "Religious Zionism" party, on track in both surveys to pick up 14 seats.
This suggests that the Religious Zionism party is poised to become the third biggest faction in the Knesset.
Few people outside Israel have ever heard of the party or its leaders, but they are among the most controversial figures in all of Israeli politics.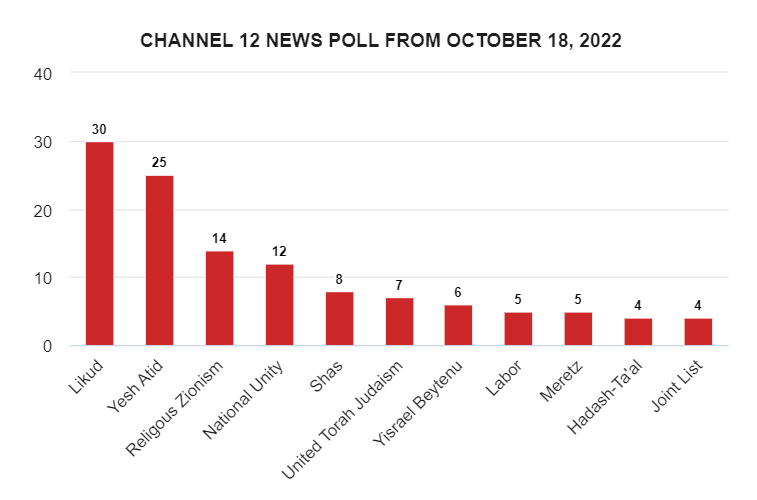 (credit: Times of Israel)
U.S. LEADERS WARN NETANYAHU NOT TO BRING SMOTRICH OR BEN GVIR INTO GOVERNMENT
On Oct. 1, Axios' diplomatic correspondent Barak Ravid reported that during a trip to Israel in September, U.S. Senator Bob Menendez – the New Jersey Democrat – "warned Israeli opposition leader Benjamin Netanyahu that if he forms a government after the Nov. 1 elections that includes right-wing extremists, it could harm U.S.-Israel bilateral relations, according to two sources familiar with the meeting."
The senator had two specific men in mind.
One is Bezalel Smotrich.
He's a 42-year-old Orthodox Jewish lawyer who runs the "Religious Zionism" party, regarded by many Jews here in Israel and abroad as "extremists," bitterly anti-Arab, and hostile to any branch of Judaism other than his brand of Orthodoxy.
Smotrich openly calls for Israeli hospitals to segregate Jewish and Arab mothers in separate maternity wards, saying, "It's only natural my wife would not want to lie next to someone who just gave birth to a baby that might murder her baby in another 20 years."
He vows to drive Israeli Arab citizens out of the country if he deems them not loyal enough to the State.
Recently, Smotrich called for a ban on all Arab citizens of Israel from being able to continue forming and running their own political parties, even though Israeli Arabs make up some 20% of the country's population.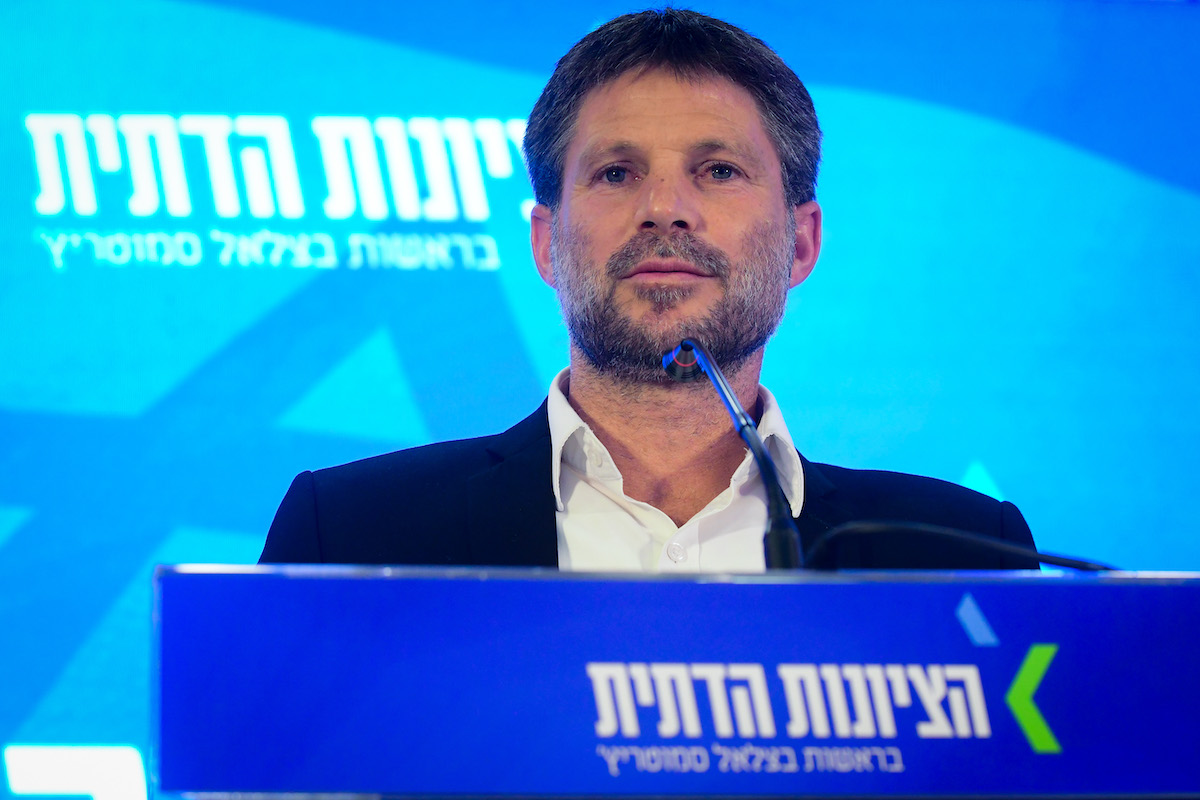 Chairman of the Religious Zionism party, Bezalel Smotrich, speaks to the press, in Ramat Gan, Aug. 23, 2022. (Photo: Avshalom Sassoni/Flash90)
Yaakov Katz, editor-in-chief of the Jerusalem Post – the leading English daily newspaper here whose editorial positions are center-right – calls Ben Gvir "a threat to the future of Israel's fragile democratic character, and if he gets his way – and Netanyahu gets his 61 seats – these two men will have the ability to demolish the country."
"A government with Ben Gvir in it will undermine Israel's standing in the world, and the country will take on the contours of a fascist state," Katz argued.
A columnist for the left-wing Haaretz daily newspaper has described Smotrich as "the blue-eyed bearded settler who has become the country's youthful face of unrepentant political and religious extremism and intolerance."
"I'm not a racist," Smotrich insisted to the Jerusalem Post earlier this year after a leading British Jewish organization called him a "disgrace" and said they rejected his "disgusting ideology that promotes hatred."
The other target of Sen. Menendez's concern is Itamar Ben Gvir.
He's a 46-year-old Orthodox Jewish lawyer who heads up another extreme right-wing political party called "Otzma Yehudit," Hebrew for "Jewish Power."
As Ravid reported in his story, Ben Gvir "was convicted in 2007 of supporting a terror organization and inciting racism" and "has said his aim is to establish a new ministry for encouraging 'enemies' and people who are 'disloyal' to the state to leave Israel."
Ben Gvir, he added, is also known for sneaking up to then-Prime Minister Yitzhak Rabin's limousine in 1995, ripping the Cadillac emblem off it, displaying his souvenir and then declaring, "We reached Rabin's car. We will get to Rabin too."
Later that same year, Rabin was assassinated by a Jewish extremist.
Menendez told Netanyahu he has "serious concerns" over the possibility that Netanyahu would form a government that included in it "extremist and polarizing individuals like Ben Gvir," sources told Ravid.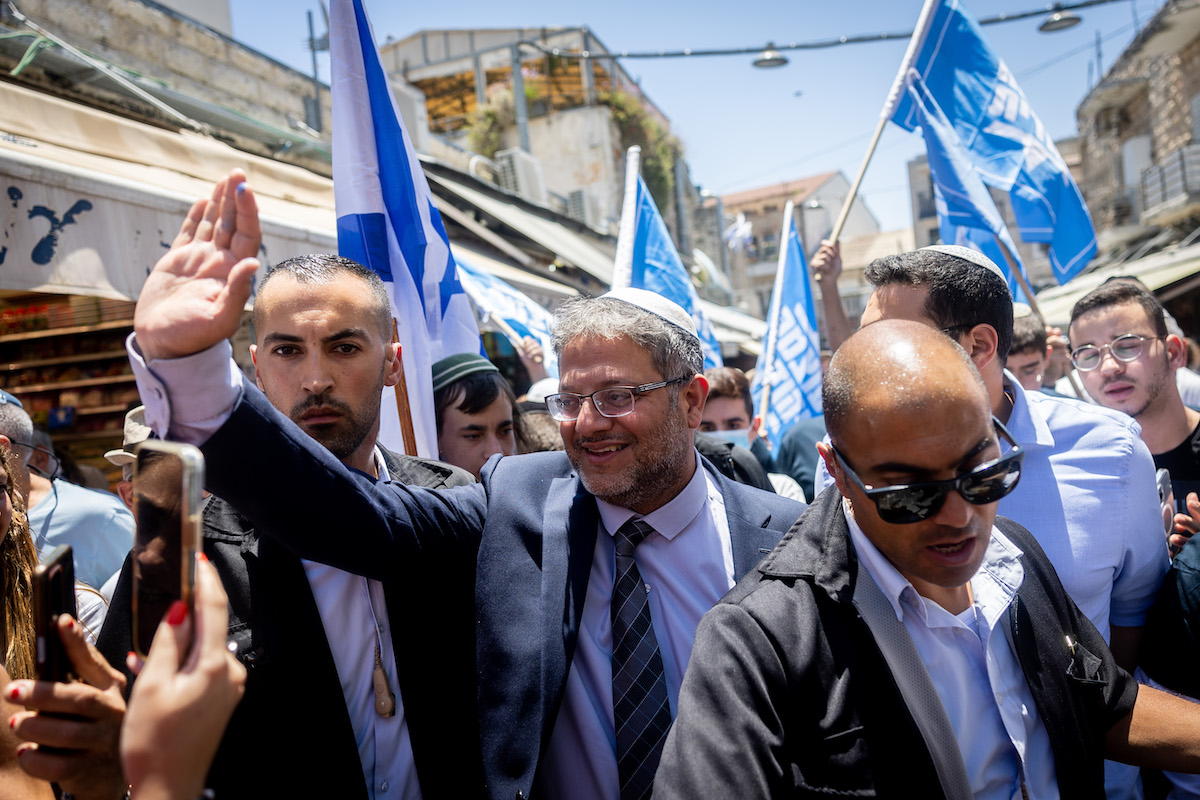 Itamar Ben Gvir of the Otzma Yehudit party tours at Mahane Yehuda market in Jerusalem, July 22, 2022. (Photo: Yonatan Sindel/Flash90)
Now Smotrich and Ben Gvir have formed a political alliance, merging their parties together and vowing to enter a Netanyahu government in senior Cabinet positions.
The two men say they want to control Israel's defense, finance and justice ministries, and possibly transportation, as well.
This is what has pro-Israel leaders in Washington – and some Jewish leaders worldwide – so alarmed.
On Oct. 4, Congressman Brad Sherman – the California Democrat –tweeted this: "As Israel heads towards another elections in November, I urge Israeli political leaders from all sides of the political spectrum to ostracize elements like Itamar Ben Gvir whose outrageous views run contrary to Israel's core principles of a democratic and Jewish state."
Then Sherman tweeted a follow up.
"These extremists undermine Israel's interests and the U.S.-Israel relationship, which I and my colleagues have worked to strengthen."
RELIGIOUS ZIONISM TURNS DOWN INTERVIEW REQUEST
How do Smotrich and Ben Gvir respond to such charges?
ALL ISRAEL NEWS reached out to the Religious Zionism party to request an interview before the election but was turned down. We will continue to reach out for comment though because it is an important story.
ANTI-DEFAMATION LEAGUE DENOUNCES SMOTRICH AND BEN GVIR
That said, it's not the first time such warnings about them have been issued.
In 2019, the Anti-Defamation League issued this statement.
"The leaders of Otzma Yehudit are self-identified disciples of U.S.-born Rabbi Meir Kahane, who preached a radical form of Jewish nationalism that promoted unabashed and virulent anti-Arab racism, violence and political extremism. While he was alive, ADL and the vast majority of American Jewish organizations and leaders roundly condemned Kahane and the organizations he founded including the Jewish Defense League (JDL) and Kach, seeing his extremism and hate as anathema to Judaism and democratic values."
"Kahane's extreme worldview didn't die out following his assassination in 1990," the statement continued. "Baruch Goldstein, a Jewish extremist who murdered 29 Palestinian worshippers in cold blood in Hebron in 1994, was a disciple of his, as was Yigal Amir, the Jewish law student who murdered Israeli Prime Minister Yitzchak Rabin in 1995. Horrifyingly, both Goldstein's and Amir's actions were met with defense and even praise by a number of rabbis and other leaders in Israel and the U.S., including some who currently make up the Otzma party…."
"In recent years, many in Israel and within the American Jewish community have called out the hateful rhetoric and policies of the figures now leading the Otzma Party."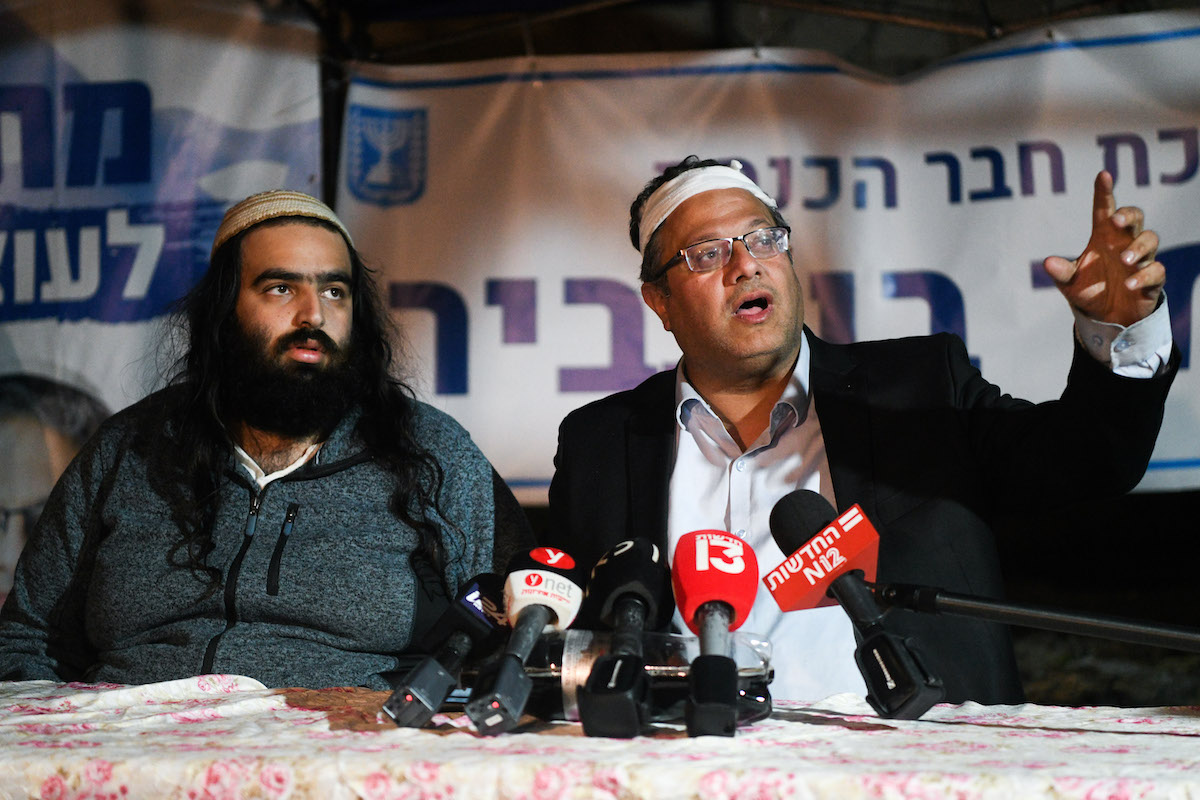 MK Itamar Ben Gvir holds a press conference at his makeshift parliamentary office in the East Jerusalem neighborhood of Sheikh Jarrah, Feb. 14, 2022. (Photo: Arie Leib Abrams/Flash90)
OTHER JEWISH GROUPS DENOUNCE THEM ALSO
That same year, the American Jewish Committee issued its own warning.
"[The] AJC does not normally comment on political parties and candidates during an election. But with the announcement that Otzma Yehudit….a party formed by longtime followers of the late Rabbi Meir Kahane, is now seeking election to the Knesset, we feel compelled to speak out. The views of Otzma Yehudit are reprehensible. They do not reflect the core values that are the very foundation of the State of Israel."
The American Israel Public Affairs Committee – AIPAC, the leading pro-Israel lobbying group in the U.S – immediately tweeted its support for the AJC statement.
"We agree with AJC. AIPAC has a longstanding policy not to meet with members of this racist and reprehensible party."
Last year, ALL ISRAEL NEWS published a profile of Ben Gvir.
Senior correspondent Nicole Jansezian reported that over the years the firebrand lawyer has represented Israeli Jews accused of extremism and even terrorism.
"Among Ben Gvir's clients are two Jewish teens accused in the arson attack that killed three members of a Palestinian family – including a baby – while they slept," she wrote. "Ben Gvir also defended the man convicted of setting fire to the Church of the Loaves and Fishes in 2015."
Jansezian added that Ben Gvir has also defended "Bentzi Gopstein, director of the radical anti-assimilation group Lehava, accused of incitement, racism and terrorism. Gopstein has led violent protests at both Messianic Jewish and Christian events and once said Israel should expel all Christians."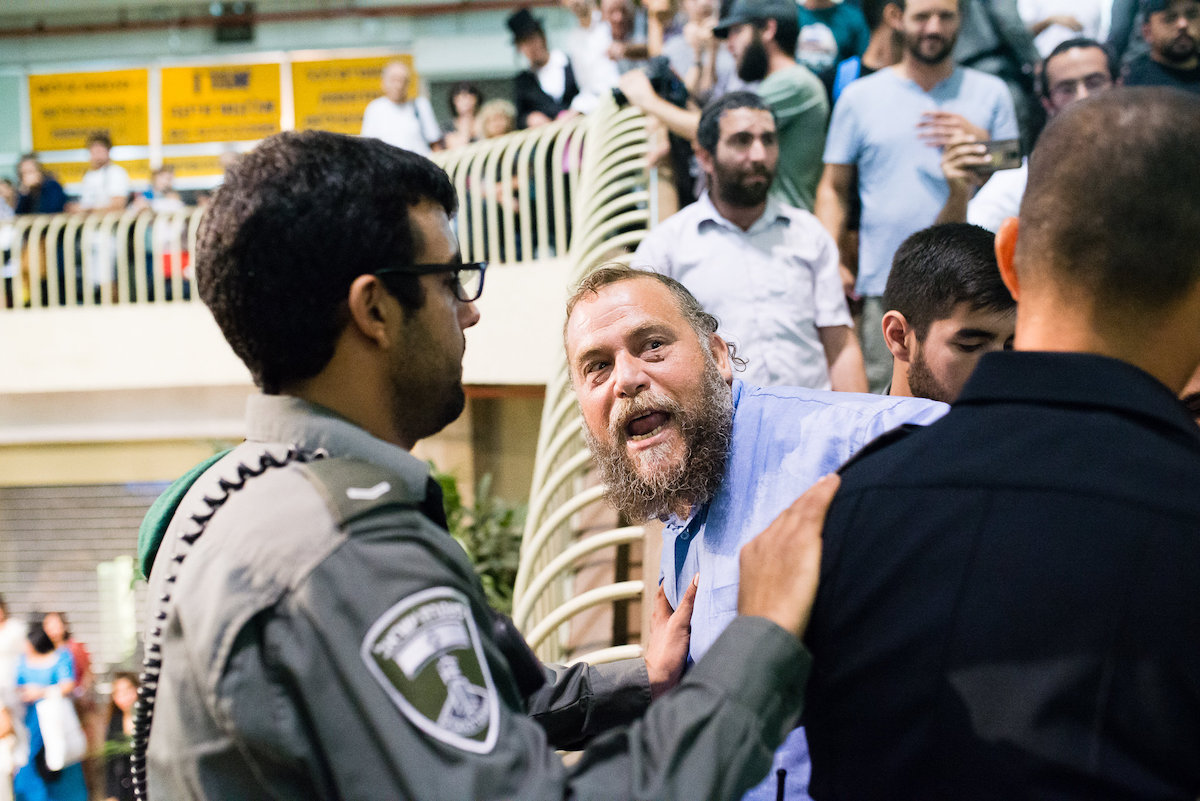 Lehava chairman Benzi Gopstein is being arrested by police after a violent protest outside a Christian event in Jerusalem, Sept. 22, 2016 (Photo: Dor Kedmi/Flash90)
WILL NETANYAHU BRING "RELIGIOUS ZIONISM" INTO HIS GOVERNMENT IF THEY HELP HIM REACH 61 SEATS?
During the last election, Netanyahu stated unequivocally that "Ben Gvir cannot be a minister in my government."
Will Bibi keep that pledge?
Does it apply to Smotrich, as well?
That's not yet clear.
On Monday, Netanyahu "refused to step onto a stage during a Simchat Torah event in Kfar Chabad," the Times of Israel reported, "until far-right MK Itamar Ben Gvir stepped down, so as to avoid being photographed with the number two on the Religious Zionism-Otzma Yehudit faction list, a member of Netanyahu's right-wing bloc."
"According to reports across the Hebrew media, Netanyahu's advisors were behind the move, which angered Ben Gvir," the Times added.
"Shame on you," Ben Gvir told organizers, according to a Channel 12 report.
But last month, "a senior member of opposition chief Benjamin Netanyahu's Likud party said Wednesday that he would 'do everything' to ensure extremist lawmaker Itamar Ben Gvir is included in the next government," the Times reported in a separate story.
"Miki Zohar, who is tenth on the Likud electoral slate and is considered an ally of Netanyahu, defended the controversial far-right politician as 'a right-wing person who, bottom line, has maintained his Jewish pride,'" the Times noted.
"Those who think Itamar Ben Gvir is a terrible person who doesn't contribute to Israel are bitterly wrong and are flat-out lying," Zohar said. "He believes in very many principles that we in Likud also believe in — and there are also areas in which we disagree with him."

Joel C. Rosenberg is the editor-in-chief of ALL ISRAEL NEWS and ALL ARAB NEWS and the President and CEO of Near East Media. A New York Times best-selling author, Middle East analyst, and Evangelical leader, he lives in Jerusalem with his wife and sons.
A message from All Israel News
Help us educate Christians on a daily basis about what is happening in Israel & the Middle East and why it matters.
For as little as $5, you can support ALL ISRAEL NEWS, a non-profit media organization that is supported by readers like you.
Donate to ALL ISRAEL NEWS
Current Top Stories
Comments