Is Netanyahu really finished? Is someone with only 7 seats really going to become prime minister? Did a Muslim Brotherhood party really agree to join Israel's government? If this new government rises to power, is that good or bad?
As the shockwaves from Wednesday's political earthquakes spread worldwide, Evangelical Christians are asking lots of questions – here are my initial answers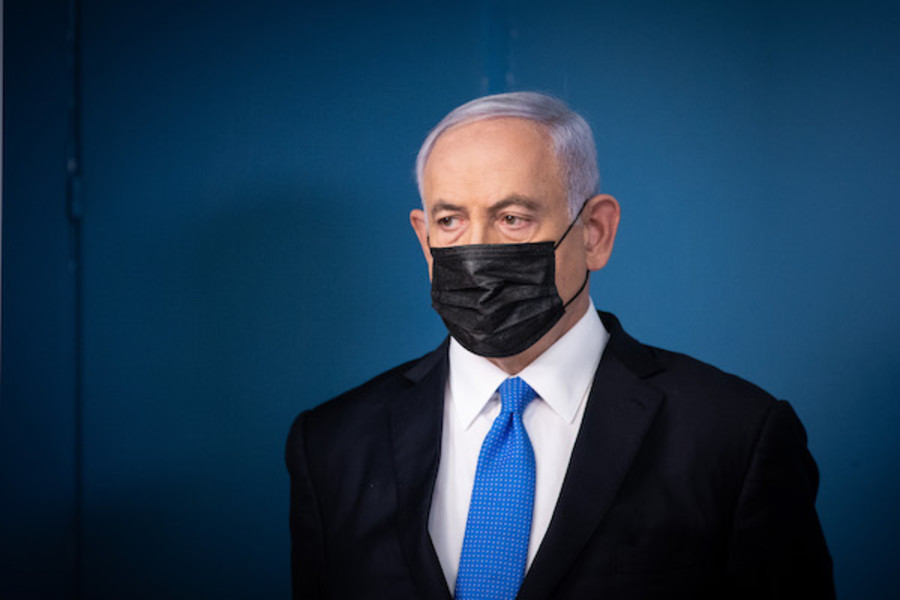 Israeli Prime Minister Benjamin Netanyahu gives a press conference at the Prime Minister's office in Jerusalem, April 20, 2021. (Photo: Yonatan Sindel/Flash90)
DUBAI, UNITED ARAB EMIRATES—It was strange, I will admit, to be in an Arab country while the biggest day in Israeli politics in a generation unfolded back home.
Indeed, yesterday was the Super Bowl of Israeli politics.
The Knesset voted to elect a new President – Isaac "Bougie" Herzog – for a seven-year term.
Meanwhile, the leaders of the opposition informed the current President Reuven Rivlin that they have formed a new government after four rounds of elections in two years, no state budget and ongoing political chaos and confusion.
Yet, Yair Lapid and Naftali Bennett only called Rivlin minutes before their mandate expired at midnight.
And only after a day of intense – some might say "brutal" – negotiations between eight opposition parties who have very little in common with each other except that they want to remove Netanyahu from power.
All the while Netanyahu and his allies were doing everything they possibly could to stop, or at least slow down, their opponents from driving them out of power.
Whew!
You thought the fireworks over Trump and Biden over the past year were intense?
That's nothing compared to Israeli politics, which are truly a blood sport.
But what does all of it mean?
I'm getting questions from Evangelicals all over the world.
Let me try to answer some of them as best I can.
QUESTION: Is Benjamin "Bibi" Netanyahu really finished?
ANSWER: No, not yet. Let's be honest. He's in grave danger. But remember, Netanyahu is a shrewd political cat. You don't become the longest-serving prime minister in the modern history of Israel without knowing how to engage in full metal jacket political combat. Or without having a few tricks up your sleeve.
At this point, I would not count Bibi out. Yes, many Israelis hate him. But he is still the most popular politician in Israel. His party, Likud, is still the biggest with 30 seats, almost double that of his main rival, Yair Lapid, whose Yesh Atid party has 17 seats.
And keep in mind that the coalition that Lapid and Bennett have formed is a hodgepodge of right-wing, centrist, and left-wing parties that have almost nothing in common with each other, as well as an Arab party that has never participated in an Israeli government before.
These are not people who are used to working with each other. Some of them deeply despise each other's ideologies.
So this whole thing could blow apart at any moment.
That's what Netanyahu and his allies will work toward, and it very well could happen.
QUESTION: Is someone with only seven seats in the Knesset really going to become the prime minister of Israel?
ANSWER: Maybe.
Naftali Bennett and his Yamina party only have seven seats – but actually, only five of his colleagues want to join this government. One says he will vote against it.
Never in Israeli history has the leader of a party with so few seats ever become premier.
The reason it could happen is that Lapid, with 17 seats, knows he cannot form a government without Bennett's help.
Lapid, a centrist, also knows that Israel has become a center-right country, politically.
Thus, he could not depend only on centrist and left-wing parties to oust Netanyahu and bring about change.
He urgently needed right-wing parties.
That's why Bennett became widely known as the "kingmaker" during the recent campaign, because everyone realized Lapid could never become king without Bennett's help.
But now the kingmaker is poised to become the king.
To persuade Bennett to abandon Bibi and his right-wing allies, Lapid offered Bennett the opportunity to become prime minister for the first two years of their term, while Lapid would serve as Foreign Minister.
Then the two will switch roles after two years.
Bennett would have preferred to form a right-wing government with Netanyahu, despite his immense and growing frustrations with Netanyahu.
But Netanyahu could not persuade enough parties to join him to form an actual government.
So Bennett decided to take Lapid's offer to prevent the country from being forced into a fifth round of elections.
QUESTION: Did a Muslim Brotherhood party really just agree to join an Israeli government?
ANSWER: Yes.
Ra'am is an Islamist party of Arab citizens of Israel.
Led by Mansour Abbas, it only has four seats in the Knesset, but yes, it is aligned with the Muslim Brotherhood.
Yet, as ALL ISRAEL NEWS has reported, Abbas is charting a very different path for his party.
He has denounced Arab violence against Jews, and Jewish violence against Arabs.
He is urging Israeli Arabs to become active in Israeli politics in order to get more funding for Arab cities and education, more police protection to fight crime in Arab cities, and so forth.
Not all Israeli Arabs agree with the direction Abbas is going. Indeed, most of his fellow Arab Knesset members are actively opposed to what he is doing.
But on Wednesday night, just minutes before the deadline, he signed on the dotted line and agreed to help form the next Israeli government to remove Netanyahu from power and make the right-wing Naftali Bennett the next prime minister.
Can this experiment work? Abbas may be fully committed to this move, but are the other three members of his party? Will they hold up under intense media and public pressure from Arabs who believe they should remain in opposition to every Zionist government, and those who cannot stand Bennett, saying he is more right-wing than Bibi?
We shall see.
To be clear, I have concerns about Abbas. I'm glad he wants to play a more constructive role and help his people. Great. Maybe he really is changing for the better. But he has said some pretty extreme things in the past. He has not exactly been a force for peace in the past. Just one example: Last year, Abbas voted against ratifying the Abraham Accords, normalizing relations with the UAE (where I am now), Bahrain, and others. Why?
 That said, it is not exactly fair for Netanyahu and his allies to attack Bennett, Lapid and the "change government" for embracing Abbas.
After all, it was Netanyahu who first courted Abbas and tried to form a government with him.
Abbas was interested, and engaged in numerous talks with Bibi and his colleagues.
In the end, however, it was Bibi's far right-wing political allies – led by Bezalel Smotrich – who refused to ever work side-by-side with Arabs.
So what will happen next? We will have to stay tuned.
QUESTION: If this change really happens, and this government is really formed, and Netanyahu is really removed from power, is that a good thing or bad?
ANSWER: First of all, that's a whole lot of "ifs."
I would recommend we wait to see what really happens.
If there is a new government, we can assess it honestly. And we can examine why Netanyahu lost his grip on power.
But we are simply not there yet.
First, I am not ready to write a political obituary for Netanyahu – there are just too many possible twists and turns in this story ahead.
Second, we need to see what the principles and the policies of the new government would be. What agreements have they actually signed? What would be their agenda? We know what the individual leaders and parties stand for, but we don't know what this government stands for. Let's wait to learn more before we decide.
Third, it should be noted that there is nothing immoral or fundamentally unwise about forming a government with centrist and left-wing parties. Netanyahu himself has formed numerous governments over the years with such parties. Bibi makes it sound like Yair Lapid is some kind of crazed, leftist, socialist, anti-Christ. But Bibi has brought Lapid into his government in the past and made him finance minister. So, keep in mind we are hearing a good deal of political hyperbole right now.
Fourth, one more thing should be noted: Evangelical Christians are going to have real and understandable concerns about this new government. Evangelicals have watched Netanyahu for three decades and despite his flaws and mistakes have come to deeply trust and respect him. Few Evangelicals have ever heard of Lapid or Bennett. They know little or nothing about these men, or their allies, and thus do not have respect and trust for them. Can it be earned? Yes. But it will take time. 
For now, I would urge Christians to pray for the Lord's will to be done, and for God to grant wisdom and mercy to whoever leads Israel's next government.
Please also pray for the physical protection of Israel's leaders, their families and their staffs.
Bennett and his ally, Ayelet Shaked, are particularly getting many death threats against them from far-right extremists who believe they have been betrayed.
Tensions are running very high.
Please pray that no one is attacked or, God forbid, assassinated.
It is that serious right now.

Joel C. Rosenberg is the editor-in-chief of ALL ISRAEL NEWS and ALL ARAB NEWS and the President and CEO of Near East Media. A New York Times best-selling author, Middle East analyst, and Evangelical leader, he lives in Jerusalem with his wife and sons.
A message from All Israel News
Help us educate Christians on a daily basis about what is happening in Israel & the Middle East and why it matters.
For as little as $5, you can support ALL ISRAEL NEWS, a non-profit media organization that is supported by readers like you.
Donate to ALL ISRAEL NEWS
Current Top Stories
Comments