Could Defense Minister Benny Gantz become Israel's next prime minister?
With his appearance at the Aspen Security Forum here in Colorado last week, Gantz is raising his profile and drawing attention from American policymakers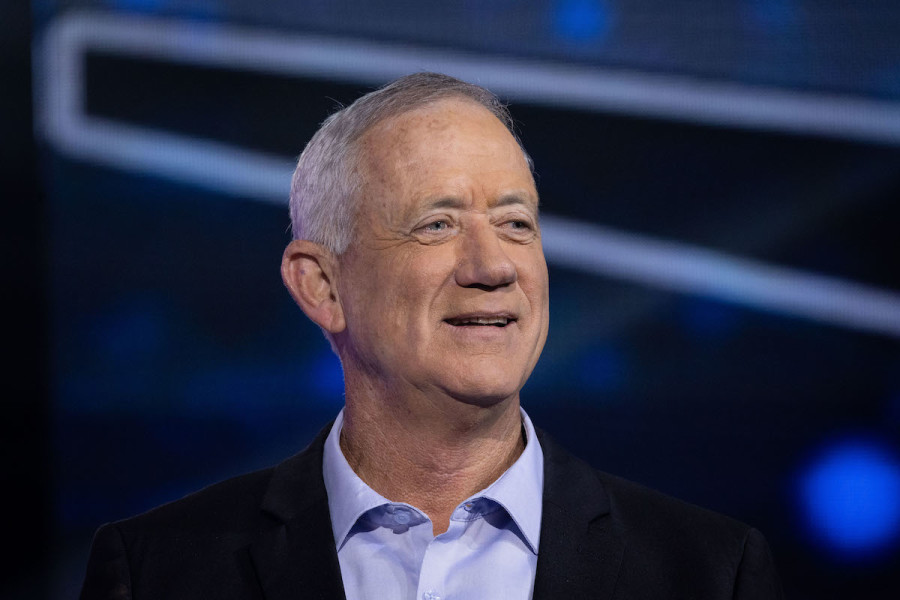 Defense Minister Benny Gantz at a conference in Jerusalem, July 26, 2022. (Photo: Yonatan Sindel/Flash90)
DENVER, COLORADO—Yet again, Israeli political leaders are in campaign mode.
Elections are set for Nov. 1 and it is by no means clear who will emerge as the country's next prime minister, much less what the ideological composition of the next government will be.
In May, I spent an hour with opposition leader Benjamin "Bibi" Netanyahu and reported in my column that he certainly appeared "tanned, rested, and ready" to return to his previous post as prime minister.
On July 7, I predicted that Netanyahu was more likely than any other Israeli leader to be able to form a government, putting his odds at 60-40.
To get back in power, Bibi needs to cobble together at least 61 seats out of the 120 seats in the Knesset, our parliament.
WHAT DO THE CURRENT POLLS TELL US?
Polls in Israel – which, admittedly, are not always accurate – suggest that Netanyahu's Likud party is likely to grow from 29 seats today to between 32 and 35 seats. Together with his like-minded right-wing parties, Bibi's block is currently hovering around 59 seats total. At least one poll recently showed him at 61, but most other polls have not.
That might lead a casual observer to conclude that current Prime Minister Yair Lapid would be in the best position to form a government if Netanyahu cannot.
After all, Lapid's centrist Yesh Atid ("There Is A Future") party is currently the second biggest in the country after Likud, with 17 seats in the Knesset, and recent polls suggest they could surge to somewhere between 20 and 25 seats in November.
Still, I see no scenario is which Lapid can cobble together a coalition of 61 seats without the help of this man.
Benny Gantz.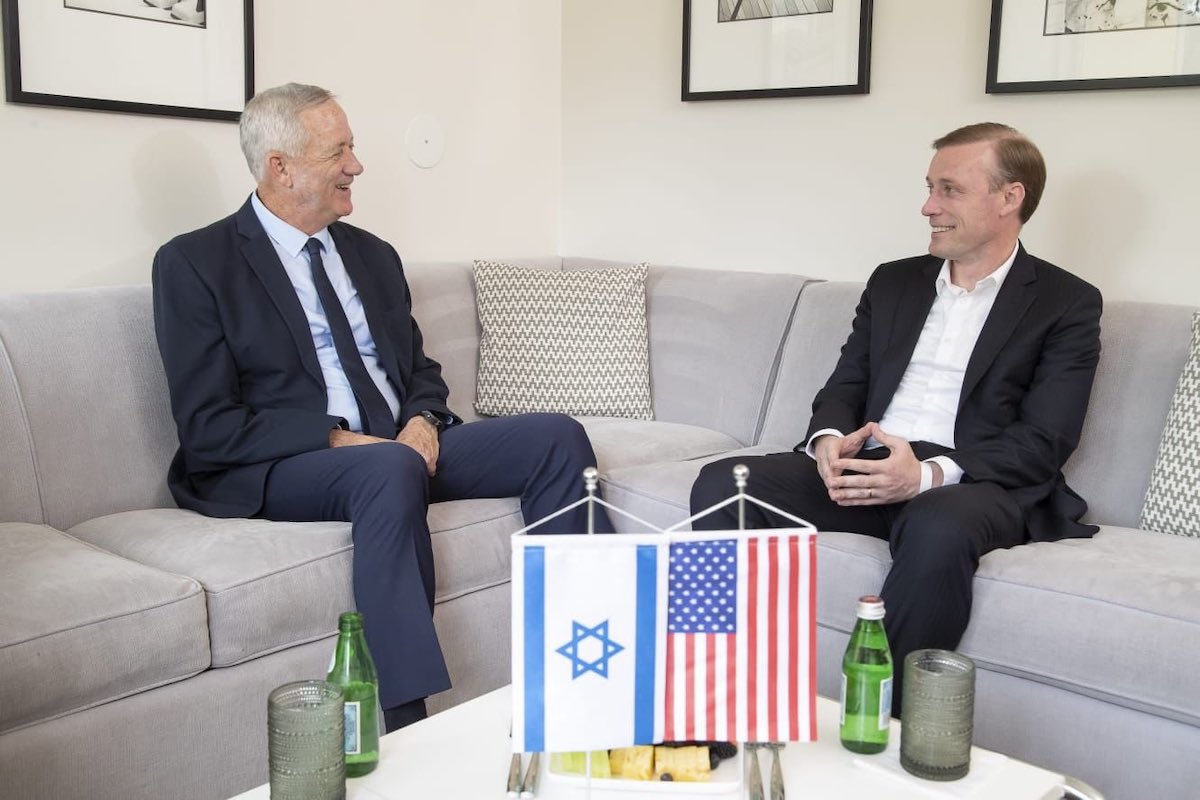 Israeli Defense Minister Benny Gantz meets U.S. National Security Advisor Jake Sullivan on the sidelines of the Aspen Security Forum (Photo: Israeli Ministry of Defense)
WHO IS BENNY GANTZ?
Now 63, he is a highly decorated and trusted military leader, having served as chief of staff of the Israeli Defense Forces.
Upon leaving the IDF, Gantz entered politics, formed a center-right party known as "Blue and White" (the colors of the Israeli flag) and won 35 seats in the Knesset.
Though Netanyahu appears to despise Gantz, he nevertheless created a deal with him several years ago in which Netanyahu would serve as prime minister for the first two years and then Gantz would serve for the next two years.
But when Bibi's time was up, he reneged on the deal and took the country back to elections.
Gantz was humiliated. His party splintered. But he did not quit.
Today, Blue and White has eight seats in the outgoing Knesset.
Yet Israelis are warming to this quiet but increasing effective leader.
Recent polls suggest that Gantz and his team could rise to between 12 and 15 seats in November, especially after a merger with current Justice Minister Gideon Sa'ar.
That could make Blue and White the third largest party in the country in November.
And that very well could make Gantz the "kingmaker."
After all, if Gantz really has the third largest party, and Netanyahu cannot cobble together 61 seats without him, then Netanyahu might find himself forced to ask Gantz to help him form a rotational government and let Gantz serve as prime minister first.
The kingmaker would thus become the king.
A RANGE OF SCENARIOS
Gantz this week said he would never serve with Netanyahu. Then again, he has said that before. True, Gantz is understandably furious with Bibi for reneging on their deal a few years ago. But the opportunity to actually become Israel's next prime minister might be too tempting for Gantz to pass up, especially if it prevented Israel from going to a sixth round of elections in less than four years.
If Bibi cannot form a government without Gantz – and Gantz keeps his promise not to help Bibi – then Lapid will have the opportunity to form a government.
But again, there is no scenario in which Lapid could form a coalition of 61 seats without Gantz.
So, once again, Gantz would become kingmaker, and very likely king, as Lapid would almost certainly need to offer Gantz a rotational government in which Gantz would serve first as prime minister for two years, after which Lapid would serve a premier for the next two years.
For all these reasons, I'm keeping an increasingly close eye on Gantz.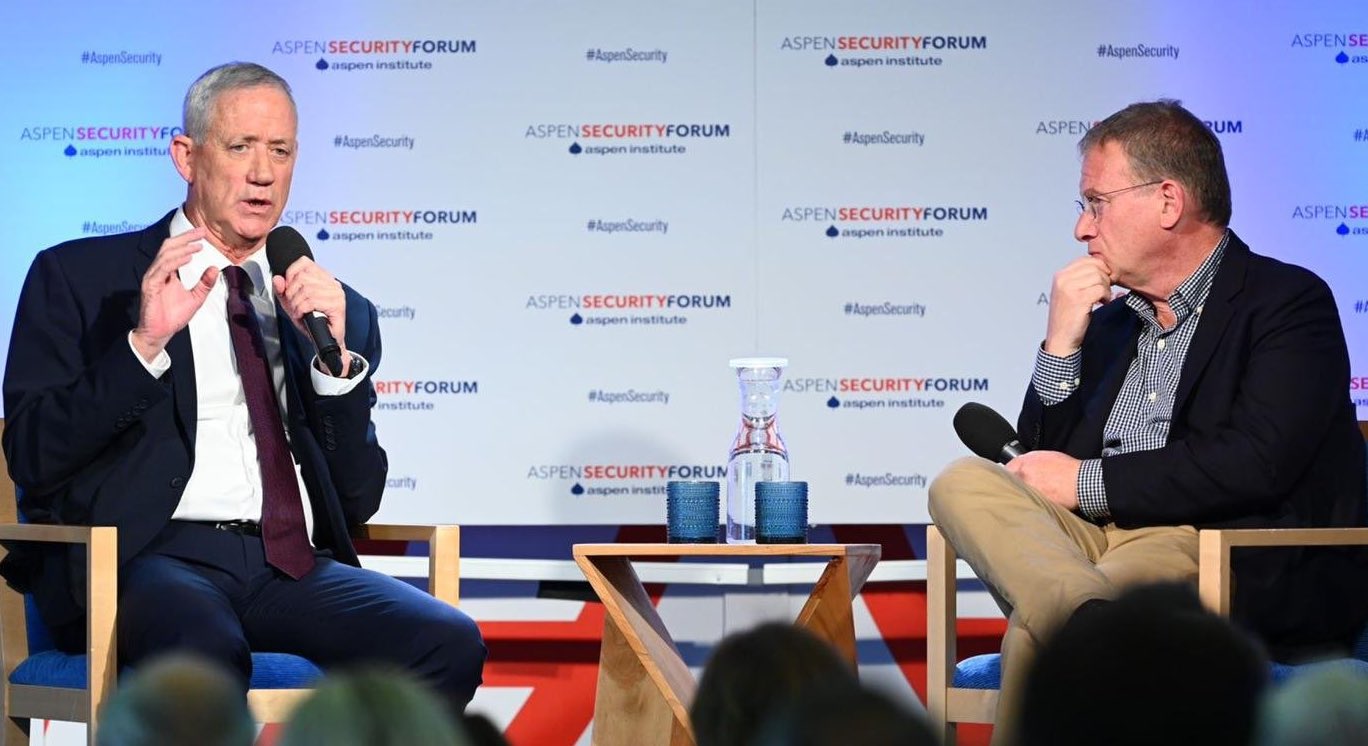 Israeli Defense Minister Benny Gantz at the Aspen Security Forum (Photo: Israeli Ministry of Defense)
GANTZ IS RAISING HIS PROFILE
We have met with each other several times over the past few years, and I've been fascinated to see how Gantz is working hard to learn how to shift from leading on the military battlefield to the political battlefield.
In May, Gantz invited me and my "Abraham Accords Delegation of Evangelical Business & Media Leaders" to meet with him in Tel Aviv in the Kiyra, Israel's version of the Pentagon.
As I reported at the time, Gantz briefed us on the latest threats from Iran and how to prevent a second Holocaust. He also discussed with us the threats from Hezbollah and other terror groups, and how he views the Abraham Accords and a possible future peace treaty with the Saudis.
This month, he has started saying publicly that he intends to be Israel's next prime minister.
He's actively recruiting new party members and allies. As I mentioned, Gantz recently persuaded Justice Minister Gideon Sa'ar and several members of Sa'ar's "New Hope" party to join forces with him. Now Gantz is trying to persuade former IDF Chief of Staff Gadi Eisenkot to join his team as well.
What's more, Gantz is raising his profile internationally, particularly in the United States, drawing the attention of American politicians and policymakers who want to understand him better, now that he has a realistic chance of reaching the top job in Jerusalem.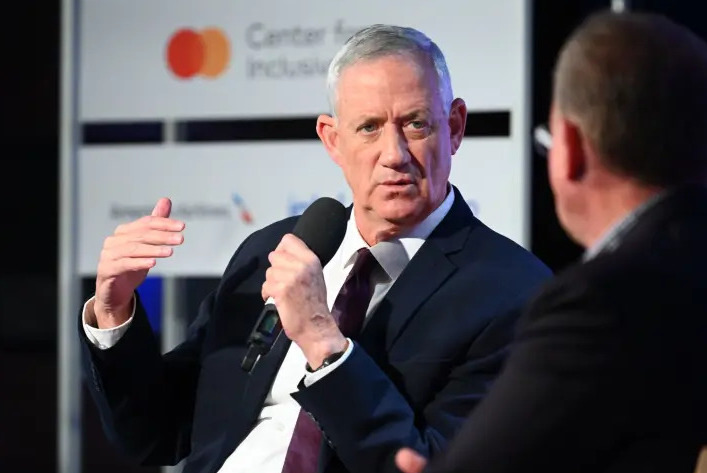 Israeli Defense Minister Benny Gantz at the Aspen Security Forum (Photo: Israeli Ministry of Defense)
WHAT DID GANTZ TELL THE ASPEN SECURITY FORUM?
Last Thursday, Gantz came here to Colorado.
He participated in the Aspen Security Forum's annual "fireside chat," agreeing to an on-the-record conversation with journalist Jeffrey Goldberg, editor of The Atlantic. [To watch the event on YouTube, please click here.]
Several excerpts from their conversation are worth highlighting. Gantz said:
 ·      "The Abraham Accords enable us to expand our relations [with regional partners] in security aspects, in business to business [frameworks], organizations to organizations, and people to people. And, of course, we are creating a regional architecture for defense."
 ·      "Israel was moved from EUCOM to CENTCOM – and we use it as a strategic umbrella. Since the signing of the accords, there have been hundreds of meetings and discussions with regional partners, and Israel has participated in at least 10 multinational exercises with regional partners. I am very happy that the U.S. has led this and that the region's leaders have realized and taken this opportunity. We are creating a better Middle East."
 ·      "Iran is first a global challenge, then a regional challenge and only lastly it is a threat to the State of Israel. We can see it everywhere around the world – the Iranian impact in Venezuela, Algeria, Lebanon, Syria, Iraq, Yemen. The Saudis and the Emiratis also suffer from Iranian attacks, Iran does not only pose a threat to the State of Israel."
 ·      "The countries of the region understand that Israel is here to stay and that Israel is not a burden but rather an asset. Our excellent relations with the U.S. can be used as a bridge. Israel does not threaten the countries of the region, while Iran does. We can see Iran's malign activity in the region without a nuclear canopy, without nuclear deterrence. Imagine what they would do with it. And that's why we cannot let Iran become a nuclear [state]. At the same time, I do not know of another country that has another country, in this case Iran, threatening its existence and building the means to do so. The government and leadership of Israel has a historic responsibility to build our capabilities and to prevent Iran from becoming nuclear."
 ·      "I believe that we can leverage the Abraham Accords and ties with regional partners in order to strengthen the Palestinian Authority and promote confidence-building measures. From a Jewish, Zionist, and democratic perspective, I would like to see a better future between us and the Palestinians and that includes separating from the Palestinians."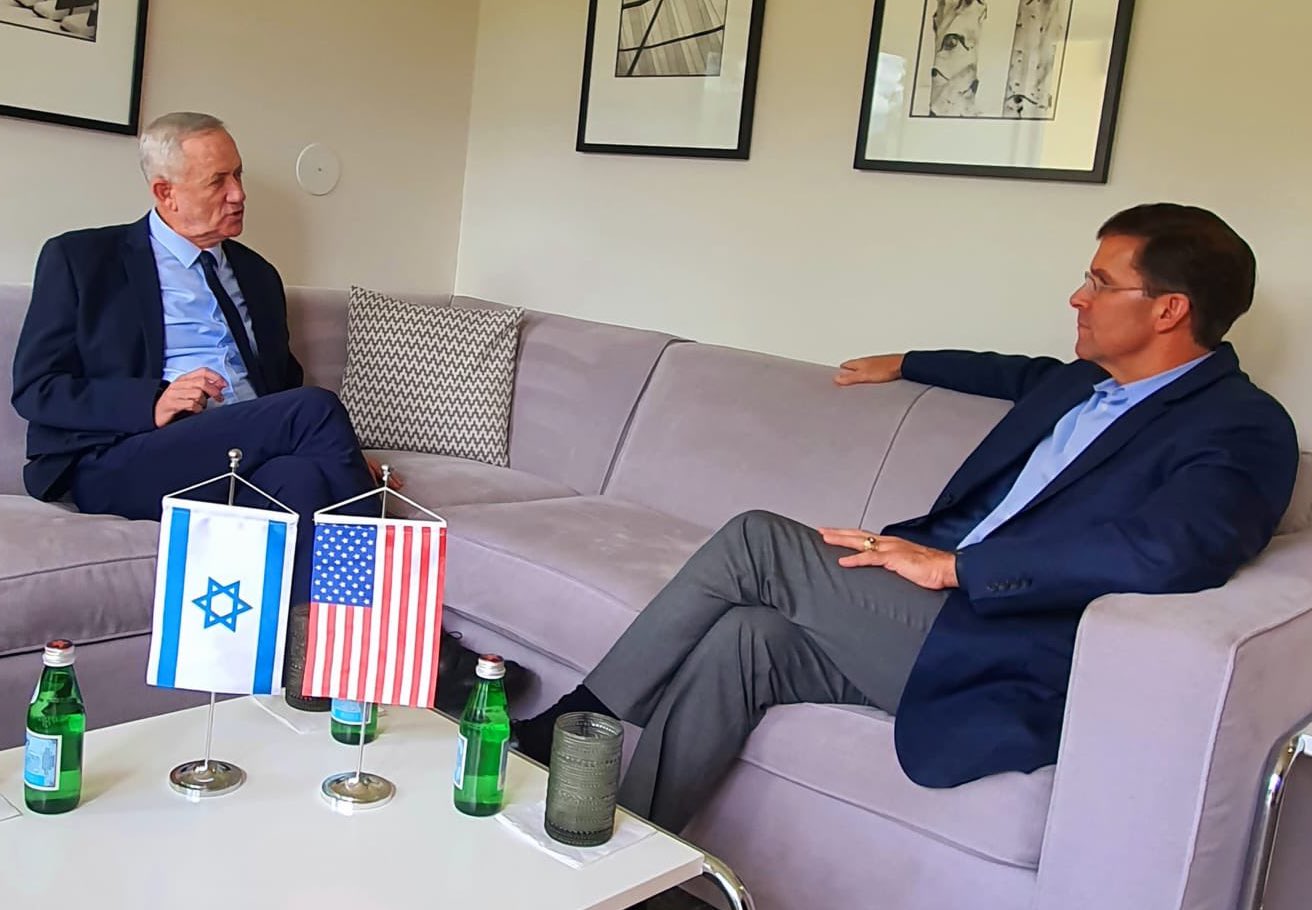 Israeli Defense Minister Benny Gantz meets former U.S. Secretary of Defense Mark Esper on the sidelines of the Aspen Security Forum (Photo: Israeli Ministry of Defense)
WHAT DOES GANTZ'S FUTURE HOLD?
So, what exactly does the future hold?
Will Gantz emerge as Israel's kingmaker – and possibly even king?
It's too early to draw conclusions.
But clearly the man is on the move.
In January, I ranked Gantz No. 8 on our ALL ISRAEL NEWS list of the 22 most powerful, provocative and popular Israelis to watch in 2022.
By next January, he could be No. 1.
Stay tuned.

Joel C. Rosenberg is the editor-in-chief of ALL ISRAEL NEWS and ALL ARAB NEWS and the President and CEO of Near East Media. A New York Times best-selling author, Middle East analyst, and Evangelical leader, he lives in Jerusalem with his wife and sons.
A message from All Israel News
Help us educate Christians on a daily basis about what is happening in Israel & the Middle East and why it matters.
For as little as $5, you can support ALL ISRAEL NEWS, a non-profit media organization that is supported by readers like you.
Donate to ALL ISRAEL NEWS
Current Top Stories
Comments