Yair Lapid – Israel's centrist and telegenic foreign minister – keeps surprising his critics with one unexpected success after another
But can he actually emerge as prime minister? I met with him yesterday. Here are a few observations.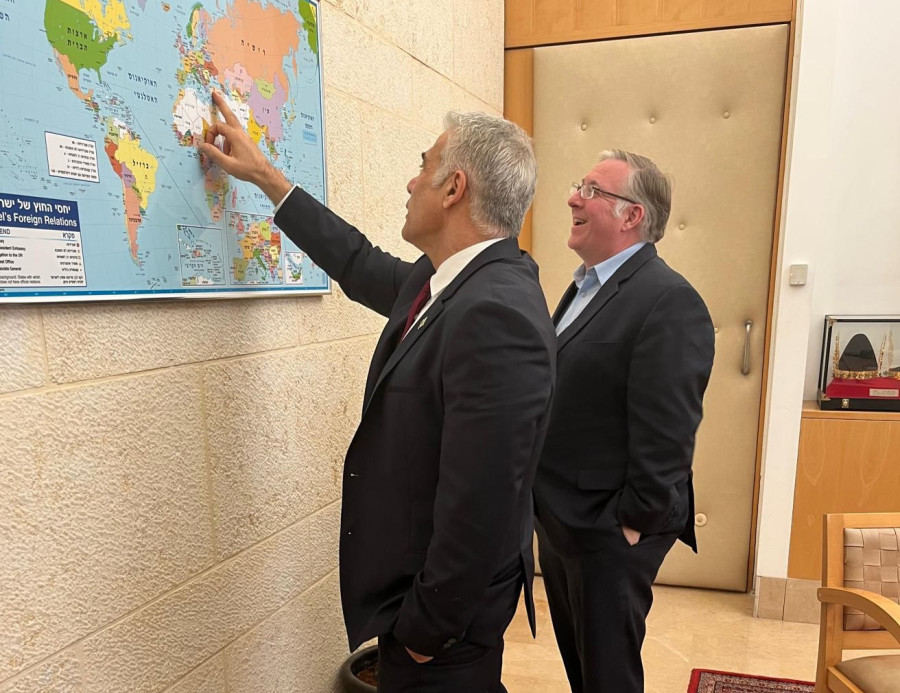 Israel's Foreign Minister Yair Lapid meets with ALL ISRAEL NEWS Editor-in-Chief Joel Rosenberg at the Ministry of Foreign Affairs, Nov. 7, 2021. (Photo: All Israel News staff)
JERUSALEM—Years ago, when I first met Yair Lapid, he was merely one of 120 members of Knesset.
He was a former TV broadcaster who had entered politics in 2012 and founded his own party, Yesh Atid, which in Hebrew means, "There Is A Future."
From 2013 to 2014, he served as finance minister in then-Prime Minister Benjamin Netanyahu's coalition government. 
But when Lapid and I first connected, he was not in a position of notable political power or influence.
Still, he had politics in his DNA.
His father, Yosef "Tommy" Lapid, was a TV and radio journalist who decided to get into politics and eventually founded the moderate Shinui ("Change") Party, rising to the positions of Israel's justice minister and even deputy prime minister.
In many ways, the younger Lapid followed his father's career path.
But how high would he rise?
In an overwhelmingly right-wing political environment, could an avowed centrist politician succeed in shaping the direction of the country?
By the time my colleagues and I launched ALL ISRAEL NEWS on Sept. 1, 2020, Lapid had merged as leader of the opposition.
He was actually the first member of Knesset I interviewed for our new site.
Lapid used the exclusive interview to blast Netanyahu and call for a new government (as well as to praise the Abraham Accords, and talk about his desire to reach out to Evangelical Christians.)
LAPID RISING
Over the past year, much has changed.
Lapid is steadily gaining political power at home, along with growing name-recognition and influence abroad.
Having engineered a significant victory in the last round of elections, Yesh Atid now has 17 seats in the Knesset, making it the second-largest faction in the parliament after Netanyahu's Likud Party.
Yet with a level of tactical adroitness and humility rare among Israeli politicians, Lapid did not try to parlay his gains into becoming prime minister.
Not immediately, anyway.
Rather, he cobbled together an unlikely coalition of seven highly-diverse political parties, and then added an eighth.
To remove Netanyahu from office and unify a wides range opposition to Bibi, Lapid stunned nearly everyone in Israel by offering his long-time friend – and right-wing rival – Naftali Bennett (with only seven seats for his Yamina, "Rightward," party) the opportunity to serve as prime minister first in a government rotation.
In this unusual gambit, Lapid offered to serve as foreign minister for the first two years of the new government, and as "alternate prime minister."
Then, he and Bennett would switch places – Lapid would become the premier, and Bennett would serve as foreign minister.
Even more shocking, Bennett said yes.
RACKING UP SUCCESSES
Five months later, the centrist and telegenic native Israeli (sabra) who speaks excellent English continues to surprise, racking up one unexpected success after another.
Bennett and Lapid have forged what certainly appears to be an effective and unbreakable alliance. Unable to lose even a single Knesset member's vote, there were able to pass last week both the 2021 budget and the 2022 budget – the first state budgets passed in Israel since 2018.
If that were not enough, Lapid and Bennett have:
Battled the COVID virus, driving down the number of serious cases, reopening schools and the economy and beginning to reopen Israel to foreign tourists.

Strengthened and deepened the Abraham Accords with the United Arab Emirates, Bahrain and Morocco, while carefully trying to maintain relations with Sudan despite a political coup in Khartoum.

Begun to build warm ties with U.S. President Joe Biden, partly to persuade him to abandon efforts to reopen a fruitless round of diplomacy with Tehran and pursue a far tougher strategy to neutralize and contain the Iranian nuclear and terrorist threats.

Worked closely with both Democrats and Republicans in Congress to improve and strengthen bipartisan relations in Washington, which led to a huge bipartisan vote in September to pass $1 billion in new funding for the Iron Dome anti-rocket system.

Begun to build a working relationship with leaders in Russia, though previously having no experience with Moscow.

Begun to improve relations with a wide range of European leaders that, again, neither Lapid nor Bennett had until now.

CAN LAPID TRULY TAKE THE TOP SPOT?
Yesterday, I met with Lapid at the Ministry of Foreign Affairs.
I gave him a copy of my new non-fiction book, Enemies and Allies: An Unforgettable Journey inside the Fast-Moving & Immensely Turbulent Modern Middle East.
In turn, he gave me a round-the-world survey of Israel's foreign relations, country by country, region by region.
While our conversation was off the record, I can certainly report that he is smiling and relaxed and quite upbeat about the government's future now that both budgets have been passed.
In late October, Israeli media outlets reported leaked comments from Bennett saying that Lapid would never become prime minister in September 2023 when the rotation is scheduled to happen, because the coalition would likely not make it to then.
"I estimate that the rotation will not happen," Bennett apparently told colleagues. "There is a considerable chance that the government will dissolve between the [passage of the] budget and the time of the change of power, for various reasons.
During their joint press conference on Saturday night, Nov. 6, however, Bennett repeatedly praised Lapid, stated that the government would last its full 4.5 years, and promised to keep his commitment to the rotation.
"We will fulfill the rotation and the government will fulfill its days," Bennett said.
Will that really happen?
It's far too early to predict – a great deal of twists and turns could certainly occur over the next two years.
But Lapid has certainly confounded his critics – and infuriated his opponents – by achieving month-by-month what few of them, if any, thought was possible.
Foreign policy successes.
But, above all, survival.

Joel C. Rosenberg is the editor-in-chief of ALL ISRAEL NEWS and ALL ARAB NEWS and the President and CEO of Near East Media. A New York Times best-selling author, Middle East analyst, and Evangelical leader, he lives in Jerusalem with his wife and sons.
A message from All Israel News
Help us educate Christians on a daily basis about what is happening in Israel & the Middle East and why it matters.
For as little as $5, you can support ALL ISRAEL NEWS, a non-profit media organization that is supported by readers like you.
Donate to ALL ISRAEL NEWS
Current Top Stories
Comments