Bennett's Smart Start – The prime minister accomplished exactly what he needed to in first state visit to Washington
Sets stage for his critical upcoming visits to Cairo and Abu Dhabi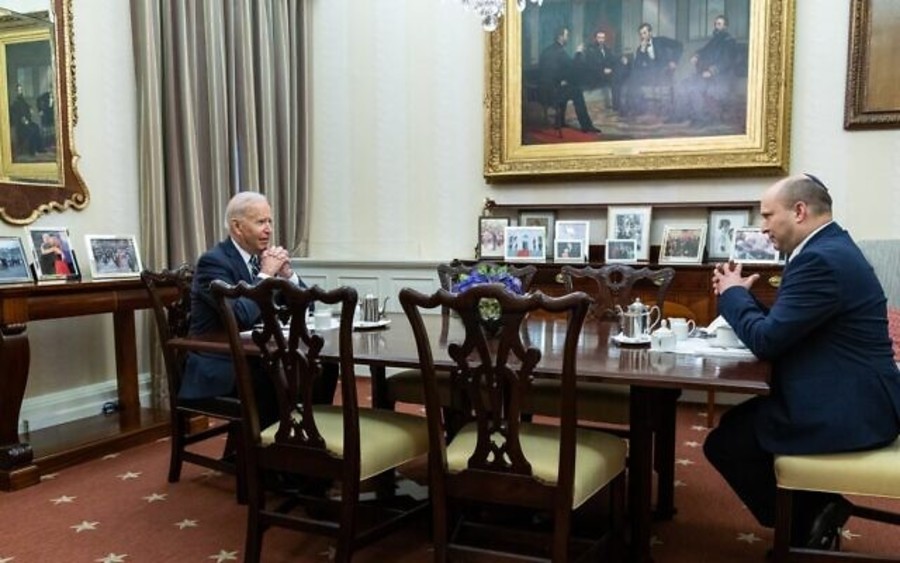 Prime Minister Naftali Bennett and U.S. President Joe Biden in the Oval Office of the White House, Friday, Aug. 27, 2021, in Washington. (Photo: White House/Twitter)
WASHINGTON D.C. — Israeli Prime Minister Naftali Bennett accomplished exactly what he set out to in his first state visit to the American capital.
The 49-year old leader made no gaffes. No missteps. Created no controversies. Did nothing off message.
Rather, he had a warm and respectful 50-minute meeting with President Joe Biden.
Sure, it had been delayed for a day because of the suicide bombing in Kabul that killed 13 U.S. servicemen and killed and wounded scores of Afghan nationals.
But Bennett was smart on how he handled the moment.
Though Israelis are horrified to see Biden surrendering to Taliban terrorists — and stunned and sickened to see the U.S. being so humiliated by radical Islamists — Bennett understood his role and his goal.
He is not a pundit or political commentator.
He had not come to Washington to berate Biden for showing weakness to American enemies.
Bennett came to the White House as the leader of America's No. 1 ally in the Middle East.
He offered public and private condolences for the Americans who were killed.
He offered unconditional support to the American government in a moment of crisis and confusion.
Yes, Bennett had a policy agenda to advance — mainly convincing Biden and his team to take a very different approach towards stopping Iran's nuclear program and intensifying regional aggression.
And by all measures he seems to have made that case with Biden, as well as with the secretaries of State and Defense and the rest of Biden's national security team.
Only time will tell if Bennett will be successful.
But he had another strategic objective: resetting a bipartisan tone and style in how an Israeli leader interacts with the U.S. government.
Former Prime Minister Benjamin Netanyahu was widely and sharply criticized by Democrats for appearing to side almost exclusively with Republicans and letting policy disputes with Democrat President Barack Obama and then-Vice President Biden to become personal and bitter.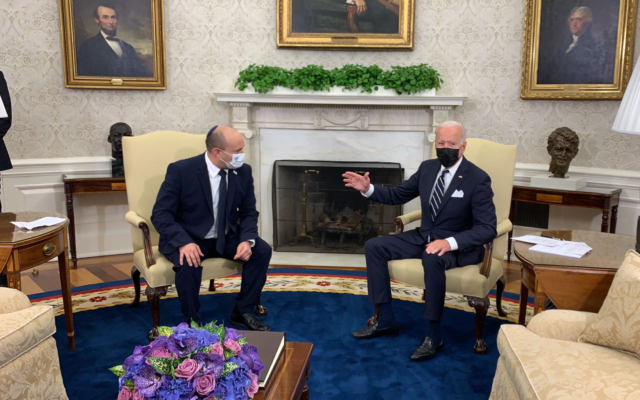 Prime Minister Naftali Bennett meets with U.S. President Joe Biden in the White House on August 27, 2021. (Photo: GPO)
Bennett is determined to prove that he has the same strategic perspective on the gravity of the Iran threat as Netanyahu, but has an entirely different style — that he wants to work with Democrats, in his words, in a "new spirit of cooperation."
This, too, is smart.
Israel has loyal friends on both sides of the aisle in Washington. Bennett absolutely must urgently strengthen this bipartisan asset.
All in all, Bennett set himself well for his next critical state visits, to meet in Cairo with Egyptian President Abdel Fattah el-Sisi and in Abu Dhabi with Crown Prince Mohammed bin Zayed (MBZ).
So far, Bennett is showing a great deal of political and diplomatic agility in his early months in office.
Can he keep it up?
—————
Prime Minister Naftali Bennett, this morning (Sunday, Aug. 29), made the following remarks prior to departure at the conclusion of his first diplomatic visit to Washington:
We will take off immediately following a successful visit to Washington, the culmination of which was a meeting with President Biden.

The meeting was very warm and very productive. President Biden and I created a direct and personal connection between us that is based on trust.

We achieved all of the goals that we set for the visit and more. We have agreed with the Americans on a joint working strategy to block the Iranian race for nuclear weapons. We took a significant step in equipping and building the Israeli force.

We also made progress on an issue that concerns many Israelis: The visa exemption for entry to the US. As you have heard, President Biden – for the first time – instructed that progress be made and that the matter be closed as quickly as possible.

I would like to thank President Biden for the very warm welcome and now we need to go home.

Regarding Gaza, overnight the IDF attacked in Gaza in response to the sending of the balloons. As I have already said, we will act in Gaza according to our interests. As far as I am concerned, the address has been, and will be, Hamas.

Joel C. Rosenberg is the editor-in-chief of ALL ISRAEL NEWS and ALL ARAB NEWS and the President and CEO of Near East Media. A New York Times best-selling author, Middle East analyst, and Evangelical leader, he lives in Jerusalem with his wife and sons.
A message from All Israel News
Help us educate Christians on a daily basis about what is happening in Israel & the Middle East and why it matters.
For as little as $5, you can support ALL ISRAEL NEWS, a non-profit media organization that is supported by readers like you.
Donate to ALL ISRAEL NEWS
Current Top Stories
Comments