With Russia building a dangerous alliance with Iran, Israeli PM Bennett flies to Sochi to meet with Czar Putin for the first time
Here's what happened – and why it matters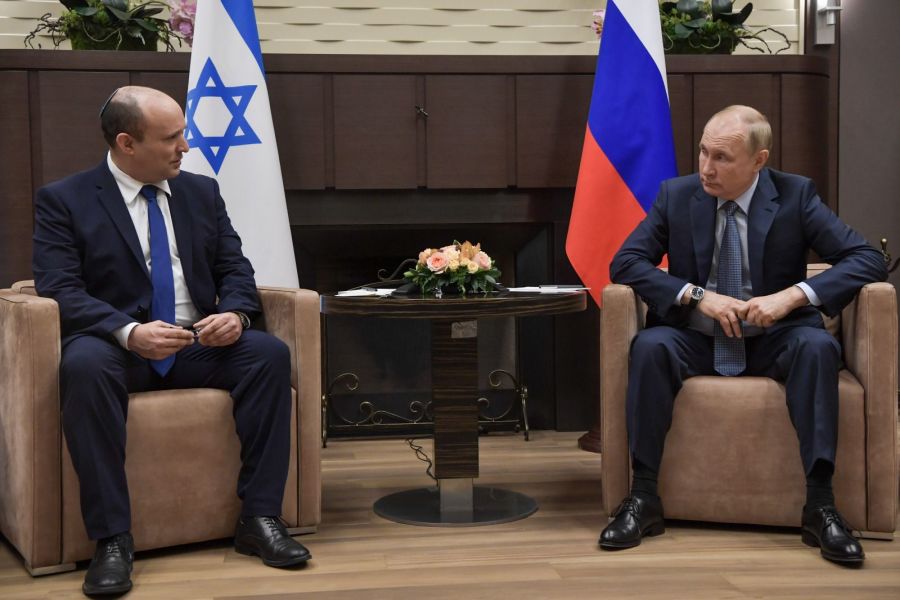 Israeli PM Bennett meeting with Russian President Putin (Image Credit: Koby Gideon, GPO)
JERUSALEM, ISRAEL — Increasingly concerned by Moscow's ever-closer military, economic and political ties with Tehran, Israeli Prime Minister Naftali Bennett spent Friday in the Russian city of Sochi, holding his first face-to-face meetings with Russian President Vladimir Putin.
"The ties between Russia and Israel are a significant element in the foreign policy of the State of Israel due to both the special status of Russia in the region and its international role, and to the million Russian-speakers in Israel, who constitute a bridge between the two countries," Bennett told reporters before departing.
Bennett's language on the tarmac in Tel Aviv — and later in Sochi — was friendly, gracious, even calling Putin a "true friend of the Jewish people."
But the prime minister and his national security team understand that they must find a way to persuade Putin to distance himself from — not further "bear hug," as it were — Iranian Supreme Leader Ali Khamenei.
As I describe in my new book, "Enemies and Allies: An Unforgettable Journey inside the Fast-Moving & Immensely Turbulent Modern Middle East," the Russian-Iranian alliance is real, deepening and dangerous.
"Consistently stymied and stalled – if not fully thwarted – in their bid for the Persian Bomb, the ayatollahs and Millais in Tehran have turned their eyes to Moscow," I wrote.
"To be clear, U.S. and foreign intelligence officials tell me they're not afraid Putin would sell, much less give Russian nuclear warheads to the mullahs in Tehran," I noted. "Nor do they believe the mullahs are specifically seeking Russian warheads."
"Rather, they believe Tehran wants to dramatically expand the threat it poses to the U.S., Israel and the Sunni Arab world by aligning itself in every possible way with Moscow. They want to buy Russian arms and Russian nuclear technology and know-how, create trade deals with Moscow, and leverage Russian political cover at the United Nations."
As I explain in detail in the chapter three, Tehran has found a willing partner in Putin.
And more is happening month by month.
In August, Russia announced it would hold naval war games in the Persian Gulf with Iran and China by the end of this year or early in 2022.

In February, Russia and Iran conducted naval drills in the Indian Ocean. 

In September of last year, Russia, Iran and China held war games with their ground forces on Russian territory. 
Meanwhile, Russian and Iranian military forces are cooperating in Syria, as both countries – together with Turkey – seek to establish dominance there.
Thus far, Israel's air force has operated with a fairly free hand in attacking Iranian Revolutionary Guard Corps (IRGC) facilities and forces in Syria.
But IDF generals worry that at some point Putin will try to restrain their freedom of action in defense of their Iranian ally.
Indeed, it's astonishing this hasn't happened already.
The challenge for Bennett is immense, and increasingly urgent: Is it possible to persuade Putin to turn the screws on Tehran and get them to stop – or, better yet, abandon – their nuclear ambitions?
If so, how?
With Iran defying the Biden team and the international community, and increasingly close to being able to break out and build its first nuclear warheads, Bennett and his team may actually have to order military strikes on Iran, though they would deeply prefer not to.
Will Putin stand firmly with Khamenei if war comes, or stay in the sidelines?
The stakes are high for Bennett, still in his first year as prime minister, while Putin has run Russia for more than twenty years. 
"Bennett departed for Russia from Israel at 5 a.m. Friday morning, landed some three hours later and will spend around five hours in the country before jetting back to Israel before Shabbat begins at sundown," reported the Times of Israel.
Bennett "is accompanied by National Security Adviser Eyal Hulata, diplomatic adviser Shimrit Meir and the prime minister's military secretary, Maj. Gen. Avi Gil," the Times noted, adding that "Housing Minister Ze'ev Elkin, a native Russian speaker, also accompanied the prime minister to provide translation and advice."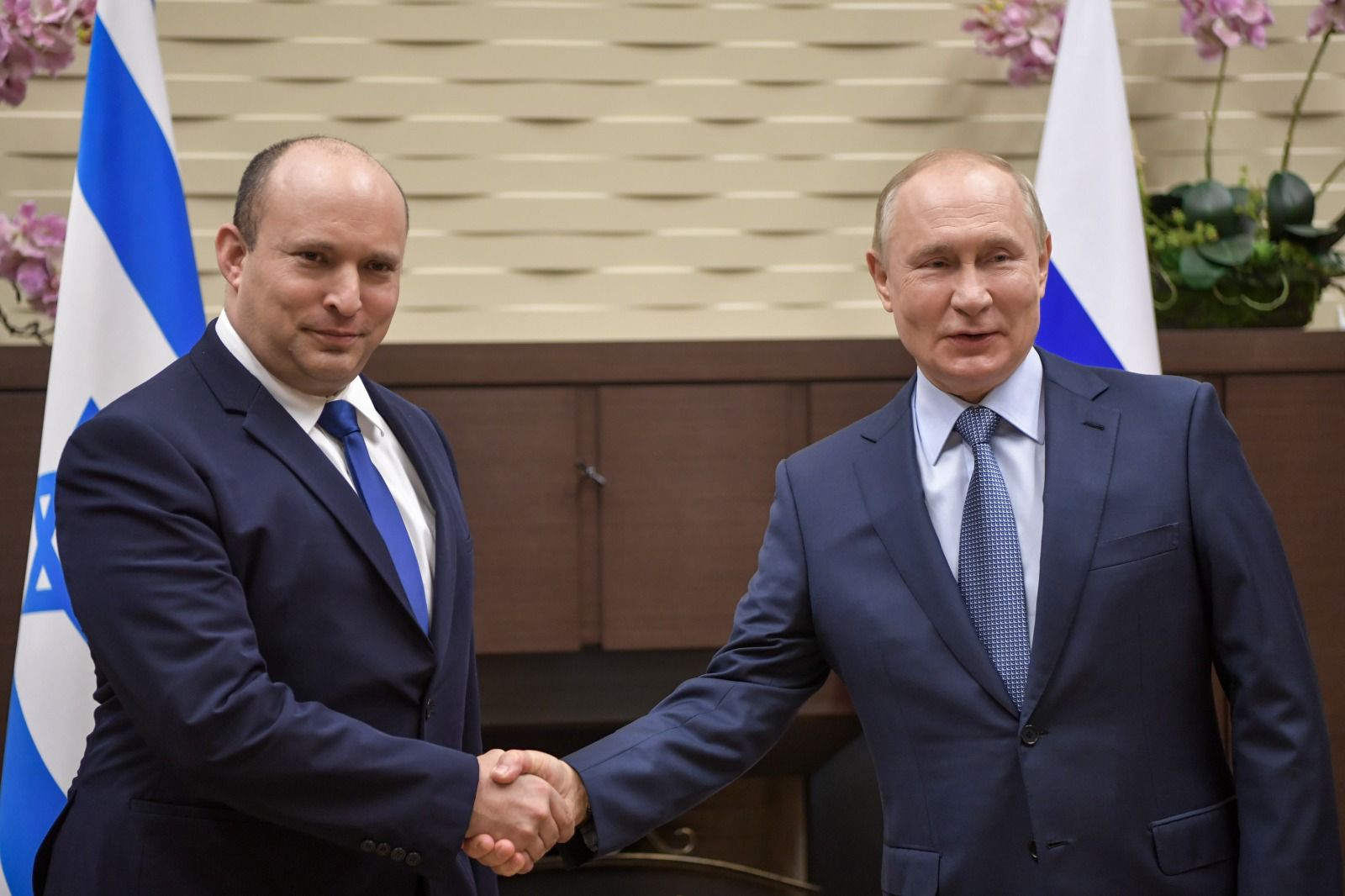 Israeli Prime Minister Bennett meeting with Russian President Putin, Oct. 22, 2021. (Photo: Koby Gideon, GPO)
Following are Prime Minister Naftali Bennett's remarks at the start of the meeting with President Putin, as distributed to reporters from Israel's Government Press Office (GPO): 
Thank you for the warm welcome.
Relations with Russia, the 30th anniversary of which we are currently celebrating, are very special because of the past, the present and the future.
We remember the past, the wonderful mobilizing of the Russian nation and the Red Army to defeat the Nazis in the Second World War. These were the most decisive days for the world and also for the Jewish nation.
It is our responsibility to instill our gratitude in the next generations, through discourse, through documentation and through physical commemoration, such as the Victory Monument in the city of Netanya and the monument commemorating the victims of the siege of Leningrad in Jerusalem — two places that you, Mr. President, inaugurated.
On a personal note, as a student of history, it is impossible not to appreciate the heroism of the entire Russian nation during those difficult years.
Right now, we are concluding the project of constructing a large museum in Israel to commemorate the Jewish soldiers who fought in various armies during World War II. 
But the special and significant contribution was in the Red Army, in which 500,000 Jews fought and 200,000 Jews fell during the war against the Nazis, in the Red Army.
The museum will be named after president Chaim Herzog, the father of the current President of Israel, and I will be pleased to discuss this with you.
I expect to discuss with you a whole range of current issues, to strengthen ties between the countries in economic, technological, scientific and cultural matters. In Israel we have a million ambassadors, Russian-speaking Israelis who constitute a great contribution to Israeli culture. They bring with them a mentality of hard work and strength. This is a very great contribution to the State of Israel.
I will relate to you a short story from this week. I visited a hospital a wounded soldier of Russian origin. He was severely wounded for the second time this year. I told him 'I am the Prime Minister of Israel; how can I help you? What do you want?' He told me: 'I just want to go back to my unit and fight.'
We will also discuss economic strengthening. Like the President said, we can significantly increase trade and we must do so.
We will also discuss the situation in Syria, and of course, our efforts to halt the Iranian military nuclear program.
A last word: All of these relations, this entire discussion, will be based on the deep ties between the two countries, which you have led for the last 20 years.
On behalf of the citizens of Israel, I can say that we see you as a true friend of the Jewish people. Thank you very much."

Joel C. Rosenberg is the editor-in-chief of ALL ISRAEL NEWS and ALL ARAB NEWS and the President and CEO of Near East Media. A New York Times best-selling author, Middle East analyst, and Evangelical leader, he lives in Jerusalem with his wife and sons.
A message from All Israel News
Help us educate Christians on a daily basis about what is happening in Israel & the Middle East and why it matters.
For as little as $5, you can support ALL ISRAEL NEWS, a non-profit media organization that is supported by readers like you.
Donate to ALL ISRAEL NEWS
Current Top Stories
Comments