'We're not going to recommend Netanyahu' to be prime minister again, says Naftali Bennett and his Yamina party
It's time for change, Yamina candidate Jeremy Saltan tells ALL ISRAEL NEWS, and the country must avoid 5th round of elections – touts Bennett's bold "Singapore Plan" to cut taxes, unleash dramatic economic growth and create 400,000 new Israeli jobs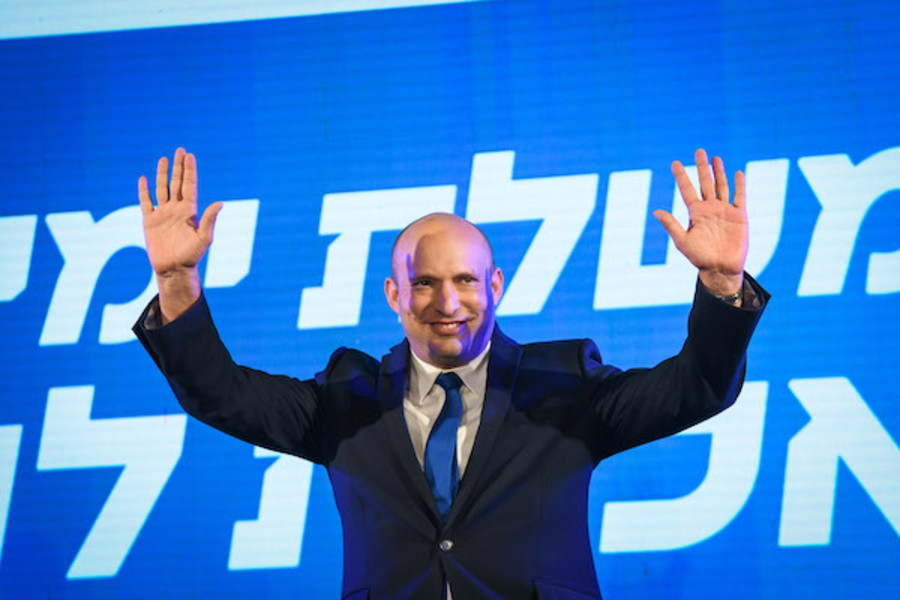 Yamina party chairman Naftali Bennett seen during an election campaign event ahead of the upcoming Israeli general elections in the southern Israeli city of Sderot, March 17, 2021. (Photo: Yossi Zeliger/Flash90)
JERUSALEM – With just two full days of campaigning left until Tuesday's high-stakes elections, all eyes are on Naftali Bennett and his Yamina party to see what they will do when the smoke clears and the votes have been counted.
Bennett is widely touted in the Israeli press as "The Kingmaker." 
That's because all political analyses find that Benjamin "Bibi" Netanyahu cannot become prime minister again unless he can somehow persuade Bennett to join him. 
At the same time, every party that wants to see Netanyahu removed from office and replaced with a new premier knows that they cannot succeed without Bennett. 
Indeed, some believe that in the Byzantine ways of Israeli politics, only a major right-wing candidate like Bennett could unify the "no-to-Netanyahu" parties in a country as center-right as Israel is today.
After all, come Tuesday, it is very likely that right-wing parties will win about 80 seats, the center and left parties will win about 30 seats, and the Arab parties will win the remaining 10 seats.
To better understand how Bennett and his team see the political landscape, I spoke with Jeremy Saltan, who is running for the Knesset on the Yamina slate of candidates and is the director of the party's outreach to Israel's 300,000 or so English-speaking or "Anglo" voters. 
As native of Chicago, Saltan made aliyah two decades ago. Today, he is No. 16 on the Yamina list of candidates.  
The final public polls released on Friday show Yamina on track to win somewhere between 9 and 12 seats, meaning Saltan would not enter the Knesset.
However, he and his fellow Yamina activists are working feverishly to persuade late-deciding right-wing voters to break for them, hoping their final numbers come in somewhere in the 14 to 18 seat range.
Once the votes are tabulated, each party leader will meet with President Reuven Rivlin to recommend someone to be the next prime minister.
"We're not going to recommend Netanyahu," Saltan told me. 
That's a big development, given that Bennett used to serve as Netanyahu's chief of staff and has served in various cabinet positions in Netanyahu governments, including as education minister and, more recently, as defense minister.
Given that Netanyahu fired him, however, Bennett has been telling Israelis on the campaign trail, "It's time to fire the CEO" of the country since, in his view, Netanyahu has done such a poor job of handling the COVID-19 crisis and the economy.
During our interview, Saltan spoke at length about Yamina's detailed plans to combat the coronavirus, reopen and dramatically revitalize the economy, lower the price of buying an apartment and other policies.
He was especially passionate about touting Bennett's "Singapore Plan" to slash corporate tax rates from 23% to 15%, lower personal income tax rates, and take other measures to cause Israel's GDP and personal income to soar like Singapore's economy has.
Saltan said the Yamina plan would also create 400,000 new jobs to get unemployed Israelis back to work. 
The key, he emphasized, was thanking Netanyahu for all his years of service and the things he has done right, but moving on with new national leadership and Bennett as prime minister.
"When we get to the president's residence, Netanyahu will most likely have the most recommendations," Saltan said. "[Yesh Atid leader Yair] Lapid will probably have the second most recommendations. It's possible that we will. It depends, of course, on this race between us and Lapid. And there are a lot of undecided voters out there, about 15 seats worth. There's enough to put us above him [Lapid]. And of course, that would change the entire dynamic of how this entire thing would go."
Saltan – an astute observer of Israeli polling (he runs a blog that tracks Israeli political polls) – conceded, however, that Lapid is on track to have the second largest number of recommendations.
However, he does not believe that if Netanyahu is not able form a government that Lapid has broad enough appeal to unify those who oppose Netanyahu and become prime minister himself.
If neither Netanyahu nor Lapid can form a government, then Saltan argues the door is open for either Bennett or Gideon Sa'ar to try.
But Saltan sees Sa'ar's popularity fading while Bennett is likely to be in the strongest position to emerge.
"You could have a situation where Bennett is able… to form a government," he said. "And the reason he [might be] able to do that is, as I said, is that he is not in either camp of the 'only-Bibi' or the 'anyone-but-Bibi.' And also because a majority of the seats are on the right, he [Bennett] is in the right place… Bennett uniquely strategized himself into a spot where he can be that consensus candidate able to form the next government."
"Based on the current numbers, it's either Bennett is able to form a coalition [and become prime minister] or we're going to go to a fifth election. That is where I see the race right now. I don't see a situation where the other two [Netanyahu or Lapid] are going to be able to form anything."
Saltan and I discussed the "Abraham Lincoln Scenario." 
In 1860, he noted, Lincoln was not the first choice of most Republican voters in the United States. But at the GOP convention, Lincoln became the consensus candidate and won the nomination. 
Lincoln then went on to win the presidency that year with not quite 40% of the popular vote, Saltan reminded me. Because multiple candidates ran in the general election and divided up the vote, Lincoln won a plurality – but certainly not a majority – of the votes.
While the mechanics of American and Israeli democracies are quite different, Saltan said Bennett has a pathway to become prime minister if he emerges as the consensus of the parties determined not to go to a fifth round of elections. 
To watch our full conversation – beginning with a detailed look at the "Singapore Plan" and then getting into Saltan's political analysis – please click on the video below.

Joel C. Rosenberg is the editor-in-chief of ALL ISRAEL NEWS and ALL ARAB NEWS and the President and CEO of Near East Media. A New York Times best-selling author, Middle East analyst, and Evangelical leader, he lives in Jerusalem with his wife and sons.
A message from All Israel News
Help us educate Christians on a daily basis about what is happening in Israel & the Middle East and why it matters.
For as little as $5, you can support ALL ISRAEL NEWS, a non-profit media organization that is supported by readers like you.
Donate to ALL ISRAEL NEWS
Current Top Stories
Comments