Meet Amb. Tom Nides, President Biden's warm, gregarious, 'straight shooter' in Jerusalem
Yesterday, I spent 75 minutes with Washington's new point man in Israel
U.S. Ambassador to Israel Tom Nides and Joel C. Rosenberg (Photo: ALL ISRAEL NEWS)
JERUSALEM—When my colleagues and I launched ALL ISRAEL NEWS and ALL ARAB NEWS on September 1, 2020, we set out to provide fair, honest, balanced, and credible coverage of news and events here in Israel and the Arab/Muslim world for the world's 600 million Evangelical Christians.
That meant getting to know and reporting on leaders from a wide range of backgrounds, with a wide range of perspectives.
From the start, I told my team, "When we cover someone, we don't have to agree with everything – or possibly anything – they say or do or believe. But we have to treat them fairly. We need to do our best to understand their perspective and accurately share that with our readers."
And I've been encouraged by our track record.
We've covered Israeli politicians left, right and center. In government and in the opposition. We've covered Jews, Christians, and Muslims. Israelis and Palestinians.
Democrats and Republicans. Rich and poor. The powerful and the powerless.
That said, I'll be honest with you: I haven't done a particularly great job cultivating relationships with American political leaders from the Democratic Party. I'm working on it. But I need to do better.
Over the last 18 months or so, we have published exclusive interviews with:
Why? Because we believe it's important for you to hear their voices and understand their perspectives, whether you agree with them or not.
Still, I want to do more.
Have I been critical – sometimes sharply so – of a number of U.S. President Joe Biden's decisions and policies?
Yes.
But I've also given him credit when I believed it was warranted, and suggested areas that he could achieve major foreign policy achievements.
Why?

Because I believe that is the fair and honest thing to do.
A few examples:
MEETING AMBASSADOR NIDES
In that context then – in my effort to do better in getting to know more Democrats and provide more coverage of their views – I recently asked for a meeting with U.S. Ambassador Tom Nides, President Biden's point man in Jerusalem.
Yesterday, I was invited to spend 30 minutes with Nides (his name rhymes with "tides") in the American Embassy in Jerusalem.
In the end, we spent 75 minutes together, and I really enjoyed the meeting.
True, Nides and I come from very different worlds and from two polar opposite ends of the ideological spectrum.
He's a liberal, Jewish, Democrat who was born and raised in Minnesota and went on to work for Walter Mondale, Barack Obama and now Joe Biden.
I'm a conservative, Evangelical Republican from a Jewish background who was born and raised in upstate New York and worked for Jack Kemp, Bill Bennett, Steve Forbes and Rush Limbaugh.
There are plenty of issues we don't agree on.
But I like this guy.
He's warm, friendly, gregarious, curious, and a straight shooter.
Ask him a direct question, he'll give you a direct answer.
Midwestern nice.
Honest.
And certainly not afraid to tell you what he thinks.
What's more, it became clear to me that Nides is passionate about preserving and strengthening the U.S.-Israel strategic alliance.
And preserving and strengthening bipartisan support for Israel.
That's a key reason I wanted to get to know him, and why I believe Evangelical Christians who love Israel ought to get to know him and hear what he has to say.
You may or may not agree with him.
But you'll quickly see that he wants Israel to be strong and safe and at peace with her neighbors.
He's excited about the Abraham Accords and wants to see them implemented well – even expanded.
He's committed to maintaining Israel's qualitative edge when it comes to state-of-the-art weaponry.
What's more, he's an experienced diplomat with deep private sector experience.
Nides served as President Obama's deputy secretary of state for Management and Resources from 2010 to 2013.
He's also served as managing director and vice chairman of Morgan Stanley, as well as a range of other senior roles at Morgan Stanley, Burson-Marsteller, Credit Suisse First Boston and Fannie Mae.
That's not a bad combo platter for any American diplomat.
Nides was confirmed by the Senate on November 3 of last year.
He arrived in Israel on November 29 and then presented his credentials to Israeli President Isaac Herzog on December 5.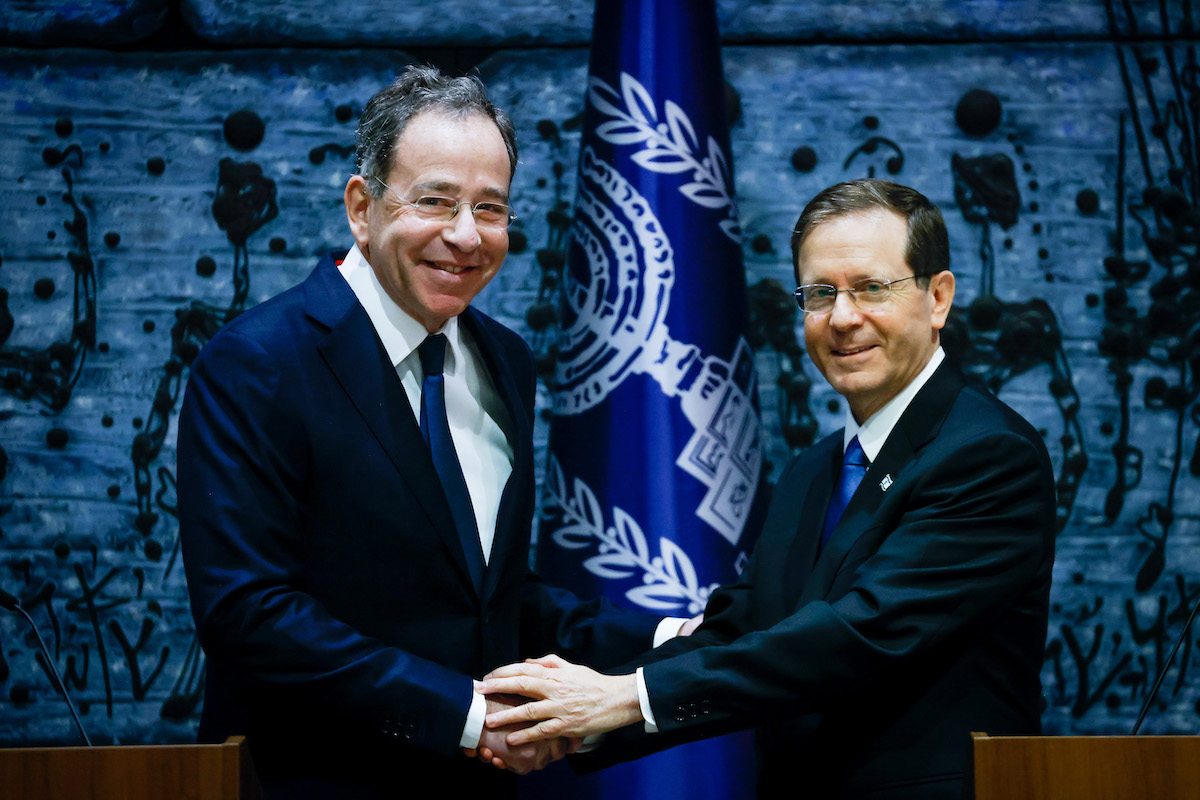 U.S. Ambassador to Israel Tom Nides with Israeli President Isaac Herzog during Nides swearing in ceremony as new ambassador to Israel, at the President's residence in Jerusalem, Dec. 5, 2021. (Photo: Olivier Fitoussi/Flash90)
So, he hasn't been in the post long.
But he has arrived on the scene at a highly sensitive moment.
Our meeting yesterday was off-the-record.
It wasn't an interview. It was an opportunity to meet for the first time and begin to get to know each other.
We talked about our backgrounds and beliefs, the Abraham Accords, the Iran nuclear threat, the Biden administration's approach towards U.S.-Israel relations, and why Evangelicals love Israel and the Jewish people so much.
And I was honored to give him a copy of my recent non-fiction book, Enemies and Allies: An Unforgettable Journey inside the Fast-Moving & Immensely Turbulent Modern Middle East.
We agreed to meet again.
Hopefully, Nides will agree to an on-the-record interview.
I believe his is an important voice in a critical region at a critical time.
We at ALL ISRAEL NEWS will certainly be watching him closely and doing our best to cover him fairly.
In the meantime, I hope you'll join me in praying for him, his family, and his team, especially amidst the spike in violence and tension here in Jerusalem and in Gaza.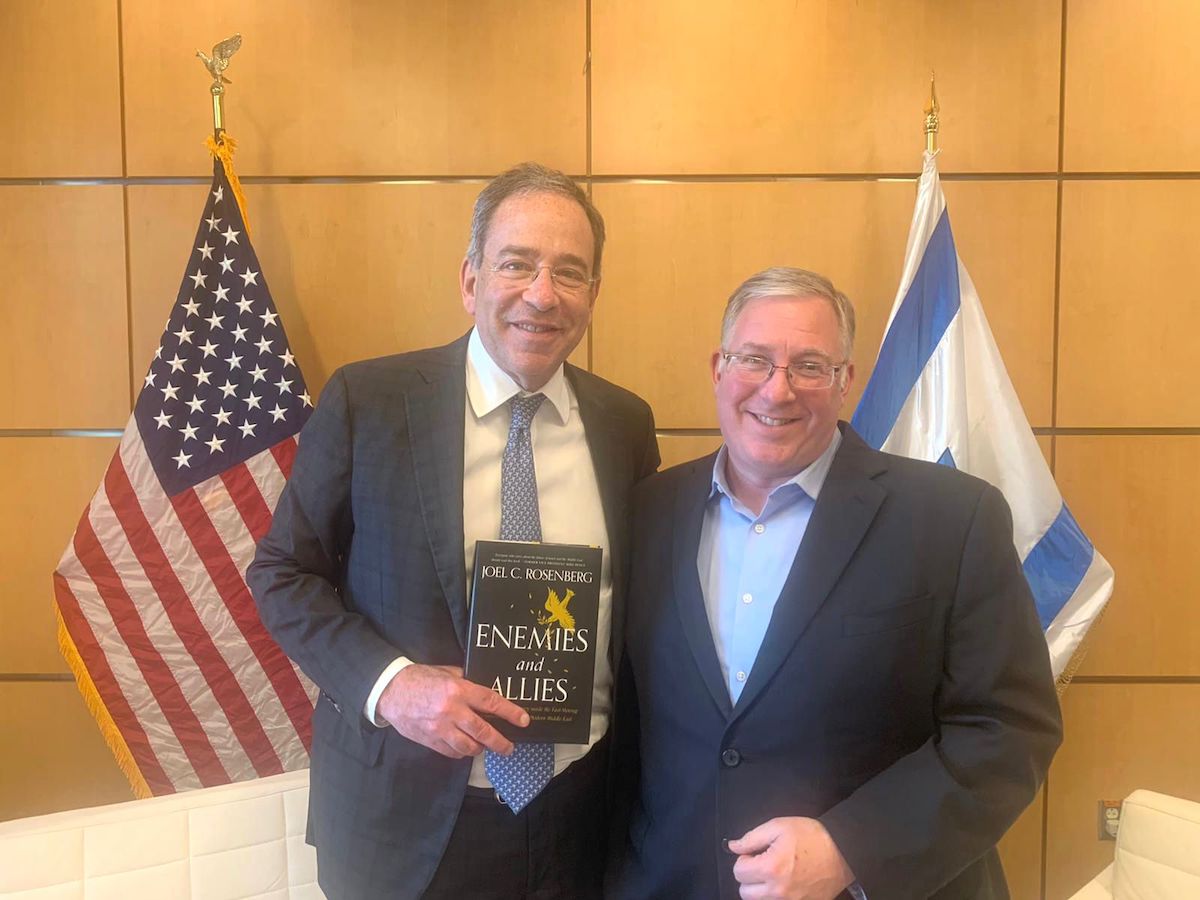 Joel C. Rosenberg presents a copy of his book "Enemies and Allies: An Unforgettable Journey inside the Fast-Moving & Immensely Turbulent Modern Middle East" to U.S. Ambassador to Israel Tom Nides (Photo: ALL ISRAEL NEWS)

Joel C. Rosenberg is the editor-in-chief of ALL ISRAEL NEWS and ALL ARAB NEWS and the President and CEO of Near East Media. A New York Times best-selling author, Middle East analyst, and Evangelical leader, he lives in Jerusalem with his wife and sons.
Popular Articles
A message from All Israel News
Help us educate Christians on a daily basis about what is happening in Israel & the Middle East and why it matters.
For as little as $5, you can support ALL ISRAEL NEWS, a non-profit media organization that is supported by readers like you.
Donate to ALL ISRAEL NEWS
Latest Stories
Comments