Democrat Mideast expert praises Trump team for Abraham Accords – predicts Biden will work hard to build on them
In exclusive interview with ALL ISRAEL NEWS, fmr. Ambassador to Israel Dan Shapiro speaks to Evangelical concerns Biden won't be pro-Israel enough
JERUSALEM – It isn't often you hear Democrats agreeing with President Donald Trump and his team on anything, much less praising them for a job well done.
When it comes to the Abraham Accords, however, it's a different story.
"Within an hour or two" of Trump's announcement of the initial breakthrough between Israel and the United Arab Emirates, "the Biden campaign put out statement by Joe Biden that was…really as enthusiastic as you could imagine," Dan Shapiro, a loyal Democrat and Middle East expert, said in an exclusive interview with ALL ISRAEL NEWS.
"Biden said this is great news – this is a breakthrough," Shapiro told me.
Biden even "challenged other nations to keep pace," and went on to strongly support the subsequent normalization deals between Israel and Bahrain, Sudan and Morocco.
Within Democrat circles, Shapiro is a highly regarded and trusted specialist on Israel and the broader Middle East, and could very well be appointed to a key position in the new Biden administration.
He served U.S. Ambassador to Israel under President Barack Obama and Vice President Joe Biden from 2011 to 2017.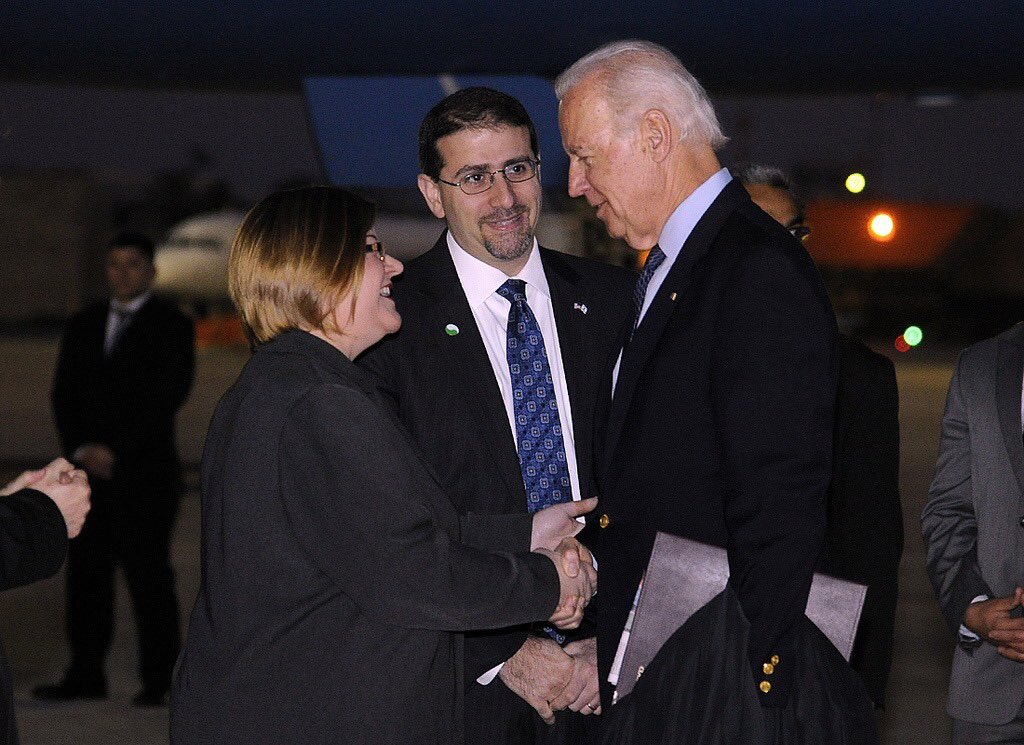 Amb. Dan Shapiro and then-U.S. Vice President Biden (Photo courtesy)
Prior to this Shapiro "was Senior Director for the Middle East and North Africa at the National Security Council at the White House, where he served as a member of Special Envoy George Mitchell's team, led U.S. diplomatic efforts in Syria and Lebanon, and advised President Obama through the early months of the upheavals in Arab states in 2011," notes his official bio.
Currently, Shapiro is serving as a fellow at the Institute for National Security Studies at Tel Aviv University. 
He still lives in the Tel Aviv area with his wife and daughters, never having moved back to the U.S. after his stint as ambassador.
In a Zoom interview, I asked Shapiro to discuss how Biden might build on the Abraham Accords, and to address the concerns of many Evangelical Christians that the Biden administration will be a repeat of the Obama years and highly confrontational with Israel.
Shapiro predicted that Biden and his team will use the early economic success of the Abraham Accords to persuade other nations to normalize relations with Israel as well.
"I believe he will move it forward," Shapiro told me. 
What's more, he hopes that other countries — such as Jordan and Egypt —which already have security and government-level peace treaties, will begin to forge cultural ties and friendships as Israelis and Emiratis have already done, making for a true peace.
As for the concern of Evangelicals, Shapiro sought right off the bat to assure skeptics.
"Biden has a real bond with Israel," he said, noting the president's relationship with the Jewish state is notably different that Obama's was.
Biden describes himself as a Zionist, Shapiro noted, a term not readily used by American politicians.
While many Israelis recall an acrimonious relationship between Obama and Israeli Prime Minister Benjamin Netanyahu, Shapiro pointed to the great strides the two nations made during those eight years including the Iron Dome system rocket alert system, intelligence cooperation, joint training between the militaries, other missile defense programs, tunnel-detection technology programs, other joint technology programs, the $38 billion 10-year agreement on military assistance and the sale of stealth fighters to Israel.
"Those are all Obama-administration initiatives," he stressed, adding that Biden "was deeply engaged in all of that."
"And it only stands to reason that this is a person who, through his entire life has worn on his sleeve his love for Israel, his belief in the importance and justice of Israel's belief in the obligation the United States has and the interest of the United States has in ensuring Israel's security, Israel's advancement toward peace with its neighbors, with Palestinians, and a two-state solution with Arab neighbors as they normalize and accept Israel's legitimacy."
Here is the video of our full interview.

Joel C. Rosenberg is the editor-in-chief of ALL ISRAEL NEWS and ALL ARAB NEWS and the President and CEO of Near East Media. A New York Times best-selling author, Middle East analyst, and Evangelical leader, he lives in Jerusalem with his wife and sons.
Popular Articles
A message from All Israel News
Help us educate Christians on a daily basis about what is happening in Israel & the Middle East and why it matters.
For as little as $5, you can support ALL ISRAEL NEWS, a non-profit media organization that is supported by readers like you.
Donate to ALL ISRAEL NEWS
Latest Stories
Comments