JERUSALEM PRAYER BREAKFAST
Five specific reasons Biden deserves credit for standing with Israel during the recent Gaza war
On Iran policy, the American president is going in the wrong direction, but fairness requires we acknowledge what Biden is doing right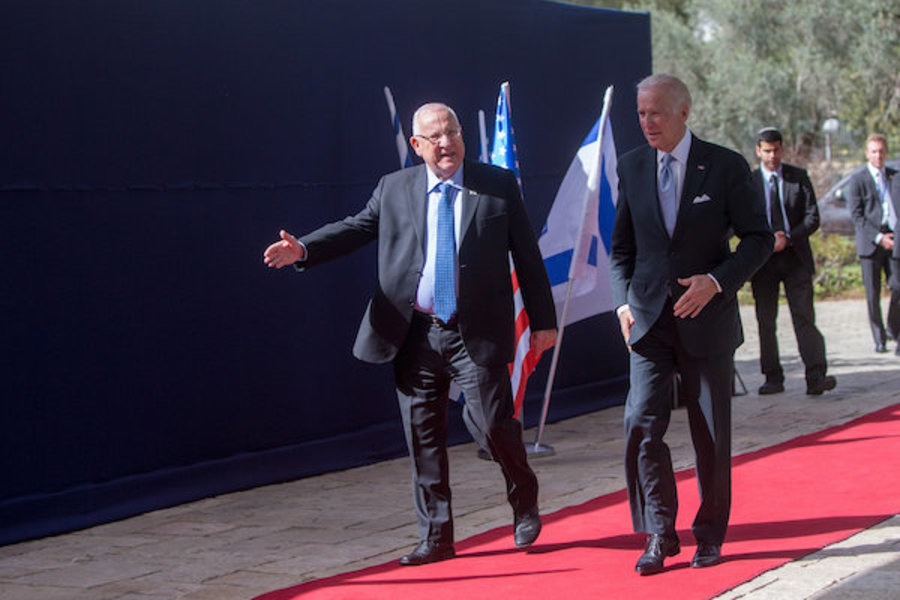 President Reuven Rivlin (L) walks with then-U.S. Vice President Joe Biden before delivering joint statements at the president's residence in Jerusalem on March 9, 2016. (Photo: Yonatan Sindel/Flash90)
JERUSALEM – During the Jerusalem Prayer Breakfast last week, I noted that one of the Biblical responsibilities we have as Evangelical Christians is to give honor where honor is due.
When it comes to government officials, we do not have to agree with, respect, or praise everything they do.
Certainly not.
When their statements or actions are wrong, dangerous, and/or unbiblical, we have both the right and responsibility to call out our leaders.
So long as we are respectful and "speak the truth in love." (Ephesians 4:15)
The Scriptures teach us to respect the office, and thus to be respectful of our government leaders.
The Bible also teaches us to give honor when such honor is merited by specific statements and actions of our leaders.
The Apostle Paul commanded this of believers.
"Give to everyone what you owe them," he wrote in Romans 13:7. "If you owe…respect, then respect; if honor, then honor."
The Apostle Peter also commanded this of believers.
"Honor all people, love the brotherhood, fear God, honor the king," he wrote in I Peter 2:17.
This is especially difficult in such a politically high-charged day and age when criticizing a leader that our tribe likes is immediately attacked as a "betrayal" of our tribe, and when saying something kind or respectful about a leader of another tribe is also savagely attacked as, yet, another "betrayal."
That said, as I spoke to the assembled pastors, Christian Zionist leaders, Evangelical businesspeople, Orthodox Jewish rabbis, Israeli government officials and others – those participating in the multi-day conference in person and the more than one million people watching online from all over the world – I noted that our responsibility is to emulate biblical culture, not Israeli culture, American culture or any other culture.
In Ezekiel 33 – which I cited during my remarks – and in many other passages of Scripture, we are commanded to speak the truth, even when it is not popular.
I shared some examples in which I had been critical of Donald Trump when I believed it was appropriate, even in an Oval Office conversation with him, as well as supporting and encouraging him when he was doing and saying things that were good and praiseworthy.
At the same time, with regards to Joe Biden, I noted that "I have plenty of criticisms of the new President. I'm concerned about where he's going with Iran. I'm concerned that he's prepared to give billions and billions of dollars to the very people who are building nuclear [weapons]. That's a problem. And I'm going to speak out about that. But that's easy. It's not easy within my tribe to say that, actually, Biden did a pretty good job in the recent war. He started slow. He said nothing for the first few days as thousands of rockets were inbound. But he gained his strength not just to stand with Israel, but to stand against those in his party who are lunatics."
This is important, so let me be even more precise on five specific ways that Biden has stood with Israel during the recent Gaza war.
1. BIDEN DEFENDED ISRAELIS' RIGHT TO DEFEND THEMSELVES AND CONDEMNED HAMAS AS A "TERRORIST GROUP" – Biden was slow to react to the Gaza war. What's more, his staff and advisors started off by calling on both sides to "de-escalate," implying a moral equivalence between the war crimes being committed by Hamas and Islamic Jihad and Israel's self-defensive measures. On May 12, I wrote a column for ALL ISRAEL NEWS headlined, "Where is President Biden? This is his first test on terrorism, and he is failing." I noted that Israel was facing its worst terror onslaught since 2014, yet after more than 1,000 rockets being fired, Biden had not condemned Hamas and Islamic Jihad or even called Netanyahu." On May 14, I went on Fox News to say that after 2,000 rockets fired by Hamas and its jihadist allies, "I am not satisfied where President Biden is [on the issue], but he has gotten better throughout the week. And we have to remember that President Biden is the best in the entire Democratic party when it comes to Israel." That said, I noted that Biden still had not yet clearly, personally, publicly and on-camera denounced and condemned Hamas and Islamic Jihad, and I called on him to do so. To Biden's credit, on May 15, the White House issued the following statement: "The President spoke today with Israeli Prime Minister Netanyahu. The President reaffirmed his strong support for Israel's right to defend itself against rocket attacks from Hamas and other terrorist groups in Gaza. He condemned these indiscriminate attacks against towns and cities across Israel." On May 17, the White House issued the following statement: "The President spoke today with Israeli Prime Minister Netanyahu. The President reiterated his firm support for Israel's right to defend itself against indiscriminate rocket attacks." Finally, on May 20, Biden went on camera and said, "The United States fully supports Israel's right to defend itself against indiscriminate rocket attacks from Hamas and other Gaza-based terrorist groups that have taken the lives of innocent civilians in Israel."
2. BIDEN SPOKE TO NETANYAHU SIX TIMES DURING THE ROCKET WAR, AND BLOCKED THREE U.N. SECURITY COUNCIL EFFORTS TO CONDEMN ISRAEL – Biden initially took more than a month after taking office to speak with Israeli Prime Minister Benjamin Netanyahu by phone, something that I criticized him for. But again, after a slow start, he course corrected. During the Gaza conflict, he spoke with Netanyahu repeatedly. "Over the last 11 days, I spoke with the Prime Minister six times," Biden noted during his May 20 press conference. Also to his credit, Biden directed his team to block three outrageous efforts by the UN Security Council to pass resolutions condemning Israel, while not mentioning Hamas or Islamic Jihad and their unprovoked and criminal aggression at all.
3. BIDEN REJECTED MOVES BY FAR-LEFT CONGRESSIONAL DEMOCRATS TO BLOCK MILITARY AID TO ISRAEL – In the midst of the fighting, "Senator Bernie Sanders introduced a resolution…to block a planned $735 million sale of precision-guided weapons to Israel, as hostilities continue between Israel and Hamas in Gaza," CBS News reported. "The resolution seeks to halt the planned sale of Joint Direct Attack Munitions (JDAMs) and small diameter bombs. A similar resolution was introduced in the House by Democratic Representatives Alexandria Ocasio-Cortez, Mark Pocan and Rashida Tlaib on Wednesday." The report went on to note that "in an op-ed in The New York Times last week, Sanders argued that the U.S. should do more to support the Palestinian people instead of being 'apologists for the right-wing Netanyahu government and its undemocratic and racist behavior.'" Fortunately, Biden flatly rejected the approach taken by Sanders, Tlaib, AOC and other far-left opponents of Israel. Specifically, Biden approved the $735 million sale to Israel.
4. BIDEN VOWED TO REPLENISH ISRAEL'S SUPPLY OF IRON DOME INTERCEPTOR ROCKETS – In the May 20 phone call between Biden and Netanyahu, "The Prime Minister also shared with me his appreciation for the Iron Dome system, which our nations developed together and which has saved the lives of countless Israeli citizens, both Arab and Jew," Biden said. "I assured him of my full support to replenish Israel's Iron Dome system to ensure its defenses and security in the future." During sworn testimony before Congress, Secretary of State Tony Blinken, the stepson of a Holocaust survivor, also stated the Biden administration's support to replenish Iron Dome interceptors for Israel.
5. BIDEN INSISTED THAT US AND INTERNATIONAL FUNDS BE USED TO HELP THE PEOPLE OF GAZA, NOT STRENGTHEN HAMAS – On May 20, Biden stated in a press conference that, "The United States is committed to working with the United Nations, and we remain committed to working with the United Nations and other international stakeholders to provide rapid humanitarian assistance and to marshal international support for the people of Gaza and the Gaza reconstruction efforts. We will do this in full partnership with the Palestinian Authority — not Hamas, the Authority — in a manner that does not permit Hamas to simply restock its military arsenal." Again on May 24, Biden reiterated this promise: "Following up on our quiet, intensive diplomacy to bring about a ceasefire between Israel and Hamas, I have asked my Secretary of State, Tony Blinken, to travel to the Middle East this week. During his trip, Secretary Blinken will meet with Israeli leaders about our ironclad commitment to Israel's security. He will continue our Administration's efforts to rebuild ties to, and support for, the Palestinian people and leaders, after years of neglect. And he will engage other key partners in the region, including on the coordinated international effort to ensure immediate assistance reaches Gaza in a way that benefits the people there and not Hamas, and on reducing the risk of further conflict in the coming months." We will see if Biden honors this promise. But it is important that he made it.

Joel C. Rosenberg is the editor-in-chief of ALL ISRAEL NEWS and ALL ARAB NEWS and the President and CEO of Near East Media. A New York Times best-selling author, Middle East analyst, and Evangelical leader, he lives in Jerusalem with his wife and sons.
A message from All Israel News
Help us educate Christians on a daily basis about what is happening in Israel & the Middle East and why it matters.
For as little as $5, you can support ALL ISRAEL NEWS, a non-profit media organization that is supported by readers like you.
Donate to ALL ISRAEL NEWS
Current Top Stories
Comments