Biden has a historic opportunity to persuade MBS to make a peace deal with Israelis, Rosenberg tells Haaretz podcast
It would be a win for Biden who is failing at almost all other foreign policy endeavors, Rosenberg says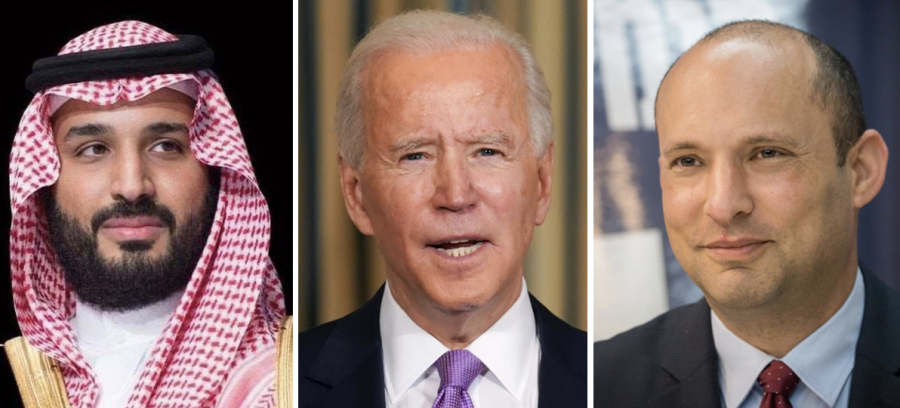 Saudi Crown Prince Mohammed bin Salman, US President Joe Biden and Israeli Prime Minister Naftali Bennett (Photos: Facebook, Shutterstock, Yonatan Sindel/Flash90)
If he would continue on the path of Middle East peace that his predecessor carved out, U.S. President Joe Biden could reverse his dismal foreign policy record and perhaps even make history.
That was Joel Rosenberg's assessment in a wide-ranging interview with the Haaretz Weekly Podcast published this week by the Israeli news outlet.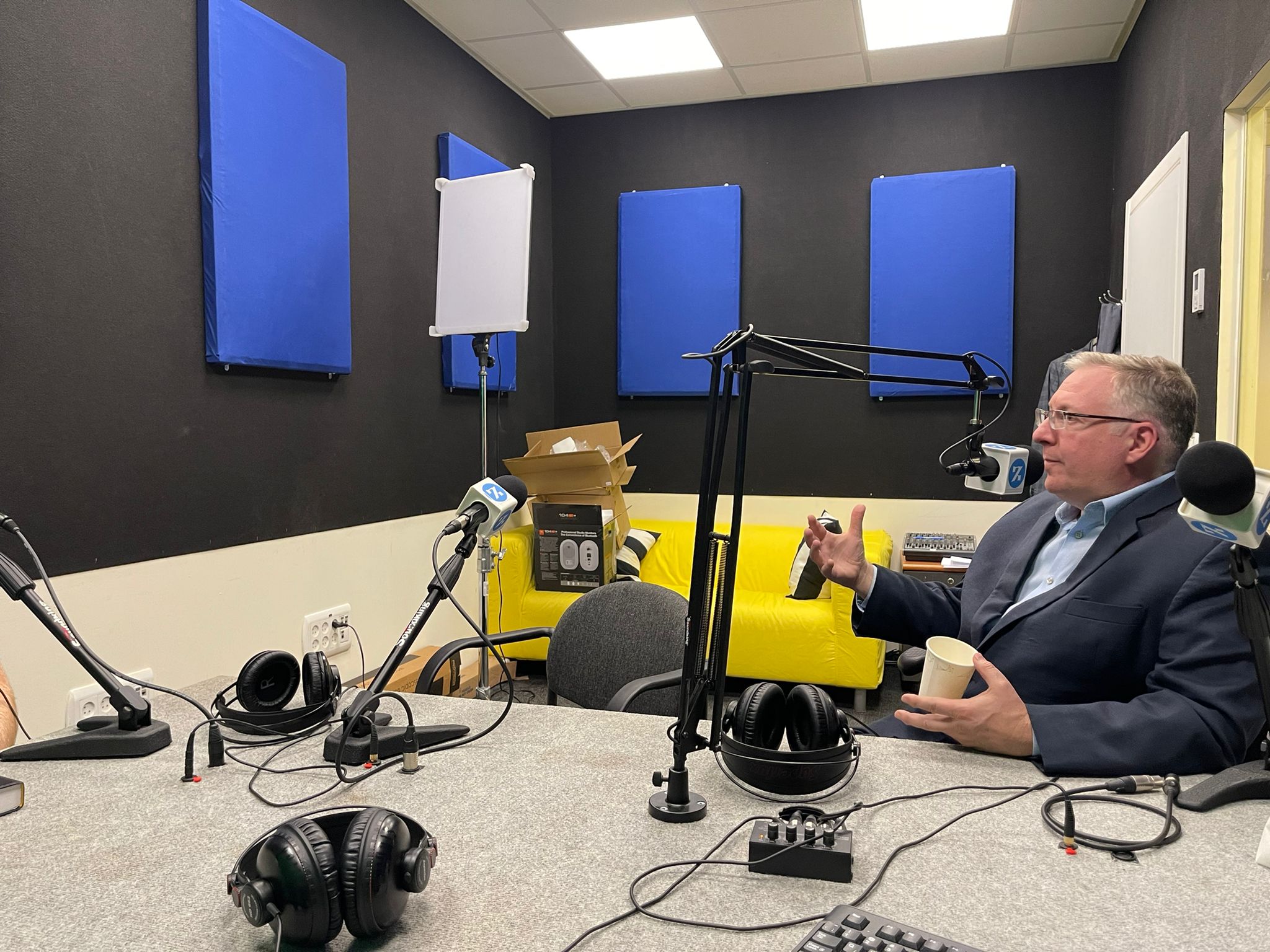 "Biden has a historic opportunity to bring MBS and the Israelis to make the peace deal that all the evidence that's public suggests that both sides want – and Biden gets a win," Rosenberg said. "And I don't see where he's going to get a win in foreign policy anywhere else right now."
MBS is the abbreviation used for the Crown Prince of Saudi Arabia Mohammed bin Salman.
Last year, former President Donald Trump brokered peace deals between four Muslim nations and Israel. After a secret meeting was reported between the previous Israeli prime minister and Trump's secretary of state with MBS in Saudi Arabia, speculation ran high that Riyadh would be next in line to join the Abraham Accords. However, while the Saudis have supported the nations that have joined, they have remained elusive regarding their own participation.
Encouraging the Saudis to join – as Biden's team appears to be doing – could be a game changer for the administration.
"[Biden's] numbers are plunging. If he held a summit in Jerusalem with Mohammed bin Salman and [Israeli Prime Minister] Naftali Bennett and the two of them eventually make peace – that's a big win."
Rosenberg said the Biden administration has been "slow out of the gate" to advance these accords, but they're beginning to catch up.
"I think that Biden realizes, and his team… that this should be a bipartisan issue. It shouldn't be just a Trump thing. I think that's wise and good, and I actually think the Biden team realizes that they're not getting big wins domestically. They need some big wins somewhere," he said.
The podcast's host, Amir Tibon, pressed Rosenberg on whether Saudi Arabia would renege on its commitment that peace with Israel is contingent upon Israel meeting certain Palestinian demands.
"I think they want F-35s and Patriot missile batteries," Rosenberg said of the Saudis. "Yes, they care about the Palestinians, but you can't push the 'mayor of Ramallah,' Mahmoud Abbas, to make a decision that he doesn't want to make."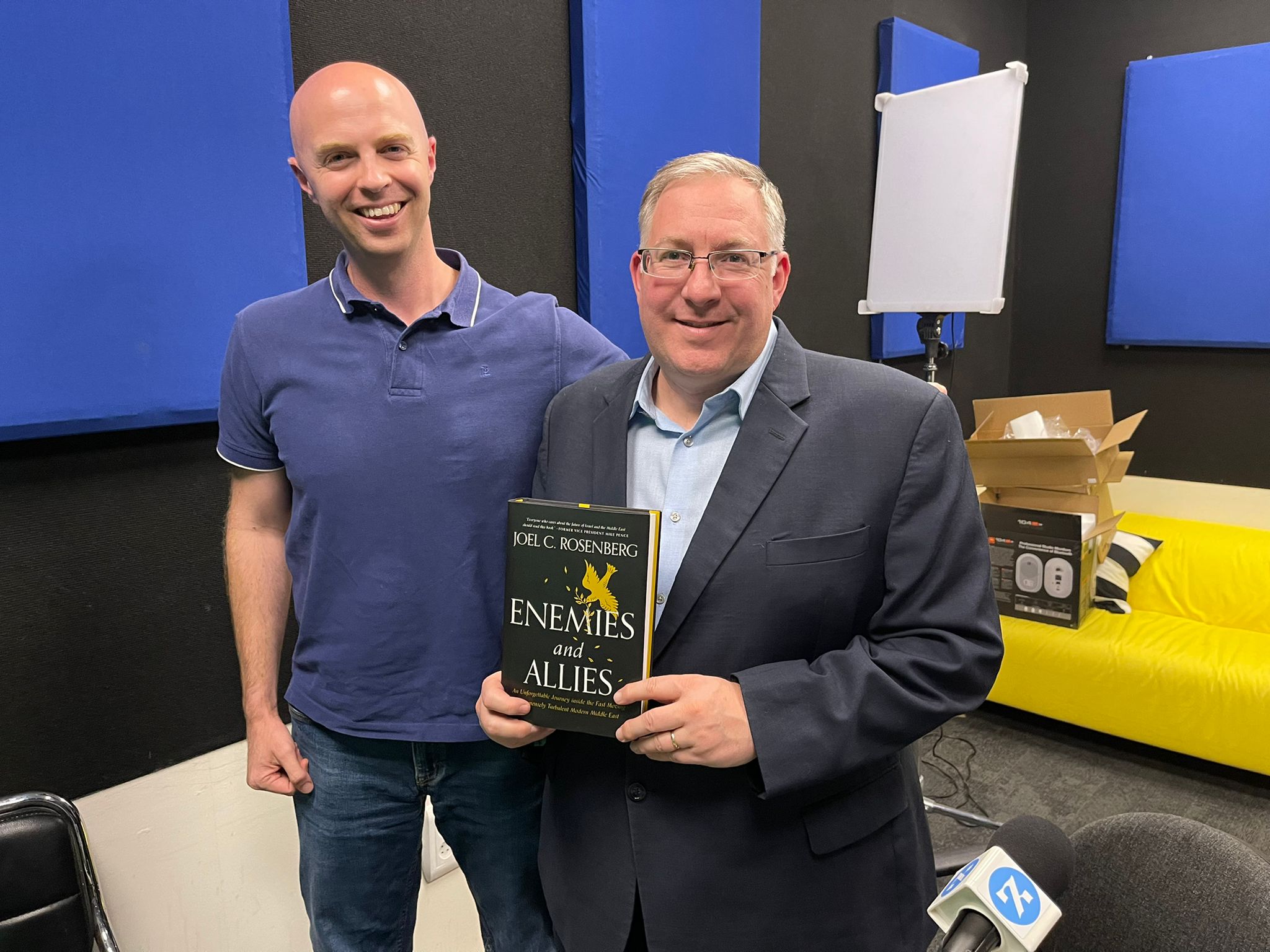 Joel C. Rosenberg and the Haaretz podcast host Amir Tibon (Photo: ALL ISRAEL NEWS)
Tibon interviewed Rosenberg about his new book, "Enemies and Allies," and how he managed to meet with so many Muslim world leaders – with groups of Evangelical Christians no less. The host was intrigued that a Jewish-Evangelical, American-Israeli dual citizen had the opportunity to do "something as extraordinary as bringing a group of Evangelical Christian leaders from America to meet the Crown Prince of Saudi Arabia to talk about relationships with Israel."
It was Rosenberg's action-packed novels that sparked the first invitation after he used Jordan's King Abdullah as a named character in one of his books.
"I'm not sure if it was the brightest idea to make him an actual named character. But I did," Rosenberg said, however, "rather than banning me from the Kingdom forever… he invited my wife and me to come for five days and get to know him" in 2016.
That led to a series of delegations in which Rosenberg brought Evangelical Christians to meet with leaders in Jordan, Egypt, the United Arab Emirates and Saudi Arabia.
Rosenberg's delegation – the first group of Christian leaders ever invited to the palace by the Saudi royal family – met with MBS. And Rosenberg himself was the first Israeli citizen in the history of the country that has publicly met with the leadership of Saudi Arabia, Tibon noted.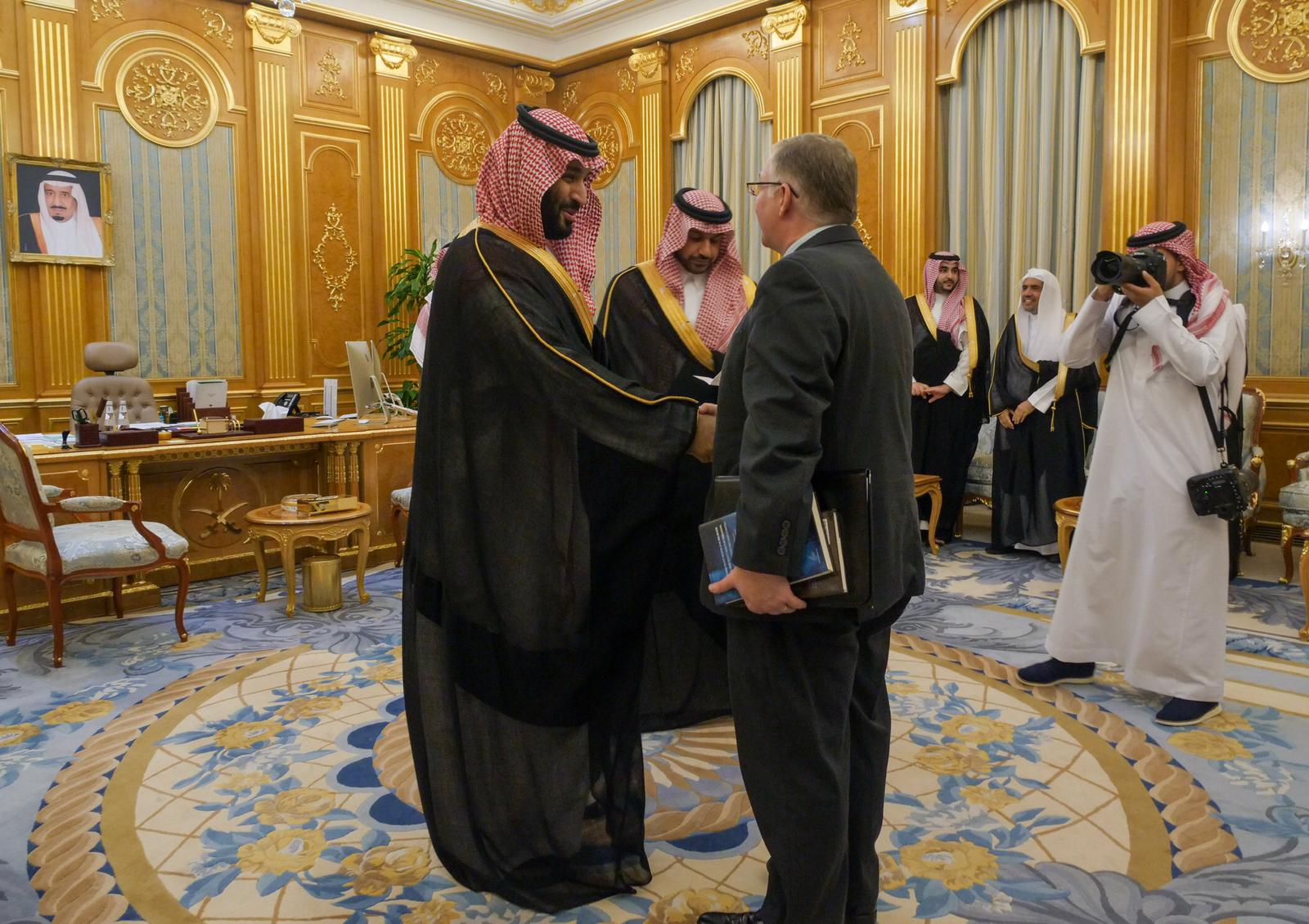 Rosenberg and a delegation of Israeli and American Evangelical leaders meeting with the Saudi Crown Prince on Sept. 10, 2019 in the royal palace in Jeddah. (Photo: ALL ARAB NEWS)
Tibon also asked if Rosenberg would lead a delegation of Evangelicals to Ramallah if Mahmoud Abbas were to invite them.
"I would go meet with him. I mean, look, God loves Mahmoud Abbas. God loves the Palestinian people. I'm an Israeli who doesn't mind saying that because I come from a biblical tradition where Jesus said, 'Love your neighbor,'" Rosenberg said.
He also noted that many Evangelicals would hesitate or even refuse to meet the Palestinian leader, saying "he's not a neighbor, he's an enemy."
"Well, Jesus said, 'Love your enemy.'" Rosenberg said.
Catch the full interview here.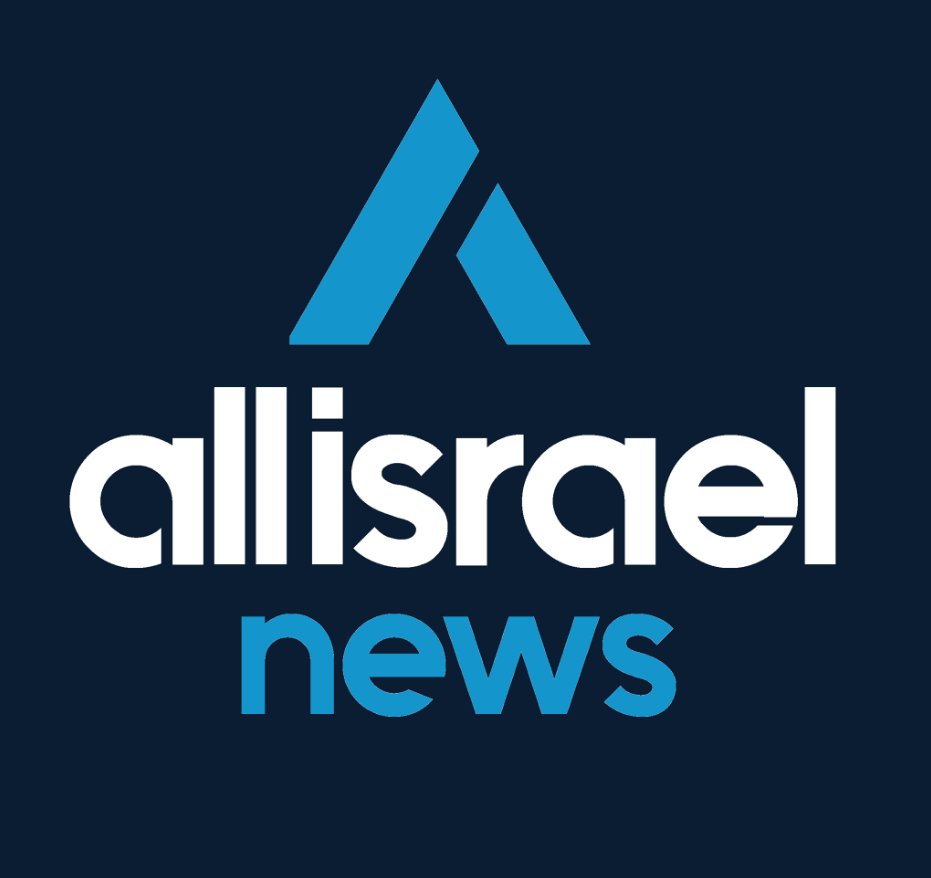 The All Israel News Staff is a team of journalists in Israel.
A message from All Israel News
Help us educate Christians on a daily basis about what is happening in Israel & the Middle East and why it matters.
For as little as $5, you can support ALL ISRAEL NEWS, a non-profit media organization that is supported by readers like you.
Donate to ALL ISRAEL NEWS
Current Top Stories
Comments