Is Czar Putin about to invade Ukraine? With Russia massing nearly 100,000 troops on Ukraine's border, fears of an imminent war in Europe are rising
Putin is testing Biden, who looks politically weaker by the day – and Israeli and Arab leaders are trying to determine if Biden can truly be trusted to defend America's allies from its most serious enemies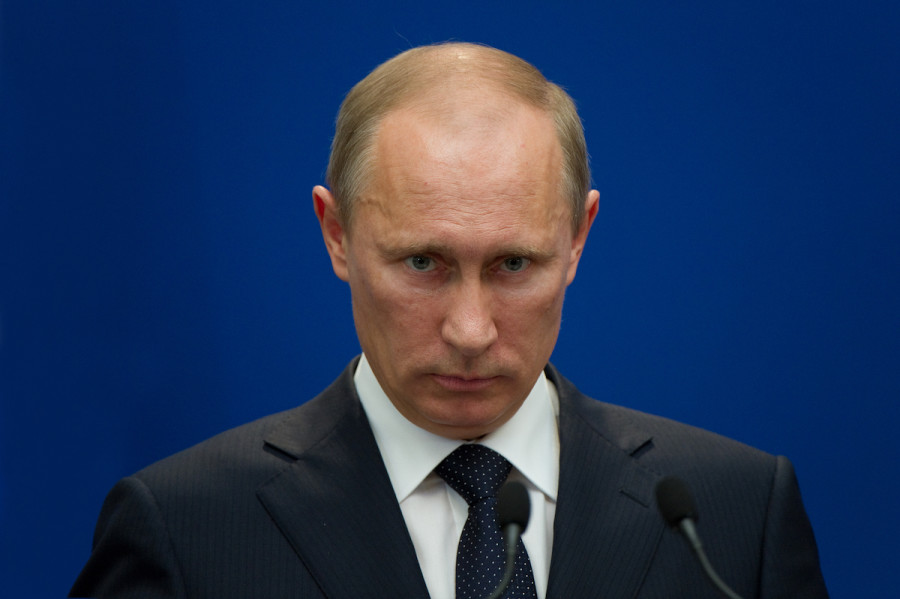 Russian President Vladimir Putin (Photo: Shutterstock)
DENVER—I'm in the U.S. for the next six weeks, preparing to speak at the Ronald Reagan Presidential Library on Nov. 30 about my new book, "Enemies and Allies," and meeting with a wide range of Evangelical leaders all over the country.
But on the eve of the American holiday of Thanksgiving, I find myself closely tracking events in Moscow.
Here's why.
Russian President Vladimir Putin has massed some 92,000 soldiers of the Red Army, along with tanks and other military machinery, on Russia's borders with Ukraine.
Russian forces are also being prepositioned in Belarus, the former Soviet republic that is closely allied with Putin and is located just to the north of Ukraine.
Maybe Putin is just saber-rattling, flexing his muscles and intimidating his neighbors.
But what if Putin has more aggressive plans?
The Kremlin "is preparing for an attack by the end of January or beginning of February," the head of Ukraine's defense intelligence agency told Military Times in a report published last Saturday.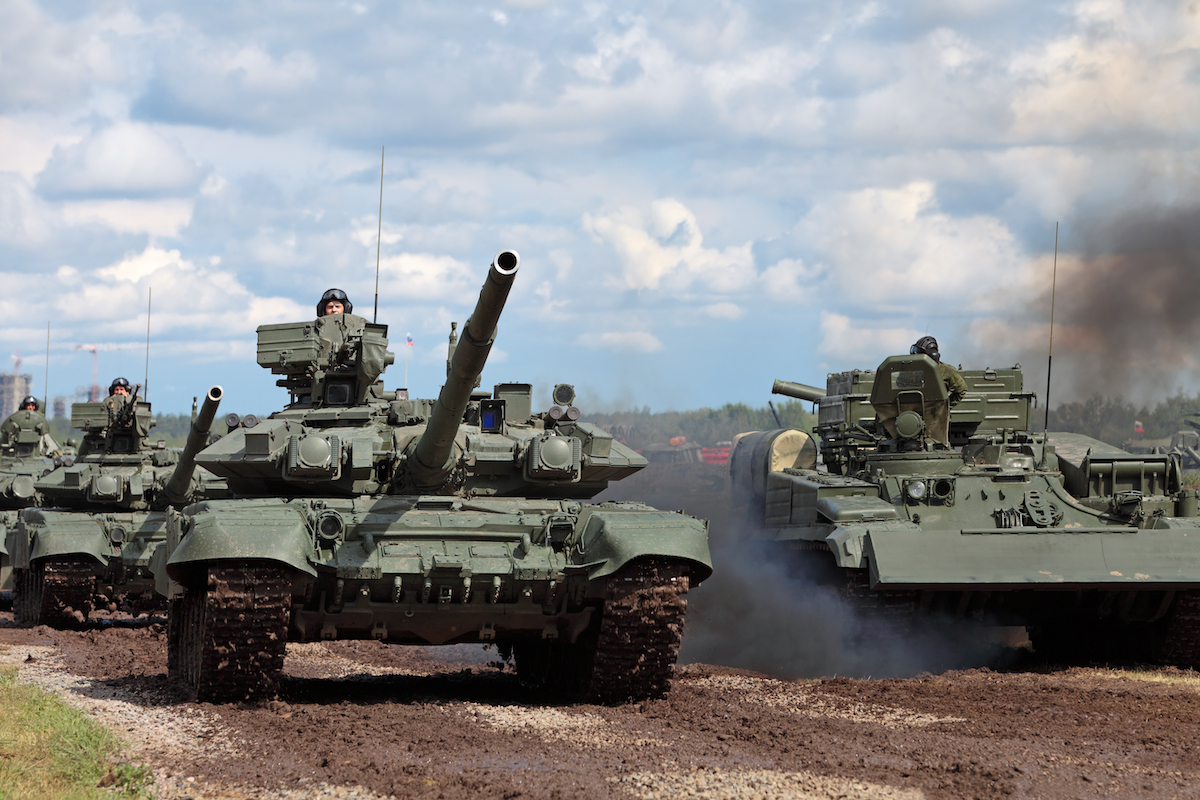 Illustrative - Russian tanks (Photo: Shutterstock)
As I write about in "Enemies and Allies," far too many Western analysts underestimate Putin's lust for power, control and wealth. 
They tend not to believe that Putin will actually use military force, only to be severely surprised when he does.
Yet the facts are clear: Putin has a long history of using military force to seize parts of Georgia, to seize all of Crimea, to seize the eastern region of Ukraine, and, of course, to seize much of Syria and prop up his bloodthirsty ally, Syrian President Bashar al-Assad.
We should not dismiss the threat he now poses to Ukraine.
BLINKEN WARNS MOSCOW NOT TO MAKE "SERIOUS MISTAKE"
U.S. Secretary of State Tony Blinken says the Biden administration is "concerned" by Russian troop buildups near Ukraine.
Blinken also warned Moscow against making a "serious mistake" by using military force against Ukraine.
Indeed, Blinken insisted during a Nov. 10 press conference in Washington with Ukraine's foreign minister that the U.S. would never abandon the Ukrainian people or state.
"As President Biden made clear when President Zelenskyy visited in September, and as I underscored when standing alongside President Zelenskyy in Ukraine back in May, and as the President and I reaffirmed again when we saw President Zelenskyy at COP26: the United States commitment to Ukraine's independence, sovereignty, territorial integrity is ironclad," Blinken said. 
CAN AN INCREASINGLY WEAK BIDEN BE TRUSTED TO DEFEND AMERICAN ALLIES?
The problem is that Ukrainian leaders are not certain that they can truly depend on Biden to stand firmly with them against Moscow if the shooting starts.
Thus, fears are rapidly rising that Putin is planning an imminent invasion of Ukraine, and that neither President Biden nor the rest of NATO will do anything to stop him.
Because Ukraine is not a member of NATO, no Western nation has any legal or treaty obligation to come to its defense.
Moreover, Putin can see how weak Biden is politically.
Consider Biden's position just since August.
Biden has:
surrendered Afghanistan to the Taliban

allowed gas prices and inflation in the U.S. to skyrocket

struggled to get his legislative agenda through Congress

allowed Republicans to retake the thoroughly blue state of Virginia in recent elections

seen his poll numbers plunge to record lows – the latest Quinnipiac University poll this week found only 36% of Americans approving Biden's job performance, while 53% disapprove   
"Joe Biden is not showing that he's strong with our allies [and] he's not creating fear in our enemies," I said on Fox News in August as Biden began surrendering to the Taliban. "That weakness is opening up the floodgates. And I, who live in a small country in the Middle East, I'm horrified by what I'm seeing in Washington."
"And so it begins," I tweeted on Sept. 12. "Expect America's enemies to begin testing President Biden in ever-increasing and dangerous ways now that he has demonstrated such weakness and willingness to surrender in Afghanistan. Please join me in praying for Biden and his team to urgently change course."
Israeli and moderate Arab leaders are watching the situation in Moscow and Kiev closely.
They are trying to figure out what Putin wants, and how far the would-be czar will go to achieve his objectives.
But they are also trying to figure out if they can trust Biden to stand strongly with them against the tyrants in Tehran.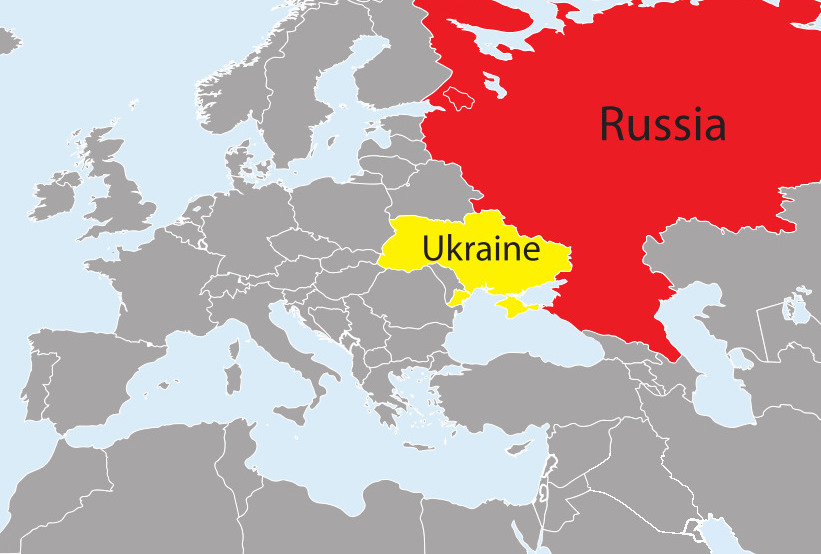 Map of Europe highlighting Ukraine and Russia (Image: Shutterstock)
KREMLIN BLAMES UKRAINE FOR OVERHEATED RHETORIC
Russian Foreign Minister Sergey Lavrov blamed Ukraine on Monday for "excessively inflamed and very dangerous" rhetoric that he said "apparently reflects the desire to carry out a provocation and bring the conflict into a hot phase."
Ukrainian Foreign Minister Dmytro Kuleba dismissed the accusation, chalking it up to "a surge in Russian disinformation."
"Let me state it officially: Ukraine does not plan a military offensive in the Donbas," Kuleba tweeted.
"We are devoted to seeking political and diplomatic solutions to the conflict" the Ukrainian insisted, adding: "We call on Russia to engage constructively in…peace efforts instead of undermining them."
"At the same time, Ukrainian diplomacy continues working on strengthening Ukraine's defense capabilities in order to deter and discourage Russia from further aggressive actions," Kuleba wrote.

Joel C. Rosenberg is the editor-in-chief of ALL ISRAEL NEWS and ALL ARAB NEWS and the President and CEO of Near East Media. A New York Times best-selling author, Middle East analyst, and Evangelical leader, he lives in Jerusalem with his wife and sons.
A message from All Israel News
Help us educate Christians on a daily basis about what is happening in Israel & the Middle East and why it matters.
For as little as $5, you can support ALL ISRAEL NEWS, a non-profit media organization that is supported by readers like you.
Donate to ALL ISRAEL NEWS
Current Top Stories
Comments