ALL ISRAEL NEWS BOOK CLUB RECOMMENDATION FOR FEBRUARY
Evangelicals who love Israel will absolutely love 'SLEDGEHAMMER,' the must-read new book by David Friedman, Trump's ambassador to Israel – I cannot recommend it highly enough
The first book written by a senior White House insider on why Trump will go down in history as the most pro-Israel president in US history, it's also the story of an Orthodox Jew who found himself beloved by Evangelicals but bitterly attacked by the media, members of Congress and left-wing Jewish groups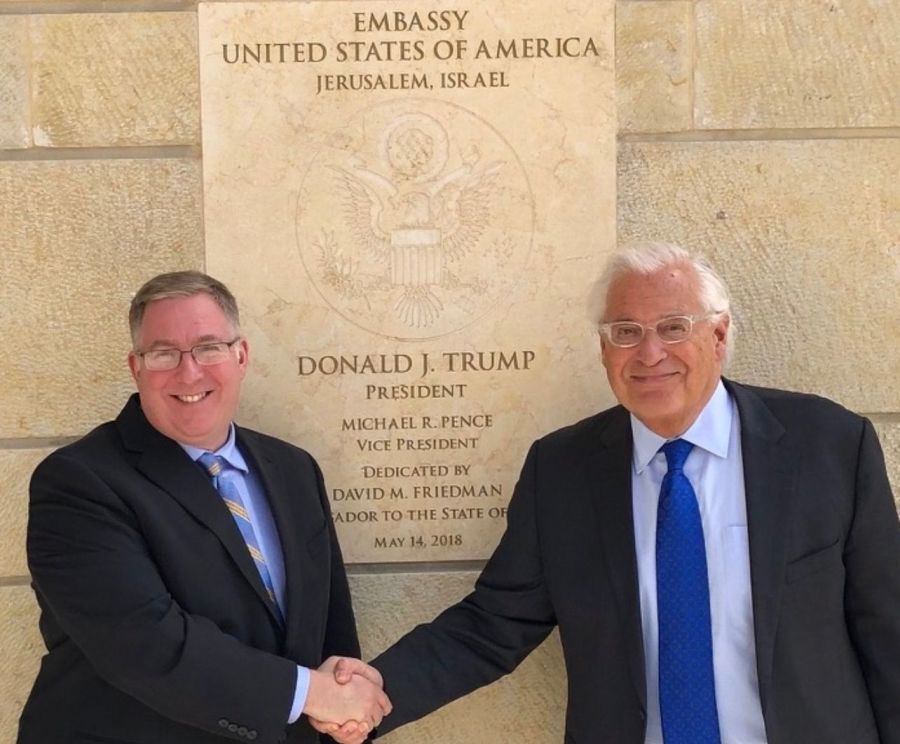 Joel C. Rosenberg and former U.S. Ambassador David M. Friedman (Photo: ALL ISRAEL NEWS)
JERUSALEM—"Love him or hate him, and most people who have paid attention fall into one camp or the other, Ambassador David M. Friedman will complete his tour of duty in Israel this month having etched his name in history as one of America's most influential envoys."
That's how The New York Times began its profile on Friedman on Jan. 10, 2021 as he was preparing to step down from the Trump-Pence administration after some of the most dramatic and consequential four years in the modern history of the Jewish State.
It was true.
It's also about the only fair thing the Times said about him during his tenure.
Yet even in that final profile, the Times chose to take more shots at the lawyer-turned-diplomat, saying he pursued a "radical agenda" and providing plenty of column inches to his harshest critics.
"The Palestinian Authority president, Mahmoud Abbas, called him a 'son of a dog' and refused to meet with him," the article noted.
"Liberal Jewish groups accused him of trying to kill a two-state solution."
The article also quoted Husam Zomlot, who served as head the Palestinian Authority's diplomatic mission in Washington until the Trump administration closed it, offering blistering attacks on Friedman.
"[Zomlot] said Mr. Friedman's sense of his accomplishments was delusional," the Times reported. "Far from enhancing American influence on the conflict, he said, Mr. Friedman had reduced it nearly to nil, all but destroying hopes for a two-state solution."
"He was the American mob in our Capitol," Zomlot told the Times, alluding to the recent insurrection in Washington. "Same logic, same behavior. That's Friedman. And just as Congress did, the Biden administration will have to wipe the floor of U.S.-Palestinian relations and the peace process completely clean."
A MEMOIR TO SET THE MEDIA – AND SO MANY OTHER CRITICS – STRAIGHT
I could go on, but I won't.
Okay, well, one more quote.
The Times reporter actually had the chutzpah to write this: "The Trump administration said it wanted to achieve peace. It will leave office this month as far away from that goal as ever."
What?
How in the world could the most influential newspaper on the globe make such a ridiculous and obviously false statement?
You and I both know why, of course, and it is exactly this sort of nonsense – such extreme bias in the so-called "mainstream media" – that has both infuriated and inspired Friedman during his time in office.
The attacks never stopped coming, many of them sharply personal and often without a shred of truth.
But now that he's out of office, Friedman recently told me over coffee in his Jerusalem apartment, he has been inspired by all the balagan (Hebrew for mess) to set the record straight.
A FILM, A THINK TANK AND NOW A BOOK
Now 63, Friedman has launched a three-pronged strategy to tell the truth about the U.S.-Israel alliance and the bold, decisive, if highly controversial policies that led to the greatest era of peace-making in the modern history of the Middle East.
First, he produced a four-part documentary series – the "Abraham Accords" for TBN, the world's largest Christian television network.
Second, he launched a new think tank called the Friedman Institute For Peace Through Strength.
Third, he is releasing his first book, a fascinating and compelling memoir titled, "SLEDGEHAMMER: How Breaking With The Past Brought Peace To The Middle East."
Friedman was gracious enough to send me an advance copy, and I read it last week and absolutely loved it.
Here is an exclusive look at the prologue of SLEDGEHAMMER.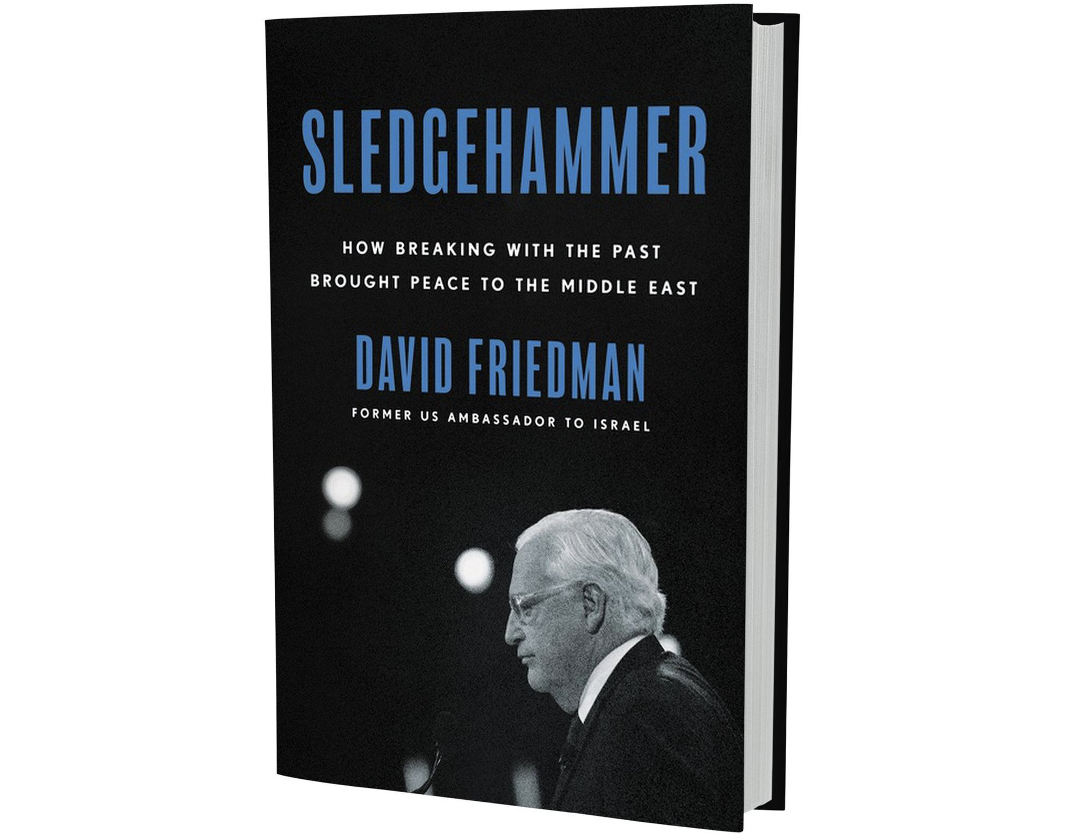 EVANGELICALS WILL LOVE THIS BOOK – HERE'S WHY
"SLEDGEHAMMER" is a must read.
Evangelical Christians who care about Israel will absolutely love this book.
I cannot recommend it highly enough.
For starters, it's the story of an Orthodox Jewish man – the son of a rabbi who is deeply in love with the Hebrew scriptures, biblical history and biblical prophecies – who found himself operating at the highest levels of the American government, something that he refreshingly attributes solely to the mercy and will of God.
What's more, it's the story of a Jewish lawyer who found himself beloved and supported by millions of pro-Israel Evangelicals, a community he had little contact with prior to becoming ambassador, yet simultaneously found himself under fierce, cruel and constant fire by the media, Israel haters in Congress, the Palestinian leadership and by left-wing Jewish groups.
It's also the first book written by a senior White House insider on why Donald J. Trump will go down in history as the most pro-Israel president in American history.
Friedman, who first met Trump in 2004 and become one of his most trusted legal advisors and personal friends, is candid about Trump's strengths and weaknesses.
He writes that he didn't always agree with what Trump said and did. He is particularly critical of Trump's actions (and lack thereof) during the riot and illegal incursion into the U.S. Capitol on Jan. 6, 2020.
He also admits that Trump had not always sounded pro-Israel or been consistent with his comments on Israel during the Republican primaries in 2016.
But he also is the first in the Trump inner circle to tell the story of how he (and colleague Jason Greenblatt) worked to help Trump strengthen and sharpen his pro-Israel language and agenda once Trump became the nominee.
He also takes readers behind the scenes to reveal how Trump – the first American president with no elected experience, who came into office with no foreign policy and national security experience whatsoever – was able to accomplish what all of his critics said that Trump couldn't or wouldn't.
Declaring Jerusalem the capital of the State of Israel

Moving the American Embassy from Tel Aviv to Jerusalem

Declaring the Golan Heights to be sovereign Israeli territory

Declaring Israeli communities built in Judea and Samaria – the biblical heartland often referred to by the media as the West Bank – as not per se illegal

Brokering an historic peace treaty between Israel and the United Arab Emirates

Brokering an historic peace treaty between Israel and the Kingdom of Bahrain

Brokering an historic peace treaty between Israel and the Kingdom of Morocco

Brokering an historic peace treaty between Israel and the Arab Republic of Sudan

Brokering an historic peace treaty between Israel and the Muslim nation of Kosovo

And drafting and releasing the most sweeping and detailed proposal to achieve a comprehensive Israeli-Palestinian peace deal complete with maps and vastly increased land for a Palestinian state, a deal was embraced by then-Israeli Prime Minister Benjamin Netanyahu yet was utterly rejected by the Palestinian leadership.
DID FRIEDMAN PULL HIS PUNCHES?
Ever a gracious and soft-spoken man, Friedman chooses not to reveal the depths of the bitter tensions inside the Trump-Pence administration that developed during the crafting of the "Deal of the Century" and other elements of the peace plan.
He's honest about how former Secretary of State Rex Tillerson and other State Department officials – and left-wing members of Congress – tried routinely to block his efforts to help Trump implement his aggressively pro-Israel agenda, especially when it came to moving the embassy to Jerusalem.
But he does seem to pull some punches.
You're not going to find a bunch of juicy, tell-all quotes or anecdotes about the firestorm Trump's policies created inside Washington.
Friedman, for example, doesn't share anything about the intense anger that Trump felt toward Netanyahu during 2019 and 2020 when Trump concluded that Bibi didn't really want to make peace with the Palestinians, when Bibi allegedly kept changing his mind about whether he would back various elements of the Trump peace proposal and when Bibi kept changing the date that he would agree for the plan to be released, hoping to gain maximum political advantage for his re-election campaigns.
Friedman also doesn't discuss how infuriated Trump felt when Bibi quickly congratulated Joe Biden last November, a move that Trump saw as a betrayal of all he had done for Bibi, leading Trump to say of Netanyahu, "F--- him!"
Those stories, instead, were told by Israeli journalist Barak Ravid in his recent book, "Trump's Peace," published only in Hebrew.
Nor is Friedman's book the first to tell the story of the tectonic changes underway in the Middle East, both for good and for evil, or the inside story of the changes underway in the relationship between Israel and the Kingdom of Saudi Arabia under Crown Prince Mohammed bin Salman, aka, MBS.
Those stories are told in my book, "Enemies and Allies: An Unforgettable Journey inside the Fast-Moving & Immensely Turbulent Modern Middle East," published last September, which was the first book ever to tell the inside story of the birth of the Abraham Accords and the magnitude of the threats facing Israel from Iran and other radical Islamists.
That said, I have been fascinated both by Friedman's book and by his wonderful, detailed and beautifully shot documentary film on the Abraham Accords for TBN.
Together, the book and film provide all readers – and especially pro-Israel Evangelical Christians – with a rare insight into a man who believes the Bible is true, and that ancient Hebrew prophecies are coming to pass, and who was shocked and thrilled to find himself at the vortex of these extraordinary events.
"SLEDGEHAMMER" releases on Feb. 8.
Don't miss it.
PREVIOUS COVERAGE OF AMB. DAVID FRIEDMAN BY ALL ISRAEL NEWS

Joel C. Rosenberg is the editor-in-chief of ALL ISRAEL NEWS and ALL ARAB NEWS and the President and CEO of Near East Media. A New York Times best-selling author, Middle East analyst, and Evangelical leader, he lives in Jerusalem with his wife and sons.
A message from All Israel News
Help us educate Christians on a daily basis about what is happening in Israel & the Middle East and why it matters.
For as little as $5, you can support ALL ISRAEL NEWS, a non-profit media organization that is supported by readers like you.
Donate to ALL ISRAEL NEWS
Current Top Stories
Comments