NEWSMAKER INTERVIEW – PART ONE
EXCLUSIVE: Former US Ambassador to Israel blasts Biden's plan to open consulate for Palestinians in Jerusalem as 'illegal' under US and Israeli law
I sat down with Amb. David Friedman in his home to discuss his passion for the Holy City, his forthcoming memoir and his new TBN film series on 'The Abraham Accords'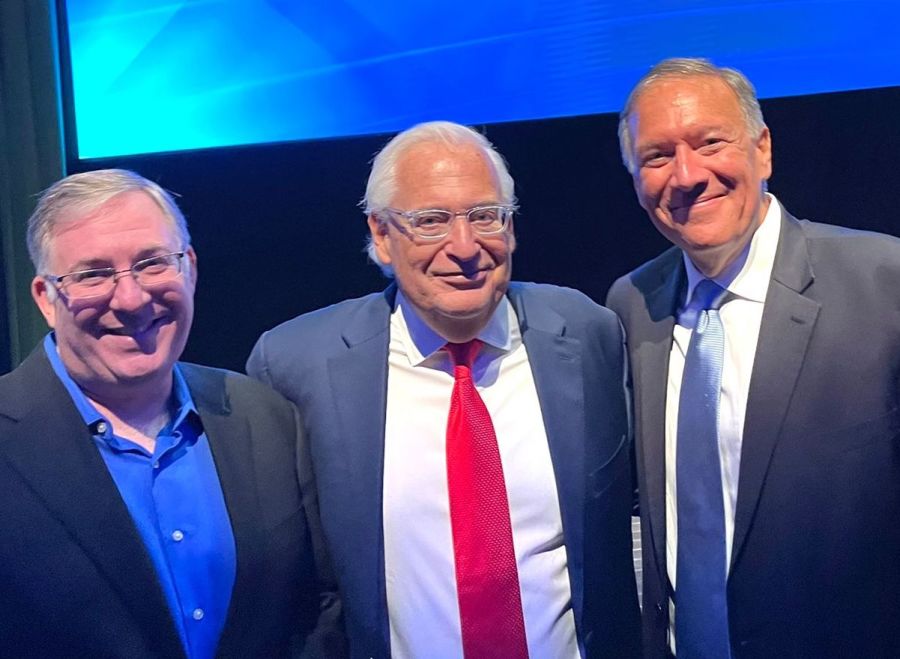 Joel Rosenberg, David Friedman and Mike Pompeo at the opening of The Friedman Institute For Peace Through Strength in Jerusalem (Photo: ALL ISRAEL NEWS)
JERUSALEM, ISRAEL – David Friedman may be out of office, but don't call him retired.
The 63-year-old former New York attorney and former U.S. Ambassador to Israel during all four years of the Trump-Pence administration has a smile on his face, a spring in his step and a lot on his plate these days.
On Wednesday, I sat down with him and his wife, Tammy, in their lovely apartment in Jerusalem, adorned with dozens of family photos, Jerusalem artwork, and various mementos of his time as a member of the inner circle of the White House Middle East strategy team.
Over cappuccinos, I presented them with a copy of my new book, "Enemies and Allies: An Unforgettable Journey inside the Fast-Moving & Immensely Turbulent Modern Middle East." 
In return, I was blessed to get a sneak preview of the much-anticipated memoir the ambassador will publish in February, "Sledgehammer: How Breaking with the Past Brought Peace to the Middle East." 
We also, of course, discussed his powerful (and beautifully-shot) documentary film series, "The Abraham Accords," that he hosted and produced for TBN, the world's largest Christian television network.
I'll report more on both the book and the film series in Part Two of my exclusive interview.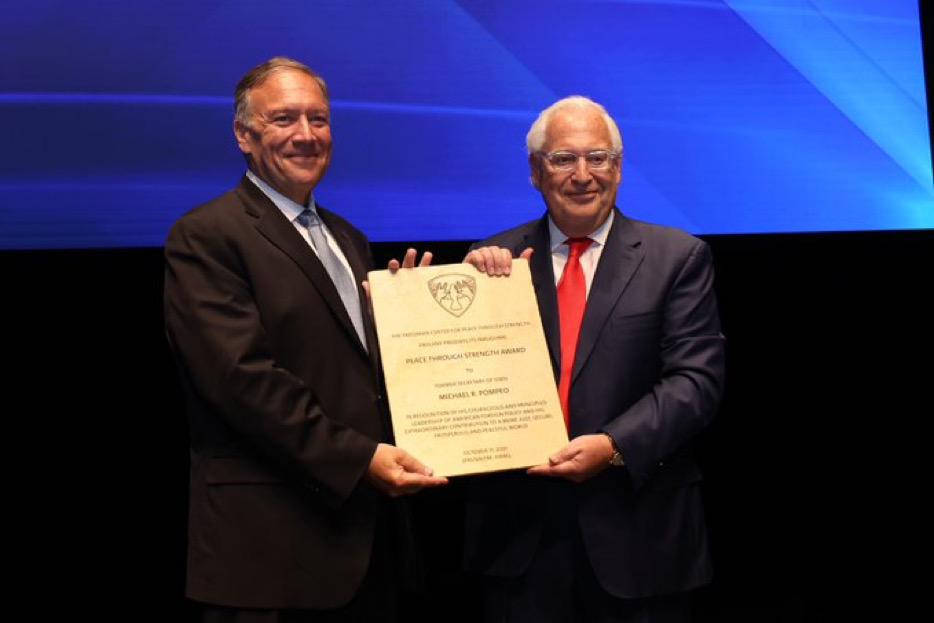 Former U.S. Ambassador to Israel David Friedman presents an award to former U.S. Secretary of State Mike Pompeo at the gala opening of The Friedman Center, Oct. 11, 2021. (Photo: Friedman Center Twitter feed, photographer Shauli Landner)
But we also discussed – at length – Friedman's deep love and passion for the Holy City as a devout modern Orthodox Jewish man, and why he has chosen to blast the Biden administration for planning to open a U.S. Consulate for the Palestinians in West Jerusalem.
In short, Friedman considers the move both "illegal" under U.S. and Israeli law and just "a terrible idea."
Here are excerpts from our conversation (lightly edited for clarity):
ROSENBERG: Ambassador Friedman, I have to ask you about all the talk within the Biden administration establishing an American consulate for the Palestinians in Jerusalem. Didn't this already get discussed and decided by the American government? Didn't Congress and the White House already decide that Jerusalem is the capital of Israel. Where are we with this? What's your view?
FORMER AMBASSADOR DAVID FRIEDMAN: Well, look, I think you can unpack it into different categories. 
First of all, I think it's completely illegal because the Jerusalem Embassy Act – passed overwhelmingly by Congress in 1995 – makes clear that American foreign policy is that Jerusalem should be an undivided city. And putting a consulate in Jerusalem, which is the undivided capital of the State of Israel, putting a consulate to another people I think would clearly be a division. 
In fact, Mohammed Shtayyeh, Prime Minister of the Palestinian Authority, thinks exactly that. That's why he wants a consulate in Jerusalem so that he can make that a prelude to a capital in Jerusalem for the Palestinian people or a Palestinian state.
[NOTE: "We want the American consulate to constitute the seed of a U.S. embassy in the State of Palestine," Shtayyeh, said in a Facebook post in September.]
So, I think it's illegal under American law.
Second, it's also illegal under Israeli law because Israel has declared sovereignty over all of Jerusalem. So, obviously it's Israel's sovereign territory. 
In addition to being illegal, I think it's a terrible idea. 
By the way, there was never a consulate established for the Palestinian people. There was a consulate established in 1844 by Christian Zionists before the State of Israel, 104 years before the State of Israel came to be. And it existed then because of the significance that the Christian Zionist community placed on Jerusalem. And it kind of morphed after [the] Oslo [Accords] into a mission to the Palestinians. But it just morphed. It wasn't as if there was ever….
ROSENBERG: A policy that was stated, per se?
FRIEDMAN: It may have been a policy, but it wasn't as if, you know, there was a real determination by the American people to establish a diplomatic mission to the Palestinians in Jerusalem, even less so in Western Jerusalem, which had been controlled by Israel from 1948. So, it was never intended, you know, it was never established for that purpose. 
But more importantly, it was never a good idea. 
Even before I came into office, I had heard stories of all the prior ambassadors to Israel having real friction with the consulate. Just think about this for a second. The U.S. Ambassador to Israel is appointed by the President and confirmed by the Senate. And he has to then go and meet with the Israeli political leaders, and they're all in Jerusalem. But when he gets to Jerusalem, he finds that that territory is under the American diplomatic control of another entity. That other entity is run by a Consul General who is not appointed by the President. He's appointed by the State Department, and he is not subject to Senate approval. And yet he has this area of responsibility that includes Jerusalem. And he gets to decide where the Ambassador gets to go, or not go.
Former U.S. Ambassador to Israel David Friedman and Joel C. Rosenberg (Photo: ALL ISRAEL NEWS)
ROSENBERG: It's almost a carved-out fiefdom that has nothing to do with a president's agenda, a Secretary of State's agenda, or American policy and law.
FRIEDMAN: Exactly. So, you know, if the ambassador wants to go someplace in Jerusalem, he has to get permission from the consul general who may not share his views. But the consul general, unlike any other place in the world, does not report up to the ambassador within this country. 
Just to show you how bad it got when I was there, a couple of days before President Trump arrived in May of 2017, they were setting something as seemingly innocuous as the video feed from the Western Wall, so it could be used to broadcast the president's unprecedented visit to the Western Wall.
ROSENBERG: Trump was the first American president ever to visit the Western Wall, right?
FRIEDMAN: Yes, the first American president ever to do it. And they're setting up the feed and the Shin Bet [the Israeli equivalent of the U.S. FBI and Secret Service], which has the ultimate control of security within the region, the Shin Bet is working on it and gets into some argument with somebody from the consulate. And the guy from the consulate says to the Shin Bet, "You really need to listen to us because, after all, you don't have the right to be here. This is illegally occupied territory."
Oh my goodness. And this guy's comments are reported throughout the day before the President arrived. And this is being reported and I had no control over it because the person who said it didn't work for me. Amazing. 
So, these frictions had existed for years. And it wasn't even necessarily a matter of policy. It was just very clumsy. 

Joel C. Rosenberg is the editor-in-chief of ALL ISRAEL NEWS and ALL ARAB NEWS and the President and CEO of Near East Media. A New York Times best-selling author, Middle East analyst, and Evangelical leader, he lives in Jerusalem with his wife and sons.
A message from All Israel News
Help us educate Christians on a daily basis about what is happening in Israel & the Middle East and why it matters.
For as little as $5, you can support ALL ISRAEL NEWS, a non-profit media organization that is supported by readers like you.
Donate to ALL ISRAEL NEWS
Current Top Stories
Comments