ALL ISRAEL NEWS BOOK CLUB
DOING THE IMPOSSIBLE: Jason Greenblatt's insider account of Trump's stunning Middle East peace deals named ALL ISRAEL NEWS BOOK CLUB 'top pick' for July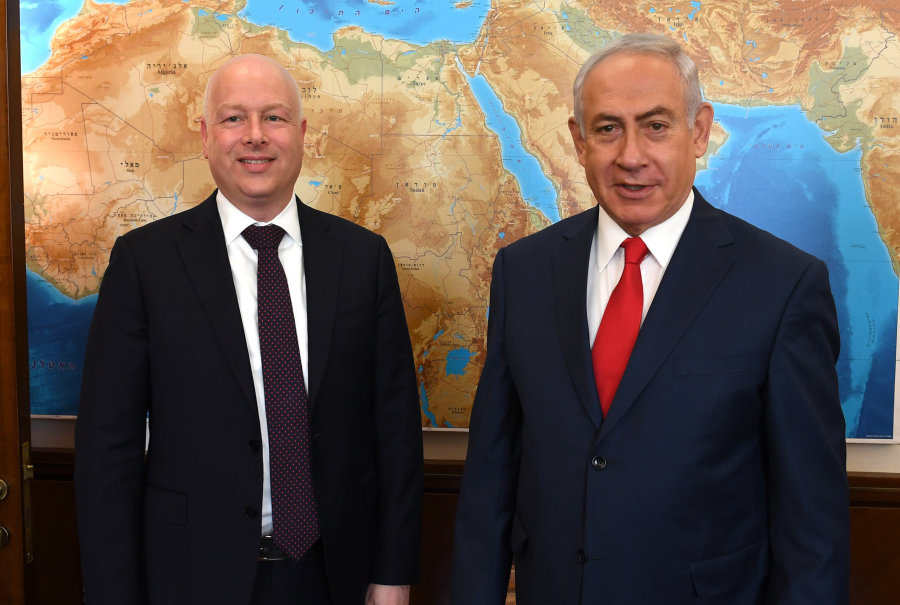 Then-Israeli Prime Minister Benjamin Netanyahu meets with US Special Envoy Jason Greenblatt at the Prime Minister's Office in Jerusalem, July 12, 2017. (Photo: Matty Stern/US Embassy)
WASHINGTON, D.C.—I first met Jason D. Greenblatt, the kippah-wearing Orthodox Jewish lawyer, in Jerusalem.
It was August, I believe, in the first year of the Trump administration. I was sitting with dear long-time friends on the back porch of the King David Hotel, at their outdoor restaurant overlooking the walls of the Old City, when Jason and his wife and several of their children sat down at a table nearby.
My friends were Sam and Mary Brownback. A former congressman, senator and governor of Kansas, Sam had just been appointed by President Donald Trump to serve as the U.S. ambassador for International Religious Freedom.
I asked Sam if he knew Jason. He did not. Nor did I. 
Given that Trump had named Jason his Middle East peace envoy, I suggested that Sam might want to go over and introduce himself. After all, advancing religious freedom and advancing peace should go hand-in-hand. 
Sam agreed and Mary and I kept chatting while Sam and Jason got to know each other.
A few minutes later, Sam and Jason returned.
"Hey, you're Joel Rosenberg," Jason said, extending his hand.
I immediately stood up, surprised that he recognized me, and shook his hand.
"Hey, you're Jason Greenblatt," I replied.
"I've been reading your novels for years," he told me. "I love your political thrillers, especially the series you wrote about Jordan's King Abdullah II. And now, suddenly, I feel like I'm living in one of your novels. Just last week, I was at the palace in Amman, having dinner with the King. It was surreal."
That first conversation wasn't long, but it was the beginning of a friendship that I deeply appreciate.  
We exchanged contact information. He invited me to visit him at the White House the next time I was back in Washington and discuss the peace process. I happily took him up on the offer.
What intrigued me most about Jason as I got to know him was that he had absolutely no experience in foreign affairs, national security or international diplomacy.
Don't get me wrong. It was clear to me that he was a brilliant lawyer and a world-class negotiator. 
And there was no question that he had the confidence of Trump, for whom he'd served as a legal advisor and top executive for several decades. 
But could he actually help Trump – a novice president who also had no experience in foreign affairs, national security, or international diplomacy – break decades of stalemate and bring Arabs and Israelis together?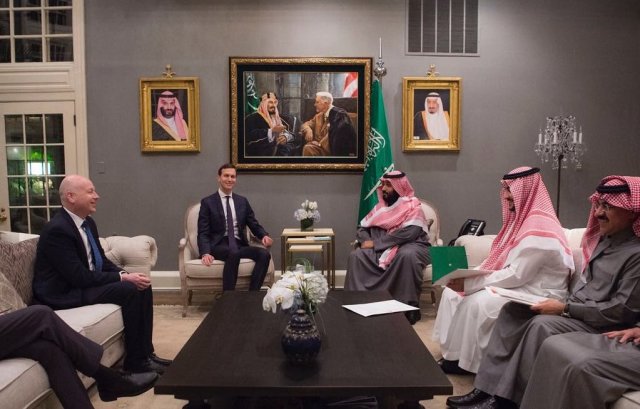 Jason Greenblatt (left) and Jared Kushner meet with Saudi Crown Prince Mohammed bin Salman (Photo: Saudi Embassy in the US/Twitter)
Could they, together, actually bring about a "deal of the century."
On the face of it, the notion seemed unlikely.
Preposterous, even.
Yet as I watched Jason and his colleagues – notably Jared Kushner, David Friedman, Avi Berkowitz, Brian Hook and Mike Pompeo – pursue their work, my attitude slowly began to shift.
They were taking a very different approach to the region.
They were throwing out the old playbook.
They were listening – and listening carefully – to all kinds of actual players and stakeholders in the region.
They weren't simply consulting the old guard "experts." 
Rather, they had embarked on a genuine and exhaustive "listening tour" to see what Muslims, Jews and Christians in the region really wanted, what they needed, what they could live with and what were their red lines.
Jason and his colleagues did not strike me as cynical about what they were doing. 
To the contrary, they were cheerful, even optimistic.
Did that prove they were naïve? 
Or just plain crazy? 
Or were they actually picking up a scent?
Were they discovering that something new and hopeful was truly possible?
This week, Jason finally tells his story.
And I could not be more enthusiastic about recommending his first book to you (and not just because he's been a fan of my books).
Jason's book is titled, "In the Path of Abraham: How Donald Trump Made Peace in the Middle East–and How to Stop Joe Biden from Unmaking It." 
It is absolutely wonderful – a must read for anyone who cares about peace, prosperity and freedom in the Epicenter of the world – and I'm thrilled to announce that it is the ALL ISRAEL NEWS BOOK CLUB top pick for July.
At its core, "In The Path of Abraham" is not a dishy, tell-all political memoir. You're not going to read about all the fights and behind-the-scenes tensions that went into the historic deal-making.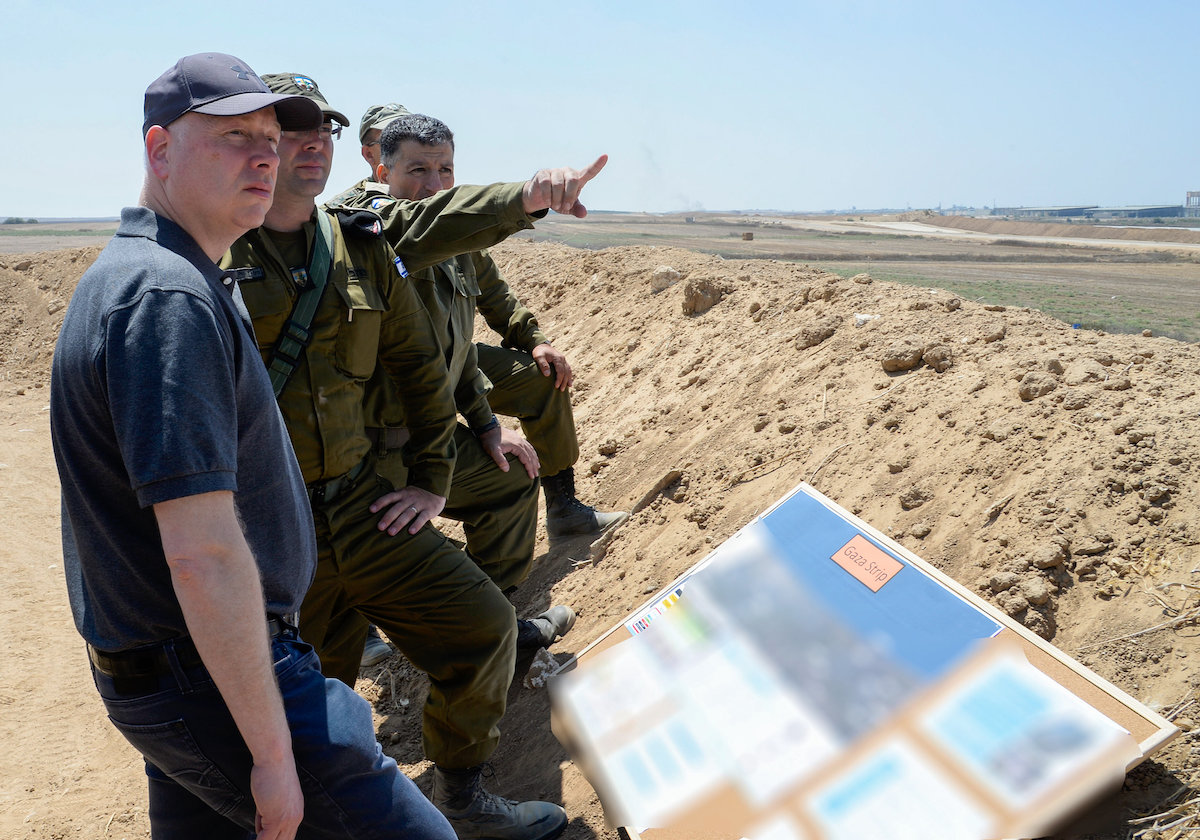 US Special Envoy Jason Greenblatt during a visit to the Gaza Strip - Israeli border on August 30, 2017. (Photo: David Azagury/U.S. Embassy)
Rather, Jason has written an absolutely fascinating insider account of how Trump and his team did the impossible.
They:
Recognized Jerusalem as the eternal capital of the State of Israel

Moved the U.S. Embassy from Tel Aviv to Jerusalem

Recognized the Golan Heights as sovereign Israeli territory

Crafted and presented the most detailed and creative plan to solve the Israeli-Palestinian conflict

Tore up the fatally flawed "Iran nuclear deal"

Applied a "maximum pressure" campaign of crippling economic sanctions and a serious military threat against the Iranian regime

And still were able to broker four Arab-Israeli peace and normalization agreements despite the screeching of the Palestinian leadership against each deal.
They accomplished this against all odds.
When almost every so-called Middle East "expert" in Washington and around the world said that what they were attempting was absolutely impossible.
And when many of those very same "experts" said that rather than peace, Trump and his team would set the Middle East ablaze.
So, how exactly did it happen?
How did Trump and his team defy all expectations?
Evangelicals like myself, and Orthodox Jews like Jason, who have been faithfully praying for the peace of Jerusalem as we were commanded by King David some 3,000 years ago, know that all this wasn't possible by human efforts alone.
This took divine intervention.
The Abraham Accords and all the rest that the team accomplished in the region was a stunning series of answers to the faithful and tireless prayers of millions over many years. 
Yet as so often in history, the Lord sovereignly accomplishes His will using real people – with all their foibles and flaws – to swing the hinge of history.
Understanding who these real people are and how they approached such an impossible task is absolutely intriguing to me and, I hope to you, as well.
The truth is, this era of game-changing peacemaking will be studied for generations to come.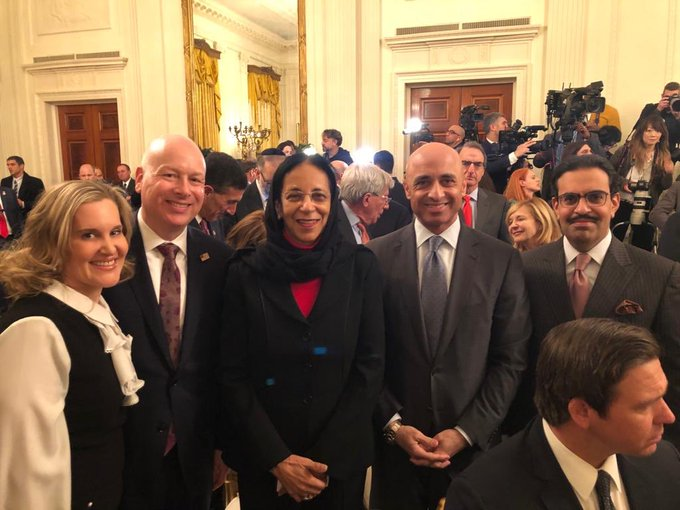 US Special Envoy Jason Greenblatt with UAE Ambassador to the US Yousef Al Otaiba (second from right) and Bahraini Ambassador to the US Shaikh Abdullah bin Rashid Al Khalifa (right), Jan. 28, 2020 (Photo: Ben Fishman/Twitter)
I had the joy and honor of writing the first book on the complicated and epic tale. My account, "Enemies and Allies: An Unforgettable Journey inside the Fast-Moving & Immensely Turbulent Modern Middle East," was published in September 2021 and was informed by exclusive, on-the-record conversations with most of the key players, including kings, crown princes, presidents, prime ministers, and their closest aides and advisors.
In December 2021, Israeli journalist Barak Ravid published the first Hebrew account, "Trump's Peace: The Abraham Accords and the Reshaping of the Middle East." (unfortunately, it is not yet available in English.)
In February of this year, David Friedman – the former U.S. ambassador to Israel during the Trump years – released his excellent account, "SLEDGEHAMMER: How Breaking With The Past Brought Peace To The Middle East," which I absolutely loved and added to our Book Club that month. 
Now comes Jason's account, providing fresh angles, details and perspective.
During the Trump years, he became someone everyone in Washington realized was a highly influential player.
But few Americans heard much about him.
He rarely did interviews.
He refused to leak to the press.
He kept his head down, shuttled back and forth to Israel and Arab capitals, asking questions, carefully listening to everyone's perspective, and bringing back to Trump and his team fresh ideas for flipping the script.
With the release of this book, it is high time to get to know Jason and look at the last five or six years through his eyes.
The Jerusalem Post calls him "the nicest guy in the Trump administration."
Ron Dermer, the former Israeli ambassador to the U.S., calls him "a real mensch."
(Left to right) US Ambassador to Israel David Friedman, US envoy to the Middle East Jason Greenblatt, Israeli Prime Minister Benjamin Netanyahu and Israeli Ambassador to the US Ron Dermer at the Prime Minister's Residence in Jerusalem, Sept. 20, 2019 (Photo: Kobi Gideon/GPO)
Kushner calls him "an American patriot" who did "a tremendous job helping to create President Trump's economic and political vision for a long-sought peace in the Middle East."
Trump himself endorsed the book and wrote that Jason Greenblatt "played a significant role in helping establish my historic policies and achievements regarding our Middle East allies, including those relating to Jerusalem and the Abraham Accords."
Perhaps the highest praise for the book – and for Jason personally – comes from two Arab ambassadors who were intimately involved in crafting the Abraham Accords and now are now actively and impressively implementing them with Israel and the United States.
Yousef al-Otaiba, the United Arab Emirates' emissary in Washington, writes: "Jason Greenblatt, together with his colleagues, created something historic that continues to lead to new economic opportunities and demonstrated to the world the possibilities and potential of peace. I highly recommend reading about Jason's historic journey throughout the Middle East, which ultimately led to the signing of the Abraham Accords and the dawn of a new era in the Middle East."
Shaikh Abdulla bin Rashid Al Khalifa, the Kingdom of Bahrain's envoy in Washington, writes: "Jason Greenblatt, an outsider to traditional Washington D.C. and diplomatic circles, approached his role of achieving peace between Arab nations and Israel with zeal, passion and sincerity. The work that he and his colleagues did to achieve the historic Abraham Accords has without a doubt changed the landscape of the Middle East forever. Jason's book about his time in the White House is an important read for anyone who wants to better understand today's Middle East."
Well put.
Go buy and read this book, and then let us know what you think.
To read an exclusive excerpt from the book, please click here.

Joel C. Rosenberg is the editor-in-chief of ALL ISRAEL NEWS and ALL ARAB NEWS and the President and CEO of Near East Media. A New York Times best-selling author, Middle East analyst, and Evangelical leader, he lives in Jerusalem with his wife and sons.
A message from All Israel News
Help us educate Christians on a daily basis about what is happening in Israel & the Middle East and why it matters.
For as little as $5, you can support ALL ISRAEL NEWS, a non-profit media organization that is supported by readers like you.
Donate to ALL ISRAEL NEWS
Current Top Stories
Comments