NEWSMAKER INTERVIEW — PART ONE
Is the new book, TRUMP'S PEACE, fake news or brilliant reporting – my exclusive interview with the Israeli journalist who is making big headlines reporting that Trump said on tape, 'F***' Bibi
A wave of more Middle East insider books are coming, but Barak Ravid's book is out and deserves a close look
Israeli reporter Barak Ravid interviews former President Donald J. Trump at Mar-a-Lago (photo credit: courtesy)
NEW YORK CITY—When my latest nonfiction book was published on Sept. 7, it was the first book to tell the dramatic, historic, complicated and highly secretive inside story of how the Abraham Accords came to pass.
But while "Enemies and Allies: An Unforgettable Journey inside the Fast-Moving & Immensely Turbulent Modern Middle East" was the first of its kind to take readers behind the scenes, it was never going to be the only one.
A wave of Middle East insider books are coming – former U.S. Vice President Mike Pence is writing one as is former senior White House strategist Jared Kushner.
Other such books that I'm personally aware are in the publishing pipeline are being written by:
Former U.S. Ambassador to Israel David Friedman (his releases in February)

Former U.S .White House advisor Jason Greenblatt

Former U.S. Embassy in Jerusalem senior advisor Aryeh Lightstone

and former Israeli Ambassador to the U.S. Ron Dermer
I'm looking forward to reading all of them, as I suspect each will add important factual details as well as intriguing insights and nuances to the story.
What's more, I hope that senior Arab officials and reporters also write books to add their unique perspectives.
NEW BOOK PROVIDES UNIQUE VANTAGE POINT BY A LEADING ISRAELI REPORTER
The first book in Hebrew (and unfortunately only in Hebrew, so far) to tell the tale is called, "Trump's Peace: The Abraham Accords and the Reshaping of the Middle East."
Released last week, it was written by veteran Israeli political and diplomatic reporter Barak Ravid.
I've known Ravid for years and call him the "Sultan of Scoops" because he often breaks juicy stories well ahead of other Israeli journalists.
He has interviewed me about my meetings with Arab monarchs and senior government officials. Indeed, he was the first to interview me for prime-time Israeli TV about my unprecedented conversations as a private Israeli citizen with Saudi Crown Prince Mohammed bin Salman (MBS).
I have, in turn, interviewed him for ALL ISRAEL NEWS about his behind-the-scenes coverage of the Abraham Accords. 
Given Ravid's well-placed sources and knack for getting really good scoops, his new book promises to provide an important and unique vantage point to the story.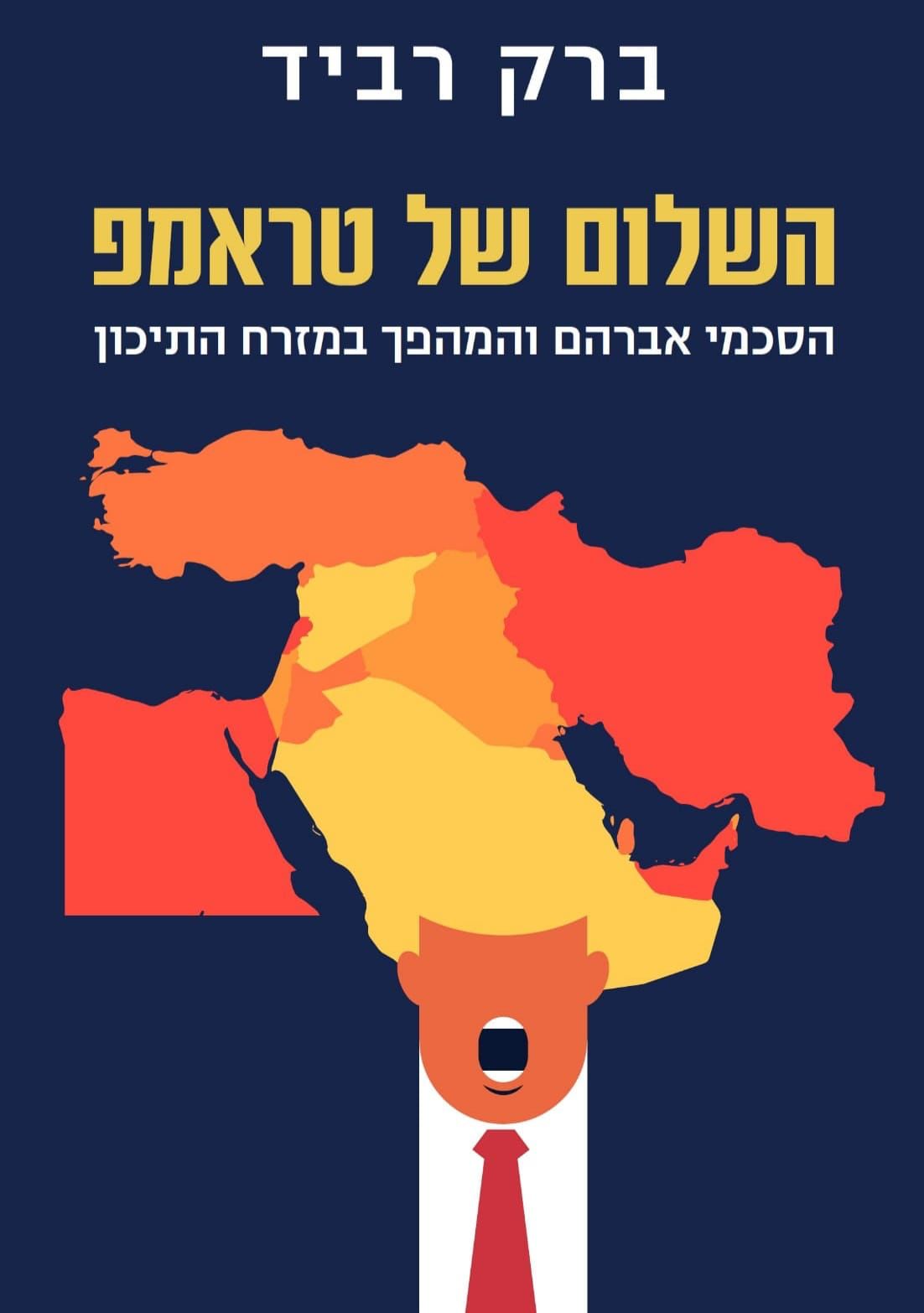 Barak Ravid's book in Hebrew "Trump's Peace: The Abraham Accords and the Reshaping of the Middle East"
IS RAVID'S BOOK "FAKE NEWS"?
It is already making big headlines in Israel.
It is also stirring big controversy. 
So, is Ravid's book filled with "fake news" or brilliant reporting?
Former Ambassador David Friedman is pushing back hard about sections of the book that he factors in, calling them flat out "false."
Having discussed the issue with both men, I'll deal with this controversy in part two.
But today, in part one, let me be clear: it is not fake news that Trump told Ravid how angry he is at former Israeli Prime Minister Benjamin "Bibi" Netanyahu, with Trump even going so far as saying of Bibi, "F*** him!"
I've personally heard the audio recording for myself.
Trump really said it.
And I asked Ravid why.
So, let's get to it.
Here is part one of my interview with Barak Ravid, slightly edited for clarity:
ROSENBERG: Congratulations, Barak, on your new book. It's already making headlines in the U.S. and especially in Israel, and let's get to that in a moment.
But first, why did you write this book, what's the key message, and who are the most interesting people you interviewed? 
BARAK RAVID: Hi, Joel, thank you very much. I think that my main motivation in writing the book was that I felt that the Abraham Accords were really a historic event that happened just a year ago. I was lucky enough to be there to cover it after many, many years that I have been covering foreign policy and diplomacy. Finally, some huge breakthroughs happened on my watch and it was just very, very exciting. 
At the end of the day, this is the biggest breakthrough in Middle East peace in 25 years. And I wanted to be the person who would really try to describe it with the most detail of exactly what happened in the last few months before the agreements were announced, but also in the years before. 
I interviewed more than 50 people for this book – Israelis, Emiratis, Bahrainis, Americans, Palestinians, Europeans. They all had a direct involvement not only in the Abraham Accords themselves, but in the entire four years that President Trump was in the White House and also in the history of Israel's relations with the United Arab Emirates and the other Gulf states. 
ROSENBERG: You did two separate interviews with former President Donald Trump – what was that experience like?
RAVID: The interviews, I think, were very interesting. President Trump was very, very open. When I asked for the interviews, he gave me a positive response very quickly. 
ROSENBERG: Why did he speak to you?
RAVID: I think that – this is my analysis, I'm not an expert on U.S. domestic politics – my feeling was that President Trump really wanted to have a chance to talk about this part of his legacy that, let's say, is less controversial [than other areas] because, at the end of the day, the Abraham Accords were, in my opinion, his biggest achievement on foreign policy during his presidency. They got bipartisan praise and are still being implemented today by the Biden administration. 
So, his legacy [on Middle East peace] lives on, and I think that this was part of the reason that he wanted to speak and lay out what he thought about those four years in relation to the Middle East, to Israel, to Iran, to the Abraham Accords. And I think this was really a chance. 
Also, for me – as someone who is, you know, I'm not a U.S. citizen, I'm not involved in U.S. politics, I'm not paying taxes in the U.S., I'm not voting in the U.S., so I'm not interested directly in the domestic disputes in America – so, I felt that I came, let's say, a bit more clean to this conversation with President Trump, and I think it made it more interesting. 
ROSENBERG: Your scoop that Trump actually said of Netanyahu, "F*** him" – and that Trump said this on the record – is extraordinary because these were two of the closest political allies on the planet. 
Are they now enemies? Why is Trump so angry at Netanyahu when they got some much done together? 
RAVID: No, I don't think that President Trump and former Prime Minister Netanyahu are now enemies. You know, I think that's a bit going too far. 
I think that at the end of the day, both Trump and Netanyahu were cultivating this image of both of them being best allies – with no daylight between them – because it was beneficial for both of them, for their domestic politics. And they did have in those four years a good relationship. 
But I think that at a certain point there was this fallout. It was gradual. 
ROSENBERG: Why? 
RAVID: President Trump felt that Netanyahu is not really serious about the Palestinians, the peace process with the Palestinians, even though President Trump was ready to support Israel on the Palestinian issue more than any other president. 
Still, he felt that Netanyahu was – even then – not interested in making a deal. 
And I think it continued with disagreements they had on Iran, not on the policy so much, but more in the style and the feeling that Trump had that Netanyahu was using him. 
And you know what? What broke the camel's back was the fact that Trump felt that after he helped Netanyahu politically in his elections [in Israel], he hoped that Netanyahu would help him more in his own election [in the U.S.]. It didn't happen. 
Obviously, I don't think that Netanyahu had any other choice but to congratulate Biden.
And, you know, actually what happened in real time was that Netanyahu waited 12 hours before he congratulated Biden. I think Netanyahu did the right thing. 
But during my interview with Trump, he felt very strong that Netanyahu could have acted differently. 
ROSENBERG: Did you get the sense that this rift can be repaired?
RAVID: I think that both men will, at a certain point, have to discuss it. They haven't spoken since [the election]. But I suspect that after President Trump's remarks were published, I think that Netanyahu will make an effort to make amends with President Trump. 

Joel C. Rosenberg is the editor-in-chief of ALL ISRAEL NEWS and ALL ARAB NEWS and the President and CEO of Near East Media. A New York Times best-selling author, Middle East analyst, and Evangelical leader, he lives in Jerusalem with his wife and sons.
Popular Articles
A message from All Israel News
Help us educate Christians on a daily basis about what is happening in Israel & the Middle East and why it matters.
For as little as $5, you can support ALL ISRAEL NEWS, a non-profit media organization that is supported by readers like you.
Donate to ALL ISRAEL NEWS
Latest Stories
Comments