Christians infuse color, support for Israel at annual Jerusalem parade
After two years of absence due to COVID restrictions, Israelis welcome back Christians for Feast of Tabernacles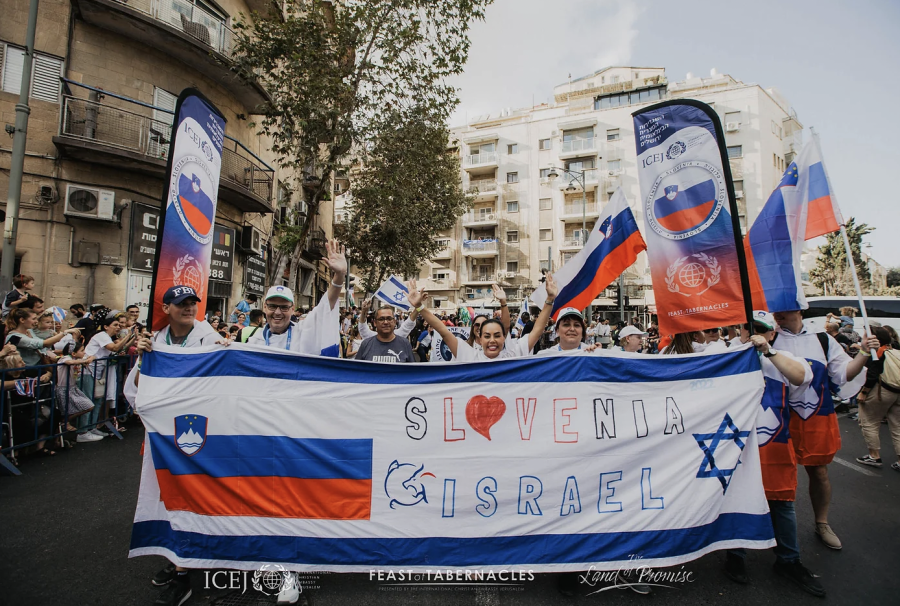 Feast pilgrims from Estonia in the Jerusalem March, Oct. 13, 2022 (Photo courtesy ICEJ)
JERUSALEM—Dohyeok Noh from South Korea said he came to Israel for the first time with tainted views of the nation and its politics even though, theologically, he came to bless the Jewish people.
"When I was in school, when I studied history I didn't know much about Jewish people or Israel. But as I was marching in this parade, everyone greeted me warmly and it really changed my views," the 27-year-old said. "Before I thought the Jewish people were dispersed and that, especially in the U.S., they were all high powered and controlled the world, and also that they mistreated the Palestinians. Now I know that is wrong."
Noh spoke with ALL ISRAEL NEWS at the end of the annual Jerusalem Parade – a national highlight of the weeklong festival of Sukkot which draws thousands of marchers and tens of thousands spectators to the capital city.
Watch ICEJ Vice President David Parsons live report from the parade:
While the city of Jerusalem has been hosting the parade since the 1970s, the International Christian Embassy Jerusalem joined after it was established in 1980 – and that quickly became the highlight of the Feast as much as the pilgrims became a highlight of the parade. The Christian presence infuses thousands of participants – dressed in colorful, traditional garb of their countries – and an array of flags from nations around the world.
Their absence was notable over the last two years when COVID restrictions rendered Israel's borders closed and the nation completely shut down during the holiday in 2020 and only partially open in 2021.
This year some 2,000 Christians from more than 70 nations are here, many attending the Feast which began with opening night in Capernaum on the shores of the Sea of Galilee. The event later moved to Jerusalem for meetings and seminars at the Pais Arena.
The former Justice Minister of the Republic of South Africa, Mogoeng Mogoeng, was a guest of honor at the ICEJ conference and received the organization's Nehemiah Award on Wednesday for hstanding up for Israel while accusing his country of taking a one-sided approach to the Israeli-Palestinian conflict.
At the march on Thursday, participants handed out flags and candy and shouted slogans of support for Israel as they marched through the streets.
"I must tell you we missed you these two years. And now you came here to the March, and we are very happy to host you," Jerusalem Mayor Moshe Lion told ICEJ President Dr. Jürgen Bühler.
ICEJ President Dr. Jürgen Bühler speaking with Jerusalem Mayor Moshe Lion at the Jerusalem March, Oct. 13, 2022 (Photo courtesy ICEJ)
"What a joy for our Christian pilgrims to be back in the Jerusalem March greeting Israelis along the streets of the capital city after two years of corona travel restrictions," Bühler said.
Tzuria, from Gadera, stumbled upon the parade for the first time with her husband and baby.
"There's something here very touching to see these people coming from far away to show they love us and its so different from what the media says," she told AIN. "This is something I want to know more about."
"People who came now after two-and-a-half years of COVID say they are amazed at how much Jerusalem has changed."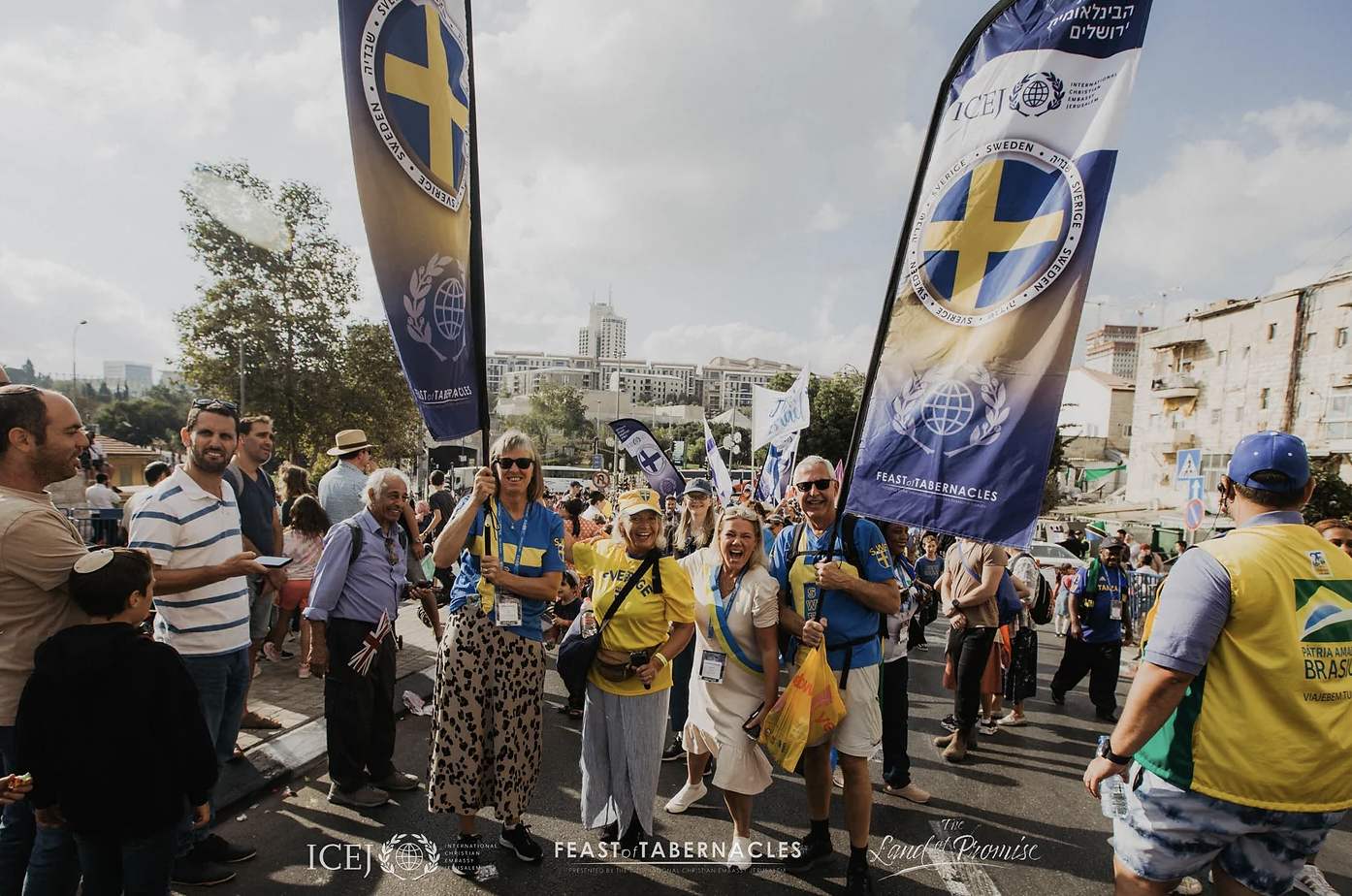 Feast pilgrims from Sweden in the Jerusalem March, Oct. 13, 2022 (Photo courtesy ICEJ)
Natan from Haifa first happened upon the parade when he was a soldier in uniform and he ended up going home with 30 different flags.
"So since then, and after I got married, now we bring the kids here every year," he told ALL ISRAEL NEWS.
"For us it's very strange to see a woman with a Norwegian flag blowing a shofar, but good for them – it's better than if they BDS us," he added referring to Boycott Divestment Sanctions movement against Israel.
One of the largest delegations was the 600 Brazilians attending the ICEJ Feast of Tabernacles. But perhaps the most shocking flag to see at this year's parade was that of Iran, as one of two expat Iranians who are visiting Israel for the first time. Peyman Mojtahedi – who now lives in Dallas – marched in the parade.
"It was beautiful to represent my country in the Jerusalem March today," he said. "I was thrilled to see the amazing reaction of Jewish people I met along the route. When I told them I loved them as an Iranian, they were shocked. Several people had tears in their eyes, especially the Persian Jews who recognized my flag."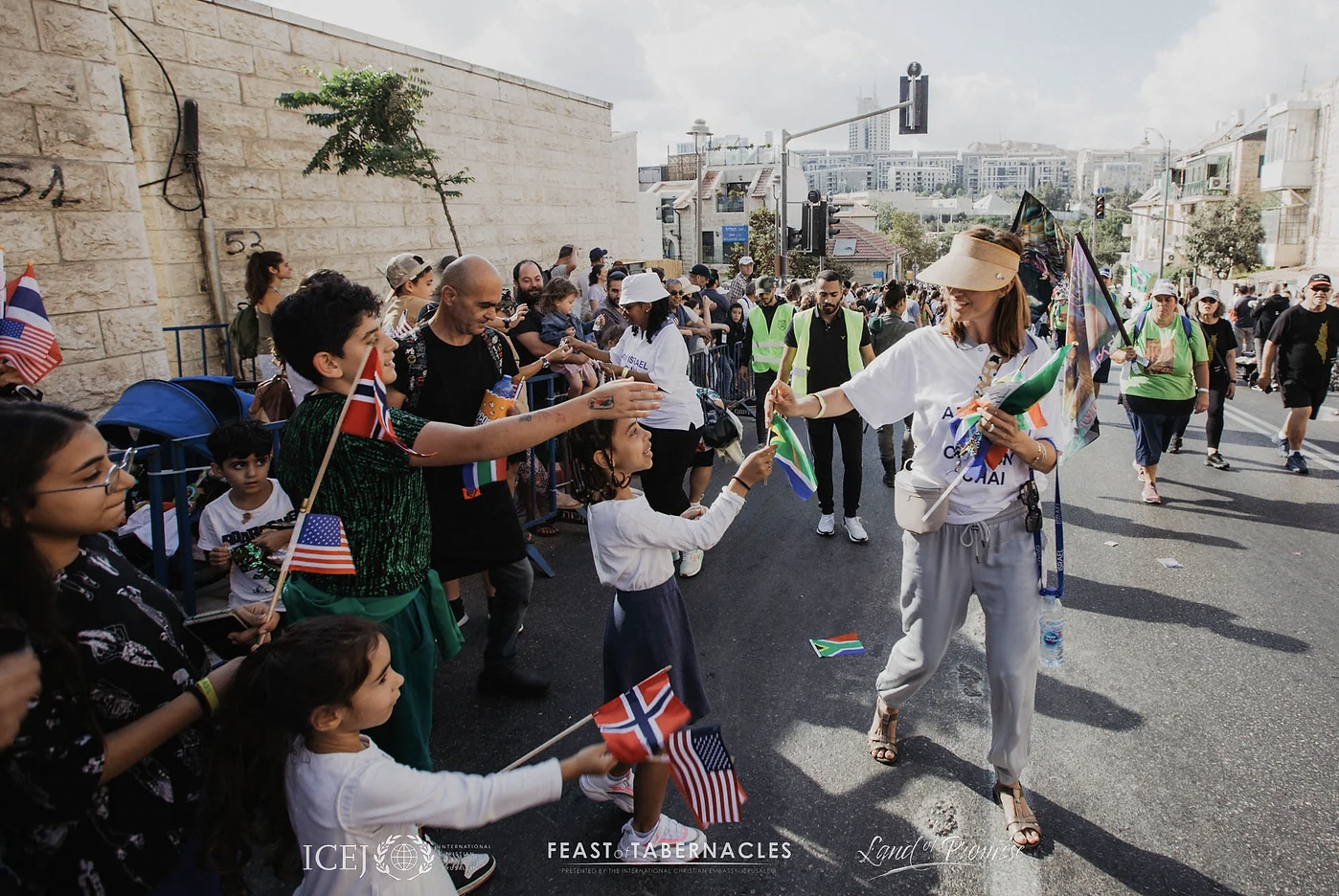 Feast pilgrims interacting with locals along the route of the Jerusalem March, Oct. 13, 2022 (Photo courtesy ICEJ)
A group of 32 Slovakians made this trip to Israel by faith after COVID shutdowns and specifically during Sukkot, Marcela from Zilina told ALL ISRAEL NEWS at the end of the march as she translated for her friends.
"It was very emotional to see that the Jewish people happy that we came here – that is amazing for us," Barbara from Milost Church in Zilina said. "Many times we cried during the parade because we really love Israel as Christians. Jesus, for us, is the Messiah and we love both the Old and New Testament."
"We feel like we are grafted into the olive tree of the Jewish people," said Evita. "People who bless Israel are blessed. We believe in our heart it is like that. When the Messiah comes the second time, all the nations will come back to Jerusalem. So this is like preparation."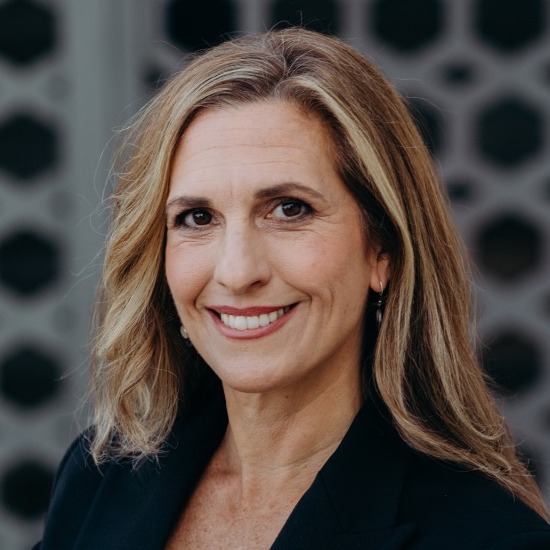 Nicole Jansezian was the news editor and senior correspondent for ALL ISRAEL NEWS.
A message from All Israel News
Help us educate Christians on a daily basis about what is happening in Israel & the Middle East and why it matters.
For as little as $5, you can support ALL ISRAEL NEWS, a non-profit media organization that is supported by readers like you.
Donate to ALL ISRAEL NEWS
Current Top Stories
Comments