VIDEO: Israeli lawmaker cuts hair in support of Iranian protestors during Christian conference
Knesset Member Sharren Haskel becomes first known Israeli to cut a chunk of hair; does so before international Christian audience in Jerusalem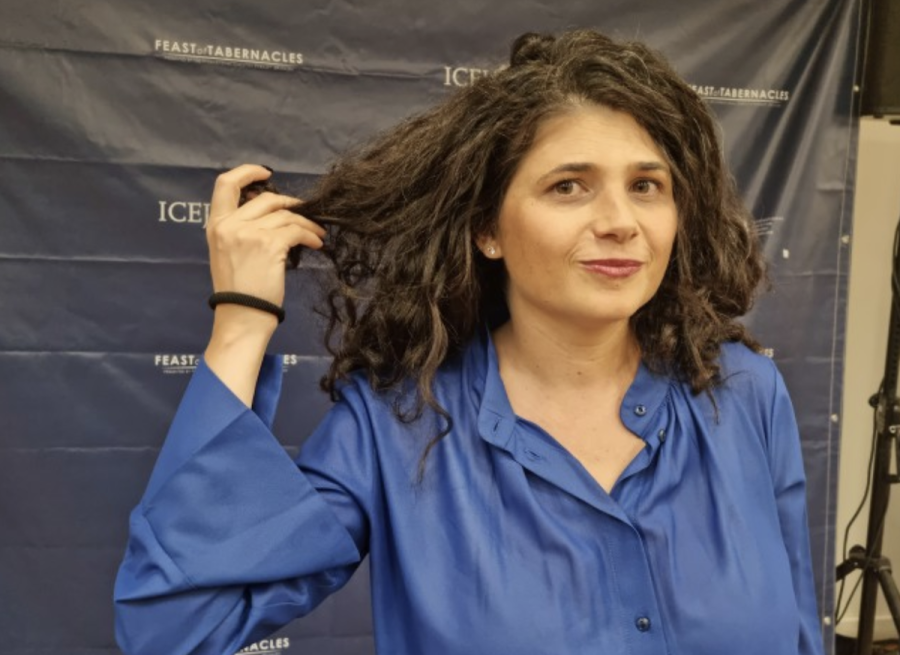 Knesset Member Sharren Haskel cut her hair in solidarity with Iranian protestors during a speech at the International Christian Embassy Feast of Tabernacles on Oct. 11, 2022. (Photo: All Israel News)
JERUSALEM—An Israeli lawmaker took out scissors and dramatically cut off several locks of her hair in solidarity with Iranian protestors during a speech at an international Christian event on Tuesday night.
Knesset Member Sharren Haskel of the New Hope (Tikvah Hadasha) party became the first known Israeli to cut her hair, joining what has become a popular symbol of support across the globe for the women-led demonstrations against the Islamic regime in Iran.
The latest uprising began after the murder last month of 22-year-old Mahsa Amini while in the custody of the so-called Morality Police.
"Just watching the Iranian women and children in the last few days and how brave they are, risking their own lives to march down the street to ask for their freedom and fight for their own future is heart wrenching," Haskel said in an interview with ALL ISRAEL NEWS and CBN after cutting off her hair before some 2,000 Christians at the International Christian Embassy Jerusalem (ICEJ) Feast of Tabernacles conference in Jerusalem.
Haskel admitted there isn't much Israel can do diplomatically with Iran which has called repeatedly for Israel's elimination. That is why she decided to appeal to an international Christian audience because she believes they can be a catalyst for change.
"They are the ones who can make that difference. They are the ones who have the power to influence their government to make that change for those little girls," she said. "That is the most important thing at the moment."
Haskel said she has been moved by the bravery of protesters and has wanted to show support without feeding into Iranian propaganda that Israel and America are behind the current month-long uprising.
"That was an opportunity to send that message all over the globe because there are important representatives from parliaments, ministers and religious leaders who understand how important it is to fight for freedom of religion to be able to worship God as you see fit," she said. "It has to touch their hearts and, from this place, the message can go out."
Several uprisings against the Islamic regime in Tehran – one as recently as 2019 – have resulted in deadly crackdowns. These latest demonstrations, which began shortly after Amini's death on Sept. 16, have swept through Iran galvanizing women who are brazenly removing the mandatory hijab in public, burning their head coverings and cutting their hair. So far, an estimated 200 protestors have been killed.
Haskel said it was important for her to find the opportunity to show her own support. She decided that the ICEJ Feast of Tabernacles was the right venue at the right time to "really salute" the women of Iran. Haskel focused a good portion of her 10-minute speech at the ICEJ Feast of Tabernacles to the Iranian protests.
"I want to take advantage of this stage to share this message because you," Haskel said in her speech. "I would like you to ask, to demand for your governments and elected officials to stand by the Iranian people at this time and to help them attain the freedom they so deserve."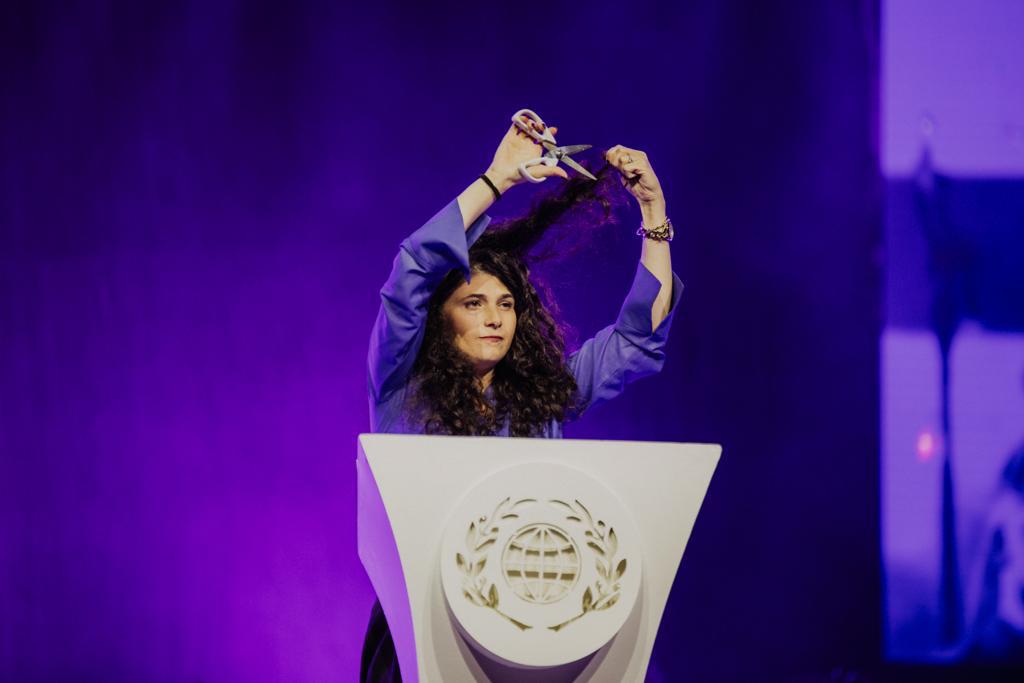 Knesset Member Sharren Haskel cut her hair in solidarity with Iranian protestors during a speech at the International Christian Embassy Feast of Tabernacles on Oct. 11, 2022. (Photo: Courtesy ICEJ)
When she pulled out the scissors toward the end of her speech, a collective gasp emerged from the audience, followed by a standing ovation.
"In the light of these protests I would like to join them in a global movement: Jin, Jiad, Azadi. Women. Life. Freedom," Haskel said repeating the mantra of the protests in both Persian and English.
"Children and women are leading this protest and they are going down the streets where they are being shot pointblank. More than 200 have died but 20 of them are little children," said Haskel – who recently gave birth to twin girls and is running for reelection in Israel's Nov. 1 elections.
"There are not enough words to describe the respect I have for these women and these girls," Haskel said afterwards. "They are risking their lives to demand freedom and a secure future for themselves and their children. They are the ones who are leading those demonstrations."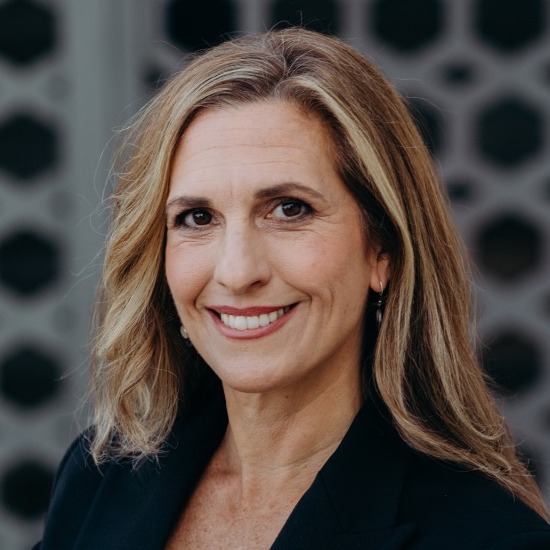 Nicole Jansezian is the news editor for both ALL ISRAEL NEWS and ALL ARAB NEWS and senior correspondent for ALL ISRAEL NEWS
A message from All Israel News
Help us educate Christians on a daily basis about what is happening in Israel & the Middle East and why it matters.
For as little as $5, you can support ALL ISRAEL NEWS, a non-profit media organization that is supported by readers like you.
Donate to ALL ISRAEL NEWS
Current Top Stories
Comments