ICEJ Feast of Tabernacles welcomes thousands of Christians from over 70 nations on shores of Sea of Galilee
The event opened with two nights in the Galilee and will move to Jerusalem from Tuesday
The first night of the ICEJ annual Feast of Tabernacles celebration (Photo courtesy ICEJ)
More than 1,700 Christians from over 70 nations arrived in Israel this week to participate in the 43rd annual Feast of Tabernacles celebration, sponsored by the International Christian Embassy Jerusalem (ICEJ).
The opening night event took place at Capernaum National Park on Sunday on the shores of the Sea of Galilee, where ICEJ hosts and international performers welcomed thousands of pilgrims, along with local visitors, to celebrate the Sukkot gathering themed the "Land of Promise."
The evening featured musical performances by international recording artists and dance troupes from Israel, Brazil, Norway, the Philippines, and Trevor Sampson from South Africa, known widely as the "Golden Voice of Africa."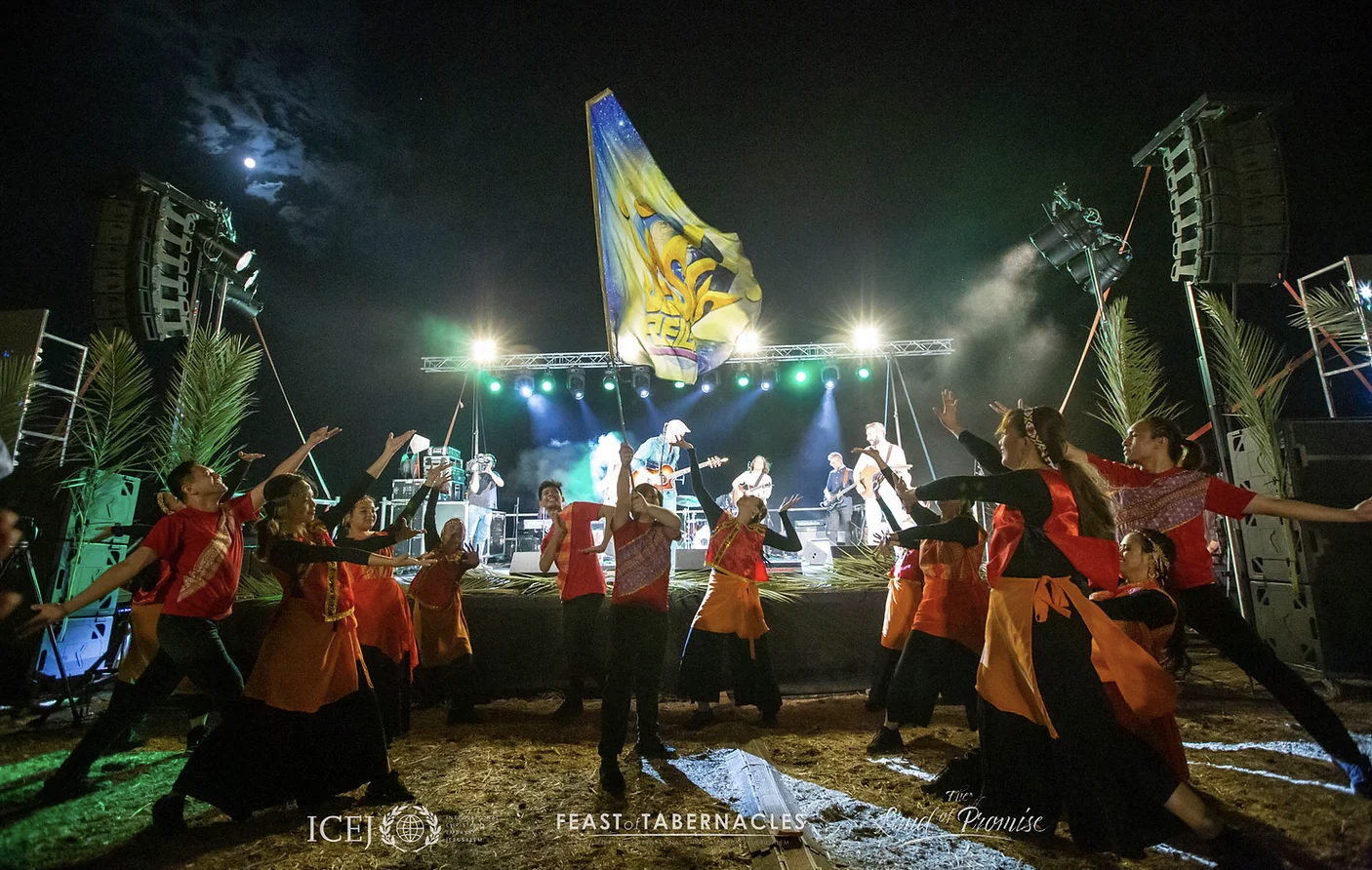 Dance performance the ICEJ annual Feast of Tabernacles celebration (Photo courtesy)
"This is the first time in three years we are able to come together, ICEJ Vice President and Senior International Spokesperson David Parsons shared. "The Bible says to keep the feasts (Zech 14:16) and we believe that the Feast of Tabernacles is a special time – an appointed time – where he wants to be with His people here in Jerusalem."
Guest speakers and local pastors also took the stage with messages of encouragement for the audience who responded with resounding cheers, applause and "amens." There was also a call to prayer for the next generation of young believers in the land of Israel, and for the nation of Israel as a whole to receive the revelation of the Messiah so that "all will be saved" according to God's promise in scripture.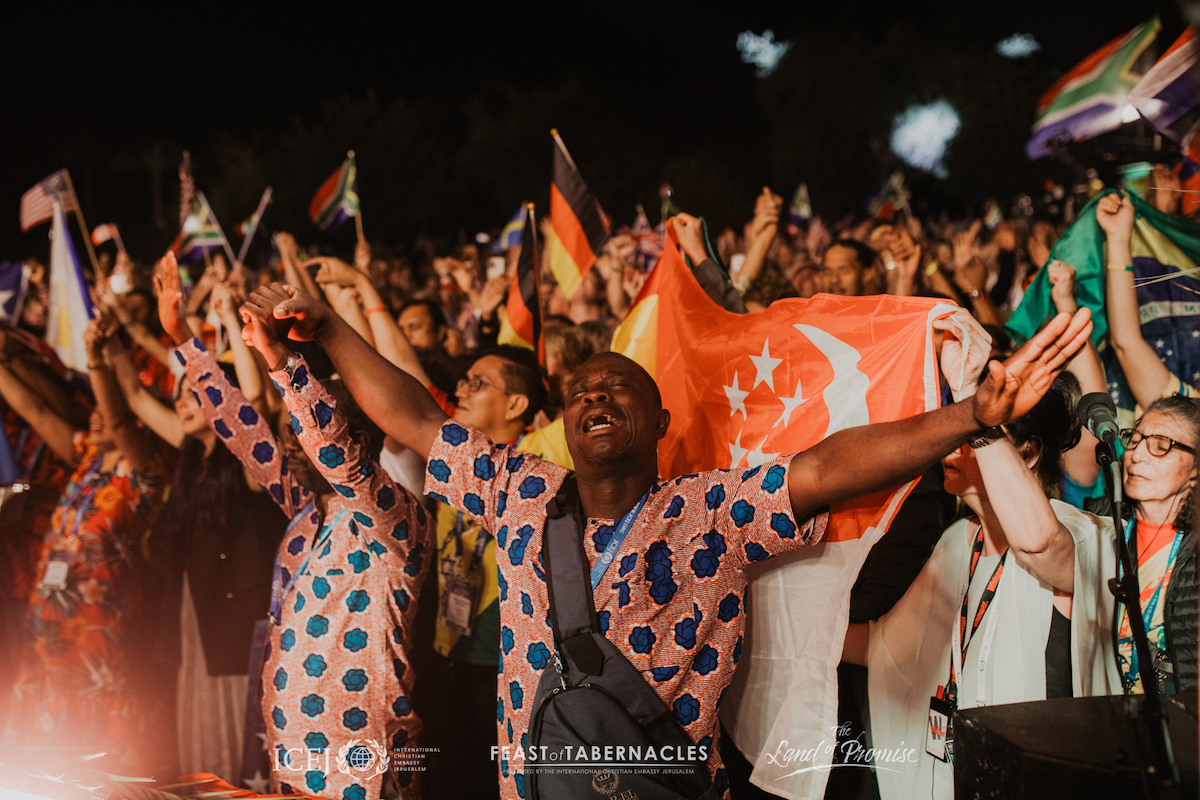 The first night of the ICEJ annual Feast of Tabernacles celebration (Photo courtesy)
Sunday night's opening celebration was a spectacle to behold and just one glance at the welcome booth handing out more than 1,000 headsets in over a dozen languages, was an encouraging sign of the return of Christian tourism to the Jewish state after two years of travel bans due to the global pandemic.
A large group of 450 pilgrims from Brazil were welcomed with excitement as they held up and waved their nation's flag.
International guests were welcomed with banners, including larger delegations from Albania, Argentina, Australia, Cameroon, Cook Islands, Estonia, France, Germany, Ireland, Kazakhstan, Kenya, Mexico, Norway, Panama, Russia, Slovakia, South Africa, Spain, Sweden, Taiwan and Ukraine, to name a few.
"This is my second ICEJ Feast and it's because the first time I came, I really felt a deep connection to Israel," said Miliani from Fiji who arrived with a group of Christians representing several churches in her country. "I grew up in the church reading about these places in the Bible, but to step foot and be at the sites makes it so much more meaningful."
"Being where Jesus walked is an amazing experience. It reminds you that the Bible is a reality and being here brings the Bible to life," another delegate told ALL ISRAEL NEWS.
Sharon Edwards arrived in Israel with a group of 12 other Canadian pilgrims and said the concert blessed her.
"The music was delightful, with a good variety from different countries. We were happy to see Joshua Aaron begin with Gadol Elohai (How Great is our God) and later perform the Aaronic blessing," Edwards said. "We were not disappointed to end with a powerful message, as all the delegates gathered at the front. There was such a sense of unity among the nations. It was a real blessing!"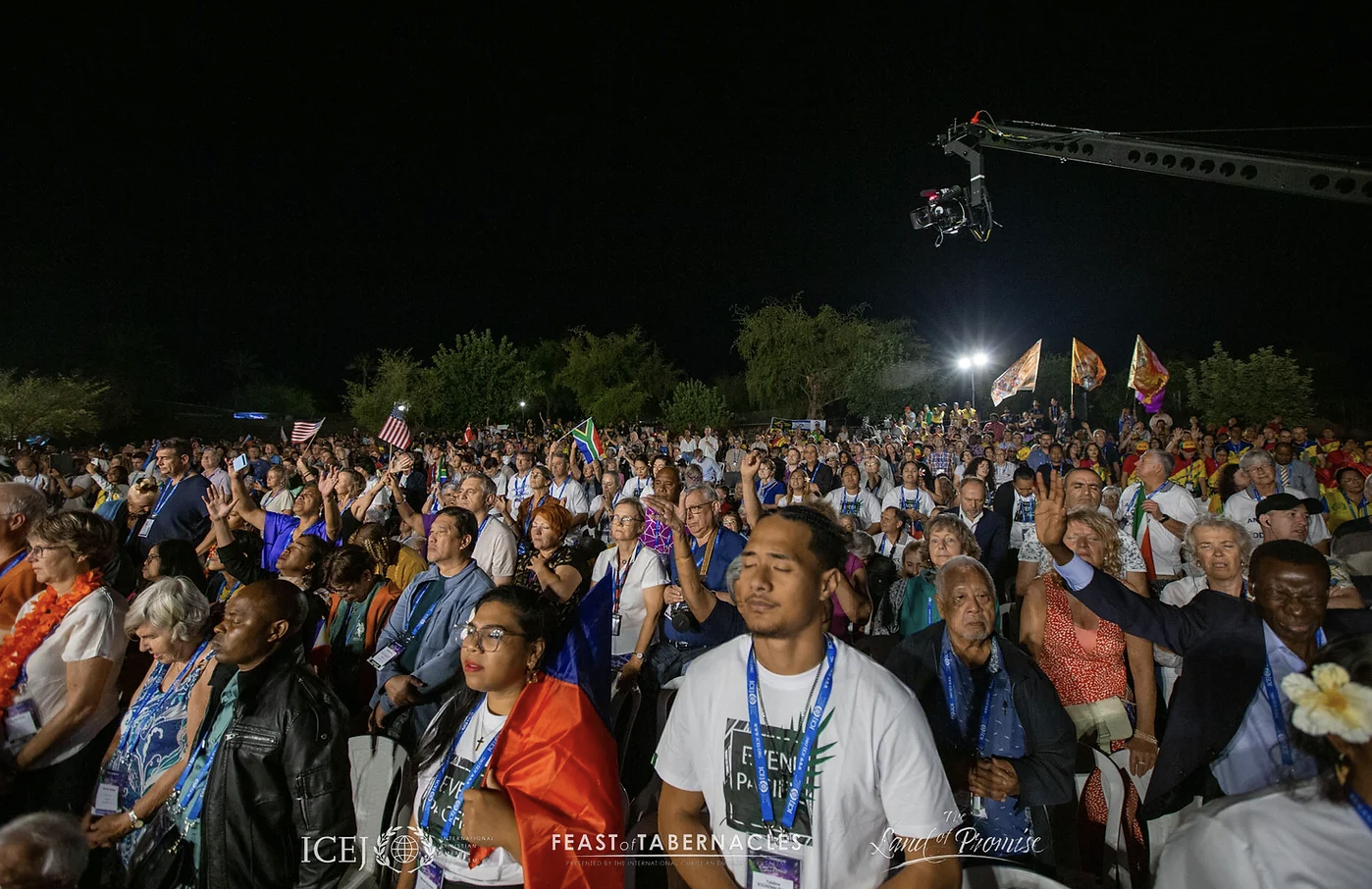 The first night of the ICEJ annual Feast of Tabernacles celebration (Photo courtesy)
ICEJ President Jürgen Bühler spoke about the theme of the feast this year, "The Land of Promise," which he said reflects certain truths in God's word.
"First this is a land of promises fulfilled here in Israel. God is faithful to every single promise he gave to Israel. The Jews are returning and the desert is blooming just as the Hebrew prophets foretold," Bühler said.
"Secondly, this is a land of faith. Hebrews 11 talks about Abraham and how he lived by faith… Abraham needed that faith because this land was occupied by nations greater than him with giants and fortified cities (Deut. 7:1 and Numb. 13:28)." 
"We pray that this feast year's celebration "will strengthen, inspire and equip delegates to overcome obstacles and to enter their own land of promise."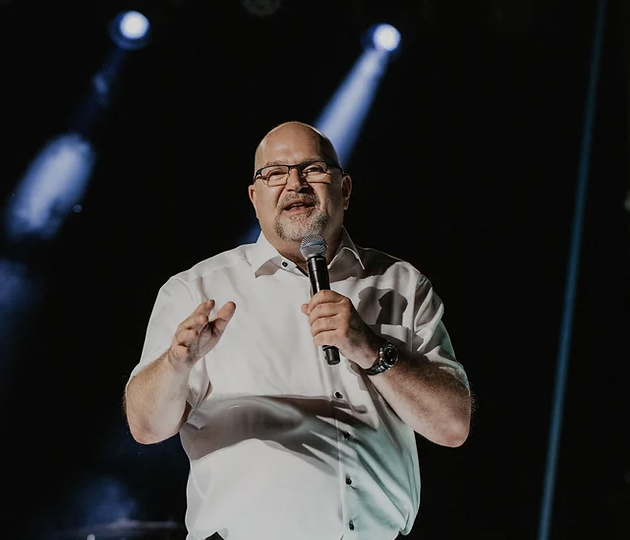 ICEJ President Jürgen Bühler speaking at the first night of the ICEJ annual Feast of Tabernacles celebration (Photo courtesy)
Among the Christians attending this year's festivities is former Chief Justice of South Africa Mogoeng Mogoeng, who will be receiving the ICEJ Nehemiah Award in recognition of his strong stand for Israel and the Jewish people on biblical grounds. American pastor, Andrew Brunson – who was held for two years in a Turkish prison on false charges of terrorism – will also be joining the Sukkot celebration, as well as two Iranian-born singers who will perform original worship songs in Persian and Hebrew.
The year's ICEJ Feast of Tabernacles week-long festivities from Oct. 9-16 constitutes the largest Christian gathering in Israel ever and the largest solidarity mission to Israel in 2022. In addition, it is the largest international outdoor event in Israel this year.
The ICEJ Feast of Tabernacles celebration is hosting a second night of worship at the Capernaum National Park on Monday and will then move to Jerusalem for five days of events, including the "Roll Call of the Nations" at the Jerusalem Pais Arena and the popular Jerusalem March on Thursday. 
The celebration journey concludes with at least 1,000 Christian pilgrims visiting the western Negev for a special solidarity rally and tree-planting ceremony with Keren Kayemet LeYisrael (KKL) and leaders of Israeli communities along the Gaza border.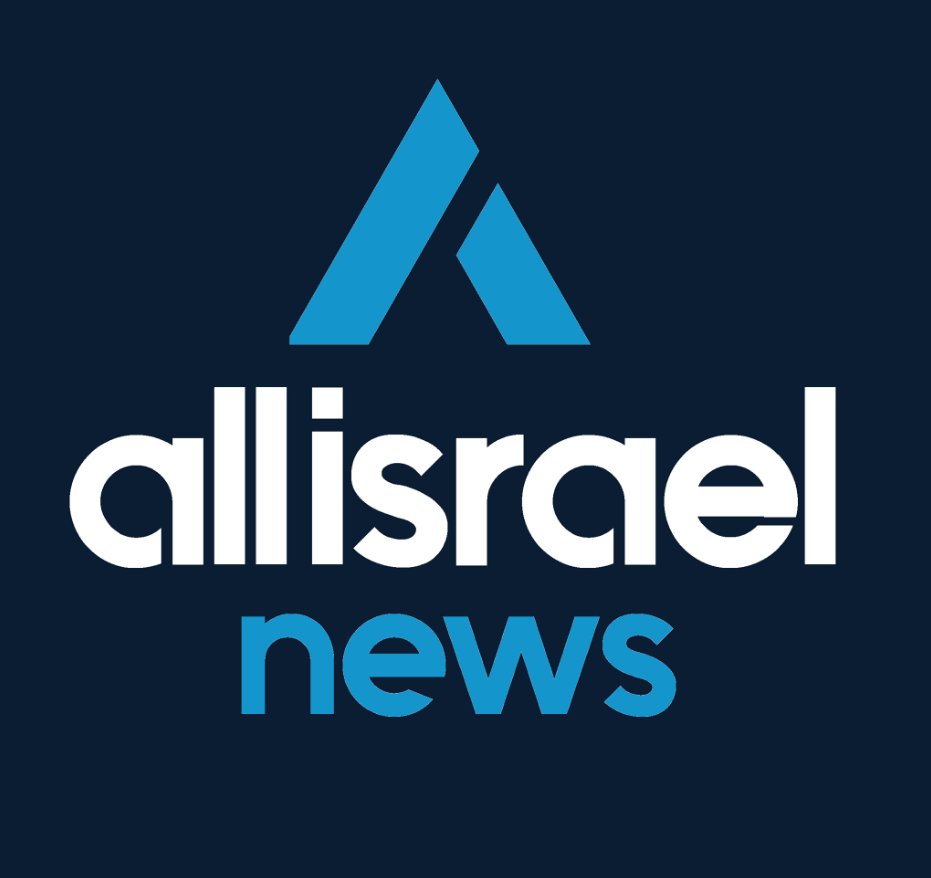 The All Israel News Staff is a team of journalists in Israel.
Popular Articles
A message from All Israel News
Help us educate Christians on a daily basis about what is happening in Israel & the Middle East and why it matters.
For as little as $5, you can support ALL ISRAEL NEWS, a non-profit media organization that is supported by readers like you.
Donate to ALL ISRAEL NEWS
Latest Stories
Comments