What were the 10 biggest stories on ALL ISRAEL NEWS in 2022?
A look back at a tumultuous year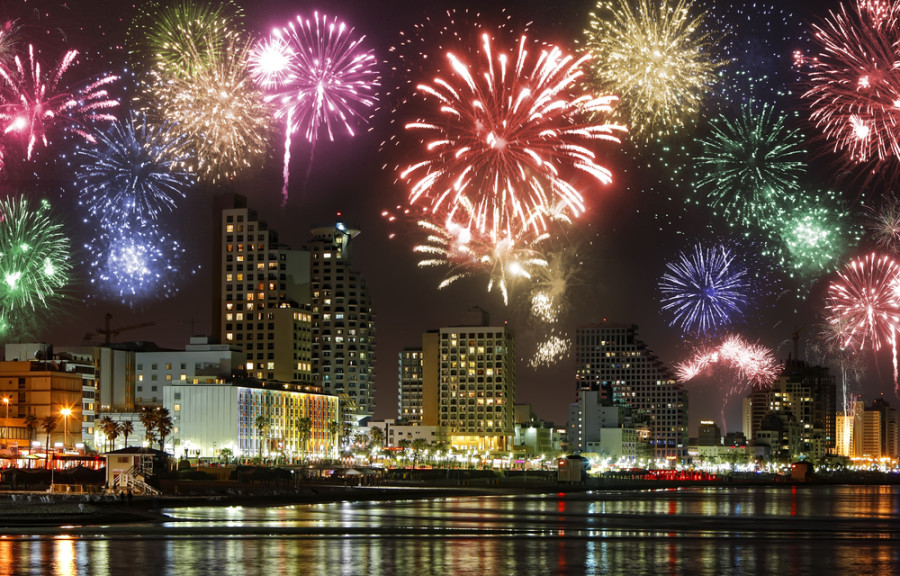 Celebratory fireworks at coast of Tel Aviv, Israel (Photo credit: Shutterstock)
Wars, rumors of war, soaring hate, stark divisions, uprisings, prophetic signs and discoveries that attest to the veracity of the Bible – these all marked the tumultuous year of 2022.
What were the biggest stories affecting Israel, the Arab world and the Church this year?
The senior staff of ALL ISRAEL NEWS and ALL ARAB NEWS reviewed the headlines and biggest hits on our websites to come up with the year's Top 10 most important, most talked about and most read stories. 
On this last day of the year, here is our countdown of the top 10 stories of 2022:
10. Twitter and the rise – and fall – of Elon Musk as free speech champion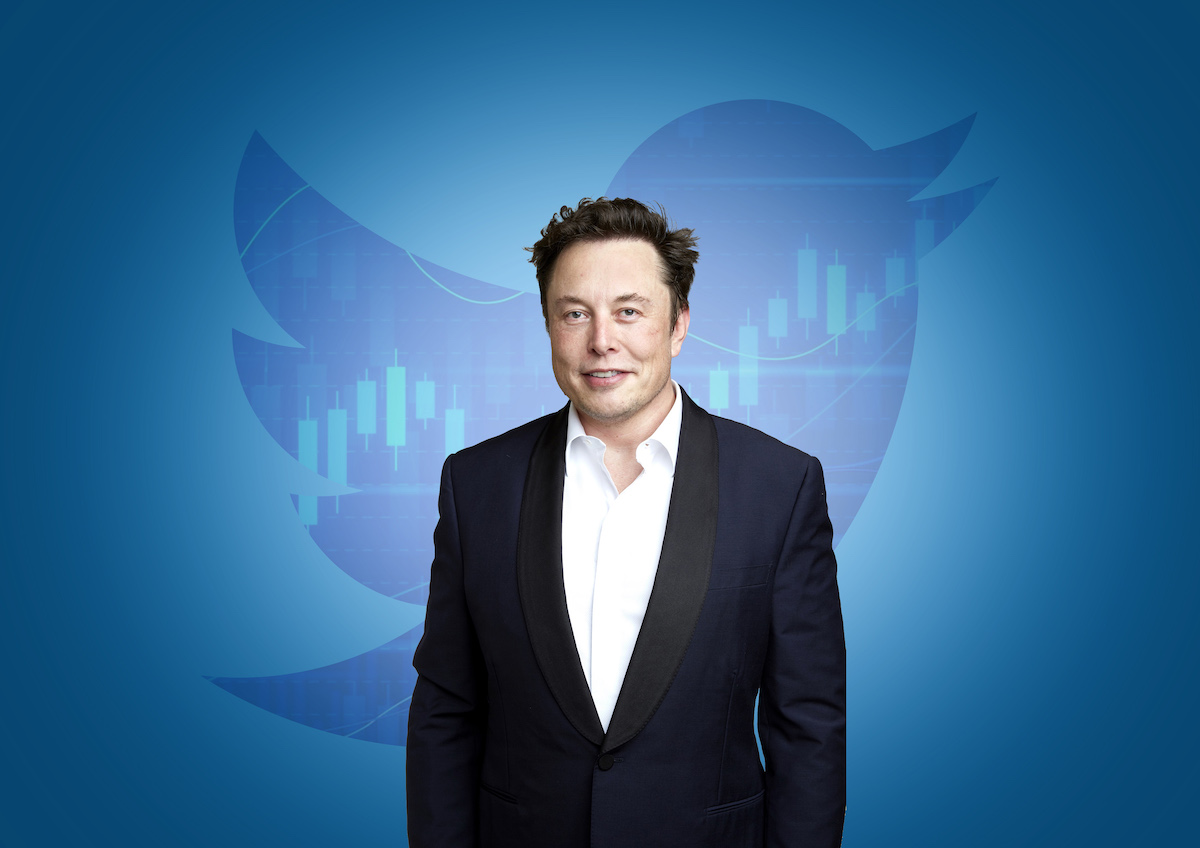 Elon Musk, owner of Twitter (Photo: Idriss Bigou-Gilles / Hans Lucas via Reuters)
As an inventor and entrepreneur, Elon Musk has already impacted our lives with major leaps for mankind through his initiatives at Tesla, Starlink, SpaceX and Neuralink.
In a surprising move in 2022, the South-African born businessman decided to throw himself into the pit of America's debate over its First Amendment in the modern-day public square, the social media platform, Twitter.  
After six months of back-and-forth negotiations, he managed to acquire Twitter for $44 billion, along with a lot of headaches. Why?
"The reason I acquired Twitter is because it is important to the future of civilization to have a common digital town square, where a wide range of beliefs can be debated in a healthy manner, without resorting to violence,'' he said. 
In late October, the new troll-boss showed up at Twitter's headquarters holding a sink, and announced: "Let that sink in." From that moment on, changes came quickly.
Musk released the former management, declared new policies like paid subscriptions for the blue checkmark and online clemency for previously suspended accounts. 
He then released batches of documents to top independent journalists, revealing the bias that dictated Twitter's brass decisions before he showed up. The shocking (or not) files proved that Twitter executives were regularly meeting with the Federal Bureau of Investigation over what and who to censor. It appeared that most of the censorship – blacklists, prevention of particular tweets, limited visibility to certain trending accounts – was aligned with the Democratic party agenda.
As we reported, the Left had a commotion: "Why is the Left freaked out about Elon Musk buying Twitter for $44 billion? Because it hates free speech."
Soon after, prominent celebrities, intellectuals and journalists declared they were leaving Twitter in protest of Musk's new policies. Others lamented that he was (hypocritically) doing exactly what he claimed to stand against, specifically after he suspended the Twitter accounts of several journalists who tracked and published location details regarding the route of his private jet in real-time.
9. Turkey and Israel resume relations – but will they last?
Turkish President Recep Tayyip Erdoğan welcomes Israeli President Isaac Herzog at the Presidential Complex in Ankara, Mar. 9, 2022 (Photo: Haim Zach/GPO)
Turkey and Israel announced a decision to renew relations in August after several years of tension between the two countries. But experts told ALL ISRAEL NEWS that the peace will remain fragile – at least for the foreseeable future.
As part of the normalization agreement, Irit Lillian was named Israeli ambassador to Turkey. The new Turkish envoy, Sakir Özkan Torunlar, arrived in Israel in December to begin his role as Turkish ambassador to Israel.
Relations between the two countries have experienced ups and downs over the past decades, but the low point came in 2010 when a Turkish flotilla bound for Gaza was raided by Israeli commandos and Israel-Turkey relations were effectively severed for years.
One of the reasons that Turkish President Recep Tayyip Erdoğan is eager to once again resume ties with Israel, experts say, is his country's faltering economy ahead of the June 2023 election. Turkey has likely watched deals being struck between Israel, the United Arab Emirates, Bahrain and Morocco since the signing of the Abraham Accords in 2020, and is hoping to get in on the action.
Already in December, representatives from top Turkish and Israeli companies met in Istanbul as part of a delegation arranged through the Federation of Israeli Chambers of Commerce (FICC) and the Turkish Exporters Association to discuss new opportunities. FICC President Uriel Lynn said he believes Turkish imports to Israel could more than double over the next four years if relations continue.
However, ALL ISRAEL NEWS Editor-in-Chief Joel Rosenberg has consistently warned readers not to trust Erdogan – "not now, not ever. The man is a wolf in wolf's clothing," he wrote in his book, "Enemies and Allies." 
"Step by step, Erdoğan is becoming allies with Russian President Vladimir Putin and Iran's Supreme Leader, the Ayatollah Ali Khamenei, and his inner circle."
There are contentions, including a Hamas operation out of Istanbul which Israel claims is a hub for terror attacks against the Jewish state. But Erdoğan used the occasion of Hanukkah to express warm sentiments.
"Our Jewish citizens, with whom we live together in a strong sense of unity, solidarity and belonging, are an inseparable part of our society, as has been the case in the past," he said.
8. Israel's archaeological finds help prove the historic accuracy of the Bible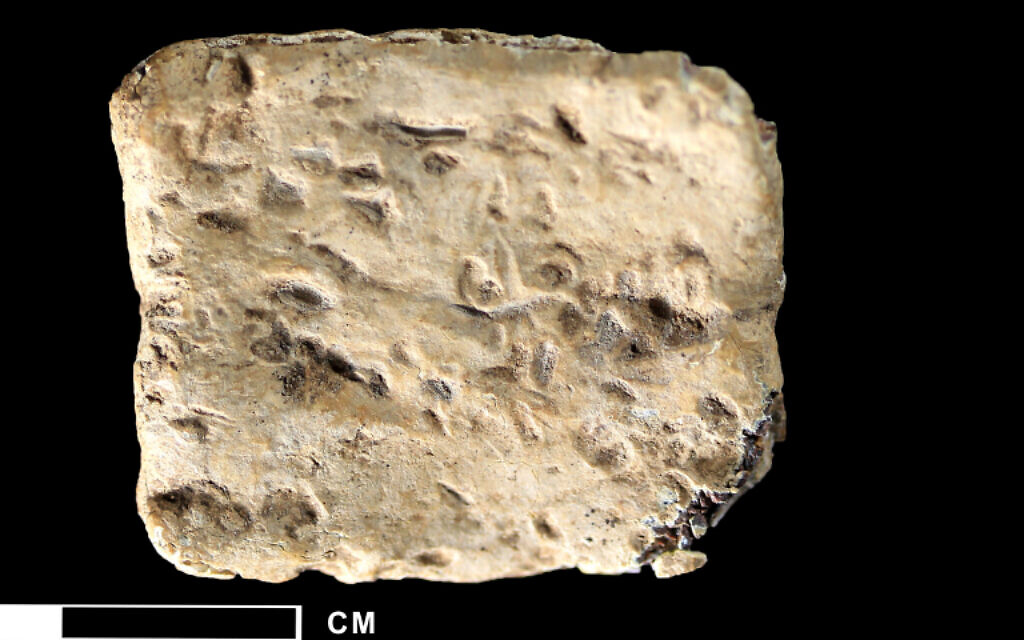 The "curse tablet" discovered on Mt. Ebal in 2019. (Photo: Michael C. Luddeni/Associates for Biblical Research)
Archaeological discoveries in Israel during 2022 made great strides in proving the historical accuracy of Bible, even one including a "curse tablet" that contains the name of God.
The earliest Hebrew text to date is a tablet made of lead, inscribed with 40 Hebrew letters. The text was deciphered in March, after its discovery in December 2019 at the site of Joshua's Altar during excavations on Mount Ebal. 
Specifically, the tablet reads: "Cursed, cursed, cursed – cursed by the God YHW. You will die cursed. Cursed you will surely die. Cursed by YHW – cursed, cursed, cursed," according to Scott Stripling, the archaeologist who deciphered the text.
This early appearance of God's name has led to theories about how and when the Bible was written.
Over the summer, Stripling's team also discovered what they believe to be the gate in Shiloh where the High Priest Eli died, as mentioned in 1 Samuel 4.
Other unique findings in 2022: Researchers from Tel Aviv and Hebrew universities discovered the earliest evidence of the domestication of fruit trees in Israel. The discovery was made in June at the Chalcolithic site of Tel Tsaf in the Jordan Valley. The trees are believed to have been planted around 7,000 years ago.  
A team of archaeologists excavating the ancient Jewish village of Huqoq in the Lower Galilee this July were the first to find depictions of the biblical heroines Deborah and Jael. That same month, an archaeological team at the Church of the Holy Sepulchre in Jerusalem found construction remains dating to the period of Roman Emperor Constantine while restoring the church's pavement stones.
In December, an elaborate 2,000-year-old family tomb was discovered inside the Salome Cave in the Judean lowlands. Some of the tomb entrance stones contained characteristically Jewish features.
"Evidence [of the Bible] is written in stone" in Israel, wrote Arlene Bridges Samuels in an April column. Israel's 2022 archaeological finds powerfully demonstrate just that.
7. SCOTUS overturns Roe v. Wade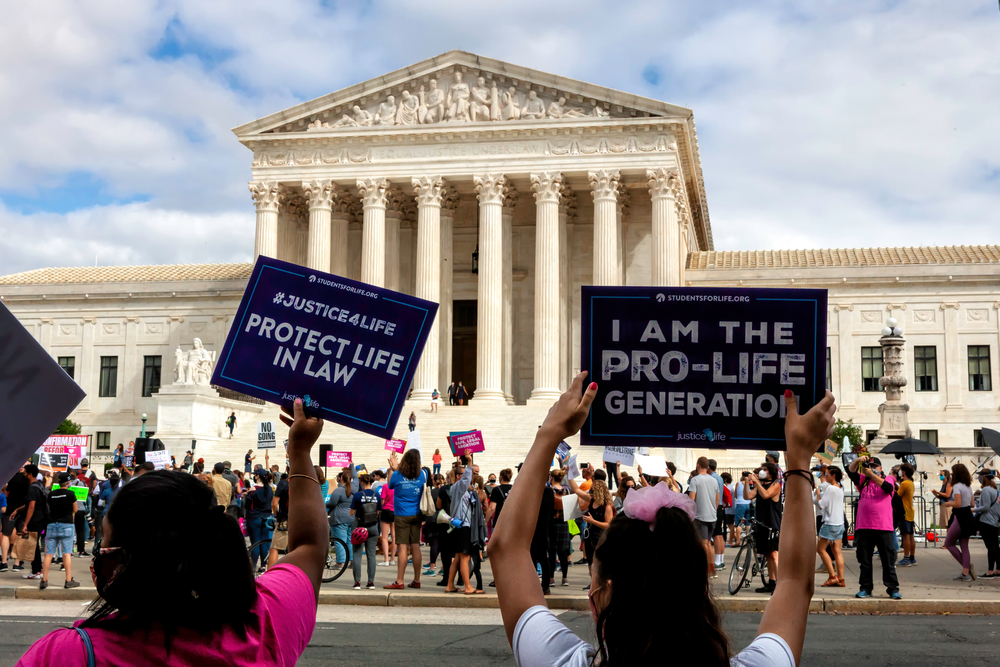 A few pro-life counter-protesters outside the U.S. Supreme Court in Washington, DC, Sept. 27, 2020 (Photo: Shutterstock)
In a historic decision, and perhaps one of the most consequential ones in American politics this year, the U.S. Supreme Court reversed the landmark Roe v. Wade ruling which established the constitutional right to abortion for nearly half a century. 
On June 24, the court's conservative majority voted 5-4 to overturn Roe, claiming the ruling is not protected under a clause of the 14th Amendment. Justice Samuel Alito wrote in the majority opinion that it "was egregiously wrong from the start."
"Its reasoning was exceptionally weak, and the decision has had damaging consequences. And far from bringing about a national settlement of the abortion issue, Roe and Casey have enflamed debate and deepened division," he added. 
Rosenberg explained in a column that most Jews see abortion not only as a "right" but as a "Jewish value." In Israel, abortion is not a political issue.
The decision to overturn Roe v. Wade challenged a Mississippi law which made most abortions illegal after 15 weeks. The final decision in the case – Dobbs v. Jackson Women's Health Organization – resembled the draft of an opinion from the court that was leaked to the media about two months prior.  
In the wake of the decision, a total of 17 states have so far moved to ban or restrict abortion. More U.S. Republican-led states are expected to follow suit. In Texas, abortions dropped by 97% in the month after the Supreme Court's reversal of Roe v. Wade, according to data from the Texas Health and Human Services Commission. 
In contrast, blue states like California, Colorado, and Oregon announced they were expanding abortion rights, aspiring to become abortion 'sanctuaries.' The fall of Roe also triggered new democratic-led legislation to protect same-sex and interracial marriages. 
From late June and until the Jan. 8 midterm elections, the Democratic party has made efforts to keep the abortion issue as a top concern for voters. According to some accounts, this was one of the factors that prevented a Republican red-wave.    
6. Ye, Kanye West: Normalizing anti-Semitism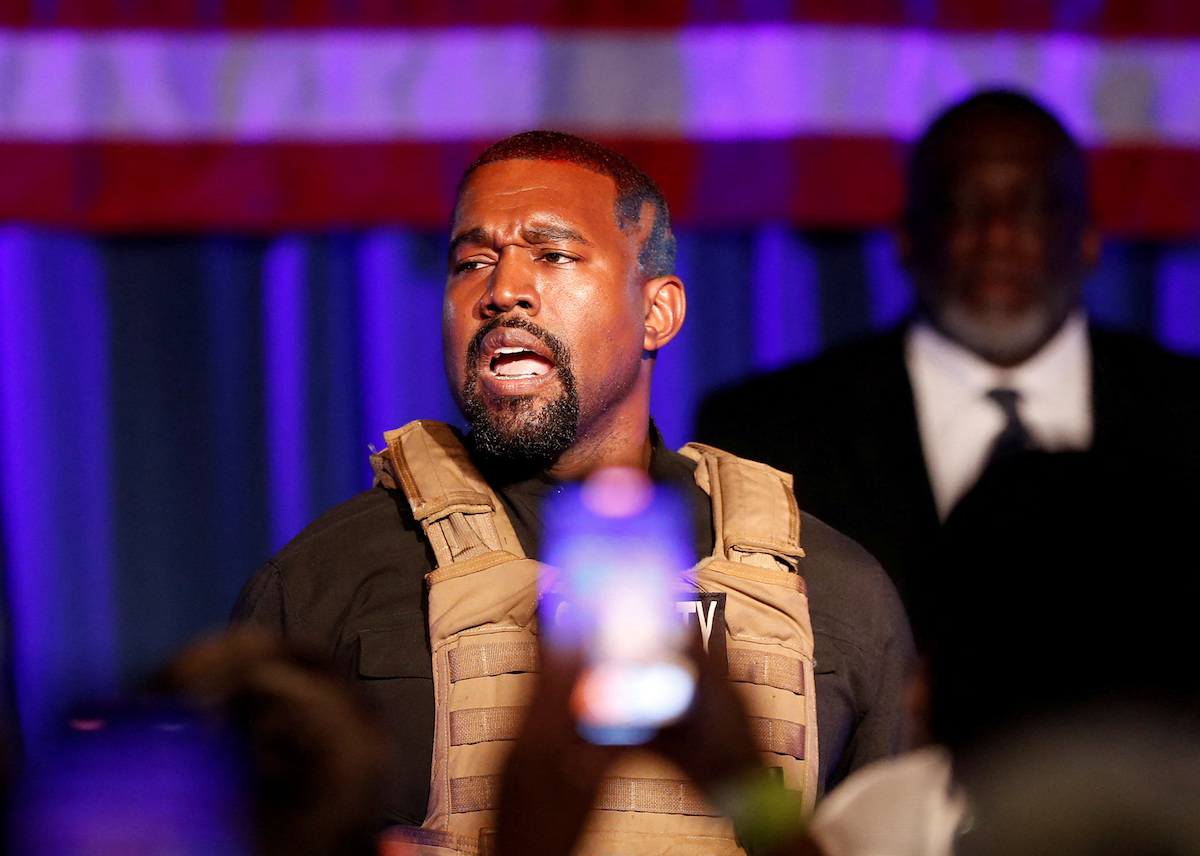 Kanye West holds a rally in support of his presidential bid in North Charleston, South Carolina, July 19, 2020. (Photo: REUTERS/Randall Hill/File Photo)
The Anti-Defamation League's anti-Semitism tracker recorded more than 1,500 criminal and non-criminal acts of anti-Semitism across the United States in 2022, representing a significant spike compared to the year before. 
However, it was the anti-Semitic rhetoric spewed by popular American producer, rapper and fashion designer Ye, formerly known as Kanye West, that finally raised a red flag to just how fast anti-Semitism is blazing across the United States.
Ye made headlines in October when he accused former U.S. President Donald Trump's son-in-law, Jared Kushner, of orchestrating the Abraham Accords for the purpose of "making money." 
On Oct. 8, Ye tweeted, "I'm a bit sleepy tonight but when I wake up, I'm going death con 3 on JEWISH PEOPLE." A week later, he accused the Jewish people of having "owned the Black voice."  
"Either it's through us wearing the Ralph Lauren shirt, or it's all of us being signed to a record label, or having a Jewish manager, or being signed to a Jewish basketball team, or doing a movie on a Jewish platform like Disney," Ye said.
In December, he pushed the agenda further, telling Alex Jones on Infowars that [Nazi leader Adolf] "Hitler has a lot of redeeming qualities" and that he loves Nazis. He later told Proud Boys Founder Gavin McInnes that Jews should forgive Hitler.
Compounding the problem former President Donald Trump met in November at Mar-A-Lago with two men seething with hatred towards Jews.
In response to Ye's anti-Semitic rhetoric and ever-increasing attacks on Jews – particularly in heavily populated cities like New York (where Jews are the highest targeted minority) – U.S. President Joe Biden launched an inter-agency group to develop a national strategy to counter anti-Semitism, Islamophobia and other related forms of bias and discrimination within the United States. 
5. A Jewish Great Awakening?
In a shocking report this November, Joel Rosenberg estimated that the number of Jews in the world who believe in Jesus is at an all-time high – possibly as many as 1 million. 
"The veil that covered the eyes of my people for nearly 2,000 years is finally lifting and Jews are not only coming to faith, they are listening to the Gospel more than ever before," Rosenberg said on his TBN program, The Rosenberg Report.
This is more than at any other time in human history.
Rosenberg based the numbers on a landmark study by LifeWay, the research branch of the Southern Baptist Convention. The poll was conducted in 2018 and revealed there were 871,000 Americans of Jewish descent who hold the same theological beliefs as Evangelical Christians.
Add to that reports from other countries, including Israel, and there could be 1 million Jewish believers in the world.
Erez Soref, president of the Israel College of the Bible and One for Israel, said when Israel was established in 1948, there were only 23 known Jewish believers in the land. Now he believes that number is closer to 30,000.
The video testimonials of these Jewish believers created by ministries such as One for Israel and Chosen People Ministries in the U.S. have been seen more than 240 million times.
That means the Good News is being heard.
"It's important that the Church be aware of what is happening right now, embrace it, and seek the scriptures to know how Gentile believers should respond to these encouraging trends," Rosenberg wrote.
Paul prophesies in the Book of Romans of a day when a Jewish "great awakening" will occur in the "last days" and that just before the Second Coming of Christ, "all Israel will be saved." (Romans 11:26)
Are we there? While we can't say for sure, the latest polls indicate we are getting closer.
4. Iranian protests threatening the regime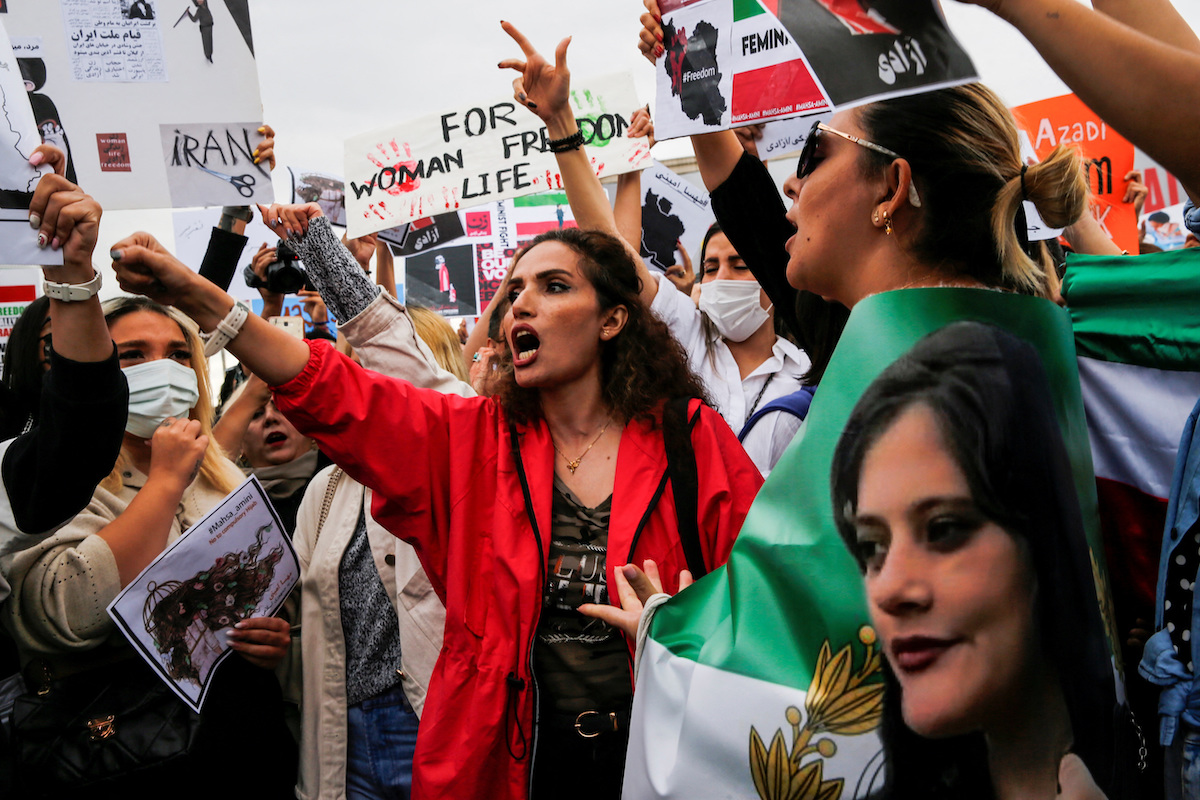 Protesters in Istanbul, Turkey shout slogans during a demonstration following the death of Mahsa Amini in Iran, Oct. 2, 2022. (Photo: REUTERS/Dilara Senkaya)
Could this be the one to bring down the regime?
Though other uprisings have taken place since the 1979 Islamic Revolution put a maniacal tyrannical ayatollah regime in power in Iran, this current wave is the most significant yet.
It started in September, when Jina "Mahsa" Amini, a 22-year-old Kurdish Iranian woman, was taken into custody in Tehran by the so-called Morality Police for not properly observing the strict Islamic dress code. Shortly after her arrest, Amini went into a coma and was transferred to a hospital where she died. Her family says she was brutally beaten.
Her death sparked immediate and widespread protests which have yet to dwindle. Women took to the streets and burned their hijabs. Students swarmed campuses. Worker strikes lent support to the protests as well. Demonstrators were even chanting 'Death' to Supreme Leader Ali Khamenei.
But the consequences have been swift and severe. 
As of Dec. 19, more than 500 citizens have been killed in 1,192 protests throughout 161 Iranian cities and on 144 university campuses. Other shocking numbers: 69 children have been killed and 18,452 protestors arrested.
However, the populace appears too fed up to fear the consequences at this point.
"This is unprecedented and historic since it's the first women-led revolution in the world, demanding the end of the Islamic regime in Iran," Zohreh Mizrahi, an Iranian-American attorney, told ALL ARAB NEWS in September. "This isn't about reformation or relation of some laws by a specific group of people, Iranians are rising up against the core of the Islamic Republic. Iranians want regime change."
The protests have managed to put the Iranian nuclear deal on the back burner despite U.S. President Joe Biden's efforts to renew it ever since he took office.
In late December, Joel Rosenberg issued a call to Christians around the world to pray for the 80 million citizens of Iran who are "experiencing a bloody, brutal and barbaric Christmas season."
3. Five red heifers triggered End Times speculation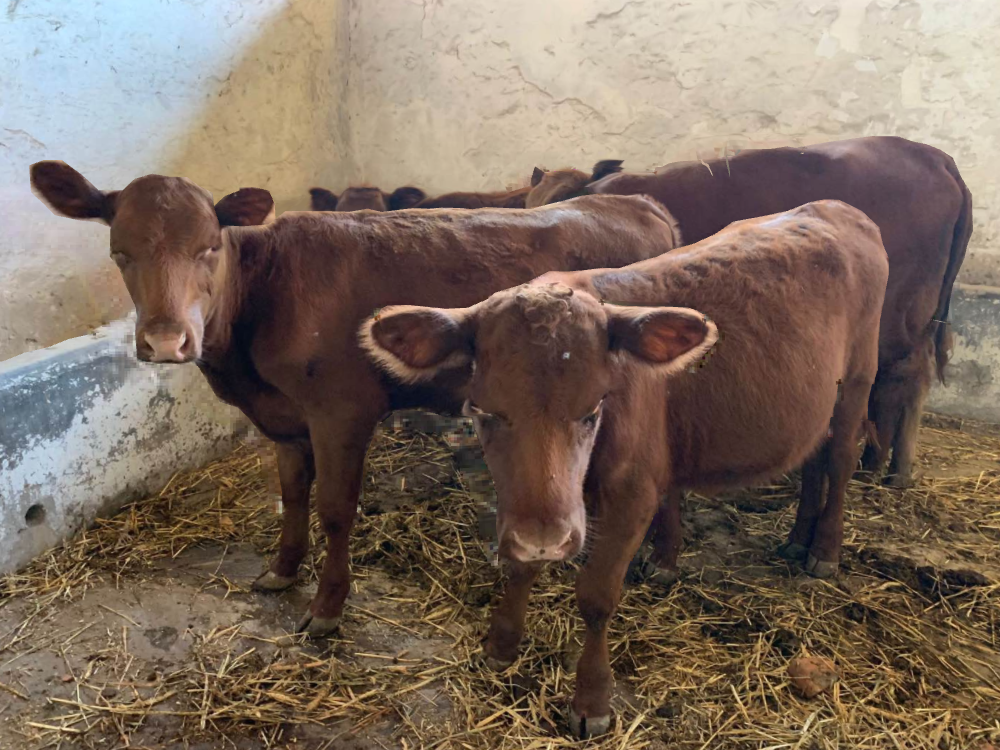 Five red heifers arrived in Israel on Sept. 15, 2022. (Photo: Boneh Israel)
When five perfectly red heifers touched down in Israel in September, their presence in the land triggered a whirlwind of speculation as to the prophetic significance and whether we are barreling toward a Third-Temple period or even the "last days."
The five red heifers, belonging to a rancher in Comanche, Texas, were gathered and flown to Israel, thanks to the efforts of the Christian organization, Boneh Israel.
What's more, these cows may be ready for sacrifice in Jerusalem as early as August or September 2023, but only if they remain red and unblemished, thus  confirming that they are, indeed, ritually pure.
In Mosaic law, the ashes of a sacrificed red heifer are required for sanctification. When the ashes are sprinkled on those who are ceremonially unclean, they are considered to be ritually purified, as stipulated in the Book of Numbers.
"This is a requirement of the law that the Lord has commanded: Tell the Israelites to bring you a red heifer without defect or blemish and that has never been under a yoke." Numbers 19:2. 
Some believe the ashes of these heifers are required to consecrate priests to serve in the Temple – and the Temple Mount Institute in Jerusalem is certainly working toward that end. In fact, many religious Jews – and some Christians – are beginning to wonder if these red heifers signal the dawn of a new Messianic era.
While the arrival of the red heifers do not accelerate God's sovereign timing for the End Times, their presence could convince religious Jews in Israel to start re-building the Temple.
Many Messianic Jewish Israelis are warning, however, that the heifers have nothing to do with scripture and do not point to the return of Jesus. 
Nevertheless, all eyes are on the Temple Mount and the Mount of Olives where the sacrifice of a red heifer could take place as early as this summer.
2. Russia-Ukraine war, Gog & Magog and aliyah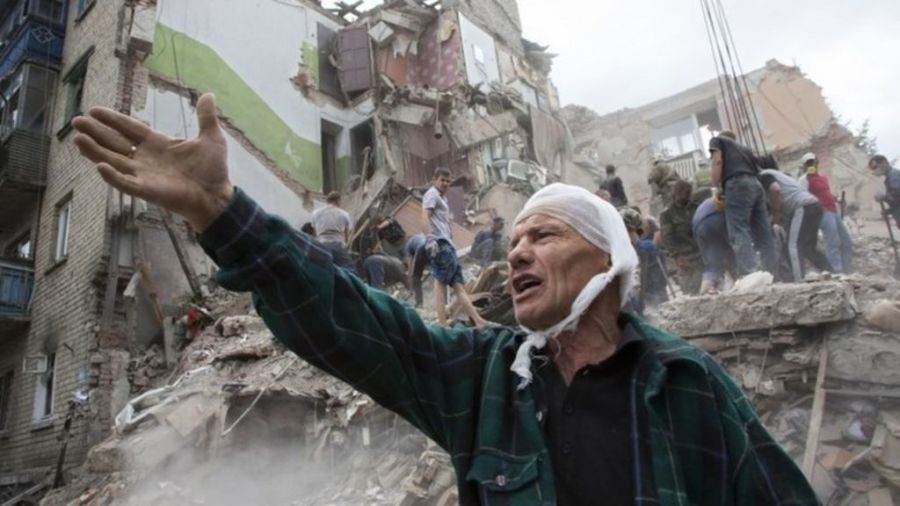 Apartment building leveled by Russian bombing in the town of Snizhne in Donetsk region of Eastern Ukraine, Feb. 24, 2022 (Photo: Screenshot)
To the shock and horror of the world, Russia first mobilized against Ukraine almost one year ago – and the fighting still continues. Along with it, have come evidence of war crimes, atrocities and prophetic alarm bells.
Eschatologists wondered if this was the rumblings of Gog and Magog, the 
end-time battle laid out in Ezekiel 38 and 39. Because Magog will threaten "the restored Israel," all eyes were on the Jewish state even though the fighting began further north. 
Certainly the players seem to have stepped into their respective roles: Russia (Gog) and its dictator (Magog) will build an alliance with Persia (Iran), Gomer (Turkey), and other countries to turn against Israel and attack the Jewish state in the "last days" of history.
While we have not drawn any final conclusions, the geopolitical trends support the prophecies.
The Russia-Ukraine war also placed Israel in a precarious position.
Israel has longed to support Ukraine, however, the Russian military sits on Israel's northern border, in Syria, where a delicate status quo allows the Jewish state to launch sorties against Iranian targets without Russian interference.
While news coverage of the war has diminished, the fighting has not. And it won't take much to send the region into an expansion of war as alliances shift in the region. Russia is building ties with Iran, while Turkey has renewed its ties with Israel. And China has become more active in the Russia-Iran axis.
Not to be overlooked is another consequence of the war: a new wave of aliyah. A 23-year-record high of over 70,000 new immigrants (olim) arrived in Israel in 2022 alone. Most were from Ukraine and Russia, where Jews are either fleeing war or deliberately avoiding sanctions.
1. The amazing comeback of Benjamin Netanyahu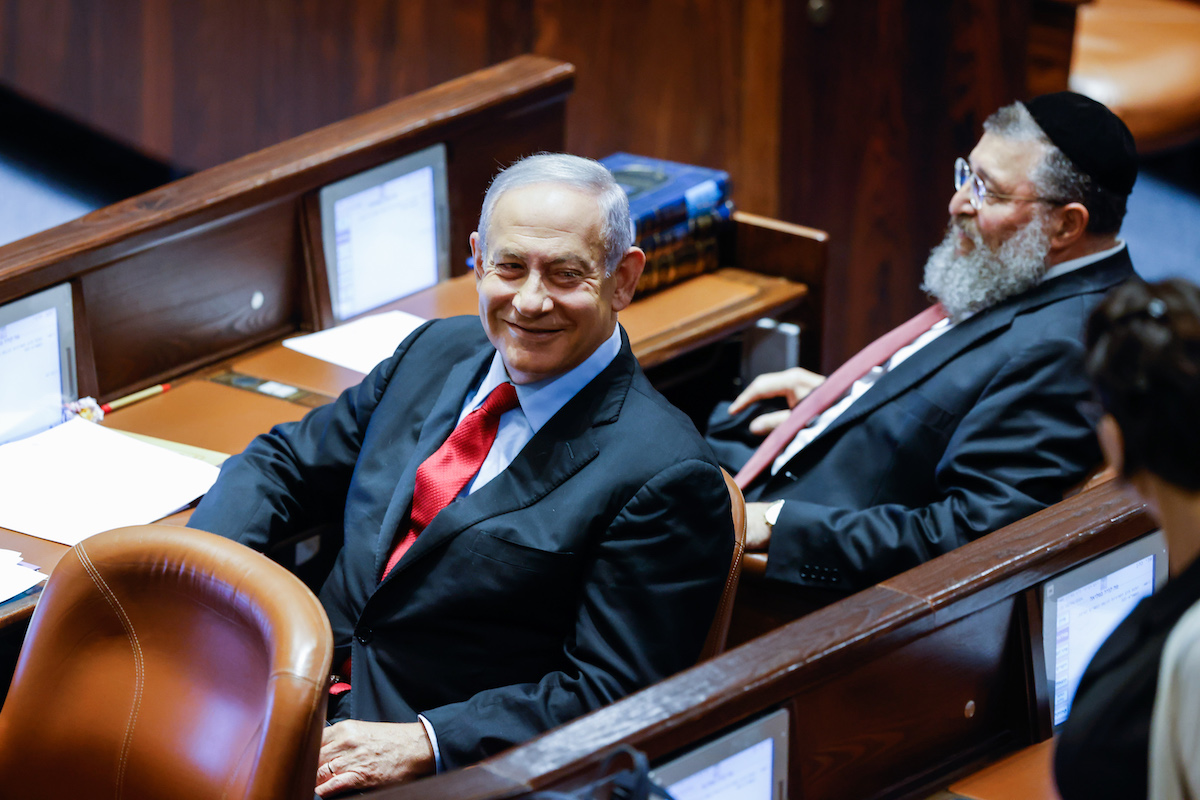 Head of the Likud party Benjamin Netanyahu seen during a discussion and a vote on a bill to dissolve the Knesset, June 22, 2022. (Photo: Olivier Fitoussi/Flash90)
They said he was done, that his era was over, and yet one year after being ousted from office, Benjamin Netanyahu is back at the helm. This time, as a prime minister and backed by a coalition of 64 members of Knesset. 
Netanyahu insists that his new government, considered the most right wing in the history of the Jewish state, will not undermine the religious status quo, but will protect the rights of minorities. Despite handing over key positions to his far-right allies from the Religious Zionism and Jewish Power parties, Netanyahu, himself, plans to call the big shots on key issues, such as Israel's policy in the West Bank, or else leave those decisions in the hands of Likud party ministers.
Two main goals of Netanyahu's upcoming tenure, which could be his last, include preventing Iran from acquiring nuclear weapons and expanding Israel's circle of peace with Arab nations. In his first-ever interview with a Saudi newspaper, he said that peace with the Saudis will also incentivize Palestinians to end their conflict with Israel. 
The past year has kept Netanyahu very busy. Besides running a successful election campaign, the Israeli Prime Minister also released his best-selling memoir: "Bibi: My Story," and attended several courtroom discussions in his ongoing trial on corruption charges.
The judiciary branch, specifically Israel's Supreme Court, is in the crosshairs of new legislation proposed by Netanyahu's bloc that aims to curb its authority to overturn parliament decisions. The override clause has ignited a fierce legal public debate in Israel. If passed, it could become a big part of Netanyahu's legacy.

Joel C. Rosenberg is the editor-in-chief of ALL ISRAEL NEWS and ALL ARAB NEWS and the President and CEO of Near East Media. A New York Times best-selling author, Middle East analyst, and Evangelical leader, he lives in Jerusalem with his wife and sons.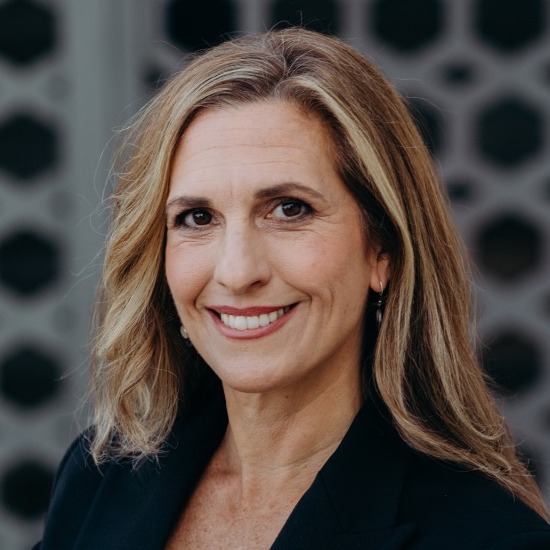 Nicole Jansezian is the news editor for both ALL ISRAEL NEWS and ALL ARAB NEWS and senior correspondent for ALL ISRAEL NEWS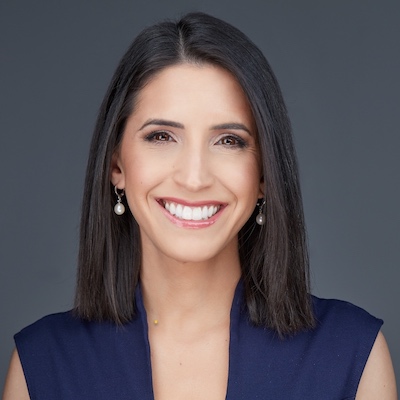 Tal Heinrich is a senior correspondent for both ALL ISRAEL NEWS and ALL ARAB NEWS. She is currently based in New York City. Tal also provides reports and analysis for Israeli Hebrew media Channel 14 News.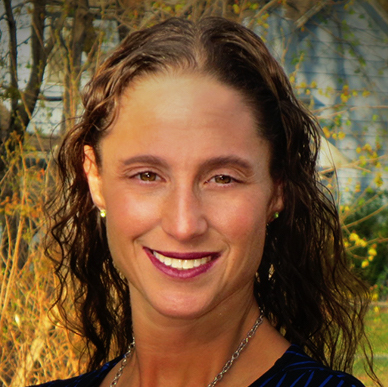 Maayan Hoffman is a veteran American-Israeli journalist and strategic communications consultant. She is Deputy CEO - Strategy & Innovation for the Jerusalem Post, where she also served as news editor, head of strategy and senior health analyst.
A message from All Israel News
Help us educate Christians on a daily basis about what is happening in Israel & the Middle East and why it matters.
For as little as $5, you can support ALL ISRAEL NEWS, a non-profit media organization that is supported by readers like you.
Donate to ALL ISRAEL NEWS
Current Top Stories
Comments