Trump's terrible mistake – dining with two anti-Semites last week was an unmitigated disaster and tarnishes his otherwise stellar record as being pro-Israel and pro-Jewish
Long-time Jewish friends and allies of Trump are rightly calling him out on this – but Evangelicals need to speak out as well
Former U.S. President Donald Trump announces his run for the presidency in 2024, at Mar-a-Lago, Nov. 15, 2022. (Photo: Takayuki Fuchigami/The Yomiuri Shimbun via Reuters)
JERUSALEM—Both times that I've had the honor of a personal meeting with former U.S. President Donald J. Trump, I thanked him for his deep love for Israel and the Jewish people.
I also told him that he will go down as the most pro-Israel president in American history.
Our first meeting was in the Oval Office in the summer of 2019.
Our second meeting was at Mar-a-Lago, his palatial home in Palm Beach, Florida last December.
In my book, "Enemies and Allies," I write at length about Trump's extraordinary pro-Israel, and pro-Jewish record, and defend him against malicious attacks by his enemies that he's a racist or anti-Semitic.
That's why I was horrified by his decision to dine last week at Mar-a-Lago with rapper Kanye West (who now goes by "Ye") and Nick Fuentes, two men who are actively and aggressively spewing the most vile and sickening anti-Semitic tirades to mass audiences.
ALL ISRAEL NEWS had repeatedly published stories and commentaries about Kanye West's ugly anti-Semitic rants (see here, here, here, here, and here).
I've also personally called Kanye out on his "revolting, anti-Semitic, unacceptable, and abhorrent" attacks against the Jewish people.
That said, as horrible as Kanye has been in recent months, Nick Fuentes is even worse.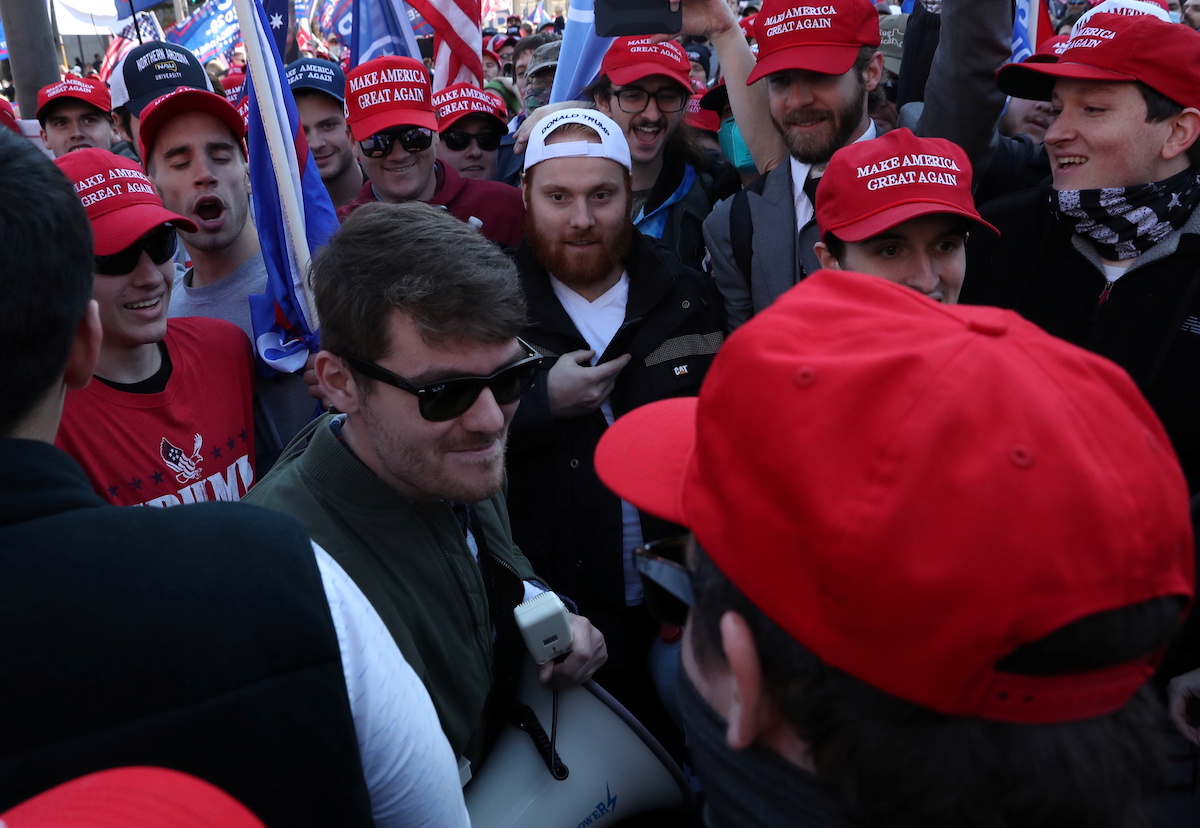 Nick Fuentes makes his way through the crowd for a speech during the "Stop the Steal" and "Million MAGA March" protests after the 2020 U.S. presidential election was called for Democratic candidate Joe Biden, in Washington, D.C., Nov. 14, 2020. (Photo: Reuters/Leah Millis)
Fuentes, 24, is a white supremacist, anti-Semite and Holocaust denier.
He calls himself a Christian, but he spews the most vile hatred of the very Jewish people and the very nation of Israel of which Jesus – a Jew born in Israel – was a part and whom Jesus came to love and rescue as Messiah.
In one disgusting online video, Fuentes mocks those who believe the Holocaust ever happened, that the Nazi regime actually murdered six million Jewish people, and compares the Nazi work of putting Jews in ovens in death camps like Auschwitz to "baking cookies in ovens."
In another disgusting video, Fuentes rants, "The anti-Christ is the Jewish state of Israel… They call themselves Israel, the world Jewry… the real Israel is the believers of Christ….They [the Jews] have set up a fake Israel, a fake Israel country, and a fake Israel nation, this organized Jewish influence….Who else would be leading the revolution [against Christians]? Who else would be behind it other than the Devil? You could say it's the Left, and behind that it's the Jews, and behind that it's the Devil. What else would it be?"
In a report it published on its website, the Anti-Defamation League says, "Fuentes has used his platforms to make numerous antisemitic and racist comments."
JEWISH FRIENDS AND ALLIES ARE SHARPLY CRITICIZING TRUMP
Trump denied knowing anything about Fuentes.
"Kanye West very much wanted to visit Mar-a-Lago. Our dinner meeting was intended to be Kanye and me only, but he arrived with a guest whom I had never met and knew nothing about," Trump said in a statement to CBS News.
Sorry, but that's not going to work.
Trump is a former president of the United States. He has staff. He has Secret Service. No one gets to meet him unless he and his team know who they are.
Trump's closest Jewish friends and supporters aren't buying it.
David Friedman, Trump's long-time friend and business lawyer who also served for four years as Trump's ambassador to Israel, sent out two tweets on the matter last Friday, just before Shabbat began.
"To my friend Donald Trump, you are better than this," Friedman wrote in his first tweet. "Even a social visit from an anti-Semite like Kanye West and human scum like Nick Fuentes is unacceptable. I urge you to throw those bums out, disavow them and relegate them to the dustbin of history where they belong."
In his second tweet, Friedman wrote, "I condemned Barack Obama associating with Louis Farrakhan and Jeremiah Wright. This is no different. Anti-Semites deserve no quarter among American leaders, right or left."
Jason Greenblatt, the Orthodox Jewish lawyer who for decades worked closely as a legal advisor to Trump and his business concerns – and later served as the Trump's chief Middle East negotiator – also criticized his former boss.
In an op-ed for CNN, Greenblatt said the dinner "should not have happened – period," noting that "antisemitism continues to grow and fester in the United States and elsewhere around the world, like a metastasizing, pernicious cancer."
"I hope President Trump condemns Fuentes, West and their ilk for what they are – haters of Jews and haters of the foundations of the United States of America," Greenblatt added. "People like Fuentes are dangerous to the United States. The President Trump that I know would recognize that and issue this condemnation. Regardless of how or why the dinner happened, haters such as Fuentes and West should not be given a platform or seat at the table by anyone."
Elan Carr – Trump's point man for monitoring and combating anti-Semitism during his administration – also went public with his criticism.
"No responsible American, and certainly no former president, should be cavorting with the likes of Nick Fuentes and Kanye West," Carr tweeted, adding, "To placate antisemitism is to promote antisemitism. President Trump must condemn these dangerous men and their disgusting and un-American views."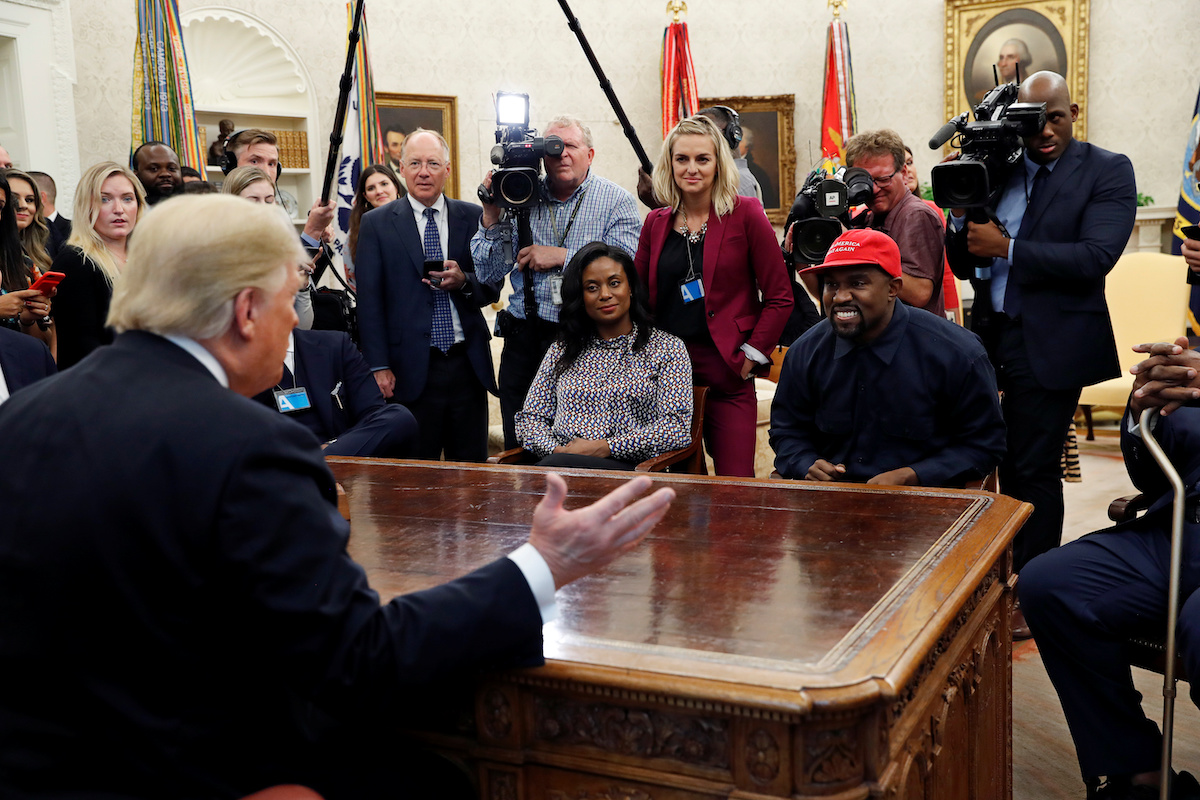 Then-U.S. President Donald Trump speaks during a meeting with Kanye West and others in the Oval Office at the White House in Washington, D.C., Oct. 11, 2018. (Photo: Reuters/Kevin Lamarque)
On Sunday, the Zionist Organization of America issued its own statement blasting the very former president.
Just two weeks ago, at a lavish banquet in Manhattan celebrating their 125th anniversary as an organization, the ZOA awarded Trump with their "Theodor Herzl Gold Medallion" because of his strong support for Israel and the Jewish people.
But this was too much.
"The Zionist Organization of America calls upon President Trump to live up to his own powerful words, to condemn in the strongest possible terms Jew-hater Kanye West and avowed Holocaust-denying, white supremacist, Jew-hater Nick Fuentes," said Mort Klein, ZOA's president.
"ZOA deplores the fact that President Trump had a friendly dinner with such vile antisemites," Klein added. "His dining with Jew-haters helps legitimize and mainstream antisemitism and must be condemned by everyone."
Matt Brooks, executive director for the Republican Jewish Coalition, told CBS News in a statement Friday: "We strongly condemn the virulent anti-Semitism of Kanye West and Nick Fuentes and call on all political leaders to reject their messages of hate and refuse to meet with him."
Ben Shapiro, the conservative Orthodox Jewish commentator, tweeted, "A good way not to accidentally dine with a vile racist and anti-Semite you don't know is not to dine with a vile racist and anti-Semite you do know."
Rabbi Abraham Cooper, head of The Simon Wiesenthal Center, said, "It is unacceptable that a former President of the United States who has announced his candidacy for a second term would meet with anti-Semites and an avowed white nationalist."
FORMER VP MIKE PENCE CALLS ON TRUMP TO APOLOGIZE
To his credit, former U.S. Vice President Mike Pence also spoke out.
"President Trump was wrong to give a White nationalist, an anti-Semite and Holocaust denier a seat at the table, and I think he should apologize for it," Pence told NewsNation on Monday. "And he should denounce those individuals and their hateful rhetoric without qualification."
Trump "demonstrated profoundly poor judgment in giving those individuals a seat at the table," Pence added.
Still, Pence said that he did not believe Trump himself is an anti-Semite, saying that he would not have served Trump as vice president if he was.
Pence noted that Trump's daughter converted to Judaism, and married Jared Kushner, a devout Orthodox Jew, and that the Kushners are raising their children as devout Jews.
Good for Pence. He is right to speak out.
But so far, he is the only major Evangelical Christian I have seen speak out on this important issue.
More Evangelicals need to – immediately.
WHERE DOES TRUMP GO FROM HERE?
I can't think of a more terrible way to kick off a third presidential campaign.
Trump has a huge reservoir of political support among Evangelicals, conservative Jews, and grassroots MAGA fans, for all he did for America during his four years in office.
His poll numbers are high.
But this is a major unforced error.
And Trump is neither acknowledging this terrible mistake, nor apologizing for it.
Where does he go from here?
I honestly don't know.
Trump, in so many ways, is an asset to conservatives and I continue to pray for him daily.
But I have to be honest, some of the moves he's made over the past several years are eroding the love and support many of us have had for him.

Joel C. Rosenberg is the editor-in-chief of ALL ISRAEL NEWS and ALL ARAB NEWS and the President and CEO of Near East Media. A New York Times best-selling author, Middle East analyst, and Evangelical leader, he lives in Jerusalem with his wife and sons.
A message from All Israel News
Help us educate Christians on a daily basis about what is happening in Israel & the Middle East and why it matters.
For as little as $5, you can support ALL ISRAEL NEWS, a non-profit media organization that is supported by readers like you.
Donate to ALL ISRAEL NEWS
Current Top Stories
Comments