Studies reveal there are now 1 million followers of Jesus worldwide of Jewish descent
Online video testimonies of Jewish people explaining why they believe Jesus is Messiah have topped 240 million views
(Photo: Screenshot The Rosenberg Report on TBN)
JERUSALEM—A great spiritual awakening is underway in the Jewish community worldwide, but particularly in the United States.
It's not being reported in the Jewish press.
Nor is much of the Christian media aware of it, or reporting on it.
Indeed, in many ways this is the biggest untold story in the Jewish world.
But it's a story for which I'm profoundly thankful to God.
That's why I devoted last Thursday's Thanksgiving special edition of THE ROSENBERG REPORT on TBN to walking through the data and explaining their meaning.
Here's the short version.
THE IMPACT OF THE "JESUS REVOLUTION"
In the early part of the 20th century, the number of Jewish people in Europe who became followers of Jesus as Messiah surged to upwards of 230,000. On the program, I share how many Jewish believers there were country by country.
Tragically, most of these believers were killed during World War II, the Holocaust, and the subsequent Soviet cruelty. By the 1950s, there were only a few thousand Jewish believers in Jesus left.
Yet, as I explain on the program, the Six Day War of 1967 – including the miraculous reunification of Jerusalem – marked a dramatic turning point.
The Holy Spirit began to move in great power across the United States in what became known by some as the "Jesus Movement" and by others as the "Jesus Revolution."
Tens of millions of secular, even pagan, and spiritually confused Americans began coming to faith in Jesus Christ.
They began experiencing what the New Testament calls the supernatural act of becoming "born again" (see John chapter 3).
Then they began reading the Bible – both Old and New Testaments – voraciously, going to Bible churches regularly, and telling their family and friends the "Good News" of how Jesus Christ was healing and transforming their broken lives.
On June 21, 1971, the phenomenon had become so profound and widespread that Time Magazine published a cover story on the "Jesus Revolution."
"Jesus is alive and well and living in the radical spiritual fervor of a growing number of young Americans who have proclaimed an extraordinary religious revolution in his name," Time reported. "Their message: the Bible is true, miracles happen, God really did so love the world that he gave it his only begotten son…."If any one mark clearly identifies them it is their total belief in an awesome, supernatural Jesus Christ, not just a marvelous man who lived 2,000 years ago but a living God who is both Savior and Judge, the ruler of their destinies."
And it was here that Jewish Americans started coming to faith in Jesus, as well.
(Photo: Screenshot The Rosenberg Report on TBN)
MORE JEWISH FOLLOWERS OF JESUS TODAY THAN EVER BEFORE
A half century later, there are now approximately one million Jews in the world today who believe that Jesus is the Jewish Messiah, the Son of God, and the only way of forgiveness and salvation and have chosen to follow Him.
This is the largest number of Jewish believers in Jesus at any time since Jesus was born in Bethlehem, preached and performed miracles in the land of Israel, died on a cross and rose from the dead on the third day some 2,000 years ago.
The vast majority of these believers live in the United States.
A landmark study by LifeWay, the research branch of the Southern Baptist Convention, found that there are 871,000 Americans of Jewish descent who hold the same theological beliefs as Evangelical Christians.
The study was commissioned by the Alliance for the Peace of Jerusalem, a coalition of Christian and Messianic Jewish scholars, professors and ministry leaders.
It was partly financed by Chosen People Ministries, led by Dr. Mitch Glaser, who is featured in the story, and by The Joshua Fund.
On the program, I explain how the LifeWay study was designed and conducted, and why at first we didn't actually believe the numbers – they just seemed too high, but the methodology turned out to be sound.
A separate study conducted by Dr. Erez Soref, president of the Israel College of the Bible, found that the number of Jewish Israelis who believe in Yeshua – the original Hebrew name for Jesus – has grown to approximately 30,000.
(Photo: Screenshot The Rosenberg Report on TBN)
In 1948, when the modern State of Israel was miraculously and prophetically reborn, there were only 23 known Jewish believers in Yeshua, according to Soref's research.
When you add in Evangelical and Messianic Jewish believers in other parts of the world, including South America, the numbers approach one million.
Experts debate exactly how many Jews there are in the world.
Some say 15 million, while others believe the numbers are closer to 17 or 18 million.
It all depends on how you define, "Who is a Jew?"
While that debate will continue to rage, the surge in the last half century in the number of people with Jewish roots – and the percentage of the overall Jewish community worldwide – who believe that Jesus is the Messiah – is an extraordinary and historic development.
JEWISH INTEREST IN THE GOSPEL IS ALSO SURGING
Perhaps just as dramatic and historic is the fact that Jewish people are showing a greater interest in listening to the Messianic prophecies, reading the New Testament accounts, and trying to process the Gospel message for themselves than ever before.
On the program, I describe how the ministry run by Erez Soref and his team at the Israel College of the Bible have been producing and posting online short-form videos of Israeli Jewish explaining in Hebrew why they have come to believe that Yeshua is the Messiah and how faith in Him has transformed their lives.
These Hebrew-language testimony videos, each lasting on average about five to seven minutes, as well as other Hebrew-language videos explaining the Gospel message and answering objections made by rabbis have become immensely popular.
They have now been seen more than 40 million times.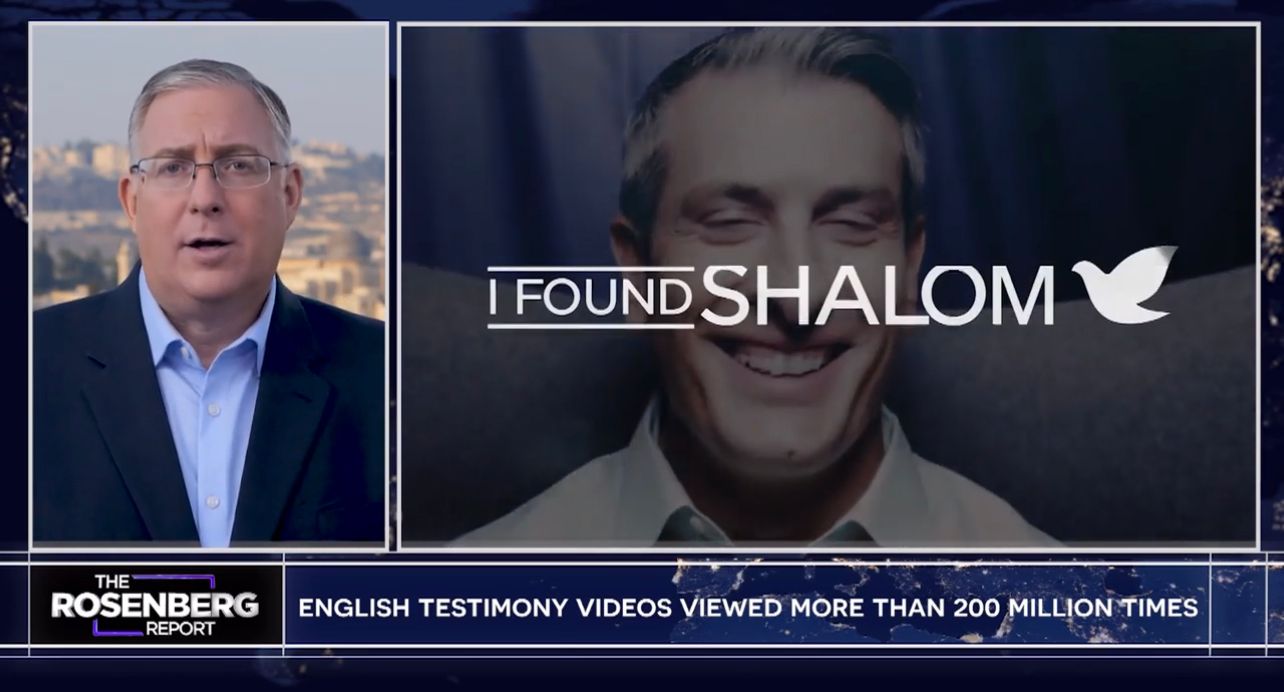 (Photo: Screenshot The Rosenberg Report on TBN)
Other ministries are producing similar testimony videos in English.
A joint project between Soref and Glaser has created dozens of such videos which have now been seen more than 200 million times.
Several years ago, I was asked to share my own personal story of how I came to faith in Jesus.
To illustrate what these videos are like, we ran mine on the program.
Combined, the videos of just these two ministries have been seen more than 240 million times.
And this does not even take into account the impact of the work of other ministries.
It used to be that Jewish people who were curious to learn more about Jesus and whether He fulfills the prophecies written by the ancient Hebrew prophets would feel uncomfortable visiting a church to get their questions answered.
Many still are uncomfortable.
But with the advent of the internet – and more importantly, smart phones – Jews are able to search out answers to their questions in privacy and anonymity.
No one is forcing them to search.
Nor is anyone forcing them to believe in Jesus.
Such ministries are simply making the answers available to anyone interested in exercising their God-given freedom of religion, conscience and exploration.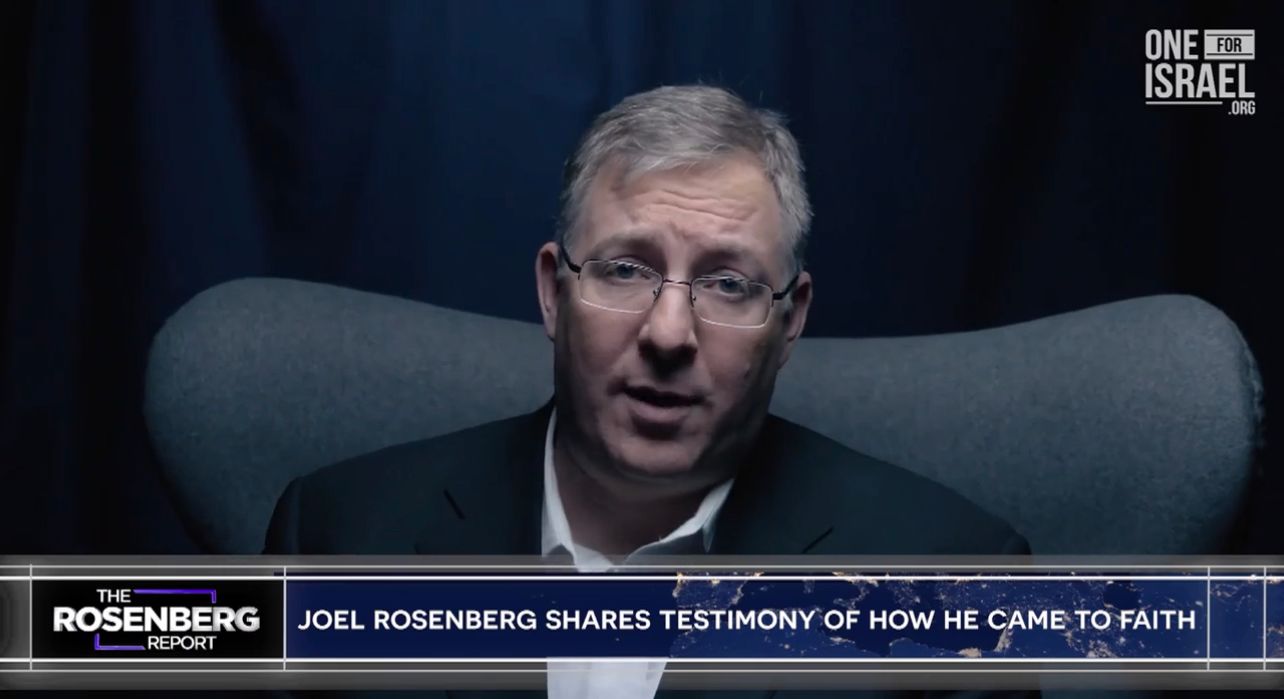 (Photo: Screenshot The Rosenberg Report on TBN)
WHAT ARE THE IMPLICATIONS OF THIS SPIRITUAL MOVEMENT?
It's amazing to me how few Evangelical pastors, ministry leaders, or lay people are aware of the great spiritual awakening underway in the Jewish community.
As they learn what's happening, I know that many will be excited and encouraged and eager to pray that the Lord will continue to open the eyes of my people to the Messiah we have long awaited.
That said, it's not surprising at all that most of the Jewish community is unaware of these trend lines.
Many will be upset.
Some will be angry.
Yet others will be curious to ask, "Why are so many Jewish people coming to the conclusion that Jesus is the Jewish Messiah?"
In the New Testament, we see all of these reactions.
In the Book of Acts, of course, we first meet Saul as a highly-trained religious Pharisee who is deeply enraged by the thousands of Jews in Jerusalem and elsewhere who were coming to faith in Yeshua as Messiah.
Then we dramatically see Saul's encounter with Yeshua Himself on the road to Damascus.
We see his eyes miraculously opened – Saul becomes Paul, a devout follower of Yeshua, and one of the most passionate and effective preachers of the Gospel in the ancient world.
Indeed, the Apostle Paul writes to Gentile Christians in the Book of Romans, prophesying of a day when a Jewish "great awakening" will occur in the "last days."
Paul even prophesies that just before the Second Coming of Christ, "all Israel will be saved." (Romans 11:26)
How and when exactly will this happen?
That we cannot say.
But it's important that the Church be aware of what is happening right now, embrace it, and seek the Scriptures to know how Gentile believers should respond to these encouraging trends.
WATCH THE FULL EPISODE OF THE ROSENBERG REPORT
THE ROSENBERG REPORT, which debuted this fall on Oct. 6, airs in primetime every Thursday night at 9 p.m. EST.
It also re-airs on Saturday evenings at 9:30 p.m. EST after "Huckabee."
To watch this full episode of THE ROSENBERG REPORT, please click here. (Note: First-time users of the TBN video-on-demand system will need to sign up for a free account. This simply requires entering your email address and choosing a password.)
You can also sign up for a free weekly email update by clicking here. Every Friday you'll receive an email with a link to the full episode in case you missed it. You can also post the link on your social media accounts to share with family and friends.

Joel C. Rosenberg is the editor-in-chief of ALL ISRAEL NEWS and ALL ARAB NEWS and the President and CEO of Near East Media. A New York Times best-selling author, Middle East analyst, and Evangelical leader, he lives in Jerusalem with his wife and sons.
Popular Articles
A message from All Israel News
Help us educate Christians on a daily basis about what is happening in Israel & the Middle East and why it matters.
For as little as $5, you can support ALL ISRAEL NEWS, a non-profit media organization that is supported by readers like you.
Donate to ALL ISRAEL NEWS
Latest Stories
Comments