Is abortion 'a Jewish value'? Most Jews say yes – but let's take a careful look at what the Hebrew Bible actually says
National Council of Jewish Women leaders and advocates rally on the steps of the U.S. Supreme Court, Dec. 1, 2021. (Photo: NCJW)
WASHINGTON, D.C.—Many American and Israeli Jews are furious with the United States Supreme Court's stunning decision to overturn Roe v. Wade and declare that abortion is not a Constitutionally-protected "right."
This comment on Instagram caught the attention of many, including myself.
"i am jewish. my religion teaches that life begins at birth, not at conception. a ban on abortion is a violation of my religious freedom. the only people with actual 'religious freedom' in this country are christians."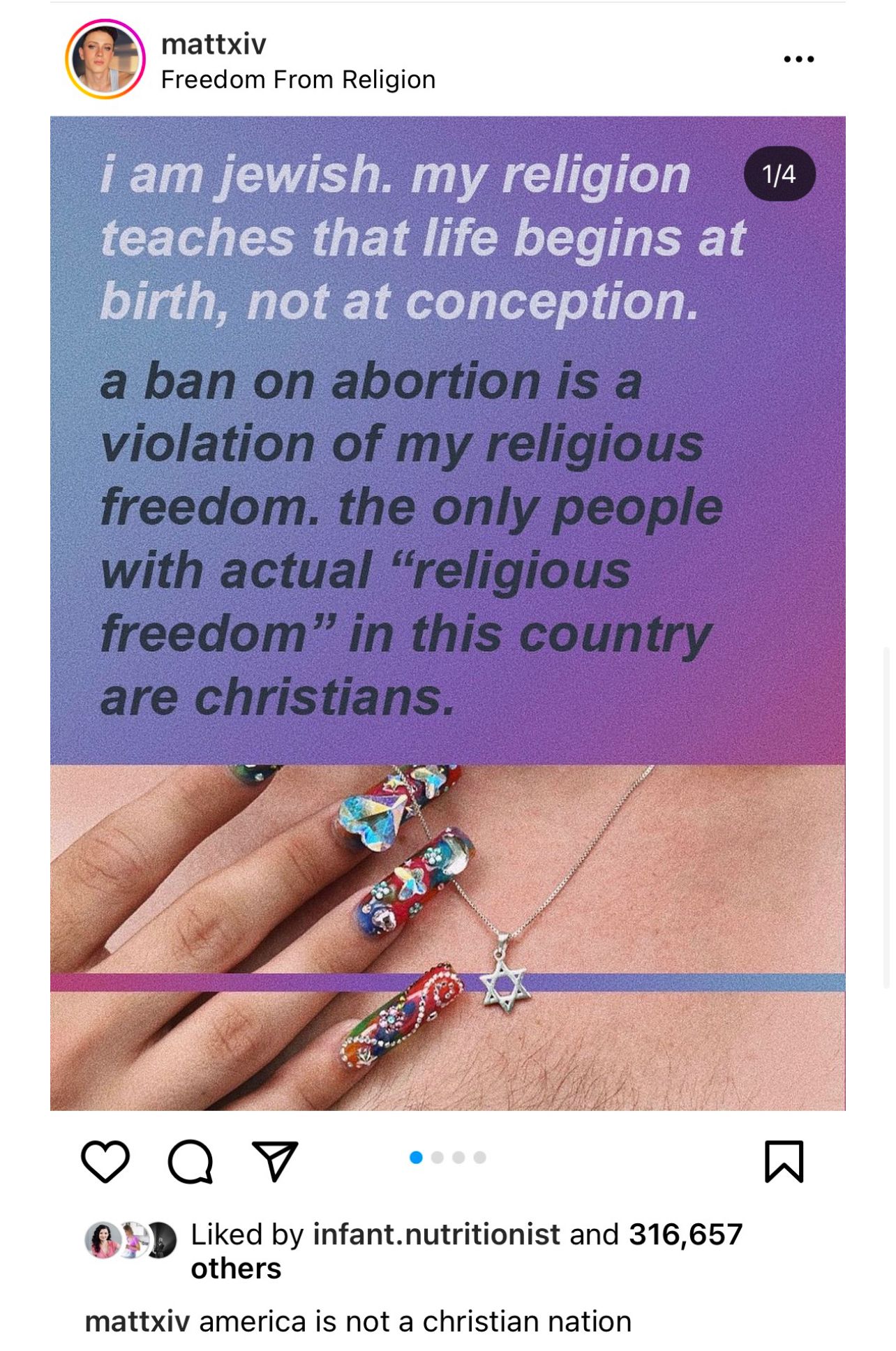 To my amazement, that post received over 320,000 likes.
But is this true? 
Does the Jewish faith teach that "life begins at birth, not at conception"?
Many Jewish people in the U.S. and Israel certainly believe so.
In May, the National Council of Jewish Women held The Jewish Rally for Abortion Justice, which was sponsored by over a hundred different Jewish organizations and synagogues. 
The Anti-Defamation League was one of these sponsors and, in a tweet supporting the rally, stated that abortion access is "a Jewish value."
Like any group—religious, cultural, ethnic, or otherwise—Jews are of course not monolithic in their thought. 
For example: Ben Shapiro, the prominent Orthodox-Jewish talk show host, is strongly pro-life and opposed to abortion. He celebrated the Dobbs ruling, describing it as "overdue," and praised former U.S. President Donald Trump for appointing pro-life justices to the Supreme Court.
And Shapiro is not alone. Numerous other Orthodox and ultra-Orthodox Jews are pro-life.
However, the majority of American Jews are not particularly religious, and they do indeed support abortion. 
According to a 2017 Pew Research poll, 83% of self-identified Jews in America believe that abortion should be "legal in all/most cases" – more than almost any other religious group polled.
The vast majority of Israeli Jews are not religious. They rarely read the Bible. And they are very liberal when it comes to abortion.
Every year, approximately 17,000 unborn babies are killed before leaving the womb, sanctioned (and often funded) by the Israeli government. Yet there is little public pushback.
The Israeli government made abortion legal in 1977.
The current government just eased abortion regulations shortly after the U.S. Supreme Court ruling. 
Sadly, Israeli Health Minister Nitzan Horowitz spoke for many Israelis when he said: "The SCOTUS decision to negate a woman's right to make a choice over her own body is a sad process of women's repression, setting the leader of the free and liberal world a hundred years back."
Despite what the health minister says, however, abortion is never simply about making a choice about one's own body. It is also about making a choice about someone else's body—the body of the child in the womb.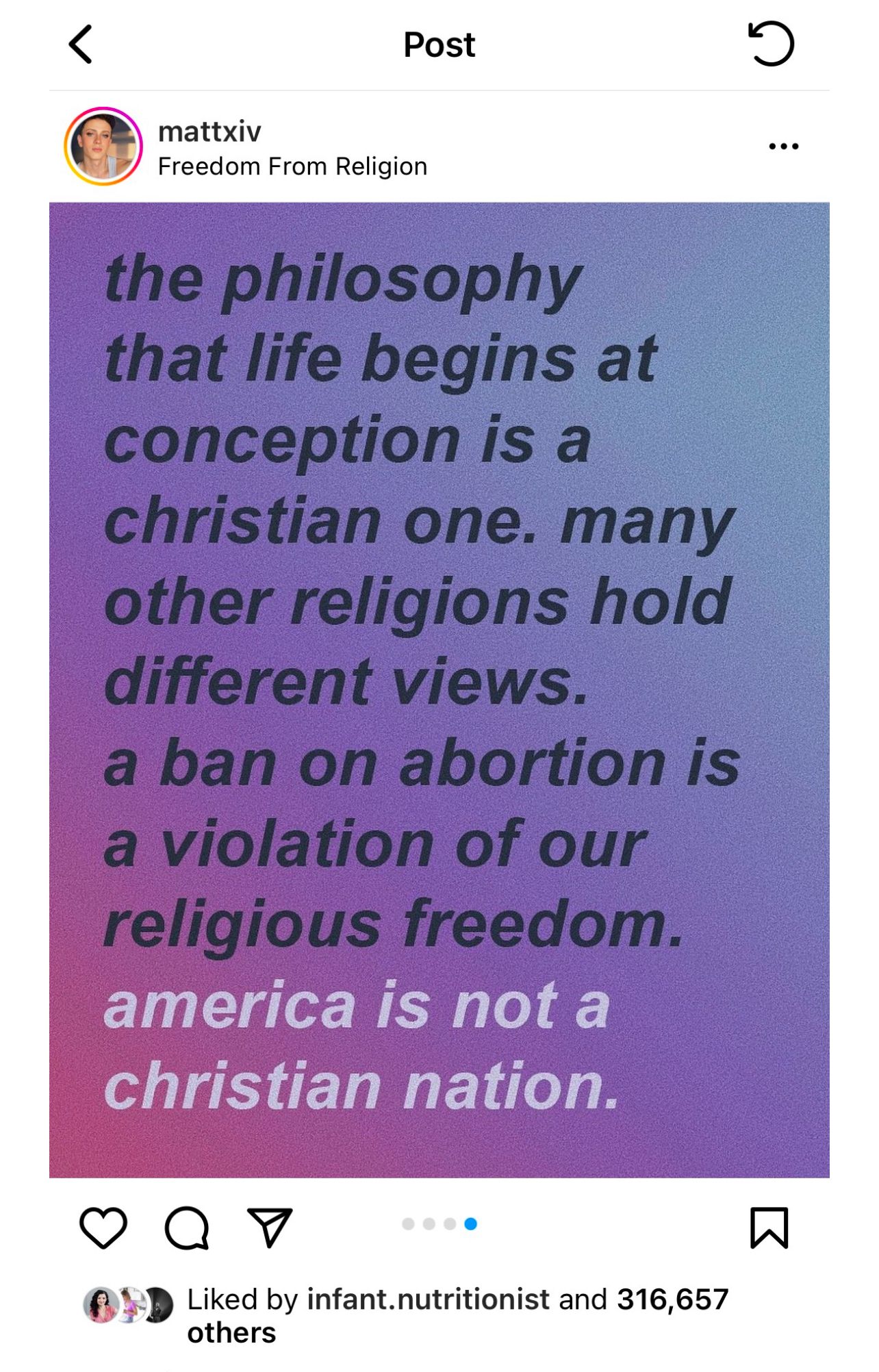 Let's be clear: The Hebrew Bible – the foundation of the Jewish faith – teaches that at the moment of conception a new human life is formed, made in the image of God and worthy of protection.
This truth is not a Christian innovation – it is rooted in the Hebrew scriptures, beginning with Moses who wrote the Book of Genesis and continuing through the writings of the ancient Hebrew prophets.
The first conception of a child is described in Genesis 4:1: "Now Adam knew Eve his wife, and she conceived and bore Cain, saying, 'I have gotten a man with the help of the LORD.'"
Eve conceived and bore Cain – and Cain was Cain within the womb, and outside the womb.
In Genesis 25:21-22 it is written: "And Isaac prayed to the LORD for his wife, because she was barren. And the LORD granted his prayer, and Rebekah his wife conceived [twins]. The children struggled together within her..."
God granted Rebekah the ability to conceive children, and it was these children who "struggled" in her womb. 
Jacob was one of these children, the father of the Jewish people.
From God's perspective, this Jacob, who would one day be called "Israel," was a human being from the moment of conception.
Speaking in the power of the Holy Spirit about his own fallen nature, King David wrote the following words in Psalm 51:5: "Behold, I was brought forth in iniquity, and in sin did my mother conceive me."
It was not a mere clump of cells that was conceived, which became David after exiting the womb – it was David himself who was conceived.
Time and again, the Hebrew scriptures are clear: Cain's life began at conception, Jacob's life began at conception and David's life began at conception. Clearly, from the perspective of the God of Israel, human life begins at conception.
The scriptures are also crystal clear that murder – the intentional killing of a human being who is innocent of a capital offense – is sin. 
This is written in the Ten Commandments in Exodus 20:13: "You shall not murder." 
As innocent unborn children in the womb are human beings and are incapable of yet committing crimes deserving of capital punishment, no man or woman has the "right" to take their lives.
What's more, the Hebrew scriptures teach that every child is created in the image of God, and therefore has great value in the eyes of God. 
As King David so eloquently wrote about God in the scriptures, "For You formed my inward parts; You knitted me together in my mother's womb. I praise You, for I am fearfully and wonderfully made. Wonderful are your works; my soul knows it very well." (Psalm 139:13-14)
The hard truth is this: just as the vast majority of humanity lives in ignorance of – and rebellion against – the God of Abraham, Isaac, and Jacob, and the teachings of the Bible that He has given us to understand and follow Him, so do most Jewish people. 
Many have never read the Bible and thus simply do not know what God says about the sanctity of innocent unborn human life.
Others have read the Bible but choose to ignore or defy what God has said in His Word.
Either way, pro-life teaching did not start with Christians and the New Testament.
Such teaching comes to us from the Tanakh, beginning with the Book of Genesis and through to the ancient Hebrew prophets.
I could not be more grateful to the Lord for telling us these truths through the Jewish people and our prophets.
But I must tell you it grieves me that so many of my people see abortion not only as a right but a fundamental part of Jewish life and religion.

Joel C. Rosenberg is the editor-in-chief of ALL ISRAEL NEWS and ALL ARAB NEWS and the President and CEO of Near East Media. A New York Times best-selling author, Middle East analyst, and Evangelical leader, he lives in Jerusalem with his wife and sons.
Popular Articles
A message from All Israel News
Help us educate Christians on a daily basis about what is happening in Israel & the Middle East and why it matters.
For as little as $5, you can support ALL ISRAEL NEWS, a non-profit media organization that is supported by readers like you.
Donate to ALL ISRAEL NEWS
Latest Stories
Comments