COALITION BUILDING – ANALYSIS
10 things Evangelical Christians should know about a possible Bennett-Lapid government in Israel
Most pro-Israel Evangelicals have never heard of Naftali Bennett or Yair Lapid, only Benjamin Netanyahu — that's about to change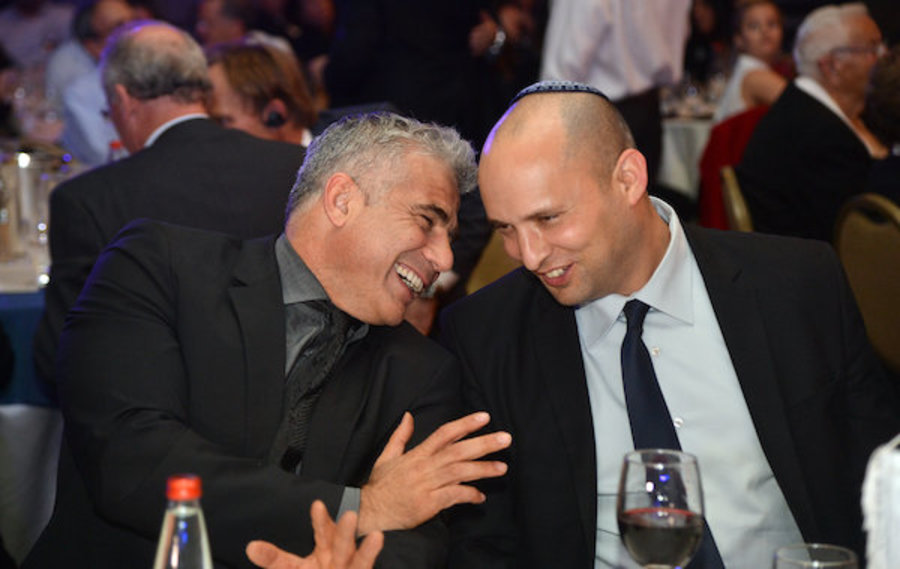 Yair Lapid and Naftali Bennett at the Manufacturers Association of Israel annual general assembly, February 26, 2014. (Photo: Yossi Zeliger/Flash 90)
JERUSALEM—A political earthquake shook Israel Sunday night. 
Naftali Bennett, the 49-year-old head of the right-wing Yamina Party, delivered an address on live primetime television to announce he is ready to form a unity government.
He will join forces with Yair Lapid, the 57-year-old leader of the opposition in the Knesset and head of the centrist Yesh Atid party.
The next 48 hours are crucial.
If their deal solidifies – and there are no defectors – Benjamin Netanyahu, the longest-serving prime minister in the modern history of Israel, will step down.
Netanyahu and his wife, Sara, would have to pack up and leave the prime minister's residence on Balfour Street.
The post-Netanyahu era will begin.
To be clear, there are still several political landmines that could go off, blowing up the deal.
Indeed, this exact same deal was nearly finalized several weeks ago, but appeared to be scuttled because of the eruption of the rocket war with Hamas and Arab-Jewish violence in many Israeli cities.
Netanyahu and his Likud allies are vehemently opposed to the deal and are actively fighting it.
Their main objective right now: trying to persuade members of Bennett's party and the New Hope Party of Gideon Sa'ar, to defect, return to Likud, and thus prevent Bennett and Lapid from having enough votes to finalize the new government later this week.
POLL SHOWS ISRAELIS SUPPORT UNITY GOVERNMENT
A poll released on May 8 found that 47% of Israelis want to see Bennett and Lapid form a unity government, in large part because they do not want to be forced into a fifth round of elections.
New polls will surely be released in the next few days providing more clarity on how Israelis see things.
That said, how will Evangelical Christians in the U.S., Canada, and around the world view this possible massive change in the Israeli government?
ALL ISRAEL NEWS will cover this breaking, complicated and fast-moving story from many angles in the days and weeks ahead.
But let's start with the obvious: for most pro-Israel Evangelicals, the news is coming as a shock.
The only Israeli leader they know is Netanyahu, and most have never heard of Bennett or Lapid.
TEN THINGS TO KNOW
So, here are 10 things Evangelicals should know about these leaders and the government they appear poised to form.
Naftali Bennett would be the first Orthodox, religiously observant, kippah-wearing prime minister in the history of Israel.

Bennett would be first Member of Knesset in the history of Israel to ever become prime minister while leading a party with only seven members.

Bennett and Yair Lapid would be creating the first government in Israeli history with the active support from and public assistance of an Arab-Israeli political party – namely, Mansour Abbas and his Islamist Ra'am Party, with a total of four seats.

In the rotation agreement on the table, Bennett would serve as prime minister first, while Lapid would serve as foreign minister and acting prime minister. After two years, the two would reverse positions.

Lapid will be the first leader in Israeli history who has so many more seats than his new political partner, yet is giving that partner the first chance to serve as prime minister. Lapid's party has 17 seats.

Lapid was the first Knesset Member to grant ALL ISRAEL NEWS an exclusive interview when we launched our news service in September 2020. While he needs to do much more, Lapid has done some outreach to Evangelical Christians, more than most Knesset Members, as ALL ISRAEL NEWS reported in September.  

Bennett has not done much outreach to Evangelicals, but gave a rare interview to the Christian Broadcasting Network during the recent campaign to introduce himself to the American Christian community, a story we reported on ALL ISRAEL NEWS.

Bennett would be poised to become the first prime minister in Israeli history to make a state visit to the United Arab Emirates; Netanyahu, who brokered the Abraham Accords with the UAE, was supposed to visit four different times but canceled each time.

Bennett would also be poised to become the first prime minister in Israeli history to make a state visit to the Kingdom of Bahrain, another Gulf Arab state that normalized relations through the Abraham Accords.

Lapid was No. 11 on our ALL ISRAEL NEWS list of the 21 most interesting Israelis to keep an eye on in 2021, while Bennett was No. 17. The mini-profiles might be worth taking a second look at given this week's dramatic developments. It's also worth noting that Mansour Abbas, the head of the Arab Ra'am Party, was No. 13 on our list.

Joel C. Rosenberg is the editor-in-chief of ALL ISRAEL NEWS and ALL ARAB NEWS and the President and CEO of Near East Media. A New York Times best-selling author, Middle East analyst, and Evangelical leader, he lives in Jerusalem with his wife and sons.
A message from All Israel News
Help us educate Christians on a daily basis about what is happening in Israel & the Middle East and why it matters.
For as little as $5, you can support ALL ISRAEL NEWS, a non-profit media organization that is supported by readers like you.
Donate to ALL ISRAEL NEWS
Current Top Stories
Comments