Will Christians support new Israeli government? Many will. But one prominent Evangelical has declared war on Naftali Bennett, sent scathing letter denouncing him with profanity – 'I will fight you every step of the way'
Mike Evans, close friend of Netanyahu, calls "emergency conference" of Christian leaders at Knesset on Tuesday to discuss the future of Israeli-Evangelical alliance
Mike Evans and Prime Minister Benjamin Netanyahu (photo credit: Friends of Zion Museum)
JERUSALEM – The apparently imminent demise of the Netanyahu government is coming as a shock to the 60 million pro-Israel Evangelical Christians in the United States.
In recent days, I have received many concerned emails and text messages from Evangelical leaders asking me what is happening, why, and what the implications of this political earthquake are likely to be.
By and large, Evangelicals have come to love and respect Prime Minister Benjamin Netanyahu, the longest serving premier in the history of modern Israel.
By contrast, most have never heard of Naftali Bennett, the right-wing former chief of staff to Netanyahu and former defense minister in Netanyahu's Cabinet, who now appears poised to replace Netanyahu as the nation's next prime minister.
Most have not heard of Yair Lapid, the centrist former finance minister and incoming foreign minister, either.
But they will soon.
To be clear, it is far too early to be sure that Bennett and Lapid and their colleagues will actually be sworn into office.
They have many opponents, who are working feverishly to derail their nascent new government.
But if they do come to power, one key question is whether Bennett and Lapid can quickly build relationships and trust with American Evangelicals – and Evangelicals worldwide – who are among the most important strategic allies that the State of Israel has.
I believe that the answer is yes. While Evangelicals do highly respect and appreciate Netanyahu, their love for Israel is not tied to one man, but is based on the Abrahamic covenant and the biblical command to bless Israel and the Jewish people.
Christians of course know that at some point Netanyahu will move on, but they sincerely want to bless and strengthen Israel for the long haul regardless of who is in power.
Thus, I believe Evangelicals will generally be inclined to support and pray for the new Israeli government.
Evangelicals will soon learn that Bennett is a protégé of Netanyahu, who shares Netanyahu's worldview and political philosophy. They will also learn that Bennett, a strong right-wing hawk, served as Netanyahu's defense minister and shares his hardline position against the Iranian regime. What's more, they will soon learn that Netanyahu desperately courted Bennett to be in his next government.
That said, one prominent Evangelical leader in the U.S. has just declared his opposition to a Bennett-led government.
Mike Evans, founder of the Friends of Zion Museum and a former member of the White House Evangelical advisory council during the Trump administration, has declared war on Bennett.
He has just sent Bennett a scathing letter.
Using profanity, Evans denounces the incoming prime minister, and vows that "I will fight you every step of the way."
While Evans has been a close, personal friend and political ally of Netanyahu for four decades, his anger and use of profanity against a right-wing Israeli leader will shock and disappoint many Evangelicals. That was certainly my reaction.
Howard Bass, an Israeli pastor from Beer Sheva, reacted to the initial publication of the story. Bass said:
Naftali Bennett may be a man of worldly politics, but Mike Evans claims to be a man of God. Yet he boasts about his following and allows filthy words to proceed out of his mouth. Neither of these honor the name of Messiah Yeshua/Jesus. Does he think that his self-righteous indignation is going to provoke Bennett to jealousy regarding the gospel?! Sounds more like an embittered Martin Luther. Shame on him!
Rev. Johnnie Moore, the co-founder of the White House Evangelical council and president of The Congress of Christian Leaders, told ALL ISRAEL NEWS that he would fully support the new government because of the biblical admonition in Genesis 12 to bless Israel.
"It is unwise for American Evangelicals to meddle in internal, Israeli politics beyond praising the power of Israel's democracy and if Evangelicals do it anyhow then they should be circumspect and respectful," Moore, who also serves on the ALL ARAB NEWS advisory board, said. "Even though most Evangelical leaders have enjoyed a tremendous friendship with Netanyahu which will continue, their friendship with Israel transcends the machinations of Israel's politics and its political parties."
"Evangelicals will stand with Israel whomever is the prime minister, always," Moore added. "We look forward to a close relationship with all future Israeli governments. As soon as this all settles, I'll – for instance – be on a plane to Israel. Until then, I am watching and praying."
Evans is also the founder of the Jerusalem Prayer Team, a pro-Israel page on Facebook that encourages Christians to pray for the peace of Jerusalem.
The page has 77 million followers.
We have also learned that Evans is calling for an "emergency conference" of Evangelical leaders on Tuesday at the Knesset at 11 a.m.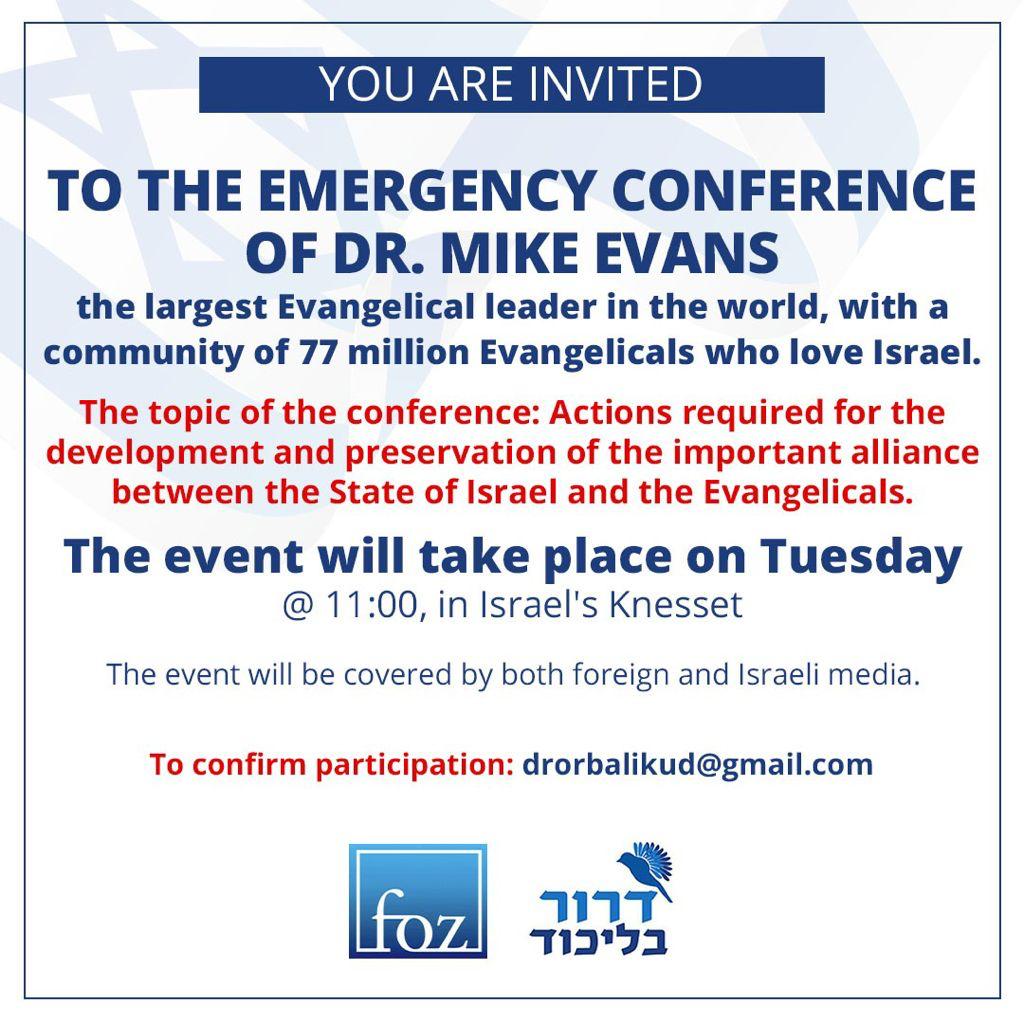 "The topic of the conference," says the invitation, will be to discuss "actions required for the development and preservation of the important alliance between the State of Israel and the Evangelicals."
The challenge for Evans is that during the recent Gaza war, Facebook shut down his page, a story ALL ISRAEL NEWS reported on.
This could significantly hinder Evans' ability to mobilize Christians against Bennett and the new government.
ALL ISRAEL NEWS obtained the text of the letter directly from Evans.
Here is the full text, printed verbatim:
Dear Mr. Bennett,

What a disgusting disappointment you turned out to be. You and I spoke on behalf of the settlers at APAC at a hotel because they packed APAC wouldn't let him in. I always thought Begin was your hero. You've disgraced his very name. Shame, shame, shame on you. Don't ever call yourself a defender of Zion. You're not.

You betrayed the very principles that a generation gave their blood for and died for. You want to be in bed with the Muslim Brotherhood and Leftists. God have mercy on your soul. Such a bitter little man that your obsession to damage Benjamin Netanyahu has convinced you that damaging the State of Israel is a worthy cause.

I've given my life building evangelical support for the State of Israel, not only with 77 million of my followers but with more than 20 world leaders. I assure you, I will fight you every step of the way. You have lost the support of evangelicals 100 percent. I don't know how you can sleep at night. It would have been so easy for you to have gone with a conservative government. We gave you four years of miracles under Donald Trump. We evangelicals delivered it. You delivered nothing. What appreciation do you show us? You sh** right on our face. How dare you!

To say I'm disgusted with you is an understatement. You should hang your head in shame. You care more about your own damn ego and your bitterness than you do the State of Israel.

Sincerely,
Mike Evans

Joel C. Rosenberg is the editor-in-chief of ALL ISRAEL NEWS and ALL ARAB NEWS and the President and CEO of Near East Media. A New York Times best-selling author, Middle East analyst, and Evangelical leader, he lives in Jerusalem with his wife and sons.
Popular Articles
A message from All Israel News
Help us educate Christians on a daily basis about what is happening in Israel & the Middle East and why it matters.
For as little as $5, you can support ALL ISRAEL NEWS, a non-profit media organization that is supported by readers like you.
Donate to ALL ISRAEL NEWS
Latest Stories
Comments