Facebook shuts down world's biggest pro-Israel Facebook page with 77 million followers rather than protect it from massive cyberattack by radical Islamists
Founder of Jerusalem Prayer team tells ALL ISRAEL NEWS what happened and why he and the Israeli government are fighting back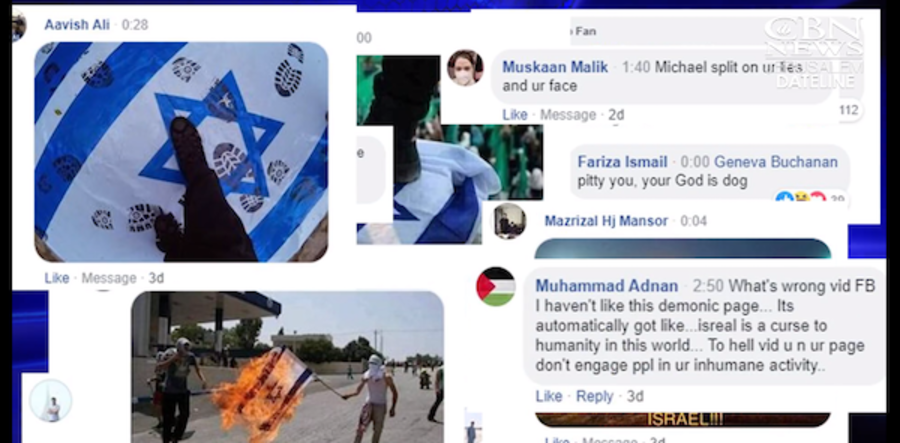 (Screenshot: Jerusalem Dateline Facebook page)
JERUSALEM—At the peak of the recent Gaza war between Israel and the Hamas terrorist organization, Facebook suddenly shut down the world's largest pro-Israel website. 
The "Jerusalem Prayer Team" page had built up an audience of 77 million followers around the world.
Its founder, Mike Evans, told ALL ISRAEL NEWS what happened and how he is fighting back.
WHAT IS THE JERUSALEM PRAYER TEAM?
The Facebook page was created by Evans, an Evangelical Christian based in Dallas, in 2002.
Today, the page is run by him and his son.
Evans is also the founder of the Friends of Zion Museum in Jerusalem, increasingly popular both with Israelis and foreign visitors who learn the story of how Christian Zionists helped Israel become a nation in 1948 and how Christian Zionists have stood with Israel and the Jewish people over the years.
The Jerusalem Prayer Team site seeks to educate people about events and trends in Israel and the Middle East, and encourage them to "pray for the peace of Jerusalem," as commanded by King David in the Bible in Psalm 122:6.
It is not just Christians and Jews who follow his site, Evans said.
"We have 18 million Muslims who were happy members of the Jerusalem Prayer Team because Muslims also pray for peace," he said.
Yet Facebook shut it down in the heat of the war, claiming the site was "violating the rules" and for "inauthentic behavior."
In fact, Evans told ALL ISRAEL NEWS, the site was the target of "the biggest cyberattack on Facebook in Facebook history" by radical Islamist groups throughout the Middle East.
Last Wednesday, Evans said, "over 800,000 hate comments and posts came within an hour."
"Our team was trying desperately to contact Facebook" to get assistance in countering the attack, Evans said, "but we were ignored."
"The same thing happened Thursday, and again on Friday," Evans said.
Evans said Facebook has "some of the best security in the world" to prevent hate speech.
Yet rather than protect the Jerusalem Prayer Team site, Facebook allowed the site to get hit with "2 million examples of hate speech," then shut it down.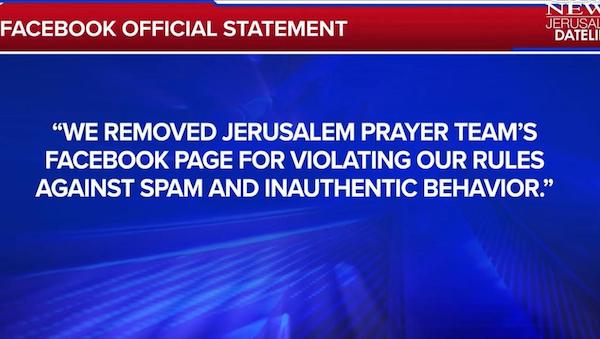 (Screenshot: Jerusalem Dateline)
This is not a political site, Evans said.
"The only thing the Jerusalem Prayer Team does is ask people to pray."
MOBILIZING ISRAELI AND US GOVERNMENT SUPPORT AGAINST FACEBOOK
"These days Israel is in a battle against media bias," Evans said.
And he is determined to fight back.
"I went four days without sleep," Evans said, who then flew from Dallas to Israel in the midst of the Gaza war.
"The State of Israel is defending me through the foreign ministry," he told me.
Evans, who is close to Prime Minister Benjamin Netanyahu and other senior government officials, has been in regular contact with Israeli leaders about the matter and said he has more meetings planned for Tuesday.
He has also reached out to powerful friends on Capitol Hill and throughout Washington for assistance.
"I am also asking the federal government to depose me and Mark Zuckerberg under oath" about this matter.
MAINSTREAM MEDIA IGNORING THE STORY, BUT CONSERVATIVES ARE OUTRAGED
Evans has also been trying to persuade journalists to cover the story.
So far, he has found no takers in the mainstream media.
But Evangelicals and conservatives in the U.S. are outraged, citing the Facebook move as the latest example in Big Tech censorship.
The Jerusalem bureau of the Christian Broadcasting Network was the first to break the story of the cyberattack on the Jerusalem Prayer Team page on May 18.
"This was a very clever, deceptive plan by Islamic radicals" to shut down the leading pro-Israel site, Evans told CBN News.
Israel's Arutz Sheva news site published a story later that evening, reporting that "the campaign against the page started last week" when "anti-Israel activists…began flooding it with serious anti-Semitic comments, which also include photos and quotes by Hitler."
Day by day, more conservatives have begun to focus.
On May 19, the New York Post wrote a brief story.
On May 20, Fox News published its own story online.
On May 21, Human Events, a prominent conservative newspaper, published its own story, reporting that Facebook had informed the Jerusalem Prayer Team executives that they had violated the terms of service, that the ban was permanent, but reported that the Big Tech giant did not explain with any specificity what the page had done wrong.
"In today's day and age, being conservative and being pro-Israel are one in the same," Human Events commented. "If you defend Israel, your page is violating the terms of service. But, anyone who wants to spew anti-Israel sentiment is welcomed to do so." 
Yesterday, Sean Hannity – the conservative TV and radio host with 5.3 million followers on Twitter – tweeted out the Human Events story.
Facebook Shuts Down Prayers for Israel Page with Over 77 Million Followers https://t.co/peuuI3qH9x

— Sean Hannity (@seanhannity) May 23, 2021
Today, Sen. Ted Cruz, the Texas Republican and former presidential candidate, retweeted Hannity's Tweet and wrote, "This…is…nuts."
This.......is.......nuts. https://t.co/0cWvpZLBeC

— Ted Cruz (@tedcruz) May 24, 2021
What now?
Will Facebook restore the Jerusalem Prayer Team site or let the radical Islamists win?
ALL ISRAEL NEWS will continue to cover the story as it unfolds.

Joel C. Rosenberg is the editor-in-chief of ALL ISRAEL NEWS and ALL ARAB NEWS and the President and CEO of Near East Media. A New York Times best-selling author, Middle East analyst, and Evangelical leader, he lives in Jerusalem with his wife and sons.
A message from All Israel News
Help us educate Christians on a daily basis about what is happening in Israel & the Middle East and why it matters.
For as little as $5, you can support ALL ISRAEL NEWS, a non-profit media organization that is supported by readers like you.
Donate to ALL ISRAEL NEWS
Current Top Stories
Comments