WILL BIDEN LOSE CONTROL OF CONGRESS? Ahead of Israel trip, exclusive new poll finds 57% of all Americans – 78% of Evangelicals – disapprove of Biden's performance, and 71% say US on wrong track
US President Joe Biden delivers his first State of the Union address before lawmakers in Washington, DC, March 1, 2022. (Photo: Pool/Sipa USA)
WASHINGTON, D.C.—Eighteen months into his presidency, Joe Biden is in serious trouble.
When he entered the White House in January 2021, Biden's approval ratings were hovering around 56%, while his disapproval numbers were only around 35%, according to the Real Clear Politics average of all polls at the time.
Now the exact opposite is true.
The American people are turning on him.
As Biden prepares to visit Israel and Saudi Arabia between July 13 and 16, an exclusive new poll commissioned by ALL ISRAEL NEWS finds that 56.8% of all Americans over the age of 18 now disapprove of Biden's performance as president.
Only 40.5% approve.
Fully 71% of all Americans say the country is on the wrong track.
Only 21.8% say the country is on the right track.
Not surprisingly, 90.5% of Americans who voted for Trump in 2020 say the country is on the wrong track.
Noteworthy is that 52.9% of Biden voters also say the country is on the wrong track.
Nearly 6–in-10 Americans Jews (57.7%) – a significant block of voters who supported Biden in 2020 – feel the same way. 
What's more, 81.6% of Americans who describe themselves as neither Democrats or Republicans but as Independents, say the country is on the wrong track.
Image: Real Clear Politics
THE ECONOMY – NOT ISRAEL, IRAN OR ABORTION – IS DRIVING THIS ELECTION CYCLE
The issue that Americans say they care about most – by far – is the economy.
Some 53.8% say the poor economic situation is driving their voting decisions. 
Only 11.3% of Americans say that national security or foreign policy issues – including matters related to Israel, Iran or the Abraham Accords – are at the top of their agenda right now. 
It's not that Americans don't care about Israel or Middle East issues. But pocketbook issues are most pressing right now.
Even with the Supreme Court's decision to overturn Roe v. Wade, only 5% of Americans say the abortion issue is their top concern. This could change, however, and should be watched closely. 
Right now, the poll revealed that Americans overwhelmingly want Biden to reduce inflation, reduce gas prices, improve economic growth, create jobs and reduce taxes and spending.
Yet they do not see him doing any of this – not yet, anyway.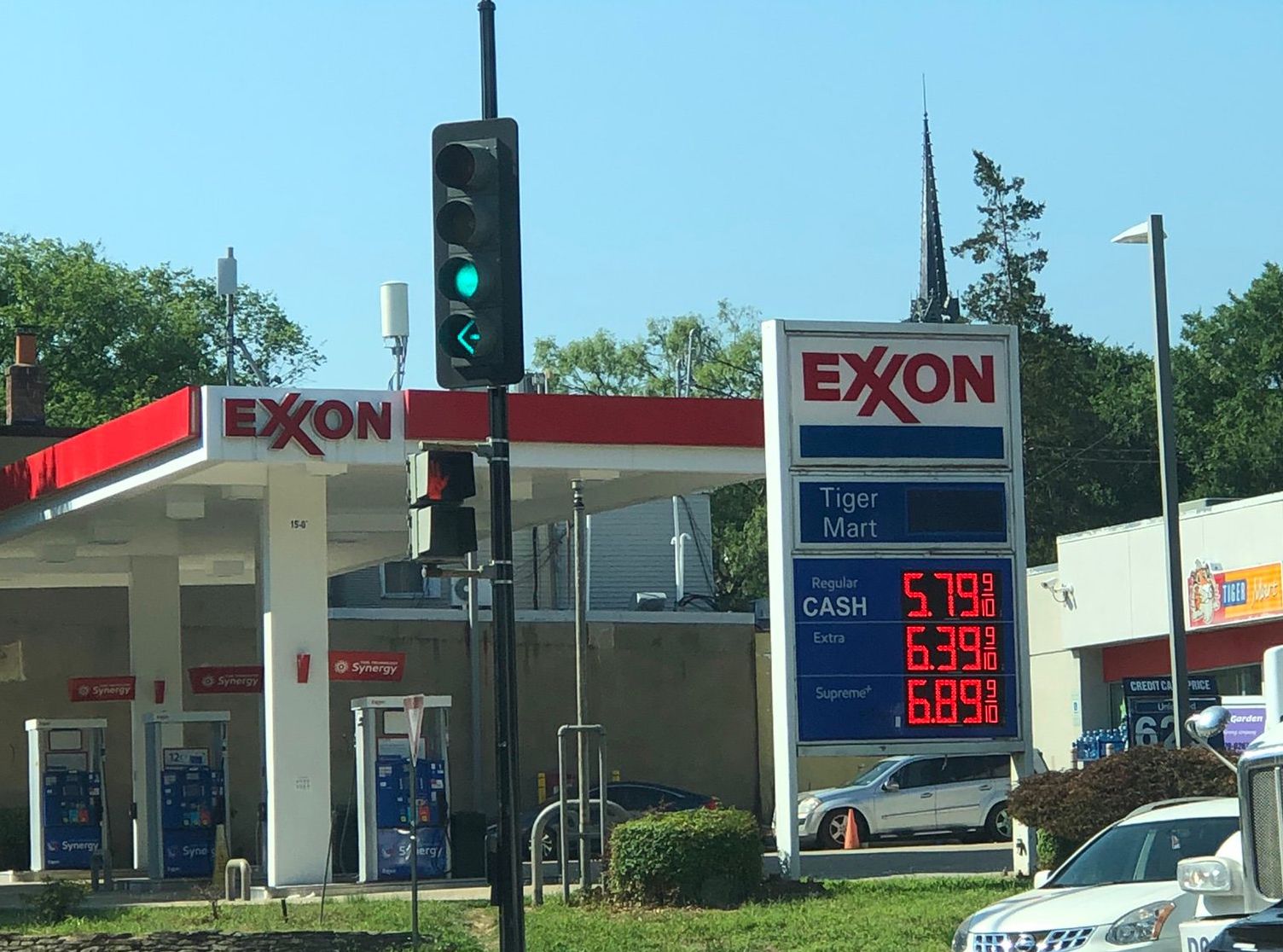 Exxon gas station showing high gas prices (Photo: ALL ISRAEL NEWS)
WHO TOOK THE POLL?
The exclusive national poll was conducted by McLaughlin & Associates, a nationally known and widely respected polling firm that has conducted scientific opinion surveys over the years for corporations, non-profit organizations, members of Congress, and American presidents, as well as for foreign leaders, including in the State of Israel.
Taken last month between June 17 and 22, the poll asked questions of 1,000 Americans aged 18 and over. 
The survey has a 3.1% margin of error, plus or minus, at a 95% confidence interval.
Near East Media – which oversees ALL ISRAEL NEWS and ALL ARAB NEWS – is a non-profit, non-partisan, and non-political organization incorporated in the State of Virginia. The purpose of this survey was to better understand how the American people view events and trends in Israel and the Arab/Muslim world, and to better understand who is likely to lead the world's only superpower in the months and years ahead, and how this might affect Israel and the people of the Middle East. The results are not intended for partisan political purposes, or to influence legislation at the international, federal, state or local levels.    
That said, let's now dig deeper into the data.
HOW DO EVANGELICALS VIEW BIDEN?
Among Evangelicals, Biden's situation is far worse. 
Among born again Evangelicals of all races, fully 67.4% disapprove of Biden's performance.
Among white Evangelicals, 78.2% disapprove of Biden.
Black Evangelicals see Biden much more positively – 58.6% approve of his performance while only 35.6% disapprove.
Hispanic Evangelicals are far more closely divided – 46.9% approve of Biden while 53.1% disapprove.
IS A RED WAVE BUILDING?
Right now, control of the U.S. Senate lies in Democratic hands – though barely.
Democrats have 48 senators, plus two Independent senators who usually vote with them.
Republicans have 50 senators.
Technically, that's a tie.
But under the Constitution, the vice president – in this case, Kamala Harris – serves as the "President of the Senate."
That makes Harris the tie breaker, thus giving Democrats operational control of the Senate.
In the House of Representatives, out of a total of 435 seats, Democrats have 222 seats.
Republicans have 212.
That makes Democrat Rep. Nancy Pelosi the speaker of the House.
However, more and more data suggests that these Democratic majorities in Congress are in danger.
For example, our survey found that 47.8% of all American voters plan to vote for the Republican candidate in their Congressional district in November, while 44.1% say they plan to vote for the Democratic candidate.
The 3.7 point gap – if it holds, much less expands – could prove significant.
Perhaps more noteworthy is that 7.2% of those who voted for Biden in 2020 say they plan to vote for a Republican candidate for Congress in November. 
This is why many political analysts here, though not all, believe that a "red wave" is building in which voters in swing districts and swing states – and even in some traditionally solid Democrat Congressional districts – are going to vote "red" rather than "blue" in massive numbers. That is, they are going to vote for Republican candidates rather than Democratic ones. 
If that is the case in November, control of both chambers of Congress might just flip into Republican majority control.

Joel C. Rosenberg is the editor-in-chief of ALL ISRAEL NEWS and ALL ARAB NEWS and the President and CEO of Near East Media. A New York Times best-selling author, Middle East analyst, and Evangelical leader, he lives in Jerusalem with his wife and sons.
A message from All Israel News
Help us educate Christians on a daily basis about what is happening in Israel & the Middle East and why it matters.
For as little as $5, you can support ALL ISRAEL NEWS, a non-profit media organization that is supported by readers like you.
Donate to ALL ISRAEL NEWS
Current Top Stories
Comments