OPEN LETTER TO ISRAELI LEADERS
VERY URGENT: Israeli leaders, please evacuate Palestinian Christians out of Gaza and into the West Bank immediately – these Christians face genocide by Hamas if they are forced to move south
A view of the Greek Orthodox Saint Porphyrius Church that was damaged by an Israeli strike, in Gaza City, October 20, 2023. (Photo: REUTERS/Mohammed Al-Masri)
JERUSALEM, ISRAEL – With the greatest degree of urgency, I am writing this open letter to Israeli leaders at the highest levels of our government and the military.
Palestinian Christians in northern Gaza are in extreme danger.
And the situation is becoming worse by the hour.
They must not be moved south.
They must be evacuated to the West Bank immediately.
Let me explain why.
First, let me be clear: Palestinians who love Jesus Christ and are called to follow Jesus are not members of Hamas.
They are not supporters of radical Islamist terrorism.
They do not support the terror attacks on Israel.
They just want to live in peace and be free to follow the Bible and love their neighbors.
But right now they are in an impossible situation.
They are trapped in northern Gaza – amid all the bombings and gunfire – and have nowhere in Gaza to go that is safe.
The policy of the Israeli Defense Forces has understandably – and rightly – been to urge all Palestinians in and around Gaza City to flow to sanctuary areas in the south of the Gaza Strip where they will be safer from Israeli military operations, and have access to food, clean water, and medical care.
I have strongly supported this policy.
Indeed, I have publicly praised Israel's civilian and military leadership for this policy of showing such care and compassion for innocent Palestinian civilians.
But let's be clear: The situation for Palestinian Christians is very, very different than that of Palestinian Muslims.
Palestinian Christians are terrified of being forced to go south.
Why?
Because they have seen the genocide that ISIS launched against Christians in Iraq and Syria just a few years ago.
Palestinian Christians are therefore terrified that they will be slaughtered if they go south.
They are terrified that their wives and daughters will be raped if they go south.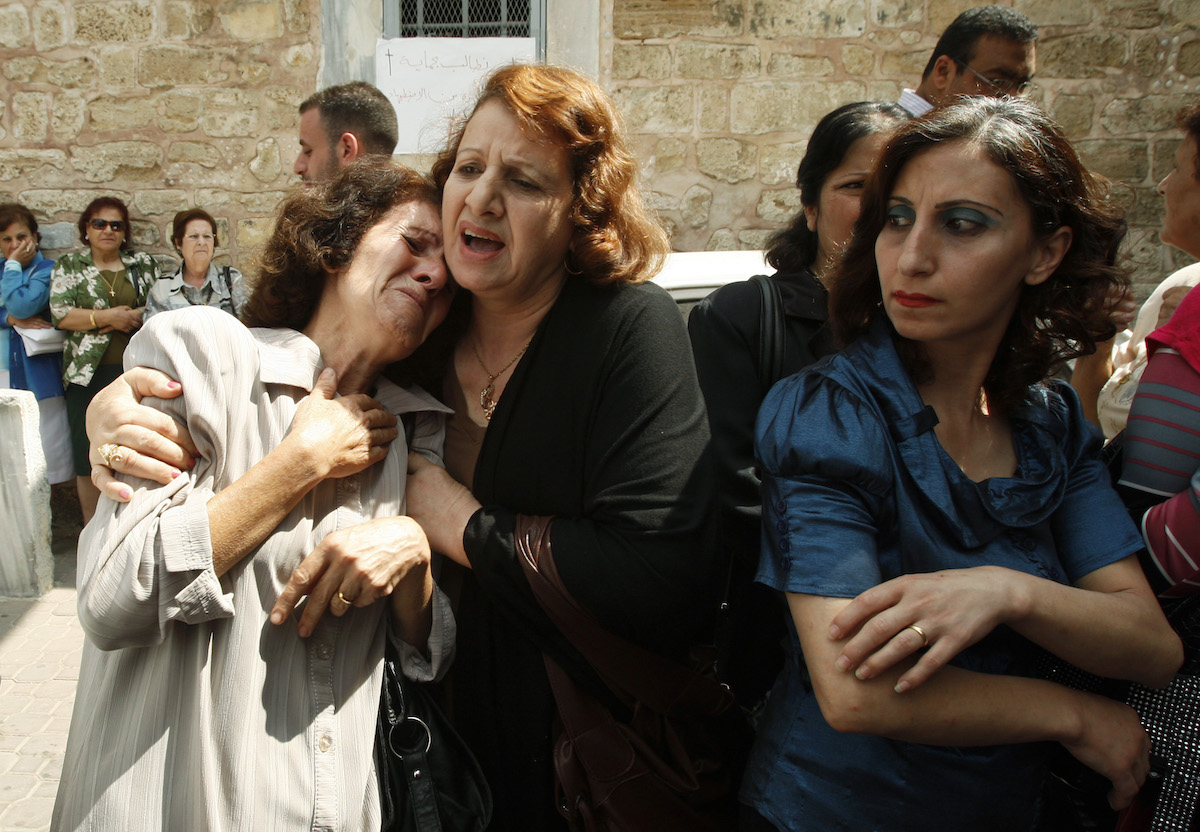 Palestinian Christians react during a protest in front of the Saint Porphyrius Church in Gaza City, against what they say is a forced conversion to Islam July 22, 2012. (Photo: REUTERS/Ahmed Zakot)
If they are forced out of the historic church buildings – the safe havens, in which they are currently sheltering in and around Gaza City – and are sent to the south, they believe they face genocide, too.
There are no safe havens for Christians in southern Gaza.
As followers of the crucified and risen Christ – Jesus of Nazareth – they are considered pagans, and heathens, and idol-worshippers by Hamas, Palestinian Islamic Jihad, and all violent Islamist extremists.
The Christians know the ancient and very recent history of this region.
Therefore, they know that they can expect no mercy from Hamas and the others in the south.
Reports indicate that the IDF has ordered all Palestinian Christians in northern Gaza to evacuate the three churches they are currently sheltering in and move south in the next five days.
But if they do, Hamas and the other terrorists will do to the Christians exactly what they did to Israeli Jews on Oct. 7 at the music festival, in Sderot, Ofakim, Kfar Aza, Kibbutz Be'eri, Kibbutz Nahal Oz, and all the other communities on the Gaza border.
Butcher them.
Behead them.
Burn them alive.
But only after raping, torturing and mutilating them.
Please – I beg of you, my government, the Israeli government – please do not let this happen.
Instead, I ask you to immediately evacuate all of these Palestinian Christians – roughly 1,000 of them – to the West Bank.
And do it quickly.
I am certain that the Palestinian Christians who live in the West Bank will warmly welcome their brothers and sisters from Gaza and make sure they have places to live.
My Evangelical Christian colleagues all over the world will then do everything possible to work with Christian NGOs and others to provide these Christians with the humanitarian aid they desperately need.
Yes, I'm sure many of the Palestinian Christians in Gaza want to emigrate to the U.S., Canada, Europe or elsewhere.
Who can blame them?
And maybe that will be possible later.
But right now, we just need to get them out of Gaza and out of danger from bloodthirsty terrorists who are still fighting to control the Gaza Strip.
To the best of my understanding, there are 590 Christians sheltering in the Catholic Church under the Latin Patriarchate in Gaza City.
In the Greek Orthodox church, some 350 Christians are sheltering. 
At Deir El Balah, another 53 Christians are taking shelter. 
These 1,000 or so Christians need help and they need it now.
"As the war is going on, the tanks are surrounding or near the churches," one dear Christian friend of mine with direct knowledge of the situation wrote to me today.
"Now the Israeli army is insisting that they leave and go south, which is also not safe. They already are in a very bad situation. Conditions are very bad. They are struggling to survive and to find food, medicine, and water. They are crowded, sleeping on chairs or very thin mattresses. In some places, the smell of sewers where they hide is so bad they cannot sleep during the shelling."
"Already over 20 of them have been killed, and they are very close to our hearts," my Christian friend explained. "A couple of days ago, four more were injured due to the shelling. We have been in constant contact with them. They are desperate to leave – but not to the south where it is not safe."
"Dearest Joel, we are asking you, in the name of Jesus, to help them and find a way to help them while they are in the churches or find another way to get them to a safe place," he wrote.
"Jesus came to give them life, not death," he added.
"Please, please, help them immediately! We are asking desperately for these people. Let them live!"
I have heard their cry.
And now I am sharing it with you, the top leaders of my government.
Please, move with compassion and speed to rescue these Palestinian Christians in Gaza from genocide.

Joel C. Rosenberg is the editor-in-chief of ALL ISRAEL NEWS and ALL ARAB NEWS and the President and CEO of Near East Media. A New York Times best-selling author, Middle East analyst, and Evangelical leader, he lives in Jerusalem with his wife and sons.
Popular Articles
A message from All Israel News
Help us educate Christians on a daily basis about what is happening in Israel & the Middle East and why it matters.
For as little as $5, you can support ALL ISRAEL NEWS, a non-profit media organization that is supported by readers like you.
Donate to ALL ISRAEL NEWS
Latest Stories