THE KINGMAKER BECOMES KING: Naftali Bennett – a Netanyahu protégé – is poised to be formally elected prime minister tonight in historic Knesset vote
Barring last-minute maneuver, Benjamin Netanyahu, the longest-serving premier in modern Israeli history, will be removed from power by 8 p.m. Israel time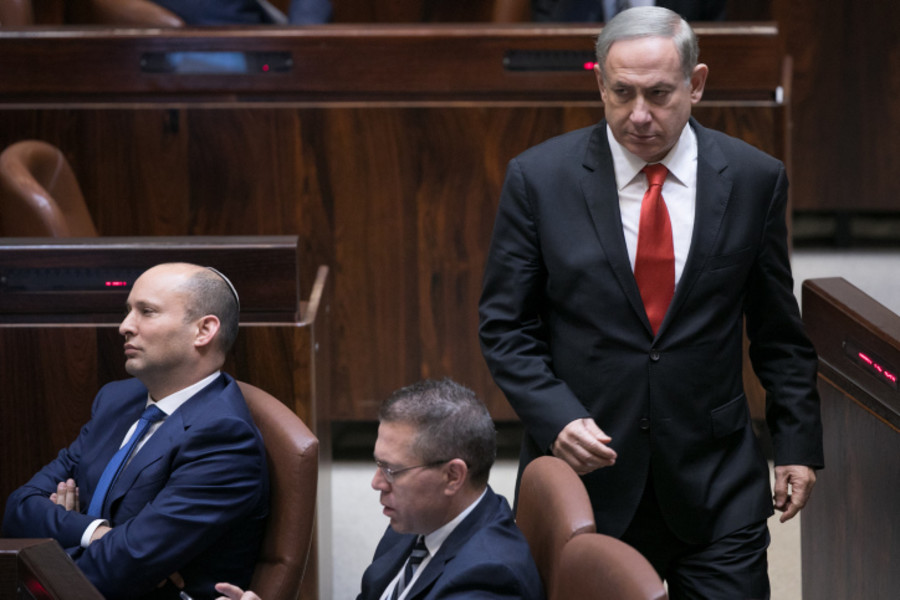 Israeli Prime Minister Benjamin Netanyahu (R) passes Yamina leader Naftali Bennett (L) during a plenary session. (Photo: Yonatan Sindel/Flash90)
JERUSALEM—Love it or hate it, history is being made in Israel tonight.
And most people outside of Israel did not see it coming.
Indeed, most pro-Israel Evangelical Christians – including most Evangelical leaders – did not see it coming.
But this is one reason we created and launched ALL ISRAEL NEWS last September – to give people who love and care about and pray for Israel, especially the world's 600 million Evangelicals, a front-row seat on what is happening here and why it's happening.
To be clear, ALL ISRAEL NEWS is a non-profit and, thus, a non-partisan site. We do not endorse political candidates or parties. Nor do we advocate that our readers vote against specific candidates or parties. Indeed, we are careful not to play favorites. We just report and analyze the news and work hard to make sure our readers know what is happening, and what might be coming.
On March 21, therefore, I published a column in Newsweek with Danny Ayalon, the former Israeli ambassador to the U.S. and member of the ALL ISRAEL NEWS advisory board, headlined: "Are Israelis About To Enter the 'Post-Netanyahu' Era?"
We were not advocating Benjamin Netanyahu's removal from power.
We were, however, assessing the discombobulated state of Israeli politics.
We were trying to explain to readers who were not watching closely that after four rounds of highly-contentious elections – in just two short but contentious years – Netanyahu's time in office might be coming to an end.
And we were raising the key question: If Netanyahu was on his way out, which Israeli leader was on his way in?
Around the same time, we published a story on the ALL ISRAEL NEWS site with this headline: "Former Defense Minister Naftali Bennett – Described by Israeli Media as 'The Kingmaker' – Gives Rare Interview To Christian Media."   
Here is how that story began:
Few people outside of Israel have ever heard of him.
But Naftali Bennett is quickly becoming one of the most interesting and politically powerful leaders in Israel.
In January, ALL ISRAEL NEWS named Bennett #17 on our list of the 21 most interesting Israelis to keep an eye on in 2021.
Today, we would have to rank him much higher.
The latest polls show that Bennett and his Yamina ("Rightward") party could emerge as the third largest after the March 23 elections, winning between 11 and 14 seats.
 With the election shaping up between the "Pro-Netanyahu" camp (those who want Benjamin "Bibi" Netanyahu to remain prime minister) and the "Anti-Netanyahu" camp, Bennett is the only leader of a major political party who has not taken sides.
That's why Israeli reporters are increasingly calling Bennett "The Kingmaker."
Netanyahu can't form a government without Bennett, but neither can the "Anti-Netanyahu" camp.
Both sides are going to have to court him aggressively once the ballots are counted.
Indeed, there is also the increasingly realistic prospect that if Netanyahu cannot form a government, the "Anti" camp may turn to Bennett and make
him prime minister.
On May 29, we published a story on ALL ISRAEL NEWS with this headline: "Is The King-Maker About To Become King? Speculation mounting that Naftali Bennett set to become Israel's next prime minister [and] form government with Yair Lapid."
Today, we have the answer.
Yes.
Barring a last-minute political maneuver or defection, Netanyahu – the longest-serving premier in modern Israeli history – will be forced to step down by 8 p.m. Israel time (1 p.m. EDT).
Naftali Bennett – a right-wing Netanyahu protégé – will be formally elected prime minister in an historic Knesset vote.
Yair Lapid – a centrist Netanyahu opponent – will become foreign minister.
The government these two men have formed will be sworn-in and an entirely new political era in Israel will begin.
People here are asking lots of questions – among them:
·       Who is Yair Lapid?
·       What will the new government accomplish?
·       How long will it last?
·       How will Netanyahu operate as the leader of the opposition?
·       Will Netanyahu actually remain in elected office, or will he soon retire, write books, give speeches, serve on corporate boards, make millions and travel the world with his wife, Sara?
·       What about the corruption cases pending against Netanyahu, how will those play out?
I can make you this promise: ALL ISRAEL NEWS will provide answers in the hours and days and weeks ahead.
We will cover this period of tumultuous and historic change for the world's 600 million Evangelicals, as well as for Jews, Muslims and others who are interested in the future of Israel and its leadership.
We will do it fairly, and accurately, and do our best to keep you ahead of the curve.
In the meantime, please continue to pray for the peace of Jerusalem, and for the Lord to have mercy on Israel, her leaders, and her neighbors.
More change is coming.
Of that you can be certain.

Joel C. Rosenberg is the editor-in-chief of ALL ISRAEL NEWS and ALL ARAB NEWS and the President and CEO of Near East Media. A New York Times best-selling author, Middle East analyst, and Evangelical leader, he lives in Jerusalem with his wife and sons.
A message from All Israel News
Help us educate Christians on a daily basis about what is happening in Israel & the Middle East and why it matters.
For as little as $5, you can support ALL ISRAEL NEWS, a non-profit media organization that is supported by readers like you.
Donate to ALL ISRAEL NEWS
Current Top Stories
Comments