WHAT DOES THE FUTURE HOLD? – Part 2
Shame on Biden: He promised to 'stop the virus,' but it's exploding – where is the cure?
At least Trump created a vaccine. Biden has delivered exploding infection rates and 400,000+ American deaths. How can Christians pray in this dark hour?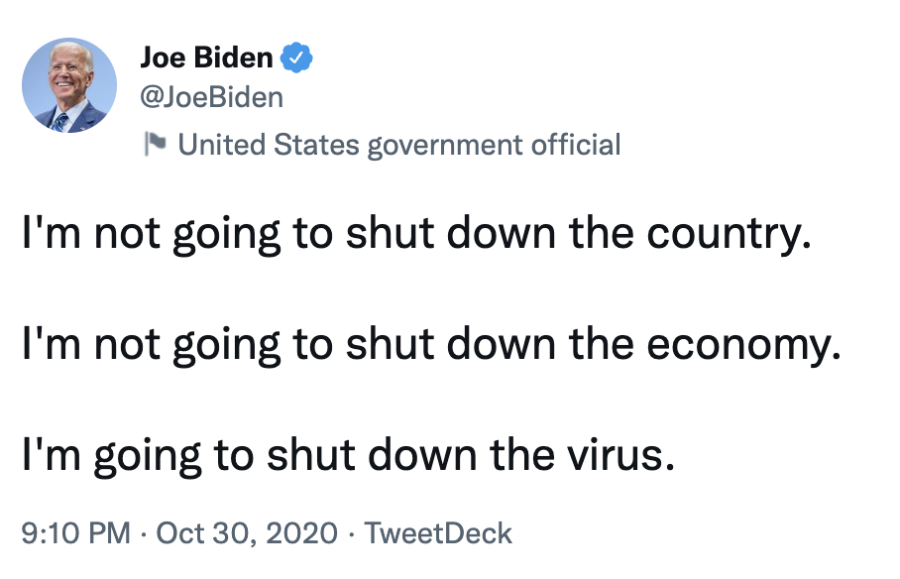 JERUSALEM—Having spent the last six weeks of 2021 criss-crossing the United States from coast to coast, now that I'm back home in Israel I have to report a terrible truth. 
U.S. President Joe Biden has absolutely no idea what he's doing to solve the biggest health crisis of our time: the COVID plague. 
TRACKING THE BIGGEST STORIES OF 2022
Last week, I wrote a column listing the 14 biggest stories that my colleagues and I at ALL ISRAEL NEWS and ALL ARAB NEWS are tracking as we head into 2022.
Now I'm working my way through this list of 14, tackling them one by one.
My first column was headlined, "Will the explosion of the Omicron strain of COVID bring mass death and global economic paralysis, or prove far milder than Delta?" 
This column also looks at the question of whether such global pandemics or plagues are prophesied in the Bible, and how to pray for this nightmare to end.
FAILED PROMISES, SURGING DEATH TOLL
Today, I want to raise the question: Will someone invent an effective cure for the coronavirus, or will COVID death tolls continue to mount with no end in sight?
So far, the death toll continues to mount. 
And Biden's promises continue to ring hollow.
"220,000 Americans dead? If you hear nothing else that I say tonight, hear this," Biden said during the second presidential debate on October 22, 2020. "Anyone responsible for that many deaths should not remain as president of the United States." 
"I will end this" pandemic, Biden then vowed.
Later in the debate he insisted, "I will shut down the virus, not the country." 
These were talking points he hammered home again and again throughout the campaign.
On Oct. 30, 2020, Biden tweeted: "I'm not going to shut down the country. I'm not going to shut down the economy. I'm going to shut down the virus."
Yet by the end of Biden's first year as president, what has he accomplished?
Has he shut down the virus? 
Hardly.
In fact, on Dec. 12, during one of his all-too-rare press conferences, Biden was forced to admit that "over 400,000 Americans died from COVID this calendar year."
You read that right – more than 400,000 Americans died from COVID in 2021.
How terribly tragic. How brutally painful. 
Think about that number. 
That's how many Americans died in all of the fighting in World War II.
That's nearly twice the number of COVID deaths that Biden told us disqualified a man from serving as president of the United States.
BIDEN SAYS THE FUTURE WILL BE WORSE
That would be bad enough.
But Biden now says it's only going to get worse, warning Americans of a "winter of severe illness and death."
Say what you want about the leadership of Donald Trump and Mike Pence.
At least they moved heaven and earth to create and deliver a vaccine. 
What has Biden created?
A cure to end this coronavirus plague once and for all?
Hardly.
Wouldn't that make sense to save millions of lives at home and abroad?
It would.
"NO FEDERAL SOLUTION"
One year after coming into office promising he absolutely would "end the virus," Biden is saying that this explosion of infections and astronomical death toll is not his fault and that there is nothing he can do to stop it.
"Look, there is no federal solution," he said on Dec. 28, saying the solution can only be found at the state level. 
Wasn't his whole point in the 2020 campaign that there was a federal solution, but that Trump didn't have a plan, and he did?
Isn't the whole point of his federal vaccine mandate on businesses of 100 or more employees that there is a federal solution to this crisis?
I believe Biden's mandate is terrible and unconstitutional and should be shut down by the Supreme Court.
But Biden's hypocrisy is even worse.
BIDEN'S APPROVAL RATING ON COVID IS DROPPING STEADILY
Americans are watching all this, and are not happy.
"President Joe Biden's overall disapproval rating reached a new high in December as more voters signaled their unhappiness with his handling of the economy and the Covid pandemic," reports CNBC.
Excerpts worth noting:
"56% of voters now say they disapprove of the job Biden is doing, the worst such reading of his presidency as he approaches the end of his first year in office, according to new CNBC/Change Research poll."


"60% of respondents said they disapprove of Biden's handling of the economy as he nears the conclusion of his first year in office."


"A 55% majority of survey respondents also signaled disapproval of his leadership during the pandemic, an area in which he previously excelled."

HOW SHOULD CHRISTIANS PRAY? 
Like his disastrous surrender of Afghanistan to the Taliban terrorists, and his disastrous failure to stanch skyrocketing prices and end inflation, Biden's leadership on COVID has also been disastrous.
I wish it wasn't. 
Even though I didn't vote for him and oppose many of his domestic and foreign policies, I wish I could give him credit for "stopping the spread" and "ending the virus" like he promised to do. 
But I can't.
Because he hasn't. 
More than 400,000 Americans have died on Biden's watch.
Many more are yet to die.
And the whole world is watching. 
Yet as bad as all this is, we need not despair.
I believe the Lord is using this plague to shake nations and governments, individuals and families. 
Thousands of years ago, the Lord spoke through the ancient Hebrew prophet Haggai, to warn: "I will shake all the nations." (Haggai 2:7)
Likewise, the Lord spoke through the ancient Hebrew prophet Amos to specifically warn the nation of Israel, saying: "For I will give the command, and I will shake the people of Israel among all the nations." (Amos 9:9)
Why?
Because He's trying to get our attention.
He wants people in every nation to turn to Him and to His Holy Scriptures for help, for healing and for hope both now and forever. 
What's more, He's shaking His Church, trying to draw followers of Jesus Christ to let go of the things of this world, turn away from sin and selfishness, cling more closely to Him, to speak more boldly of His Word, and to be far more "joyful in hope, patient in affliction, [and] faithful in prayer." (Romans 12:12, NIV)
Therefore:
Let's pray that people in every nation – including our own – who feel scared and confused and lonely and sick (physically and spiritually) will turn to the Lord for His answers and His comfort. 

Let's pray that people in all nations – and specifically in Israel – will study 2 Chronicles 7 and apply what they read to this moment in history. "The Lord appeared to him [King Solomon] at night and said: 'I have heard your prayer and have chosen this place for myself….When I shut up the heavens so that there is no rain, or command locusts to devour the land or send a plague among My people, if My people, who are called by My name, will humble themselves and pray and seek my face and turn from their wicked ways, then I will hear from heaven, and I will forgive their sin and will heal their land." Are these verses not precisely applicable to our times?

Let's pray that a safe and effective cure for COVID is found – and soon. 

Let's pray for the Lord to fully and completely heal all those who have contracted COVID and comfort those who are ill. 

Let's pray that the Lord blocks governments from using this crisis to rob people of their God-given human rights, and civil liberties and economic ability to thrive much less survive.

Let's pray, too, for true spiritual revival to sweep through the Church – let us pray He purifies leaders from corruption and confusion and distraction, and purifies lay people to hunger for His Word, hunger to become more faithful disciples, walk more faithfully in the power of the Holy Spirit, and boldly and courageously seek to fulfill the Great Commission.

Let's also pray for President Biden to admit what a disastrous job he is doing, apologize and seek the Lord God of the universe for wisdom and direction in this dark hour. 
We are not powerless.
We serve a prayer-hearing and a prayer-answering God, an all-powerful God, wonder-working God.
Rather than despair, let's turn to our God with all our hearts.

Joel C. Rosenberg is the editor-in-chief of ALL ISRAEL NEWS and ALL ARAB NEWS and the President and CEO of Near East Media. A New York Times best-selling author, Middle East analyst, and Evangelical leader, he lives in Jerusalem with his wife and sons.
A message from All Israel News
Help us educate Christians on a daily basis about what is happening in Israel & the Middle East and why it matters.
For as little as $5, you can support ALL ISRAEL NEWS, a non-profit media organization that is supported by readers like you.
Donate to ALL ISRAEL NEWS
Current Top Stories
Comments