WHAT DOES THE FUTURE HOLD?
Here are the 14 biggest global & Middle East stories I'm tracking as we head into 2022
Will the coming year bring hope or heartbreak?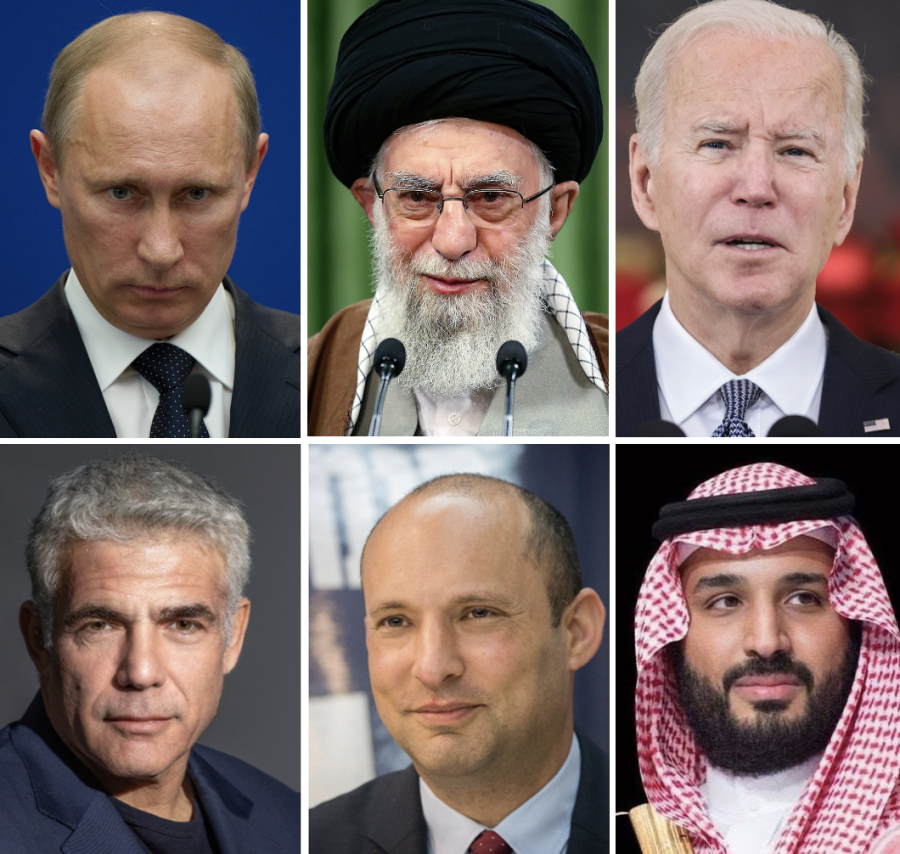 (From top left to bottom right) Russian President Vladimir Putin, Iranian Ayatollah Ali Khamenei, U.S. President Joe Biden, Israeli FM Yair Lapid, Israeli PM Naftali Bennett, Saudi Arabian Crown Prince Mohammed bin Salman
WASHINGTON, D.C.—I'm not in the business of making predictions.
Some of my novels have seemed eerily prescient, I concede, but I've never claimed to be a psychic, a seer, a clairvoyant or a modern Nostradamus. 
The God of Abraham, Isaac and Jacob – that is, the God of the Bible – knows the future. 
I do not.
That's why the Lord states so clearly in the Scriptures: "Only I can tell you the future before it even happens. Everything I plan will come to pass, for I do whatever I wish." (Isaiah 46:10, New Living Translation)
As we head into 2022, therefore, I have no intention of making geopolitical predictions or social and cultural prognostications.
But in a moment I will share with you the 14 biggest global and Middle East stories that I'm tracking closely as we head into this new year.
SURVEYING THE LANDSCAPE
Today, I'll just list them to give you a sense of what I find myself thinking and praying about the most these days when I survey the domestic and international landscape, especially as a dual U.S.-Israeli citizen. 
Over the next several weeks, however, I plan on writing a column about each one of these stories to go into more depth.
As we move deeper into the year, I will also be asking leaders I respect and trust to provide their perspectives on these stories, among others.
Over the past six weeks, I've been traveling  across the United States – from Denver to Los Angeles to San Diego to Dallas to Naples to Boca Raton to Palm Beach to Jacksonville to Savannah to Lynchburg to Manhattan to the Washington, D.C. area.
Why?
To meet with CEOs, government officials, pastors, professors and Evangelical leaders to hear their assessment of where America, Israel and the world are headed, to share with them my perspective, and discuss possible new projects and strategic initiatives. 
I've also been attending board meetings and strategy meetings with various non-profit ministries and organizations, doing media interviews, speaking at the Ronald Reagan presidential library about my latest book – "Enemies and Allies" – and even having dinner at Mar-a-Lago and spending time with former U.S. President Donald J. Trump.
It's been a fascinating, sobering, eye opening trip.
And now, Lord willing, I'm heading home to Israel, to Jerusalem, to the epicenter of the world. 
To write new columns for ALL ISRAEL NEWS and ALL ARAB NEWS based on all that I've been seeing and hearing and learning. 
To record new podcasts – "Inside the Epicenter with Joel Rosenberg" – for The Joshua Fund.
To finish a new novel.
To reconnect with dear friends, colleagues and sources.
To forge new friendships, new partnerships and new sources.
And to study the Scriptures and seek the Lord in prayer with renewed passion and hunger.
DISCERNING THE TIMES
I can't say what 2022 will hold.
But I can say: buckle up.
Will the new year bring war or peace? Terror or triumph? Hope or heartache?
We can be certain of one thing: it's going to be a bumpy ride.
And the Bible commands us to be paying close attention and to be seeking to understand what's happening, why it matters, and how it should change what we say, what we do and where we invest our time, talent and treasure. 
In I Chronicles 12:32, "the sons of Issachar" were commended above their brothers as "men who understood the times and knew what Israel should do."
In Ecclesiastes chapter 3, King Solomon writes that "there is an appointed time for everything" and "there is a time for every event under heaven" and that wise men and women must be able to understand and accurately discern the times.
In Luke 12:56, Jesus sharply criticizes His followers for being so focused on trying to predict the weather yet failing to carefully assess current events and trends to understand what God was doing in the world.
"You hypocrites! You know how to analyze the appearance of the earth and the sky, but why do you not analyze this present time?"
14 QUESTIONS
In that context, then, here are 14 questions that I'm tracking, praying about, and seeking answers to as we begin 2022.
Will the explosion of the Omicron strain of COVID bring mass death and global economic paralysis, or prove far more mild than Delta?

Will someone invent an effective cure for the coronavirus, or will COVID death tolls continue to mount with no end in sight?

Will the forces of Big Government, Big Tech and Big Brother continue to gain power over us in 2022, or will the forces of freedom regain the momentum? 

Will the Vienna talks fail and the U.S. and/or Israel decide to strike Iran's nuclear sites with military force?

If no one neutralizes Iran's nuclear program, will Tehran choose this year to "break out" and build The Bomb?

Will Vladimir Putin invade Ukraine and/or the Baltic States this year, or will the world stop him?

Will Communist Chinese leaders invade Taiwan this year, or will the world stop them?

Will Saudi Arabia decide it's time to sign an historic peace treaty with Israel – and will Biden help or hinder normalization? 

Will Israel's unique coalition government hold together, or collapse?

Will Israel finally reopen its borders to tourists, business travelers, and all foreign guests?

Is America headed for implosion or a Great Awakening? 

Will the Supreme Court overturn Roe v. Wade?

Will U.S. President Biden prove healthy enough to remain in office, or will he be forced to resign or even be removed from office under the 25th amendment? 

Will Democrats remain in control of the U.S. House and Senate, or will Republicans win control in the November mid-term elections and alter the balance?
Each of these are sobering questions with serious implications for our lives.
So, let's explore them together over the coming weeks.

Joel C. Rosenberg is the editor-in-chief of ALL ISRAEL NEWS and ALL ARAB NEWS and the President and CEO of Near East Media. A New York Times best-selling author, Middle East analyst, and Evangelical leader, he lives in Jerusalem with his wife and sons.
A message from All Israel News
Help us educate Christians on a daily basis about what is happening in Israel & the Middle East and why it matters.
For as little as $5, you can support ALL ISRAEL NEWS, a non-profit media organization that is supported by readers like you.
Donate to ALL ISRAEL NEWS
Current Top Stories
Comments