WHAT DOES THE FUTURE HOLD? – Part 1
Will the explosion of the Omicron strain of COVID bring mass death and global economic paralysis, or prove far milder than Delta?
Here's part 1 of what to watch in 2022, why this pandemic is biblically prophetic, and how we ought to pray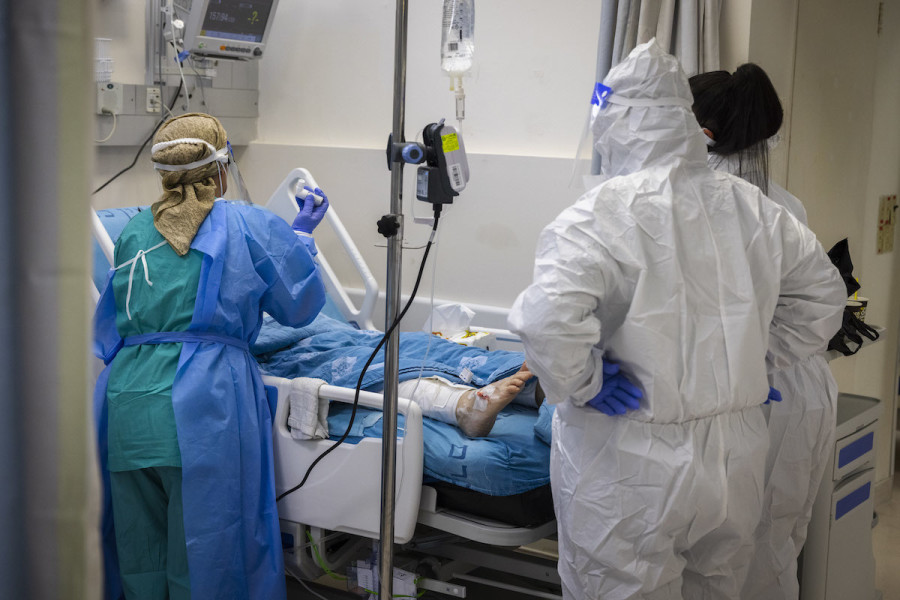 Hospital staff wearing safety gear as they work in the COVID-19 ward of Hadassah Ein Kerem Hospital in Jerusalem, Dec. 27, 2021 (Photo: Olivier Fitoussi/Flash90)
JERUSALEM—Over the weekend, I wrote a column listing the 14 biggest stories that my colleagues and I at ALL ISRAEL NEWS and ALL ARAB NEWS are tracking as we head into 2022.
Today, I'm filing part one of this 14-part series of columns, examining what stories you should watch closely this year, why they matter, and some suggestions on how to pray.
I hope you find each column helpful. Please don't hesitate to share with family and friends on social media.
WHAT TO WATCH
I just returned home to Jerusalem after six weeks crosscrossing the U.S. for meetings, speeches and media interviews.
While I was there primarily to brief faith, business, and government leaders – and other journalists – on what's happening in Israel, Iran and the broader Middle East and North Africa, every conversation inevitably turned to the COVID surge and what it means.
One of the questions I was asked repeatedly: Was this global pandemic prophesied in the Bible? 
I'll get to that answer in a moment. 
First, here are some things to watch:

Will Omicron persuade governments to shut down their borders?
Israel certainly has.
Given that the Israeli government now considers the U.S. a "red country" due to the explosion of the Omicron strain of COVID, Americans who do not have Israelis citizenship are not allowed into the country.
This is having a devastating effect on our tourism sector, among other sectors of our economy. 
Israeli citizens are not permitted to travel to red countries.
Fortunately, I left just before that order was issued.
Now that I'm back, I must be in quarantine here at home for at least seven days.
That's right, like all Israelis returning from a "red country," I was required to go into "bidud" – the Hebrew term for isolation – even though I am fully vaccinated (two shots plus a booster), even though I tested negative for COVID in Virginia just two days before flying, and even though I tested negative again at Ben-Gurion International Airport upon landing. 
(I will be tested again after seven days in isolation. If my test is negative again, only then will I be released.)
As ALL ISRAEL NEWS reported yesterday, COVID cases are surging once again here in Israel, and there is a sharp divide over how bad it's going to get and what the government should do.

How many people around the globe will become infected with the Omicron strain?
It's certainly moving lightning-fast.
As of right now, more than 294 million people worldwide are actively infected with all strains of COVID, and the percentage of Omicron cases is spiking. 
(NOTE: To go deeper and get more facts, figures and quotes about the Omicron surge, please see this separate article.)

How deadly will Omicron prove to be?
Most people who get COVID will be just fine, suffering mild symptoms.
But not all.
As of right now, more than 5.4 million have died from COVID worldwide since the beginning of the pandemic.
That number will certainly grow – but how high and how fast?
WHY IT MATTERS
Keep an eye on hospitalization rates in your country and worldwide.
Here's why: Just because many more people are being infected doesn't mean they will all have to be hospitalized, much less that many are going to die.
But if you see a trend towards a serious shortage of available beds in hospitals in your city, state or province, then that will be a critical red flag.
What's intriguing to me is that the global explosion of COVID infections over the past month or so does not appear to be leading to an exploding death count.
Not yet, anyway.
So, the big question, then, is this: while Omicron appears far more contagious than previous strains – and thus is much faster spreading – is it really a mortal threat to our lives and livelihoods, or is it milder and thus much less deadly than previous waves?
Some health experts have been sounding apocalyptic alarm bells. 
Some governments, therefore, have moved quickly to shut down their borders and impose sweeping new restrictions on their citizens' freedom of movement.
All of this has a huge psychological and emotional toll on people, and can further devastate economies already gasping for oxygen. 
Yet other experts are saying that such decisions are a serious overreaction.
They say it would be better to re-open borders to freer travel and stop imposing such draconian  measures on businesses and consumers. 
Based on what I'm seeing and hearing from experts – the data, and anecdotally – I strongly lean towards the latter.
But the jury is still out.
And the stakes are very high. 
That's why this matters, and why it is the most important story that we're tracking in 2022.

HOW TO PRAY
Whatever you do, don't lose hope.
Yes, we are in a terrible pandemic unlike anything the world has seen in 100 years.
Yes, I believe we are experiencing one of the "birth pangs" that the Lord Jesus prophesied in Luke 21 when He said that the world would experience terrible "pestilences"– that is, horrific, deadly diseases and plagues – in the "last days" leading up to the Messiah's return to earth.
And yes, I believe the Lord is using this plague to shake nations and governments, individuals and families. 
Thousands of years ago, the Lord spoke through the ancient Hebrew prophet Haggai, to warn: "I will shake all the nations." (Haggai 2:7)
Likewise, the Lord spoke through the ancient Hebrew prophet Amos to specifically warn the nation of Israel, saying: "For I will give the command, and I will shake the people of Israel among all the nations." (Amos 9:9)
Why?
Because He's trying to get our attention.
He wants people in every nation to turn to Him and to His Holy Scriptures for help, for healing and for hope both now and forever. 
What's more, He's shaking His Church, trying to draw followers of Jesus Christ to let go of the things of this world, turn away from sin and selfishness, cling more closely to Him, to speak more boldly of His Word, and to be far more "joyful in hope, patient in affliction, [and] faithful in prayer." (Romans 12:12, NIV)
Therefore:
Let's pray that people in every nation – including our own – who feel scared and confused and lonely and sick (physically and spiritually) will turn to the Lord for His answers and His comfort. 

Let's pray that people in all nations – and specifically in Israel – will study 2 Chronicles chapter 7 and apply what they read to this very moment. "The Lord appeared to him [King Solomon] at night and said: 'I have heard your prayer and have chosen this place for myself….When I shut up the heavens so that there is no rain, or command locusts to devour the land or send a plague among My people, if My people, who are called by My name, will humble themselves and pray and seek my face and turn from their wicked ways, then I will hear from heaven, and I will forgive their sin and will heal their land." Are these verses not precisely applicable to our times?

Let's pray that the Omicron strain will prove very mild, indeed, and strengthen herd immunity in every nation to protect everyone against COVID.

Let's pray for the Lord to fully and completely heal all those who have contracted COVID and comfort those who are ill. 

Let's specifically pray that wonderful cures and effective therapeutics will be both invented and made available to all who get sick.

Let's pray that the Lord blocks governments from using this crisis to rob people of their God-given human rights, and civil liberties and economic ability to thrive much less survive.

Let's pray, too, for true spiritual revival to sweep through the Church – let us pray He purifies leaders from corruption and confusion and distraction, and purifies lay people to hunger for His Word, hunger to become more faithful disciples, walk more faithfully in the power of the Holy Spirit, and boldly and courageously seek to fulfill the Great Commission.

Joel C. Rosenberg is the editor-in-chief of ALL ISRAEL NEWS and ALL ARAB NEWS and the President and CEO of Near East Media. A New York Times best-selling author, Middle East analyst, and Evangelical leader, he lives in Jerusalem with his wife and sons.
A message from All Israel News
Help us educate Christians on a daily basis about what is happening in Israel & the Middle East and why it matters.
For as little as $5, you can support ALL ISRAEL NEWS, a non-profit media organization that is supported by readers like you.
Donate to ALL ISRAEL NEWS
Current Top Stories
Comments