Rush Limbaugh gave his life to Jesus Christ a few years ago & it gave him tremendous hope as he faced his toughest fight
So successful professionally, Rush also faced some dark times personally – but when I went to visit him last year, I was profoundly encouraged by the faith I found. Here's the story the rest of the media won't tell you. 
Rush Limbaugh
JERUSALEM – How did Rush Limbaugh become the most-listened-to and most-influential radio broadcaster in American history? 
A brilliant conversationalist

Absolutely the most original thinker on the American political and cultural scene

A cover story, a lightning rod, never boring – ever – and usually side-splittingly funny

Heard on more than 600 stations across the country

Listened to by more than 20 million people a week

Almost single-handedly rescued the dying AM radio system, turning it into a flourishing business through the political talk show format 

Courted by Republican presidents, and countless more presidential contenders

Credited by Ronald Reagan as the voice of conservatism

Credited by Newt Gingrich as helping conservatives win control of Congress in 1994 for the first time in 40 years

Most pro-Israel broadcaster in U.S. history

Hated by the Left

Viciously and routinely attacked by Democrats and their allies in the media

Making $85 million a year

And ultimately awarded the Presidential Medal of Freedom at last year's State of the Union address
How did it all come about?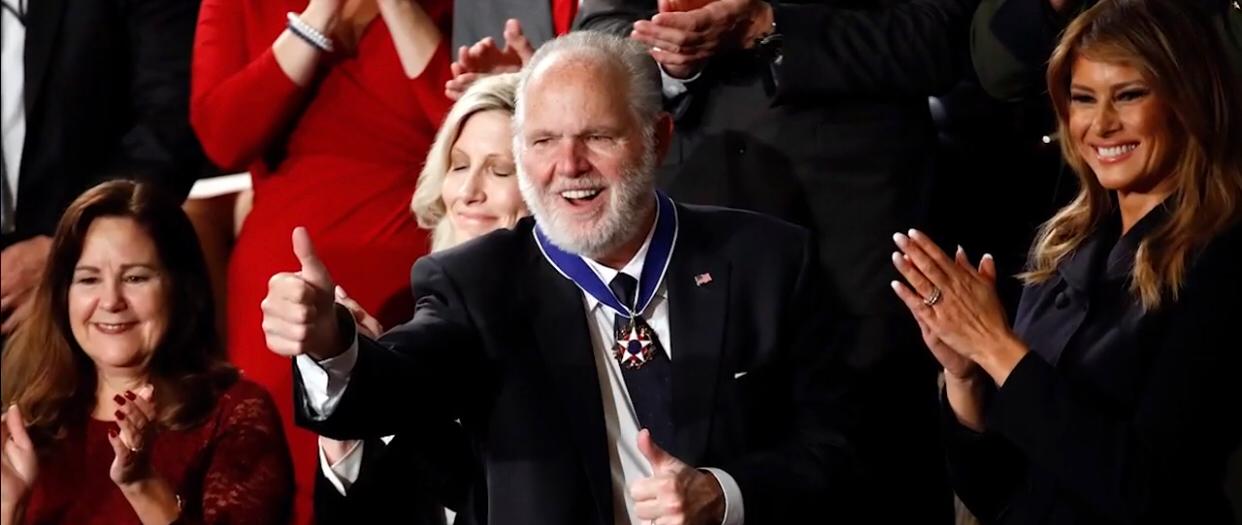 Rush Limbaugh receiving the Medal of Honor (credit: Fox News screenshot)
The Rush I knew had a simple answer: "Talent on loan from God," he loved to say.
It wasn't just a throwaway line – it was true – but now God has taken him home.
For the last several days, I have been mourning Rush's death, but not without hope. 
He was only 70. Death came too fast. Took him too soon, as far as I'm concerned. 
Yet there is something important – and exciting – that you should know about Rush.
Rather late in his life, in his final few years, Rush gave his life fully and completely to Jesus Christ. 
Though he had been raised in a Christian family, this was different.
Something specific had happened in his life. He had made a very personal and profound decision.
And it changed everything.
The mainstream media – so filled with hatred for Rush – will never tell you this side of him. 
So perhaps you'll let me. 
"TALENT ON LOAN FROM GOD"
I had the rare opportunity to see Rush's extraordinary, God-given talent firsthand. 
He interviewed me for a job in late 1993 and hired me in early 1994. For the next two years, I was blessed to work for him as research director and writer for The Limbaugh Letter, and working with him on various articles and op-eds he wrote for other publications.
I also had the joy of working closely with his amazing, brilliant, fearless and loyal inner circle, each of whom loved him dearly and continued working with him over the next several years, literally to the end of his life.
Some people spend a fortune to get a graduate degree in political science or communications. I didn't. I learned more about the art of media strategy – the process of discovering, developing and driving a message – from watching and working with Rush and his beloved team than I could have possibly learned anywhere else. 
And they paid me!
DARK TIMES
But I will be honest – I worried about Rush over the years.
He had multiple marriages that failed and left him hurt, until his wonderful union to Kathryn that brought him great joy.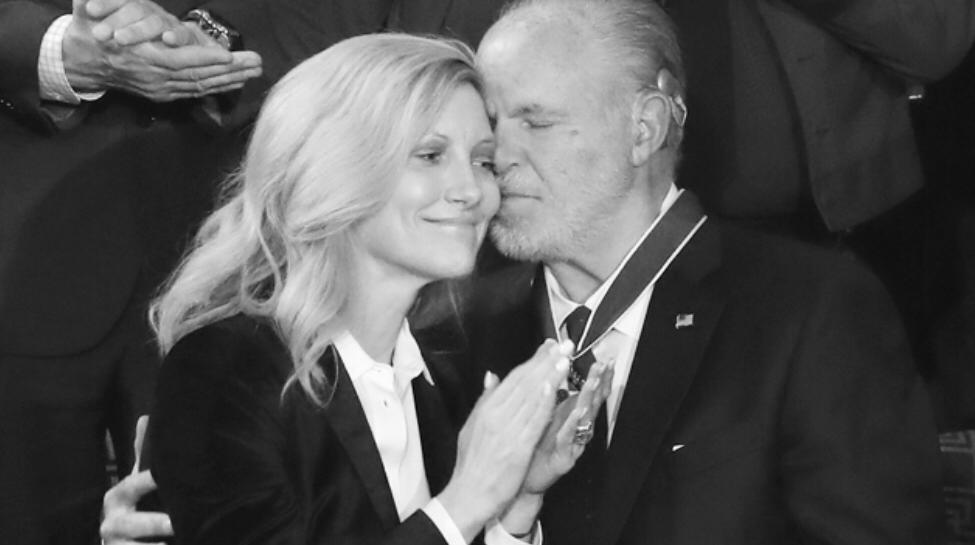 Rush Limbaugh and his wife Kathryn
He battled with drug addition to pain killers, and had to do it in the glare of the public eye.
He lost his hearing, and but for the miracle of his cochlear implant would have lost his entire career.
On air, he certainly made his share of mistakes. Often went right up to the line. Occasionally went over. 
But those things were symptoms. At his core, he was struggling with something deeper.
Raised in a wonderful Christian family in Cape Girardeau, Missouri – the heart of the American Midwest – he was steeped in Judeo-Christian values.
But from my vantage point – and I wasn't nearly as close to him as everyone else on his team, nor am I claiming to have been – I believed he was struggling spiritually.
His younger brother, David, became a very devout follower of Jesus Christ in the 1990s. Indeed, David – a lawyer by training and profession – has gone on to write some amazing books about the Christian faith, apologetics, and the persecution of Christians. 
But I worried that Rush was resisting a personal relationship with Jesus Christ. 
Or perhaps too busy and too successful to focus on such a relationship.
He and I occasionally discussed matters of faith – mine, and his. 
But again, to be perfectly honest, he was intimidating to me. 
Not because he was mean or callous or uncaring. Not at all.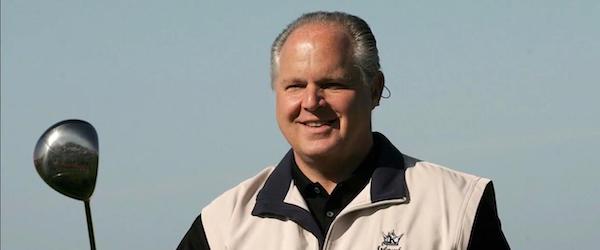 INCREDIBLY KIND
Rush was incredibly kind and generous – and not just to people in general, but to me and my family. 
In the fall of 2002, he single-handedly turned my first political thriller into a #1 best-seller – and drove it onto the New York Times best-seller list for 11 straight weeks.
How?
He read it, loved it and broke all of his personal rules about not interviewing people on his program who were not the president of the United States or speaker of the House. 
That's right – he actually interviewed me and raved about my novel on air. I was absolutely stunned.
And it wasn't just that one time. Many times over the years he would read and then enthusiastically endorse my books on his program. 
This simply was not done in his world. He didn't interview staff on air. He certainly didn't interview staff for the very monthly newsletter that a staffer once worked for. 
Yet he did it for me.
And I loved him for this and so many other reasons.
PRAYING FOR RUSH
That's why I worried about him – and a specific Bible verse kept echoing in my heart.
Jesus once said, "What profits a man to gain the whole world, but to lose his soul?"
That's what I feared for Rush. 
Maybe that seems presumptuous. Maybe it was. But it came out of my love for him. No other reason.
So, I would talk with him about the Lord when I could. We would email about lots of things, and occasionally I'd share a Bible verse with him.
But mostly I prayed for him – for the past 28 years, I asked the Lord to bless him and draw Rush into the kingdom of heaven. And I asked the Lord to bring other strong believers into his life that would be far more credible in Rush's life than little old me.
I was not the only one. I met Evangelicals all over America who, when they learned that I once worked for him, would tell me, "I love Rush and I'm praying for him every day." 
GOING TO SEE RUSH ONE LAST TIME
Last February, when I heard him share on the air his stunning diagnosis – having terminal, Stage IV cancer – I immediately wrote and asked if I could come see him.  
He immediately wrote back and said yes, he would like that. 
In the States already where I would speak at the AIPAC conference and begin a book tour, I rerouted to Palm Beach. 
But when I got there, he was not doing well. Day after day, I waited in the hotel. And he would write to me and say he wanted to see me but didn't have the strength. He was really struggling. I told him not to worry. I'd wait. No pressure. 
But in the end, that week he couldn't see anyone. 
COVID was now sweeping the planet. The Israeli government told all Israeli citizens to return home immediately or risk the airports being closed. My book tour was canceled. And I had to head back to my family.
THE GREATEST POSSIBLE NEWS
I never got to see Rush again in person. 
And I worried that he was going to pass away without knowing for absolute certain that he was going to heaven. That grieved me.
But something happened on that trip that changed everything.
I learned the greatest possible news – that just the year before, in 2019, Rush had given his life wholly and completely to the Lord Jesus Christ. 
Maybe he had made a decision to receive Christ by faith when he was much younger and had, like many of us, struggled to walk closely with Christ after that decision.
That, I cannot say.
But I now knew that he was studying the Bible like he had never done before. 
He was praying like he'd never done before.
He was growing spiritually and it was transforming him.
And it wasn't out of desperation. It wasn't simply because he was contemplating his own death. 
It was because he had truly wrestled through the claims of Jesus for himself, and come to the conclusion that Jesus really did die on the cross, rise again, and was the Messiah, the Savior and the King of the universe.
And having placed his faith in Christ's love and forgiveness, he now had a certain, definitive hope that he was going to heaven when he died, and peace for every day before that.
I was overjoyed!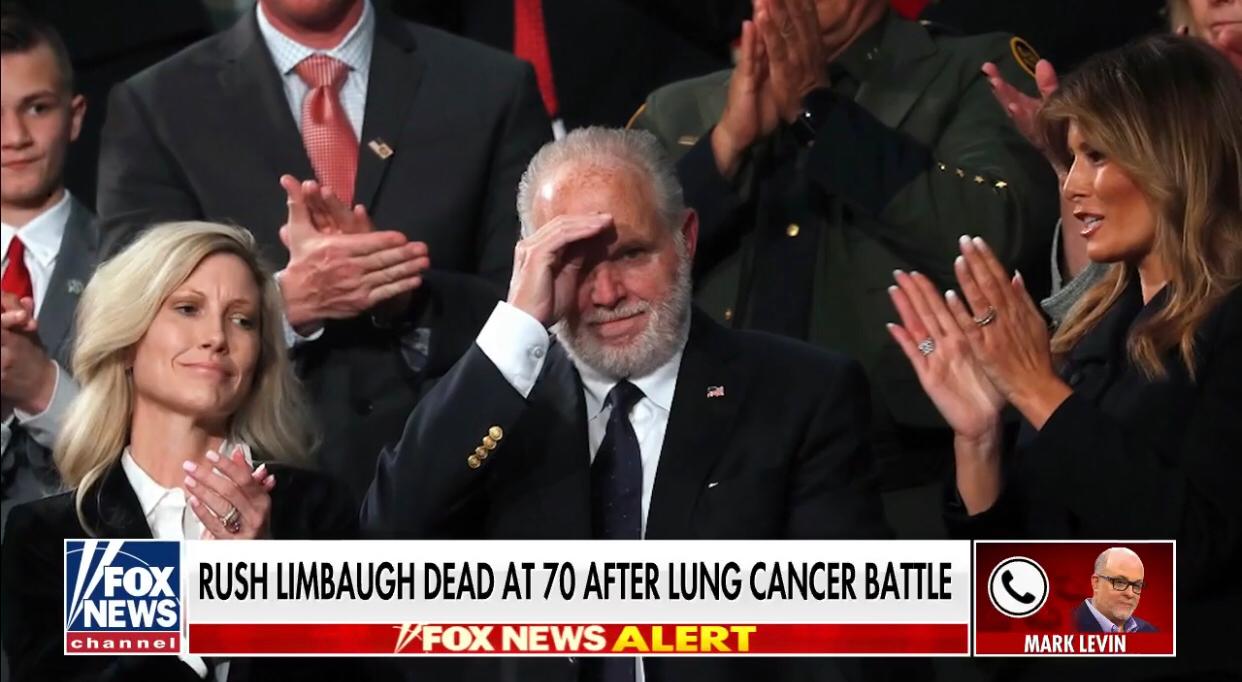 Screenshot from Fox News
RUSH'S FAITH IN JESUS CHRIST, IN HIS OWN WORDS
I didn't feel at liberty to say any of this publicly, so I didn't.
I told my wife, Lynn, and my sons and we rejoiced, because we had been praying for him and his family for decades. 
But then another wonderful thing happened.
I began to hear him share about his faith in Christ and newfound hope with the radio audience he loved so dearly, and who so loved him.
For such a public person, Rush was also intensely private.
But he began talking about his faith in Christ, and I knew beyond the shadow of a doubt it was real. 
Consider what Rush said on his Oct. 19 program (An Update on My Health: It's a Roller Coaster), when he shared that he had come to the very hard realization that he was under a "death sentence," and that time was running out:
It's tough to realize that the days where I do not think I'm under a death sentence are over. 
Now, we all are, is the point. 
We all know that we're going to die at some point, but when you have a terminal disease diagnosis that has a time frame to it, then that puts a different psychological and even physical awareness to it.
You know, I wake up every day and thank God that I did. I go to bed every night praying I'm gonna wake up. I don't know how many of you do that, those of you who are not sick, those of you who are not facing something like I and countless other millions are. 
But it's a blessing when you wake up. It's a stop-everything-and-thank-God moment.
And every day, thus, results in me feeling more and more blessed. Hearing from you, knowing that you're out there praying and everything else you're doing, that is a blessing. It's just a series of blessings. And I am grateful to be able to come here to the studio, tell you about it, and really maintain as much normalcy as I can.
I know a lot of you out there are going through your own challenges, whether it's cancer or another medical illness or some other life challenge. Maybe even in the hospital right now. Someone told me — I think this is good advice, may be helpful — the only thing that any of us are certain of is right now, today. 
That's why I thank God every morning when I wake up.
I thank God that I did. I try to make it the best day I can no matter what. I don't look too far ahead. I certainly don't look too far back. 
I try to remain committed to the idea what's supposed to happen, will happen when it's meant to. I mentioned at the outset of this — the first day I told you — that I have personal relationship with Jesus Christ.
It is of immense value, strength, confidence, and that's why I'm able to remain fully committed to the idea that what is supposed to happen will happen when it's meant to.  
There's some comfort in knowing that some things are not in our hands. There's a lot of fear associated with that, too, but there is some comfort. It's helpful… God, is it helpful. It's helpful to be able to trust and to believe in a higher plan.
So again, let me just thank all of you for your support, your prayers. 
I send the same to all of you through anything that you are facing. 
So now the objective here is rounding third, not having to head back to second base and slide in there. 
Here's to rounding third and heading towards home. That's the objective. That's the goal.
LOOKING FORWARD TO SEEING HIM AGAIN
I can't bear to read the obituaries and mainstream media reports about Rush's passing.
They are, sadly, filled with so much hate and venom.
I prefer to be in touch with Rush's family and team and those who loved him and appreciate him for all that he was – strengths and weaknesses included.
But I'll tell you this: one of the things I look forward to is seeing my friend, Rush, in heaven one day.
He's not there because of me. Rush is there because Jesus loved him dearly and opened his eyes to the beautiful truth of the Gospel.
That the Lord wants to adopt all of us into His kingdom – if we will only say yes.
"For God so loved the world," Jesus said, "that He gave His only begotten Son, that whoever believes in Him shall not perish but have everlasting life." (John 3:16)
The Lord made Rush an offer he couldn't refuse – and Rush had the humility and the wisdom to say "Yes."
I'm so grateful, and I can't wait to see him again.

Joel C. Rosenberg is the editor-in-chief of ALL ISRAEL NEWS and ALL ARAB NEWS and the President and CEO of Near East Media. A New York Times best-selling author, Middle East analyst, and Evangelical leader, he lives in Jerusalem with his wife and sons.
Popular Articles
A message from All Israel News
Help us educate Christians on a daily basis about what is happening in Israel & the Middle East and why it matters.
For as little as $5, you can support ALL ISRAEL NEWS, a non-profit media organization that is supported by readers like you.
Donate to ALL ISRAEL NEWS
Latest Stories
Comments