Pfizer CEO calls Israel 'lab' for his company's vaccine as Netanyahu orders another 36 million doses
We are the world champions of the vaccine, Netanyahu tells Israelis adding it is also the reason to vote for him on March 23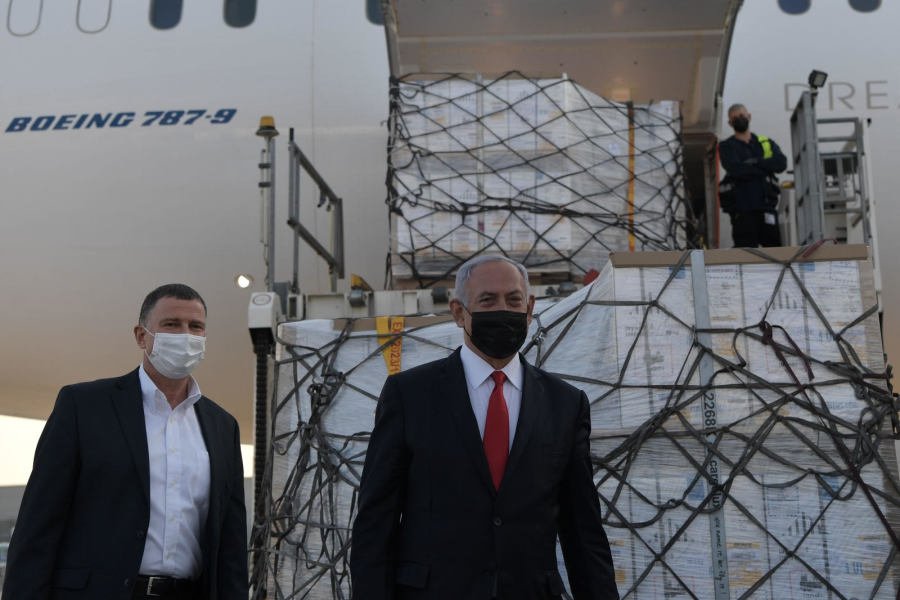 Prime Minister Netanyahu and Health Minister Edelstein receiving a shipment of Pfizer coronavirus vaccines, Jan. 10, 2021 (Photo: Koby Gideon/GPO)
Days after the Pfizer CEO said the Jewish state has become the company's — and the world's — lab for the COVID-19 vaccine, Prime Minister Benjamin Netanyahu said he plans to order another 36 million doses to continue vaccinating his citizens on a regular basis.
It is the only way to get out of lockdowns and return to normal, he said.
"This is my long-term plan for the vaccine," he said. "You need to understand, the two vaccines that you've received will not last forever. They are for a limited time and we will need to renew our antibodies all the time." 
With 36 million vaccines on hand, Netanyahu would vaccinate all 9 million Israelis — including children from birth — over the next 12 months, twice. The vaccine has been tested on ages 16 and up so far and has been approved for emergency use only, but has yet to receive full FDA approval. Currently the COVID-19 vaccines are being tested by Pfizer on children ages 11 to 16. 
Some Israelis, however, have sought and received exceptions to vaccinate their children under 16 who have high-risk health issues. Israel also led the way, becoming first in the world to approve use of the vaccine for pregnant women, another demographic that has not undergone testing regarding the vaccine. In addition, Israel plans to start vaccinating people who have recovered from COVID-19, another facet of the population not yet tested in trials.
"I believe Israel has become the world's lab right now because they are using only our vaccine at this stage and they have vaccinated a very big part of their population, so we can study both economy and health indices," Pfizer CEO Albert Bourla said in an interview with NBC News on Friday.
Israeli newscasters reporting on the interview with Bourla were not sure how to react after being referred to as a lab. Some chuckled hesitantly, and then admitted that they were a lab of sorts.
Consider the numbers: Israel began vaccinating its population on Dec. 20 and, since then, more than 50% of the entire population has received at least one shot - some 4.7 million citizens. More than 3.3 million Israelis have received both shots in the quest to vaccinate 6 million citizens by the end of March.
And Israel is a captive audience. The airport has been closed since Jan. 25 and its reopening remains unknown.
In addition to being Pfizer's lab for real-time test results, will Israel earn favor with the top vaccine companies after Netanyahu's announcement to order another 36 million vaccines? In order to get Israel ahead of the anticipated competition to buy the vaccines, Netanyahu said he is in talks to build two factories in Israel, for both Pfizer and Moderna, for research and development and vaccine production.
And to be clear, Netanyahu points to his warp-speed vaccination campaign as the top reason to vote for him in the upcoming election on March 23. 
"Without more vaccines, the coronavirus will return in six months with endless rounds of closures, diseases and death. There's only one way out of this – to bring tens of millions more vaccines," he wrote on his Facebook page. "Who will bring the vaccines to Israel? Me, who made israel the world champion of vaccines? Or the government of 'SBL' – Saar, Bennett and Lapid, who said there will be only five vaccines in Israel?"
But just how have the Ministry of Health and the federal government been so effective in enticing a majority of the population to vaccinate so quickly? First, COVID-19 was portrayed as an enemy on the same scale as Hamas or Hezbollah. Israelis are vigilant against threats and, with the virus cast as a threat to life, citizens mobilized and heeded their call to duty to fight it, which was to get vaccinated.
Second, the government was the first in the world to implement the "green passport" system. The green passport given to vaccinated Israelis is good for six months and then expires, cutting off their access to venues that are now reserved exclusively for vaccinated people only such as gyms, cultural halls and sporting events. 
Since Israel's vaccination campaign began, the number of COVID deaths in the Jewish state almost doubled from the number accumulated in the prior ten months. One third of all coronavirus deaths occurred in January alone. 
Bourla admitted to NBC that the company still did not know whether one could infect others after receiving two doses of the vaccine.
"It is something that needs to be confirmed, and the real-world data that we are getting from Israel and other studies will help us understand this better," he said. "But there are a lot of indicators right now that are telling us that there is a protection against the transmission of the disease."
He said trials for children between 11 years old through 16 are wrapping up and that pediatric studies from 5-year-olds are upcoming.
"And I believe we should have data about this population by the end of the year," he said.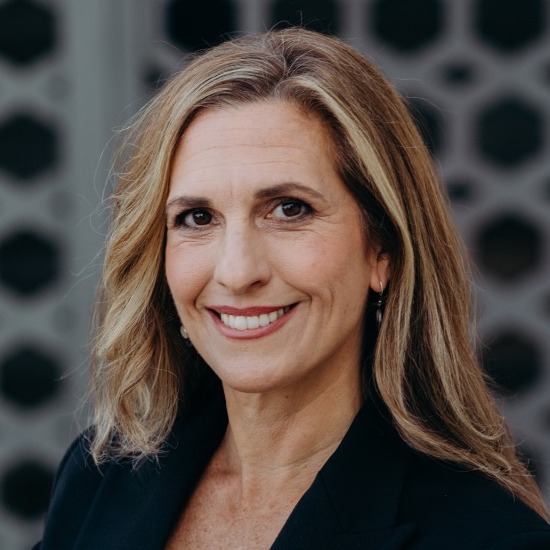 Nicole Jansezian is the news editor for both ALL ISRAEL NEWS and ALL ARAB NEWS and senior correspondent for ALL ISRAEL NEWS
A message from All Israel News
Help us educate Christians on a daily basis about what is happening in Israel & the Middle East and why it matters.
For as little as $5, you can support ALL ISRAEL NEWS, a non-profit media organization that is supported by readers like you.
Donate to ALL ISRAEL NEWS
Current Top Stories
Comments