Israel crosses 4-million mark in vaccines as thousands protest perceived forced vaccination
'Green Badge' plan includes ban on unvaccinated from entering houses of worship as economy starts opening next week
Prime Minister Benjamin Netanyahu and Health Minister Yuli Edelstein meet the 4,000,000th person to be vaccinated in Israel (Photo: Koby Gideon/GPO)
TEL AVIV — Israel crossed another major milestone in its warp-speed vaccination campaign officially administering the 4 millionth inoculation in a country with 9.3 million citizens. 
That is two-thirds of Israel's eligible citizens who have received the first of two shots. 
Prime Minister Benjamin Netanyahu and Health Minister Yuli Edelstein were present for the symbolic shot.
"I would like to appeal from here to the 570,000 people over 50 who have yet to be vaccinated. Almost 100% of the deaths and severe cases are concentrated in this group," Netanyahu said in a push to get that age group fully vaccinated.
He called the "small jab … insignificant" with few side effects except for "a few hours' discomfort."
Adding to the 4 million number were All Israel News Editor-in-Chief Joel Rosenberg and his wife, who completed their two doses this week.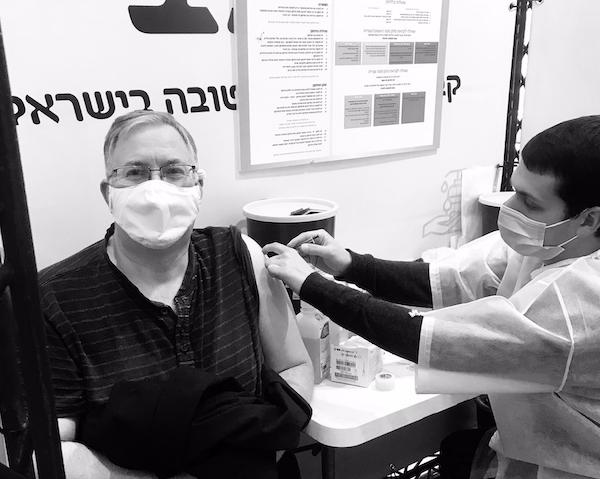 All Israel News Editor-in-Chief Joel Rosenberg receiving second COVID vaccination shot.
This comes as the government has voted for implementation of the "Green Badge" (previously called the green passport) which will bar those who are not vaccinated from houses of worship, gyms and studios, cultural and sports events, hotels and swimming pools all of which may open on Sunday.
Despite the hailed success of the vaccination campaign, the cabinet also voted on restrictions for the Purim holiday including caps on gatherings, a ban on parades and parties and holiday meals with nuclear families only.
And despite the high rate of the campaign, the sanctions being placed on those who choose not to be inoculated — including threats of losing their jobs — has pushed some citizens to the streets in protest. 
An estimated 2,000 to 3,000 citizens gathered in Bima Square in Tel Aviv on Monday night for a demonstration organized by a team of lawyers, doctors, scientists and teachers who are concerned with the government's coercive measures.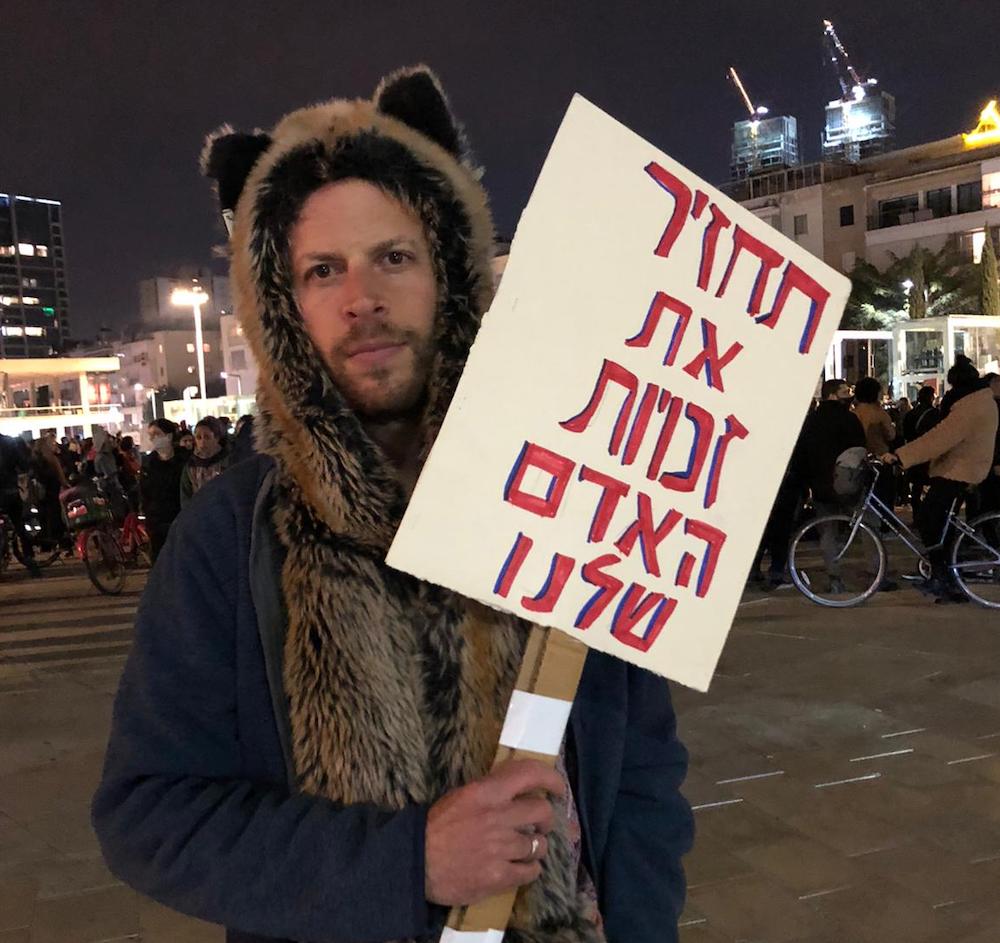 A protestor in Tel Aviv carrying a sign that reads "Return our human rights," Feb. 15, 2021 (Photo: All Israel News)
"We will continue to fight to unseal the 30-year confidentiality agreement placed on the coronavirus discussions, to prevent coercion and to protect human rights," protest organizers said referring to a decision by the government to conceal official government discussions on COVID until 2050. "Non-transparency, sanctions and coercion only crush the public's trust, divide the people and prevent the exit of the crisis."
"Israel is the only country in the world that dares to talk about a green passport," they continued.
Several Israeli protestors wore yellow stars drawing a parallel to the symbols of Jews during the Holocaust — a controversial if not offensive comparison to many Jews. 
Protestors in Tel Aviv wearing yellow stars that read "Unvaccinated," Feb. 15, 2021 (Photo: All Israel News)
"What's going on right now in this country is a direct comparison to the Holocaust. They want to split the people into two sections: the vaccinated and the non-vaccinated," Aleksei Fullman told ALL ISRAEL NEWS. "That is exactly what was happening in the 1930s. They wanted to justify their ban on Jews by making a law - first they banned them from work, then from going to certain places, and then everything went downhill."
"This vaccine was authorized for emergency use only, it wasn't tested on many people and we don't know the long-term effects. It should be our choice if we want to use it or not. They cannot just force us to use it," he said.
Sarah Smolyov, who traveled from Haifa for the protest, said she sees the requirements as a slippery slope of stripping her rights. 
"If you don't vaccinate you can't shop, you can't fly overseas," she said. "I'm an innocent person but they are making me feel guilty and I don't know what I did wrong."
Another area of concern is an amendment being pushed to change medical privacy laws to allow the names of those who have not been vaccinated to be made public.
"The purpose of the proposed law is to amend the Public Health Ordinance, 1940, to enable the provision of information on vaccinators to local authorities and the Ministry of Education to assist the Ministry of Health, in promoting the national vaccination campaign, encourage the public to get vaccinated, and help those in need to get vaccinated, receive information from various public bodies to assist in promoting the national immunization campaign and issuing vaccination certificates," the amendment reads.
Alongside the proposed legal measures, a number of other carrots have been dangled before hesitant citizens to encourage them to get vaccinated including free food and discounts on property taxes.
Meanwhile, Netanyahu told Israeli media in an interview on Monday that he is negotiating with both Pfizer and Moderna for additional tens of millions of vaccines in the years ahead plus opening plants in Israel.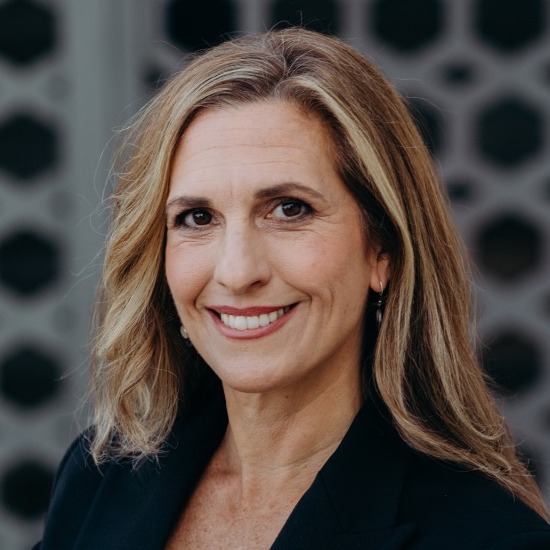 Nicole Jansezian was the news editor and senior correspondent for ALL ISRAEL NEWS.
Popular Articles
A message from All Israel News
Help us educate Christians on a daily basis about what is happening in Israel & the Middle East and why it matters.
For as little as $5, you can support ALL ISRAEL NEWS, a non-profit media organization that is supported by readers like you.
Donate to ALL ISRAEL NEWS
Latest Stories
Comments