One year ago today Honduras moved its embassy to Jerusalem, but former President Juan Hernandez who made that decision is now sitting in a US prison cell
Here's the shocking story that few Israelis or Evangelical friends of Israel have heard
Honduran Foreign Minister Lisandro Rosales, Honduran President Juan Orlando Hernandez, Israeli Prime Minister Naftali Bennett, Israeli Foreign Minister Yair Lapid, give a press conference during a signing ceremony at the Prime Minister's Office in Jerusalem, June 24, 2021. (Photo: Amit Shabi/POOL)
JERUSALEM—Exactly one year ago today – on June 24, 2021 – Honduran President Juan Orlando Hernandez officially opened his country's embassy in Jerusalem, flanked by Israeli Prime Minister Naftali Bennett.
It was an exciting moment and received extensive coverage in the Israeli media and even by ALL ISRAEL NEWS.
After all, Honduras was only the third country after the United States and Guatemala to recognize Jerusalem as the capital of the Jewish state and to actually move their embassies, which had previously been located in or near Tel Aviv.
(Kosovo – a Muslim-majority country – also opened an embassy in Jerusalem in 2021 after normalizing relations, but this was its first embassy in Israel, and thus they were not moving it from Tel Aviv.)
Two weeks earlier, on June 9, 2021, ALL ISRAEL NEWS was the first to report that Hernandez was actually coming to Jerusalem that month to inaugurate their new embassy.
Our source? Hernandez himself.
The president had recorded a video that was shown at the Jerusalem Prayer Breakfast – an annual gathering of pro-Israel Evangelical Christians – in which the Honduran leader explained his plans and drew enthusiastic applause and cheers.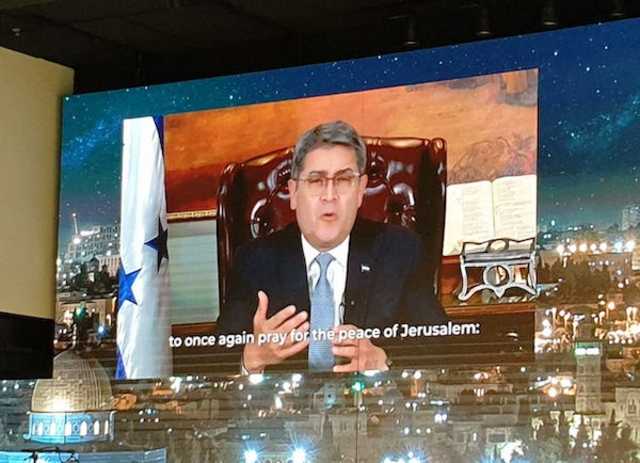 Honduran President Juan Orlando Hernández in message to the Jerusalem Prayer Breakfast, June 9, 2021 (Photo: screenshot)
HOW HERNANDEZ MADE THE DECISION TO MOVE THE HONDURAN EMBASSY IN THE FIRST PLACE
The decision was particularly courageous for Hernandez because Honduras is home to more than 200,000 Palestinians, making it one of the largest diaspora population of Palestinians in Latin America, second only to Chile.
Still, some 48% of Honduras' 9.2 million citizens are now Evangelical Christians, according to a report by the U.S. State Department.
Many of these Evangelicals were raised nominally Catholic, but they became born-again through a sweeping spiritual awakening over the last several decades.
As they became better acquainted with the full teachings of the Bible – from Genesis through Revelation – they became better acquainted with the biblical story of God's love and plan for Israel and the Jewish people.
This, in turn, created an increasingly deep love for Israel among Honduran Evangelicals.
And this love turned, in part, to political activism.
Many Evangelicals in Honduras backed Hernandez, a Catholic with an Evangelical wife, when he first ran for president in 2013.
Over the next seven years, key Evangelical pastors and ministry leaders implored Hernandez – who had first visited Israel in 1991 and had himself become quite pro-Israel – to take the bold step of moving the country's embassy to Jerusalem, despite the risks that such a move would entail.
Hernandez said he would agree, but only if Evangelicals steadfastly stood with him.
He also signaled to then-Israeli Prime Minister Benjamin Netanyahu that he would only make the move if Israel finally re-opened an embassy in Honduras.
In 1995, Israel had closed its embassy there due to budget cuts.
Netanyahu – and later Bennett – agreed and the deal was done.
When Hernandez came to Jerusalem to make it official, he and the first lady brought two dozen Evangelical pastors with them to witness the historic moment.
FROM PRAISE TO PRISON: A STUNNING REVERSAL OF FORTUNE
One year later, however, Hernandez, 53, is not being celebrated for his courageous move.
Instead, he has been arrested, charged with three counts of conspiracy to sell and ship drugs and firearms.
On April 21, Hernandez was formally extradited to the U.S. by the Biden Justice Department.
His trial is set to begin on Jan. 17.
Attorney General Merrick B. Garland told reporters in April that "the Justice Department is taking a comprehensive approach to protecting our communities and our country from violent crime. The Department is committed to disrupting the entire ecosystem of drug trafficking networks that harm the American people, no matter how far, or how high we must go."
HERNANDEZ AND HIS ALLIES SAY HE IS FACING THE REVENGE OF THE DRUG LORDS HE PROSECUTED
"I am innocent," says Hernandez. "I have been subjected to an unfair trial."
Sources close to Hernandez tell ALL ISRAEL NEWS that the former president is not guilty.
Rather, they say, he is experiencing severe blowback for being so aggressive in arresting, prosecuting and imprisoning drug lords and gun runners, purging some 5,000 allegedly corrupt police officers from the national police department, dismantling large crime networks, and successfully reducing the violent crime rate by some 50% over nearly eight years in office.
One of the drug lords rounded up during these years of intense warfare between the government and the drug cartels confessed to killing no fewer than 78 people.
"These drug lords and other criminals whom Hernandez arrested and sent to prison have vowed to get revenge on him," one Honduran source told ALL ISRAEL NEWS. "They are telling the American government that Hernandez is guilty of all kinds of things that are not true in order to punish him for waging war on their drug businesses."
As Reuters reported, "Hernandez has…denied the allegations, portraying himself as a fierce opponent of drug cartels and accusing traffickers of smearing him to get revenge and lighten their sentences."
HONDURAS' NEW PRESIDENT IS A LEFT-WING SOCIALIST – WILL SHE REVERSE COURSE ON ISRAEL?
Honduras' new leader – Xiomara Castro, 62 – is the country's first woman president.
But she is also the leader of a left-wing party.
She is vowing to make Honduras a socialist state.
Experts believe Castro is likely to move the country away from its traditional American and Western allies – including Israel – towards socialist and extremist dictatorships like Venezuela, Cuba and even Iran.
Her vice president, Salvador Nasralla, is from a Palestinian background.
He is known for being anti-Israel.
"There are certainly worrying figures surrounding Castro," reported the Times of Israel. "Her running mate, First Vice President-elect Salvador Nasralla, has issued antisemitic statements, saying in 2020 that 'JOH's [Juan Orlando Hernandez's] boss is the government of Israel.' The year before, he said in a debate that the Jews control the world's money. His wife apologized to Latin America's umbrella Jewish organization after calling Hitler 'a great leader' in 2017."
If these weren't troubling enough, the Times further reported that "Castro's husband, Mel Zelaya, a former president who tried to move the country in a Marxist direction, claimed that Israeli mercenaries were torturing him with high-frequency radiation after his ouster in 2009. Zelaya's close ally, journalist David Romero Ellner, said it would have been 'fair and valid to let Hitler finish his historic vision' of eliminating the world's Jews."
So, will Castro and Nasralla reverse course on Israel and move the embassy back to Tel Aviv?
Will they change Honduras from being one of the most pro-Israel countries in Latin America to one of the most anti-Israel?
It is too early to say, but not too early to pray.
President Castro has yet to appoint her own ambassador to Israel.
Whom she appoints, and how she handles the embassy issue, may give us the first concrete clues as to which direction she is really headed.

Joel C. Rosenberg is the editor-in-chief of ALL ISRAEL NEWS and ALL ARAB NEWS and the President and CEO of Near East Media. A New York Times best-selling author, Middle East analyst, and Evangelical leader, he lives in Jerusalem with his wife and sons.
Popular Articles
A message from All Israel News
Help us educate Christians on a daily basis about what is happening in Israel & the Middle East and why it matters.
For as little as $5, you can support ALL ISRAEL NEWS, a non-profit media organization that is supported by readers like you.
Donate to ALL ISRAEL NEWS
Latest Stories
Comments