Israeli professor: mRNA shots causing harmful side effects, possibly death
Prof Shapira, interviewed on Israeli TV, later castigated by Health Ministry for his criticism of the Pfizer shot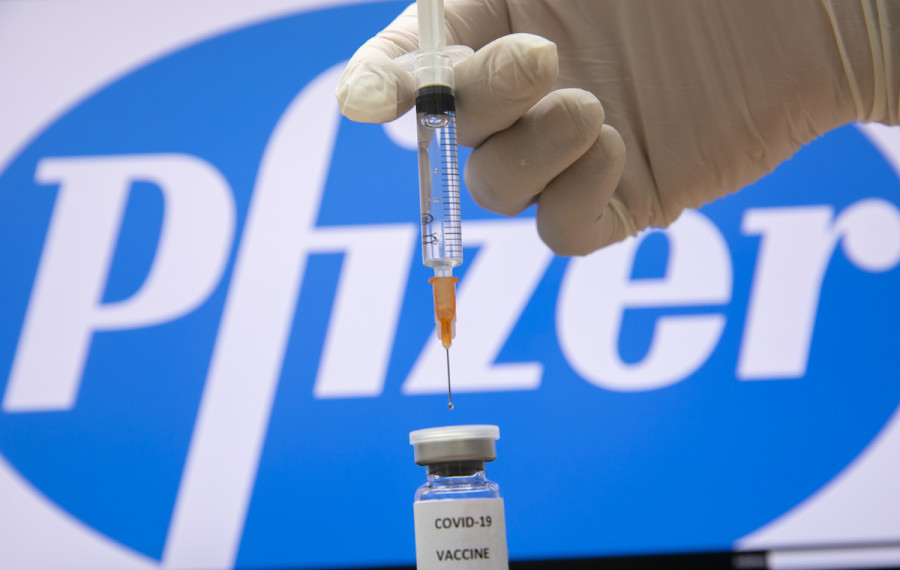 A photo illustration of a syringe and a bottle reading "Covid-19 Vaccine" next to the Pfizer company logo in Jerusalem, Dec. 10, 2020. (Photo: Olivier Fitoussi/Flash90)
In a shocking break in the two-year narrative of COVID vaccines, one Israeli professor's criticism of mRNA shots as potentially causing harmful side effects, and possibly even death, made it into the mainstream media.
"I'm not saying the vaccine is completely fake but I doubt whether you can call it a vaccine. I studied in school years ago what a vaccine is. I am not sure that what we received – what I got – satisfies these criteria. It is something that gives maybe partial effectiveness for perhaps three months. A shot that has many side effects – and serious side effects, which people apparently died from, though they are trying to obscure this," Prof. Shmuel Shapira said on Israel's top news station, Channel 12, this week.
The reporter interrupted Shapira to press him on whether the Pfizer vaccine has indeed caused death.
"First of all, I don't want to address the name of the vaccine... but there are many, many reports around the world of heart muscle inflammation linked to this vaccine," Shapira responded. "Heart muscle inflammation can sometimes be fatal. It harms young people and can cause serious neurological diseases. And, apparently – and I want to be very cautious here because this is only starting to come to light – it can increase the risk of certain kinds of cancer."
Shapira, the former head of the Israel Institute for Biological Research (IIBR) and a senior researcher, has been extremely vocal in his criticism of how Israel's Ministry of Health handled the pandemic, which included mandatory vaccination, recovery or testing for entry into public venues during the height of the vaccination campaign.
"I am telling the unpleasant truth…about the vaccine that is neither effective nor safe," Shapira wrote on Twitter, expressing regret for getting the Pfizer vaccine. "I was wrong three times: In the first shot, in the second shot, and in the third shot. Who said that those who are injected do not admit that they were wrong?"
"People keep forgetting Israel was 'volunteered' as the Lab of the World. There was hardly any data but very brief and minimal size clinical studies."
He is also vocal about his criticism of mRNA technology.
"The mRNA technology is based on a process that causes the body's cells to act in an unusual way, and produce proteins under the instructions of the immune system in a way that bypasses natural genetics," Shapira wrote on Twitter. "The process damages the production of other proteins necessary for the immune system and other systems in the body."
Early on in the COVID-19 pandemic, IIBR was among several companies that created and tested a COVID vaccine. BriLife, as the trial drug was called, used a traditional vaccine formula with a weakened version of the virus. However, the Israeli government chose to pursue and purchase Pfizer's mRNA injection.
At the time, then-Prime Minister Benjamin Netanyahu signed a deal with Pfizer in exchange for providing Israelis medical data so that the results could be studied. Pfizer CEO Albert Bourla even called Israel the "lab" while Netanyahu announced he was ordering 36 million doses.
Israel's COVID vaccination campaign began exactly two years ago in December 2020. Almost all of the eligible population has received at least one shot while nearly 1 million have received their fourth and some their fifth shot.
BriLife was shelved despite having gone through extensive animal testing and found to be effective, Shapira said.
In an interview with Combatting Terrorism Center at West Point published in May, Shapira said that global research on the COVID vaccine began in January 2020 while the IIBR began its own vaccine in February 2020 and chose what it deemed the safer options – a protein-based and attenuated virus.
"The messenger RNA vaccines are like a still picture of what happened in January 2020. They were based on a sequence – for example, with Pfizer – it was based on the sequence from January 12, 2020. Because our vaccine is based on a live virus, it is more dynamic. So the live virus can change, it can mutate itself, and it can make the approach to receptors in the body better than just a synthetic reprint of an old-fashioned virus. Therefore, I think that our vaccine is more effective to the virus than the original one, the messenger RNA one. The messenger RNA vaccines are less effective against variants like Omicron in which there are so many mutations from the wild form that it's almost a different virus. Because ours is live, and it adapts better."
This summer, Twitter censored Shapira who claims he was injured by the Pfizer shot when he posited a connection between the rise of monkey pox cases and the mRNA shots.
"During the last years a single case was documented in Israel. It is well established the mRNA vaccines affect the natural immune system. A monkey pox outbreak following massive covid vaccination: *Is not a coincidence," he said in the post he was forced to remove.
The Ministry of Health said that Shapira's comments against the mRNA vaccines stem from his own failure to produce the Israeli vaccine.
"The former head of the Institute for Biological Research spent many millions [of shekels] in leading the development of a vaccine. The development failed. Since then, he has launched a libelous campaign against the Health Ministry and against the vaccines which did manage to save many lives across the world. How very sad."
Shapira authored a book, "The Pandemic Circus," in 2021.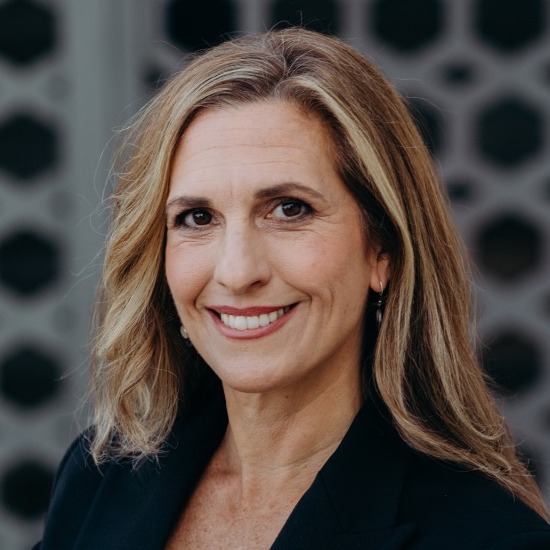 Nicole Jansezian is the news editor for both ALL ISRAEL NEWS and ALL ARAB NEWS and senior correspondent for ALL ISRAEL NEWS
A message from All Israel News
Help us educate Christians on a daily basis about what is happening in Israel & the Middle East and why it matters.
For as little as $5, you can support ALL ISRAEL NEWS, a non-profit media organization that is supported by readers like you.
Donate to ALL ISRAEL NEWS
Current Top Stories
Comments