INSIDE THE PALACE: With Iran threat rising, UAE Crown Prince MBZ welcomes Israeli President Herzog, urges Muslims, Jews and Christians to 'pray that peace prevails in the Middle East' – here are the first photos of their meeting
Emiratis give Israeli president and first lady a 21-gun salute
Israeli President Isaac Herzog meets the Crown Prince of Abu Dhabi Sheikh Mohammed bin Zayed Al Nahyan (Photo: Amos Ben-Gershom/GPO)
On his first-ever state visit to the United Arab Emirates, Israeli President Isaac Herzog and First Lady Michal Herzog landed in the capital city of Abu Dhabi Sunday morning and were warmly greeted at the royal palace by Crown Prince of Abu Dhabi, Sheikh Mohammed bin Zayed Al Nahyan.
"Your visit, Mr. President, comes a short while after the successful visit of His Excellency Naftali Bennett to the UAE," the crown prince said. "This confirms that our relations are moving full steam ahead, and that there is a common and strong will to strengthen them for the benefit of our countries and peoples."
"The Abraham Accords peace agreement was a major historical shift that embodied the approach to peace that the UAE believes in, and it has paved the way towards strengthening our partnerships, particularly in the areas of technology, innovation, health, energy, and others," he added.
"Mr. President, our region is one of those that has suffered the most from wars and conflicts. Through peace, we in the UAE, Israel and the wider region, can direct resources and capabilities towards serving our nations and paving the way for a better tomorrow. There is no doubt that your country's participation in Expo 2020 Dubai is one of the results of this peace and it will help deepen our cooperation and partnership and identify mutual opportunities for Israel and the UAE."
The crown prince then urged Muslims, Jews and Christians to "pray that peace prevails in the Middle East."
Here are the first official photos from inside the palace and the historic meeting.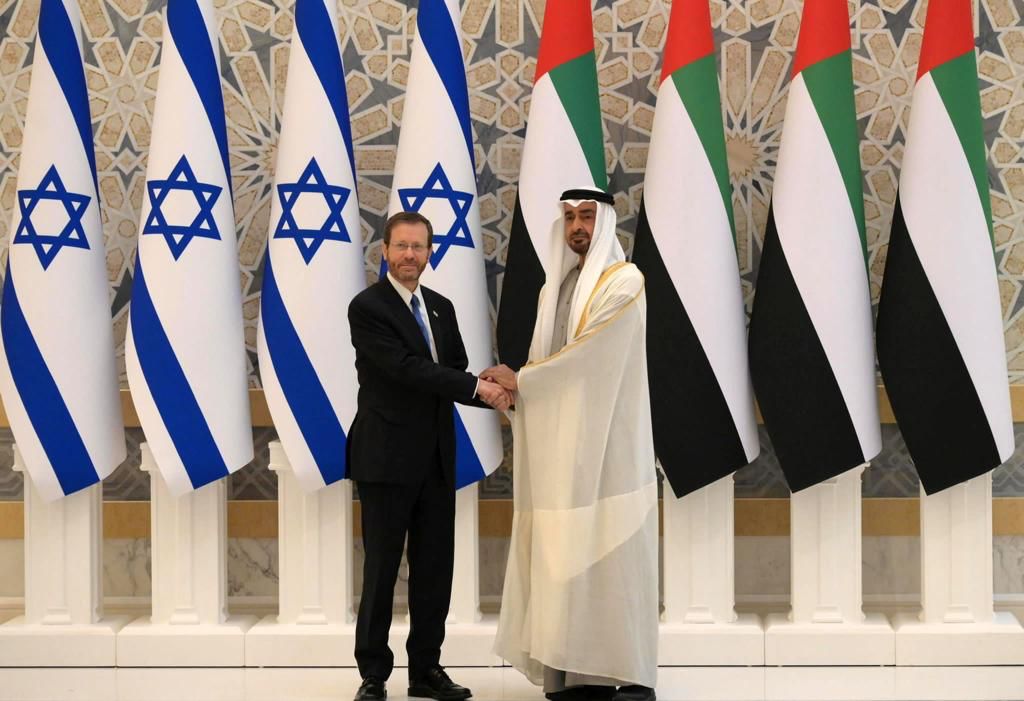 (Photo: Amos Ben-Gershom/GPO)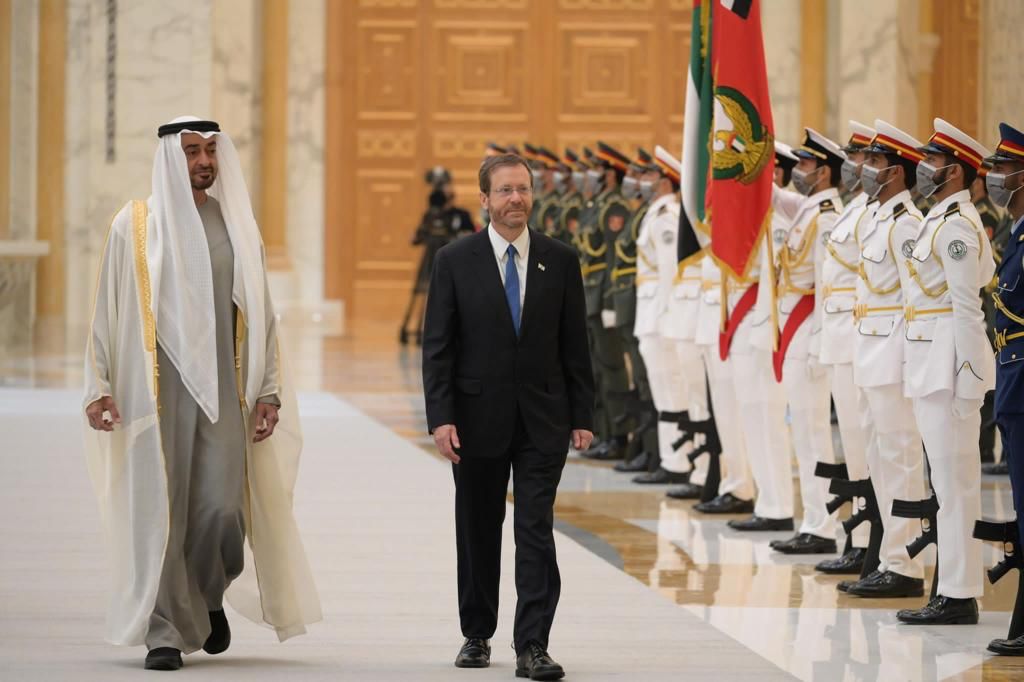 (Photo: Amos Ben-Gershom/GPO)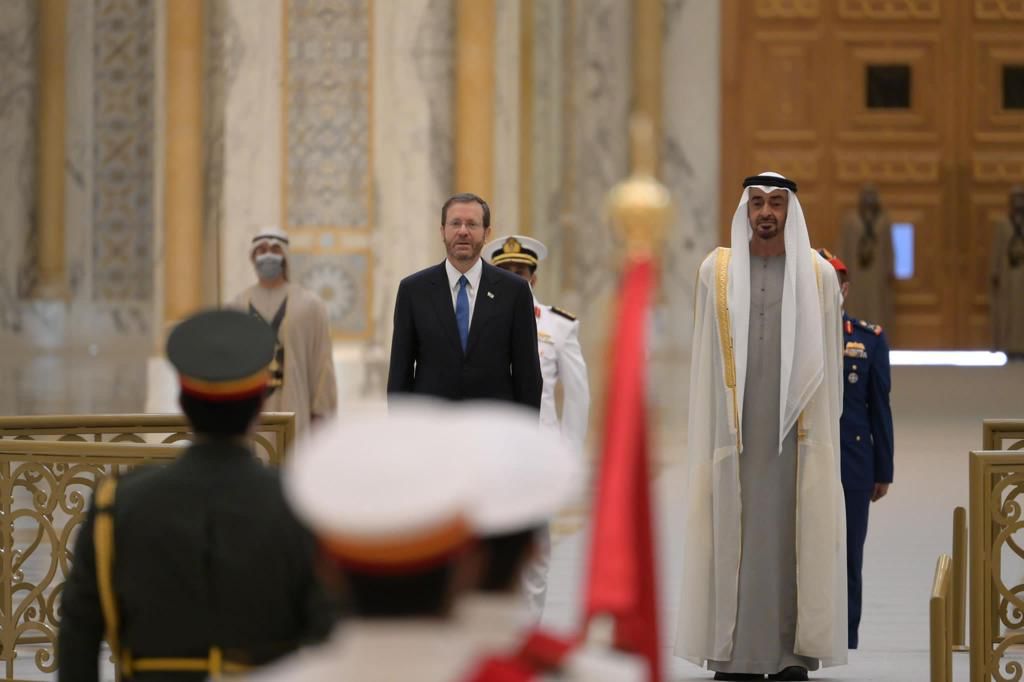 (Photo: Amos Ben-Gershom/GPO)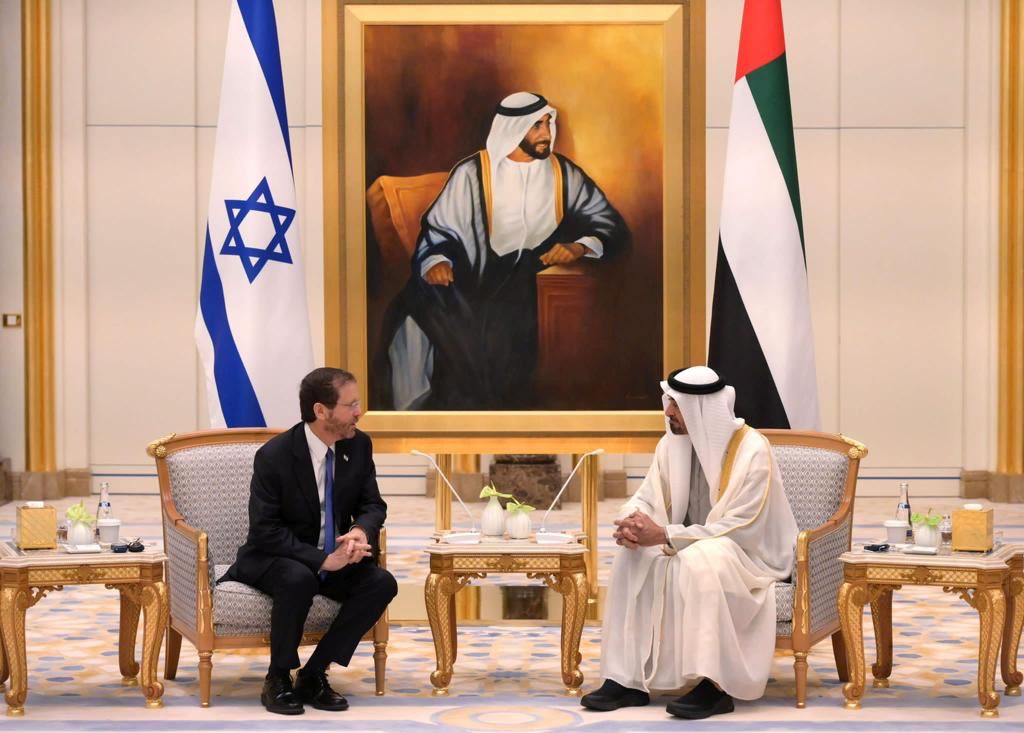 (Photo: Amos Ben-Gershom/GPO)
HERZOG VISIT COMES AT VERY DANGEROUS MOMENT IN THE GULF REGION
This is no ordinary visit.
It comes at a very dangerous time in the Gulf region.
Abu Dhabi was recently attacked by Iranian-built missiles and drones fired by Houthi terrorists in Yemen.
The Emiratis were able to successfully shoot down the missiles and no lives were lost.
But the escalation is further evidence of the Iranian regime's bitter hatred for the UAE leadership and determination to punish the Emiratis not just for signing the Abraham Accords, but systematically building an ever-closer military, diplomatic and economic alliance with Israel.
"I wish to emphasize that we completely support your security requirements and we condemn in all forms and language any attack on your sovereignty by terrorist groups," Herzog said during his meeting with MBZ. "We are here together to find ways and means to bring full security to people who seek peace in our region."
"The citizens of the State of Israel are so moved and excited to continue and develop the peaceful coexistence and our peace agreement between our two nations, the Emiratis and Israelis," Herzog added.
"This visit is an expression, as you said correctly, Your Highness, of the vision and dream of peace and the spirit of peace, which we bring to the entire region. We are two successful nations who started with very little in our hands, developed our lands into a successful paradise and in many ways set an example to the world of how to lead and develop a nation with a vision of the future. And this sends a message to the entire region that there is an alternative of peace and living together, and that the sons and daughters of Abraham can reside and dwell together in peaceful coexistence for the benefit of humanity."
"This message of peace is the cornerstone of our relationship," Herzog stressed. "And we are here to deliver a message both to Israelis and Emiratis and the region that the Abraham Accords should be continued and more nations should join us in this endeavor."
Israel's national anthem, HaTikvah, playing in the United Arab Emirates—that's what peace between nations sounds like. 🇮🇱🇦🇪 pic.twitter.com/BRuYJjpODl

— יצחק הרצוג Isaac Herzog (@Isaac_Herzog) January 30, 2022
The Israeli president also made a point to say that he is "very much looking forward to my visit at the Expo and seeing the most unbelievable experience that everyone is talking about, including the 250,000 Israelis who have already set foot in your beautiful country."
MBZ expressed his gratitude for Israel's solidarity amid the showdown with Iran and Herzog's visit.
"Thank you for your stance regarding the recent terrorist attacks on civilian facilities in the UAE," the crown prince said. "It is a stance that demonstrates our common view of the threats to regional stability and peace, particularly those posed by militias and terrorist forces, as well as our shared understanding of the importance of taking a firm stance against them."
Prior to the meeting with MBZ, Herzog met with UAE Foreign Minister Sheikh Abdullah bin Zayed al Nahyan, the younger brother of the crown prince, and the son of the late founder of the country, Sheikh Zayed.
First Lady Michal Herzog separately met with the UAE Minister of State for Advanced Technology, Sarah bint Yousef Al Amiri.

Joel C. Rosenberg is the editor-in-chief of ALL ISRAEL NEWS and ALL ARAB NEWS and the President and CEO of Near East Media. A New York Times best-selling author, Middle East analyst, and Evangelical leader, he lives in Jerusalem with his wife and sons.
Popular Articles
A message from All Israel News
Help us educate Christians on a daily basis about what is happening in Israel & the Middle East and why it matters.
For as little as $5, you can support ALL ISRAEL NEWS, a non-profit media organization that is supported by readers like you.
Donate to ALL ISRAEL NEWS
Latest Stories
Comments