How much do I need you? Let me count the ways: Amid fading US influence, leaders of Israel, UAE, Egypt discuss regional concerns
Though little is known of the actual meeting content, the summit signals that possible new alliances are being shored up in the absence of U.S. support – and before the new nuclear deal with Iran
Crown Prince of Abu Dhabi Mohamed bin Zayed Al Nahyan, Egypt's President Abdel el-Sisi and Israel's Prime Minister Naftali Bennett meeting in Sharm el-Sheikh, Mar. 22, 2022 (Photo: Egyptian Presidency)
When a sudden and secretive three-way summit between Egypt, Israel and the United Arab Emirates began Monday afternoon in Sharm el-Sheikh, analysts scrambled to dissect which of many possible reasons prompted such a rare and – seemingly – hastily called meeting.
Of urgent concern to these nations are three specific crises looming on the horizon: a revival of the Iranian nuclear deal, a growing global fuel crisis and a potential global food shortage, the latter of the two spurred on by the Russia-Ukraine war.
Egyptian President Abdel Fattah el-Sisi hosted Israeli Prime Minister Naftali Bennett and the de facto leader of the United Arab Emirates Crown Prince Mohamed bin Zayed Al Nahyan.
Though the Israeli Prime Minister's Office has yet to comment on the sudden meeting, the invitation extended to Bennett highlights Israel's position as a major player in regional security. But it also underscores a waning U.S. influence in the region, where opposition to a nuclear deal with Iran runs high and reports are emerging that leaders of the UAE and Saudi Arabia are refusing to take U.S. President Joe Biden's calls to discuss energy issues.
Israel has had diplomatic ties with Egypt since 1979 and in September, Bennett became the first Israeli prime minister to visit the nation in a decade. The two countries also announced direct flights between Tel Aviv and the Egyptian resort city of Sharm el-Sheikh.
Bennett also has the distinction of becoming the first Israeli prime minister to visit the UAE in December. The two nations signed a historic peace treaty, the Abraham Accords, in September 2020.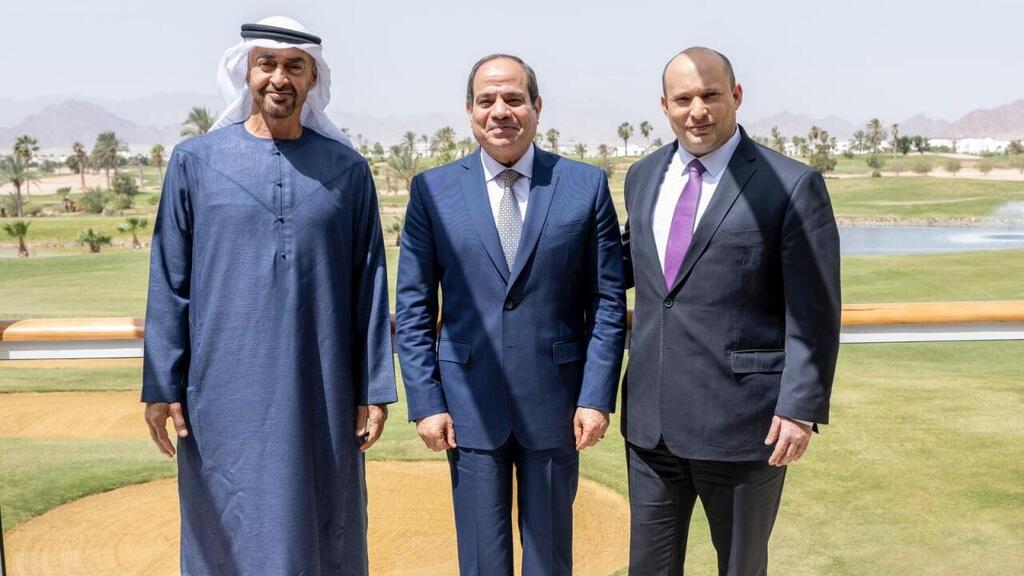 Crown Prince of Abu Dhabi Mohamed bin Zayed Al Nahyan, Egypt's President Abdel el-Sisi and Israel's Prime Minister Naftali Bennett meeting in Sharm el-Sheikh, Mar. 22, 2022 (Photo: WAM)
Israel was outraged and the UAE was reportedly shocked by reports last week that the U.S. is considering removing Iran's Islamic Revolutionary Guard Corps (IRGC) from its list of foreign terrorist organizations.
Bennett and Foreign Minister Yair Lapid released a statement urging the U.S. not to do so.
"We believe the [U.S.] will not abandon its closest allies in exchange for empty promises from terrorists," the two said.
In the last few weeks, sources close to negotiations for a renewed nuclear deal with Iran have hinted that it is nearing completion. Israel has vigorously opposed such a deal while Saudi Arabia and the UAE are also believed to be concerned by the prospects of a nuclear Iran.
Israel and the UAE have lobbied the U.S. together, asking for a "security strategy" for the Middle East in the event that a deal is signed with Iran.
In an article on March 21, the National Review said that the Biden administration is "alienating key partners in the Middle East."
"The U.S. stands to infuriate and alienate key regional allies and partners. Israel has called on the U.S. to reconsider concessions. The UAE and Saudi Arabia — both targets of Iranian-backed attacks — are also likely opposed to Biden's Iran deal and are showing signs of alienation. As oil prices spike and Biden pleads with the Saudis and Emiratis to boost their production, he's alienating them on Iran and pushing them into the arms of unsavory actors."
The nuclear deal with Iran notwithstanding, the region also faces consequences of the Russia-Ukraine war where sanctions on Russian fuel exports and the impact on wheat supplies from Ukraine threaten to affect the globe.
The UAE, along with Saudi Arabia, has resisted Western calls to hike oil output and Saudi Arabia is reportedly considering pricing its oil according to the Chinese yuan instead of the U.S. dollar. The sanctions have already served to drive up gas prices at the pump.
Egypt is also facing a wheat shortage. The nation imports 85% of its grain from Russia and Ukraine. Israel imports half of its wheat supply from Ukraine and a large portion of its corn and soybeans as well.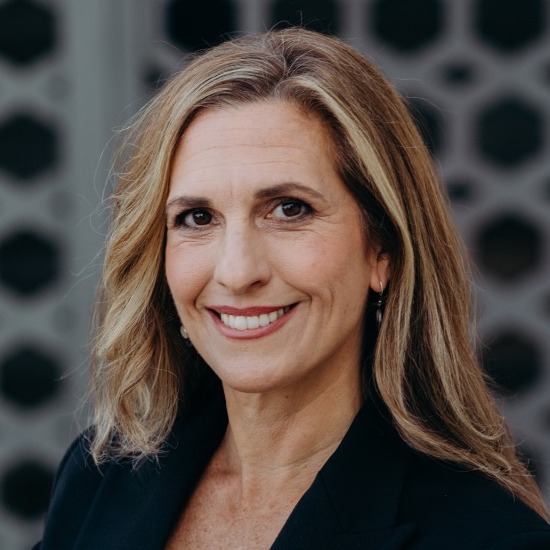 Nicole Jansezian was the news editor and senior correspondent for ALL ISRAEL NEWS.
Popular Articles
A message from All Israel News
Help us educate Christians on a daily basis about what is happening in Israel & the Middle East and why it matters.
For as little as $5, you can support ALL ISRAEL NEWS, a non-profit media organization that is supported by readers like you.
Donate to ALL ISRAEL NEWS
Latest Stories
Comments