HISTORIC: Biden recognizes Ottoman-era killing of 1.5 million Armenians as genocide
Yair Lapid vows: "I will continue to fight for Israeli recognition of the Armenian Genocide"
U.S. President Joe Biden (Photo: Reuters)
U.S. President Joe Biden on Saturday recognized the killing of 1.5 million Armenians by the Ottoman Empire as genocide, a distinction that past U.S. presidents – and other countries – have avoided for fear of upsetting Turkey who denies the scope of events and that they amounted to genocide.
"The American people honor all those Armenians who perished in the genocide that began 106 years ago today," Biden said in a statement. "Let us renew our shared resolve to prevent future atrocities from occurring anywhere in the world. And let us pursue healing and reconciliation for all the people of the world."
Armenians mark the anniversary of the genocide on April 24. On that date in 1915, the Ottoman Turks rounded up and later executed hundreds of Armenian intellectuals, clergy and businessmen beginning a systematic killing and expulsion of the Armenian people from their lands, some in Turkey, some in Armenia.
The Armenian Genocide lasted several years and resulted in the deaths of 1.5 million Armenians. Those who escaped made their way to countries throughout the Middle East, including British Mandate Palestine.
With the United States – a leading superpower and Israel ally – recognizing the genocide, Israel could be more inclined to follow suit.
Earlier this week, former Israeli Ambassador to the U.S. Danny Ayalon told ALL ISRAEL NEWS that Israel needs to wait for other nations to take a stand first.
"The Armenian Genocide was a crime against humanity and was a precursor to the Holocaust. Hitler gave it as an example why Nazi Germany would not pay a price for systematic beastly extermination of Jews," Ayalon said. Despite Israel's "special moral standing here … vital national interests did not allow Israel to consider true moral values."
"It will take the entire international community to act in unison to make a difference and to be led by the greatest and strongest democracy in the world. We all wait for the U.S. to finally take the right stand on this very terrible massacre of Armenians in 1915," he said.
Today, Armenians gathered in Jerusalem to commemorate the 106th anniversary of the genocide. After a mass, some laid wreaths at a ceremony of remembrance. Many wore black shirts that said, "Injustice anywhere is a threat to justice everywhere."
Dozens of activists marched yesterday from the Old City to an Armenian church in Jerusalem center calling for justice and waving flags.
VIDEO: ALL ISRAEL NEWS interviewed Harout Baghamian, a Jerusalem Armenian, earlier today find out why recognition is important to Armenians.
Most countries – the U.S. and Israel included – had long condemned the killings, but purposely didn't venture into using the word "genocide." For years, American lawmakers have passed bills calling on the president to recognize the killings as genocide, but no president ever carried it through.
The same in Israel – many politicians have put forth legislation to use the word genocide, but it never passed the Knesset. One of those is Yair Lapid, head of the centrist Yesh Atid party.
"An important moral statement by President Biden," Lapid tweeted after the announcement. "I will continue to fight for Israeli recognition of the Armenian Genocide, it is our moral responsibility as the Jewish state."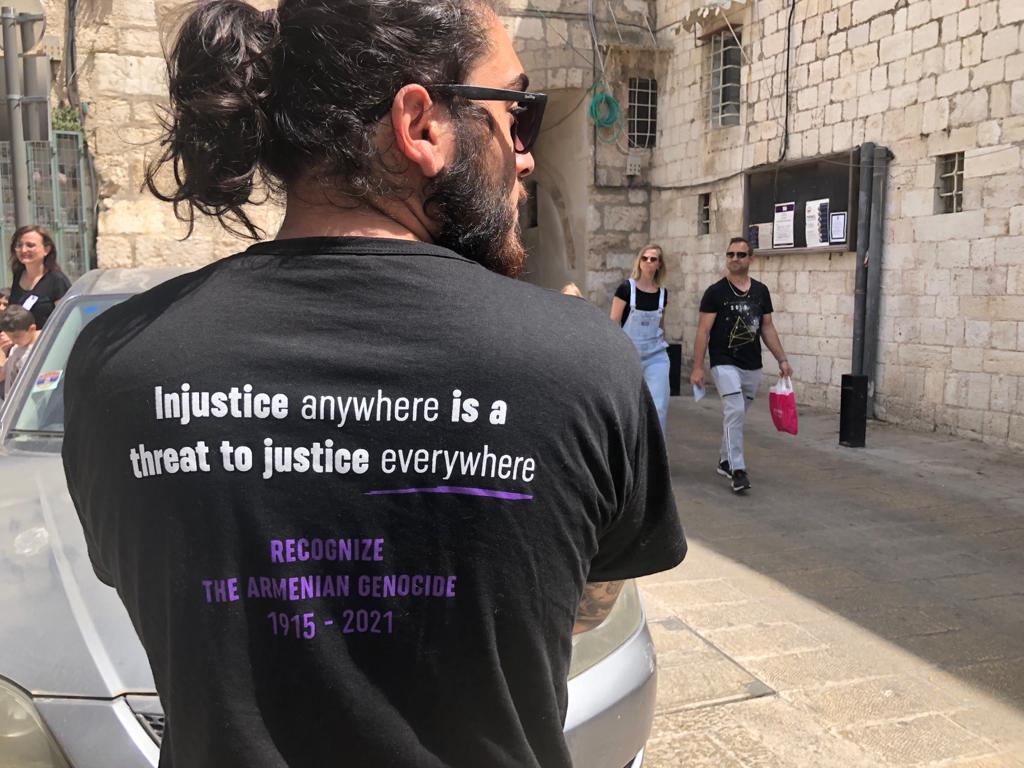 T-shirt commemorating 106 years since the onset of the Armenian Genocide: "Injustice anywhere is a threat to justice everywhere." (Photo: All Israel News)
With few allies in the region, Israel has guarded its official, yet strained, relations with Turkey. Israel also has good relations with Azerbaijan, and even supplied the country with weapons in its war against Armenia late last year.
Turkey Foreign Minister Mevlut Cavusoglu criticized Biden's decision.
"We entirely reject this statement," he wrote on Twitter. "We have nothing to learn from anybody on our own past. Political opportunism is the greatest betrayal to peace and justice."
Turkey's foreign ministry said in a statement that "none of the conditions required for the use of the term 'genocide' that is strictly defined in international law are met."
"This statement of the U.S., which distorts the historical facts, will never be accepted in the conscience of the Turkish people, and will open a deep wound that undermines our mutual trust and friendship."
Author Ray Ibrahim noted that based on its recent actions, Turkey seems no less interested owning up to any atrocities now.
"Not only has Turkey repeatedly denied culpability for the Armenian Genocide; it appears intent on reigniting it, most recently by helping Azerbaijan wage war on Armenia in the context of the Nagorno-Karabakh dispute, which again erupted in late 2020," Ibrahim wrote.
"During this recent conflict that did not concern it, Turkey funded and funneled sharia-enforcing 'jihadist groups,' in the words of French president Macron, that had been operating in Syria and Libya—including the pro-Muslim Brotherhood Hamza Division, which kept naked, sex slave women in prison—to terrorize and slaughter Armenians."
Aside from straining relation between Turkey and the U.S., it remains to be seen what impact Biden's recognition will have in the near future. Turkey acknowledges that killings took place, but maintains they were in the context of war and not in a systematic attempt to wipe out a people group.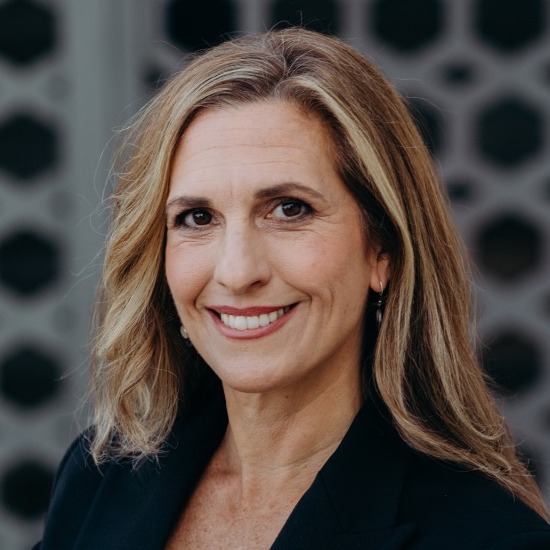 Nicole Jansezian was the news editor and senior correspondent for ALL ISRAEL NEWS.
Popular Articles
A message from All Israel News
Help us educate Christians on a daily basis about what is happening in Israel & the Middle East and why it matters.
For as little as $5, you can support ALL ISRAEL NEWS, a non-profit media organization that is supported by readers like you.
Donate to ALL ISRAEL NEWS
Latest Stories
Comments