JERUSALEM PRAYER BREAKFAST 2023
Former South Korean deputy PM tells ALL ISRAEL NEWS his country should be 1st Asian nation to move embassy to Jerusalem
Devout Evangelical offers 4 reasons why Seoul should make the move
Dr. Hwang Woo-yea meeting with Joel Rosenberg at the Jerusalem Prayer Breakfast, June 1, 2023 (credits: ALL ISRAEL NEWS staff)
JERUSALEM, ISRAEL – South Korea is one of the most powerful and prosperous democracies in Asia.
It also has a huge and influential Christian population.
A century ago, most people on the Korean peninsula were Buddhists.
But the gospel of Jesus Christ spread rapidly in the 20th century and was widely embraced by Koreans.
While the growth of Christianity has slowed, today nearly one-third of South Koreans – 31% – are Christians. Two-thirds of these are Protestant Evangelicals while another one-third are Catholics.
With so many Evangelicals in powerful positions in government and business, it's worth asking: Why hasn't Seoul recognized Jerusalem as the eternal, rightful, and undivided capital of Israel and moved its embassy to Jerusalem?
Yesterday at the Jerusalem Prayer Breakfast – held in the gorgeous Waldorf Astoria hotel – I had the honor of meeting and interviewing the man at the forefront of making the case that it's time for South Korea to become the first country in all of Asia to do just that.
Dr. Hwang Woo-yea served as South Korea's Deputy Prime Minister from 2014 to 2016.
During this same period, he also served as Seoul's Minister of Education, and built a strong working relationship with Israeli Prime Minister Benjamin Netanyahu.
PM Netanyahu meets with #SouthKorea's Deputy PM and Education Minister Hwang Woo-yea http://t.co/BN1zgHDXe0 pic.twitter.com/xAUExodfQB

— Israel Foreign Ministry (@IsraelMFA) April 30, 2015
A devout Evangelical Christian, Dr. Hwang is one of the founders of the Jerusalem Prayer Breakfast movement. He is also the chairman of the Korea-Israel Friendship Association (KIFA).
Dr. Hwang, who attended and spoke at the first JPB event seven years ago, spoke briefly on Wednesday with Speaker Amir Ohana and Israel's former Religious Affairs Minister Matan Kahana at the JPB's Knesset event.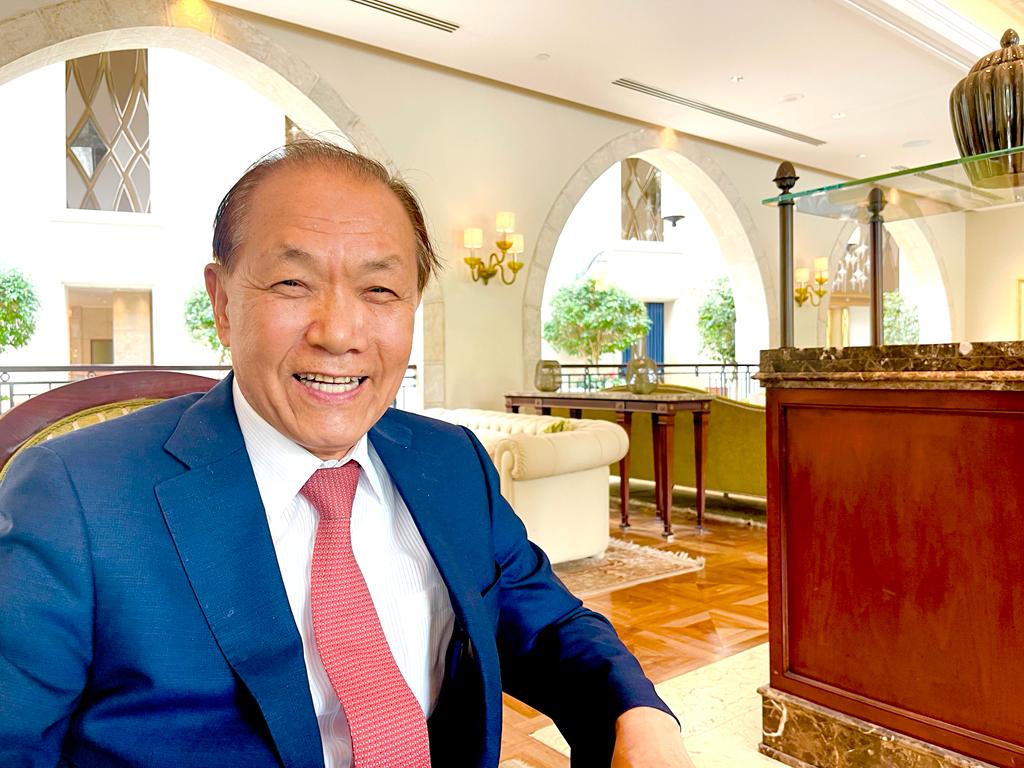 Dr. Hwang Woo-yea at the Jerusalem Prayer Breakfast, June 1, 2023 (credits: ALL ISRAEL NEWS staff)
He made four arguments for South Korea making this momentous move.
1. It's the right thing to do historically, given that Jerusalem has been Israel's capital for 3,000 years from the times of the Bible. 
2. It's the right thing to do politically and economically, because South Korea and Israel are friends and have had diplomatic relations since 1962 and recently completed a Free Trade Agreement. 
3. It's the right thing to do in terms of security, because recognizing the reality of Jerusalem as Israel's capital will help advance peace in the region.
4. It's the right thing to do morally, because Israel has been so helpful to the people and government of South Korea, dating back to when Israel helped Korea during the Korean War. 
He is absolutely right – I'm going to start praying that Seoul makes its move soon.
I hope you'll join me.
Here is a transcript of our conversation, lightly edited for clarity.
ROSENBERG: Dr. Hwang Woo-yea, thank you. It's an honor to sit with you here at the Jerusalem Prayer Breakfast. You were the deputy prime minister of South Korea. You are the head of KIFA, the Korean Israel Friendship Association. Do you think South Korea should move its embassy to Jerusalem and recognize Jerusalem as Israel's capital, and are you optimistic?
DR. HWANG WOO-YEA: Yes, for two reasons, from two points of view. I believe they are both correct.
One is a religious, biblical concept. From ancient times, Jerusalem is the capital of Israel, ever since it was a tribal nation. So, we have to respect that. Also, which city is a capital is determined by each own nation for itself, right? So, we should respect that.
And now the security and political view. Already, Israel asked for us to move our embassy to Jerusalem, which is very good for the peace of Jerusalem. We pray always for the peace of Jerusalem, and all countries gathered here, and I think it's a very significant symbol to support the peace of Jerusalem internationally. So, why not?
Korea has rejected that idea and rejected that request. But we should [do it]. So, I believe in this national prayer breakfast in Jerusalem. I determined it's the right way. So, I'll work on it. We will do our best. And if there are some problems, we can go and deal with them. We must respect the decision of Israel's government, the Israeli nation.
ROSENBERG: When you were deputy prime minister, your government that you were part of at a high level began working on a free trade agreement between South Korea and Israel in the spring of 2016. The FTA was eventually signed on May 13, 2021, and then took full effect on December 1, 2022. That was a big development, right? Would you talk about that?
DR. HWANG WOO-YEA: The two countries have their own strong points. As you know, Israel is very high tech and so many ideas [for starting new companies]. And we [in South Korea] have a lot of factories, so many facilities to produce those ideas into reality. So, we cooperate. It's wonderful. It's a very good combination of human beings working together for the world to produce the best products, good things for the people, that is cheap and good quality. We need more good ideas. We have good factories. So, it makes sense for us to do more together. 
ROSENBERG: There are so many Evangelical Christians in South Korea. So, of all the countries of Asia, it strikes me that South Korea would be the first one in all of Asia to recognize Jerusalem as the capital and move its embassy to Jerusalem. Is there a movement of prayer among South Korean Christians for this? Or, how do we encourage more Korean Christians to pray that the government would make this decision?
DR. HWANG WOO-YEA: Well, frankly speaking, none yet. Not yet.
We pray until now only for the peace of Jerusalem. Not practical steps [for the government to take]. But I'm trying to move that idea [of moving the embassy] to my colleagues in Korea, saying to all of them, "Why – why – don't you follow the Israelis' request?" Already, we're hearing Hungary is going to move their embassy. It's big.
ROSENBERG: Yes, we're hearing Hungary is announcing – or about to announce – it would seem. And I interviewed a Senator from Italy [who is attending the Jerusalem Prayer Breakfast]. He believes that the Italian government is going to make a decision soon. So we'll see.
One last thing, you mentioned to me a few minutes ago, before we started the interview, some of the things that Israel did over the years – quietly – that were real acts of friendship to South Korea. Would you just mention a few things that Israel has done over the years to show kindness and support to your country?
DR. HWANG WOO-YEA: Yes. The Israel government and the people of Israel nation has been helping us always. I know that they recognize Korea very, very early. It was one of the first countries to recognize the independence of Korea. And then in the Korean War, Israel helped us, too. More recently, for example, we now have direct flights for Korea to Israel. You know, we have four direct flights to Asia through Korea.
ROSENBERG: Well, I'm so honored to meet you. And I really want to see where God is going to take this relationship between South Korea and Israel. God bless you.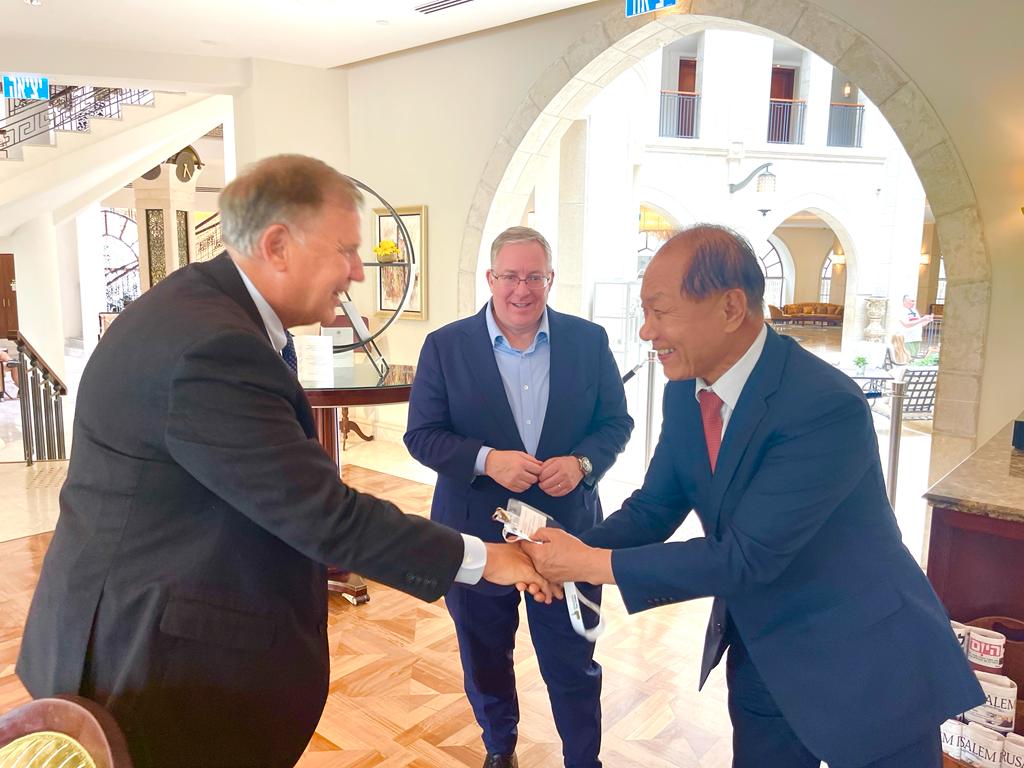 Dr. Hwang Woo-yea meeting with Rosenberg and Dr. Carl Moeller, executive director of The Joshua Fund, at the Jerusalem Prayer Breakfast, June 1, 2023 (credits: ALL ISRAEL NEWS staff)

Joel C. Rosenberg is the editor-in-chief of ALL ISRAEL NEWS and ALL ARAB NEWS and the President and CEO of Near East Media. A New York Times best-selling author, Middle East analyst, and Evangelical leader, he lives in Jerusalem with his wife and sons.
Popular Articles
A message from All Israel News
Help us educate Christians on a daily basis about what is happening in Israel & the Middle East and why it matters.
For as little as $5, you can support ALL ISRAEL NEWS, a non-profit media organization that is supported by readers like you.
Donate to ALL ISRAEL NEWS
Latest Stories
Comments