The Iron Dome has become Biden's billion-dollar test
Biden is taking fire from anti-Israel wing of Democratic party – will he shoot down attacks from "the Squad" or fold? Everyone's watching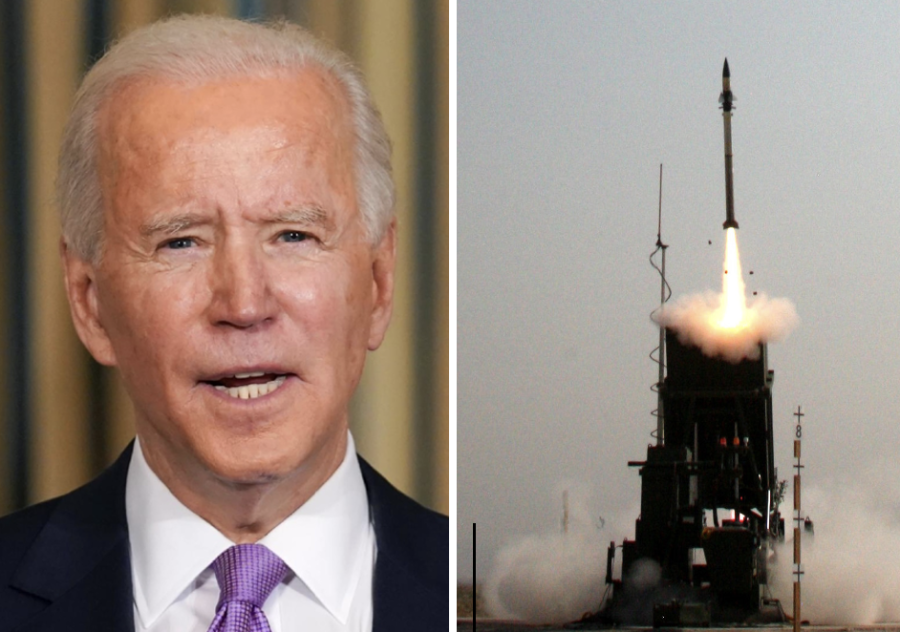 U.S. President Joe Biden (Photo: Shutterstock), test of the Iron Dome defensive system (Photo: Israeli Ministry of Defense Spokesperson's Office)
U.S. President Joe Biden is facing his biggest test yet with regards to whether he truly stands with Israel.
He's taking incoming fire from the anti-Israel forces within the Democratic party from members like Alexandria Ocasio-Cortez (AOC), Rashida Tlaib, Ilhan Omar and others known as "the Squad." They want to strip $1 billion in congressional funding for the Iron Dome – Israel's anti-rocket defense system – from the U.S. budget. They achieved an initial tactical success this week.
Now it appears that a separate vote on the Iron Dome system will come soon – and Biden must stand with the U.S.-Israel alliance by shooting down the anti-Israel forces from within his own party.
I have many criticisms of Biden over his policies towards Iran, Afghanistan, Saudi Arabia and Egypt, but so far Biden is still the most pro-Israel leader in the Democratic party.
As I point out in my new book, "Enemies and Allies," Biden considers himself a Zionist. This is a term he proudly uses in public. Biden sees himself as pro-Israel and so do his colleagues.
So this is his big test. A billion-dollar test. Will Biden keep his promise to Israeli Prime Minister Naftali Bennett that the U.S. will supply $1 billion in replenishing Iron Dome rocket interceptors to protect not just Israeli civilians, but Palestinian civilians during the next round of fighting between Israel and Gaza?
The Iron Dome has been spectacularly successful in protecting civilians against rockets fired from Gaza at Israeli civilians by Hamas, Islamic Jihad and other radical Islamist forces in the Strip.
Even my own life has been saved over the various years I had traveled to Israel and now that I live in Israel. I watched the Iron Dome shoot down rockets in the very area that I was standing while traveling near the Gaza Strip. So I'm deeply grateful to the U.S. Congress and preceding administrations for their funding of the Iron Dome system.
Biden, to his credit, was a huge proponent and supporter of U.S. funding for the Iron Dome system when he served as vice president and so was former President Barack Obama, for that matter. They both deserve recognition and credit even from people who are critical of their policies in many other areas, both in domestic and foreign policy.
But this is now Biden's test. He faces mounting aggressive anti-Israel sentiment from other Democrats in both the House and the Senate.
And now we're going to see whether Biden will stand firm with Israel and make it clear that the Iron Dome is a system that's purely for defensive purposes to protect innocent lives.
Will Biden make that case and will he make it effectively to members of Congress so that the Iron Dome funding can be passed?
I want to encourage pro-Israel Christians to be praying, especially for Biden and his team at this time, and as well for congressional leaders, that this funding is passed.
We may have disagreements with Biden in many areas, but this debate shows the importance of bipartisan support for Israel. We cannot allow our differences in other areas of policy to distract us from wanting Democrats on Capitol Hill and in the White House from supporting Israel strongly, especially regarding the issue of funding for the Iron Dome defense system.

Joel C. Rosenberg is the editor-in-chief of ALL ISRAEL NEWS and ALL ARAB NEWS and the President and CEO of Near East Media. A New York Times best-selling author, Middle East analyst, and Evangelical leader, he lives in Jerusalem with his wife and sons.
A message from All Israel News
Help us educate Christians on a daily basis about what is happening in Israel & the Middle East and why it matters.
For as little as $5, you can support ALL ISRAEL NEWS, a non-profit media organization that is supported by readers like you.
Donate to ALL ISRAEL NEWS
Current Top Stories
Comments