BENNETT'S BIG BREAKTHROUGH: Young Israeli prime minister deserves enormous credit for successfully passing Israel's first budget in 3 ½ years, and preventing collapse of the government
Foreign Minister Yair Lapid also merits great credit. So what does Opposition Leader Netanyahu do now?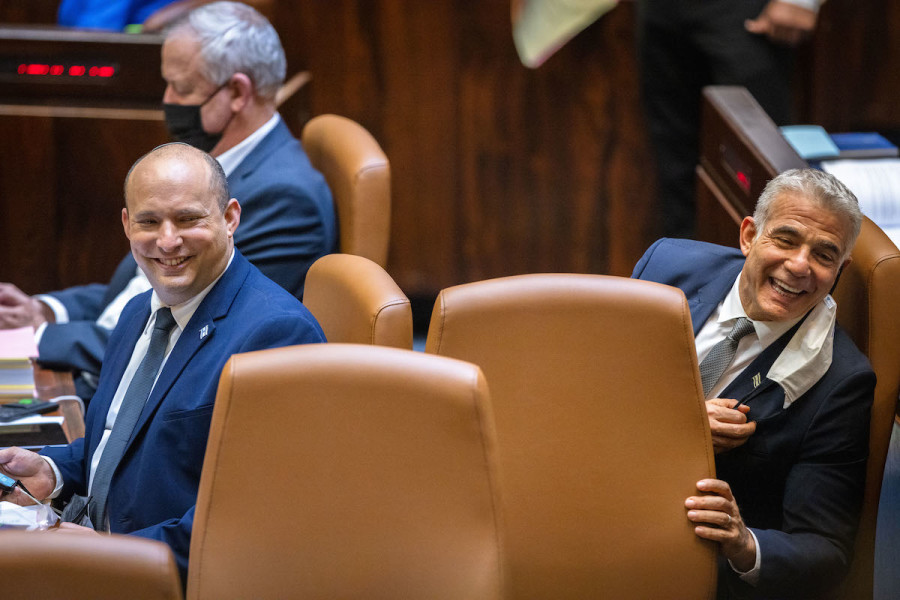 Israeli Prime Minister Naftali Bennett and Foreign Minister Yair Lapid during the vote on the state budget at the Knesset hall in Jerusalem, Nov. 3, 2021. (Photo: Olivier Fitoussi/Flash90)
JERUSALEM, ISRAEL – On June 13, when he was sworn in as Israel's young new prime minister, few political analysts held any hope that Naftali Bennett could hold this unprecedented, unconventional and razor-thin government coalition together for the next five months.
Much less pass a budget.
But today Israelis saw their 49-year-old first-time premier accomplish a near-impossible task.
Just after 5 a.m., after plowing through hundreds of proposed amendments, Bennett pulled off his first big breakthrough – holding his Knesset coalition together to finally pass the $194 billion budget for 2021 on a vote of 61 in favor to 59 against.
In the next 24 hours, the Knesset is also expected to successfully pass a $183 billion budget for 2022.  
The passage of the budget, Bennett declared, was "the most important moment since the government was formed."
Bennett's victory, however, was not his alone.
Yair Lapid, the foreign minister and alternate prime minister, played an indispensable role and merits great credit.
WHAT ARE THE IMPLICATIONS OF TODAY'S VOTES?
Together, the Bennett-Lapid team are accomplishing far more than their critics ever imagined.
Consider:
Today was the first time that Israeli lawmakers have passed any budget since March 15, 2018, some 3 ½ years ago.

Remarkably, working to help defeat hundreds of proposed amendments by the opposition, were members of the Joint List – a group of Israeli Arab parties – even though they do not support the Bennett-Lapid government and even though they voted against the final budget law.

The success of these votes means that the current Israeli government will not immediately collapse.

Thus, Israelis will not be forced to go to another round of snap elections. (If the budgets were not voted into law by the November 14 statutory deadline, the Knesset would have been automatically dissolved and a new round of elections would have been triggered.)
Though it is too early to draw any firm conclusions, today's victories suggest that this government may actually have the wherewithal to survive a full four years.
NIGHTMARE FOR NETANYAHU
This is a nightmare scenario for Opposition Leader Benjamin Netanyahu, who just turned 72 on October 21 and has been working against Bennett and Lapid night and day.
Together with his Likud party, his Orthodox and ultra-Orthodox political allies, Netanyahu has been doing everything he and his advisors can think of to divide and thus conquer the current government.
This is no secret -- Netanyahu has been nothing if not open about his objectives.
"If it's our destiny to be in the opposition, we'll do so with our heads high until we take down this bad government, and return to lead the country our way," Netanyahu declared on June 13 in his last Knesset address as prime minister.
"You will not silence me," Netanyahu warned at the time. "We shall continue to work together for our beloved country. I am with you to topple this bad, dangerous, left-wing government and God willing it will happen much sooner than you think."
But against all conventional wisdom, Bennett and Lapid have continued to successfully thwart Netanyahu's efforts for months, and yet again today.
What's more, Netanyahu accidentally voted for a clause in the budget during one procedure vote in the wee hours of the morning.
So, what does Netanyahu do now?
Does he want to stay in the Knesset, leading the opposition and continuing to try engineering ways to throw a monkey wrench in the Bennett-Lapid machinery?
Or will he decide to retire?
He could certainly make millions of dollars serving on corporate boards, writing books, speaking around the world and perhaps establishing a non-profit center to advance his policy goals and political philosophy, while also battling the criminal cases against him.
Stepping away from government would clear the way for the Likud party to choose a new leader and potentially persuade Bennett and his center-right allies to abandon Lapid, Ra'am and the left to create a new government with Likud.
Until now, Netanyahu has been determined to stay in the hunt to regain power.
Going forward, it's not yet clear.
BENNETT AND LAPID: A POLITICAL ODD COUPLE
Bennett and Lapid are not waiting for Netanyahu's next moves.
They are celebrating their victory.
"Today is a holiday for the State of Israel," Bennett tweeted after the first budget was passed. "After years of chaos we have formed a government, we overcame the delta [variant of the coronavirus], and now, God willing, we have transferred a budget to Israel! Continue forward with all your might!"
Likewise, Lapid tweeted: "After a long night, we passed the 2021 budget in the Knesset – another long day ahead of us. Another budget for next year. We have come to bring change!"
This is a political odd couple, to be sure.
Bennett is a right-wing, religious, bald, businessman-turned-politician.
His most trusted ally, Lapid, is a center-left, secular, TV personality-turned-politician with the impressive gray mane.
Yet they have not only built a friendship and operational political alliance.
They have also maintained strict and impressive discipline within their ideologically and ethnically diverse coalition of eight political parties, including the Arab Islamist party known as Ra'am, led by Mansour Abbas.
Meanwhile, this unlikely duo has been making progress in other important areas: 
Battling the COVID virus, driving down the number of serious cases, reopening schools and the economy, and beginning to reopen Israel to foreign tourists.

Strengthening and deepening the Abraham Accords with the United Arab Emirates, Bahrain and Morocco, while carefully trying to maintain relations with Sudan despite a political coup in Khartoum.

Beginning to build warm ties with U.S. President Joe Biden, partly to persuade him to abandon efforts to reopen a fruitless round of diplomacy with Tehran and pursue a far tougher strategy to neutralize and contain the Iranian nuclear and terrorist threats.

Working with both Democrats and Republicans in Congress to improve and strengthen bipartisan relations in Washington, which lead to a huge bipartisan vote in September to pass $1 billion in new funding for the Iron Dome anti-rocket system

Beginning to build a working relationship with Russian President Vladmir Putin that neither Bennett nor Lapid previously had.

Beginning working relations with European leaders that, again, neither Bennett nor Lapid had until now.
COULD NETANYAHU STILL COME BACK TO POWER?
To be clear, ALL ISRAEL NEWS is a non-partisan news organization.
We don't endorse politicians or political parties or advocate for their elections.
Nor do we engage in lobbying activities or urge people to vote for or against specific pieces of legislation.
Rather, we provide fair, balanced and trustworthy news coverage.
And analysis.
If a political leader is doing a good job, we're not afraid to say so, even if we don't agree with all – or any – of their views.
Likewise, if a political leader says something stupid or ridiculous, we're not afraid to say so, even if we agree with their values and policies.
So, don't take this column as an endorsement of Bennett and Lapid, or as criticism of Netanyahu.
I'm just saying Bennett and Lapid have had a very successful day, and a very successful five months.
Netanyahu has not.
Can Bibi find a way to flip the script and regain power?
Perhaps.
I've always described Netanyahu as a shrewd political cat – don't count him out.
But so far, he remains in the opposition and is likely to remain so for the next few years.

Joel C. Rosenberg is the editor-in-chief of ALL ISRAEL NEWS and ALL ARAB NEWS and the President and CEO of Near East Media. A New York Times best-selling author, Middle East analyst, and Evangelical leader, he lives in Jerusalem with his wife and sons.
A message from All Israel News
Help us educate Christians on a daily basis about what is happening in Israel & the Middle East and why it matters.
For as little as $5, you can support ALL ISRAEL NEWS, a non-profit media organization that is supported by readers like you.
Donate to ALL ISRAEL NEWS
Current Top Stories
Comments