With Iran threat rising, Israeli Foreign Minister Yair Lapid is absolutely right to try to shore up Democratic Party support for Israel
Here's why Evangelical Christians should be quietly applauding his efforts and actively praying for his success
Israeli Foreign Minister Yair Lapid meets with U.S. officials in Washington, Oct, 12, 2021 (Photo: Shlomi Amsalem/GPO)
JERUSALEM—On the face of it, Israeli Foreign Minister Yair Lapid is in Washington this week for two reasons.
First, he is trying to persuade the Biden administration to get much tougher on the Iranian regime and not to re-enter a weak and ineffectual nuclear deal with Tehran. 
Second, Lapid is trying to encourage the Biden team to more fully and warmly embrace the Abraham Accords publicly, which the White House and State Department have been slow to do all year until now.
Both are high-stakes and critically important objectives for Israel.
But the foreign minister has a third mission, as well – he is determined to shore up Democratic Party support for Israel and to bolster a new era of bipartisanship in Washington regarding Israel.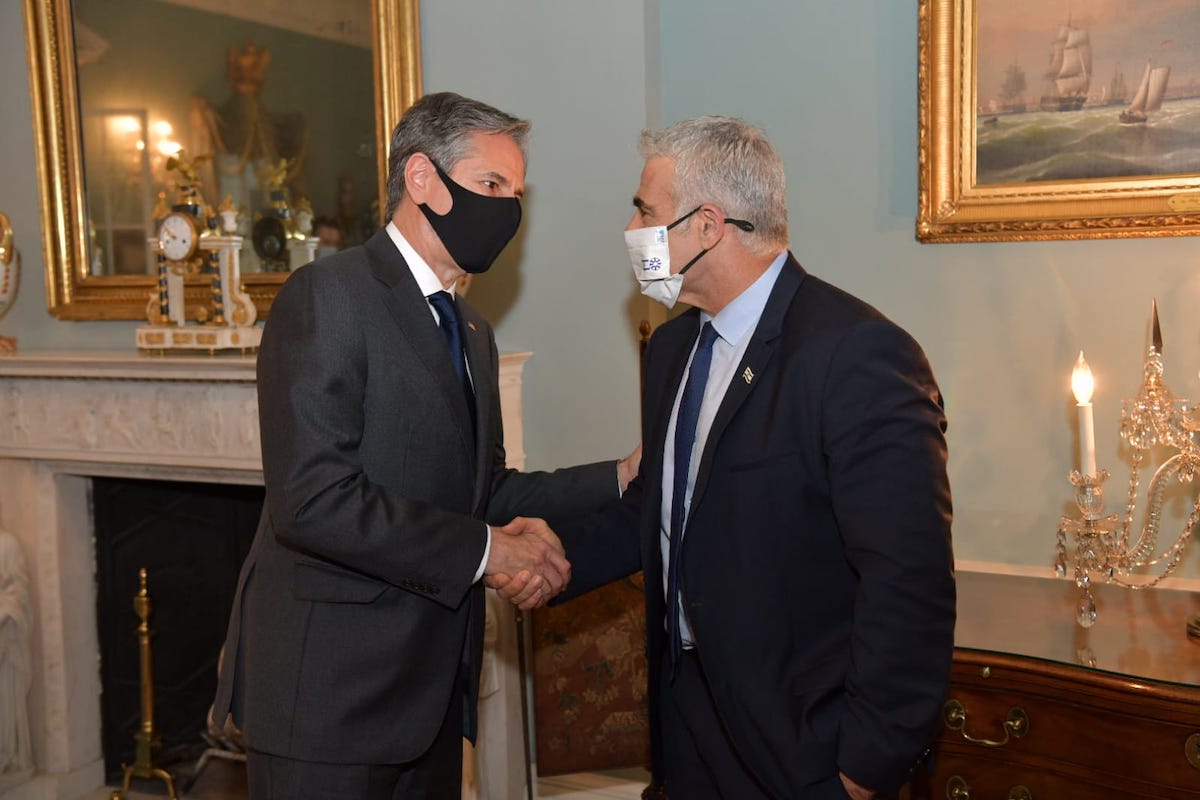 U.S. Secretary of State Antony Blinken and Israeli Foreign Minister Yair Lapid, Oct. 13, 2021. (Photo: Shlomi Amsalem/GPO)
WHY IT MATTERS
While nearly 80% of American Evangelical Christians voted for Donald Trump in the last two elections – and most are strongly opposed to the leadership and domestic policies of the Democratic party – pro-Israel Evangelicals should actually be quietly applauding Lapid's efforts and actively praying for the foreign minister to succeed.
Why?
Because Israel needs the robust support of both political parties in Washington – not just one.
And because the threats to Israel from the missiles and nuclear program of the apocalyptic Iranian regime, and the Iranian-funded missiles and terrorist proxy forces of Hamas and Hezbollah, are so serious that Israel would be hard-pressed to fully finance its own defenses without significant U.S. assistance. 
Because – to be blunt – it would be extremely dangerous to the safety and security and prosperity of Israel if Democrats ever turned en masse against Israel.
Just last month, for example, anti-Israel Democrats in Congress were able to briefly block $1 billion in new U.S. funding to replenish the IDF's supply of Iron Dome rocket interceptors after so many were used up during the intense rocket war with terrorists in Gaza in May.
For several days, Evangelical leaders that I spoke with in the U.S. worried that the funding might not pass and that innocent Israeli civilians – both Jews and Arabs – would be exposed in the next round of attacks from Gaza.
In the end, and to their credit, President Joe Biden and pro-Israel Democrats on Capitol Hill rallied together and joined forces with Republicans to approve the funding for Iron Dome.
This was a severe blow to members of "The Squad" – Rep. Alexandria Ocasio-Cortez, Rep. Ilhan Omar, Rep. Rashida Tlaib – as well as Sen. Bernie Sanders and other key Democrats who routinely speak against, denounce and disparage Israel, and vote against measures to safeguard the sovereignty and security of the Jewish state.
It was also a testament to the importance of fostering strong and enduring bipartisan support for Israel in a town where the two major political parties are bitterly divided on almost everything else.
WHAT IS DRIVING LAPID?
Lapid is ideally suited for the job of shoring up Democratic support for Israel.
At 57, the telegenic and personable former TV broadcaster hails from the center-left of the Israeli political spectrum.
He thinks like a moderate Democrat, and understands the motivations and values of American liberals and even far-left progressives.
Indeed, Lapid – founder and head of the Yesh Atid (There Is A Future) party – has long engaged Democratic consultants from the U.S. to advise him.
That's why Lapid is so concerned that the younger generation within the Democratic Party is moving away from Israel – because he has seen it firsthand.
From multiple meetings with Lapid and getting to know him and his team over the years, I can tell you from personal experience that Lapid believes that Israel's relations with Democrats were badly neglected – even severely strained – during the Netanyahu era.
To be sure, President Barack Obama took numerous positions that were hostile towards Israel. 
For example, Obama tried to force Israel to agree to divide Jerusalem with the Palestinians and pull back to the 1967 lines.

Obama negotiated the Joint Comprehensive Plan of Action (JCPOA) with Iran which most Israelis felt severely threatened their national security.

Obama also had an openly contentious and combative personal relationship with then-Prime Minister Benjamin Netanyahu, all of which I describe in my new book, "Enemies and Allies."
Lapid acknowledges that Obama was not perceived by Israelis as friendly, and that Donald Trump – by sharp contrast – was embraced by Israelis as arguably the most pro-Israel American President in history.
Still, he believes that Netanyahu's bear hug of Trump and Republicans – and his unwillingness to carefully cultivate and nurture relations with Democrats – significantly damaged Israel.
Now in a position of immense influence, Lapid is on mission to undo the damage. 
And Israeli sources tell me Lapid has the full support of right-wing Prime Minister Naftali Bennett.
Bennett, once a close ally of Netanyahu, sees the strategic necessity of stronger ties with President Biden, congressional Democrats, and rank-and-file Democrats at the grassroots. 
WHAT DOES LAPID'S SCHEDULE IN WASHINGTON TELL US?
Lapid's schedule this week reveals his priorities.
He met with Vice President Kamala Harris at the White House, and National Security Advisor Jake Sullivan.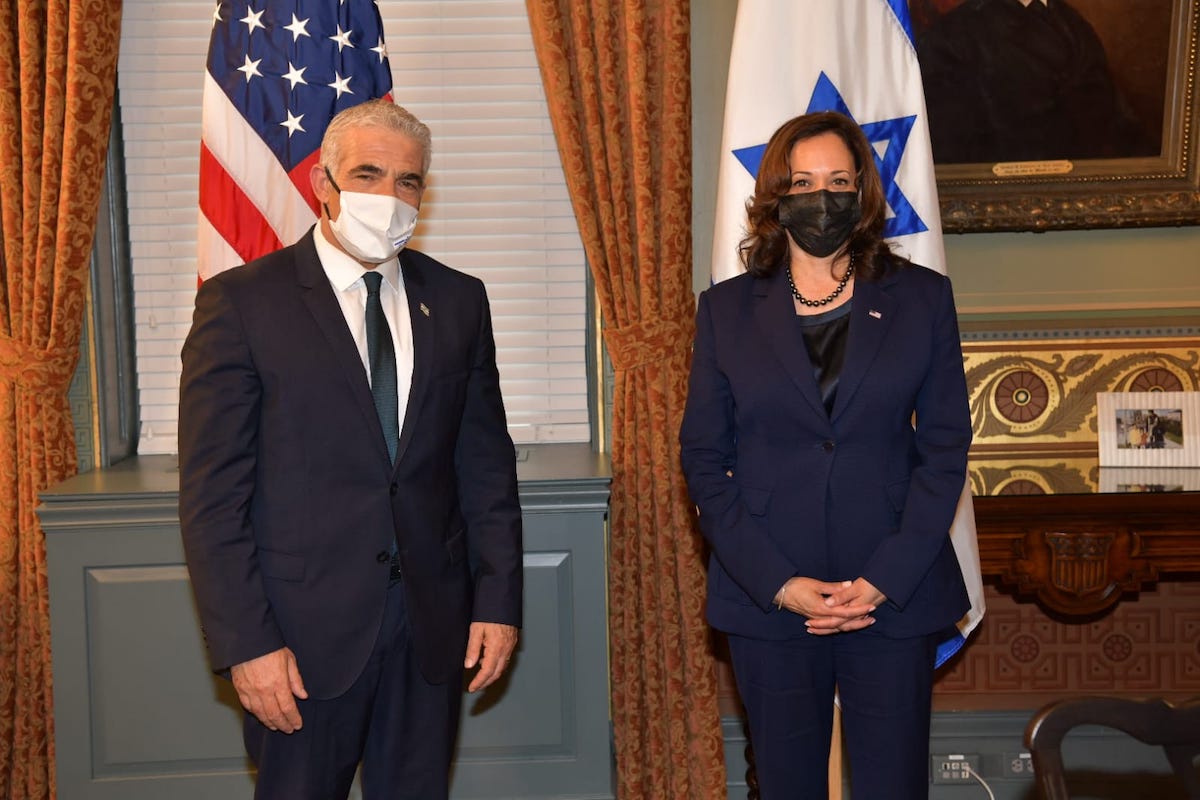 Israeli Foreign Minister Yair Lapid with U.S. Vice President Kamala Harris (Photo: Shlomi Amsalem/GPO)
He met with Speaker of the House Nancy Pelosi and a group of top congressional Democrats and Republicans on Capitol Hill.
He also met with members of "Democratic Majority For Israel," a grassroots group run by Democratic political strategist and pollster Mark Mellman, a long-time friend and consultant to Lapid.  
Yesterday, Lapid held a trilateral summit with U.S. Secretary of State Tony Blinken and United Arab Emirates Foreign Minister Abdullah bin Zayed Al Nahyan (ABZ) to discuss how to counter the Iran threat and how best to strengthen, deepen and expand the Abraham Accords.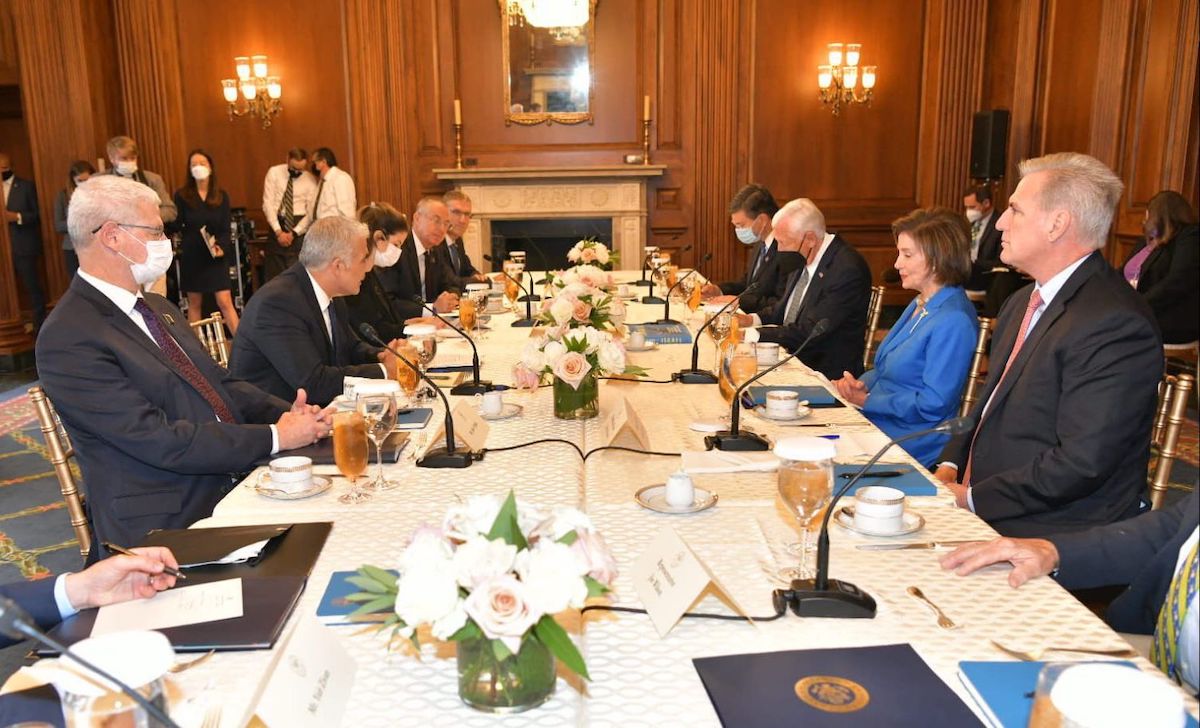 Israeli Foreign Minister Yair Lapid meets with U.S. Speaker of the House Nancy Pelosi, Oct. 13, 2021. (Photo: Shlomi Amsalem/GPO)
WHAT DO LAPID'S TWEETS FROM WASHINGTON TELL US?
Lapid's social media account also reveals his priorities.
Consider just a few of his tweets in recent days.
"At the center of my visit here is the concern about Iran's race to a nuclear capability, Iran is becoming a nuclear threshold country. Every day that passes, every delay in the negotiations, brings Iran closer to a nuclear bomb."


"I'm happy to be here with @VP, one of Israel's best friends in Washington. A leader who always stands with us in all the important struggles and who we can always count on in difficult moments."


"Thank you @VP. The relationship between our two countries is unbreakable and we will keep working together to strengthen and deepen it even more. I look forward to our next meeting."


"Thank you @SpeakerPelosi for your leadership and commitment to strengthening the US-Israel alliance."


"Thank you @DemMaj4Israel for your tireless work to broaden support for Israel and the US-Israel alliance on the basis of our shared values and mutual interests. Israel is grateful for the support of all its friends in both parties."

Bottom line: Evangelical Christians should be happy that Lapid is making such an aggressive and systematic effort to strengthen support for Israel among Democrats, and we should be praying that over the long term he succeeds. 
Israeli Foreign Minister Yair Lapid and U.S. Speaker of the House Nancy Pelosi, Oct. 13, 2021. (Photo: Shlomi Amsalem/GPO)

Joel C. Rosenberg is the editor-in-chief of ALL ISRAEL NEWS and ALL ARAB NEWS and the President and CEO of Near East Media. A New York Times best-selling author, Middle East analyst, and Evangelical leader, he lives in Jerusalem with his wife and sons.
Popular Articles
A message from All Israel News
Help us educate Christians on a daily basis about what is happening in Israel & the Middle East and why it matters.
For as little as $5, you can support ALL ISRAEL NEWS, a non-profit media organization that is supported by readers like you.
Donate to ALL ISRAEL NEWS
Latest Stories
Comments