Vast majority of US Evangelicals say Congress should focus on COVID, not impeachment – yet 36% say Trump should be impeached – new poll finds
Trump's own pollster finds that 42% of US Evangelicals now "disapprove" of Trump – also finds 81% of Evangelicals fear Big Tech censorship
Prayer for the U.S. President Donald Trump before he make a speech to evangelical supporters in Miami, Florida, U.S., Jan. 3, 2020. (REUTERS/Eva Marie Uzcategui)
As the world's biggest and oldest democracy – Israel's most important strategic ally – transitions from one president to another this week, many Israelis are hoping and praying it will be peaceful and orderly process.
American Evangelical Christians are hoping and praying for the same thing.
Yet on the eve of the inauguration of Joe Biden and Kamala Harris – and amidst President Donald Trump's final hours in office – ALL ISRAEL NEWS can report the results of an intriguing new poll revealing that Evangelicals are deeply concerned about the highly partisan and destructive political climate in the capital and the country. 
Evangelicals strongly disapprove of the performance of Congress. 
Most believe Congress should focus on fighting the COVID-19 pandemic and strengthening the U.S. economy, not wasting time and money on pursuing the impeachment of Trump.
That said, the survey also revealed that more than 1-in-3 of Evangelicals – 36% –  believe the House of Representatives was right to impeach Trump.
What's more, fully 42% of Evangelicals said they disapprove of Trump's performance in office, very likely based on the events of the last few weeks.
The vast majority of Evangelicals are worried about the dangerous moves that Big Tech companies are taking to restrict individual liberty and freedom of speech.
Fierce supporters of Trump may be quick to dismiss these results.
But the poll was actually conducted by John McLaughlin, one of the founders and senior partners of McLaughlin & Associates, a highly respected U.S. polling firm. McLaughlin is a pollster and senior political advisor to President Trump and other Republican leaders in the U.S., as well as to foreign clients such as Israeli Prime Minister Benjamin Netanyahu. 
ALL ISRAEL NEWS has commissioned polling from McLaughlin in the past, but did not pay for this survey. 
Last week, the Washington Examiner was the first to publish some of the results of the new poll.
This week, ALL ISRAEL NEWS is the first to publish some of what are known in the industry as "cross-tabs" – in this case the data specifically showing how self-identified "born again" Evangelical Christians responded to the survey questions.
Let's take a deeper dive into the numbers.
PEACEFUL TRANSITION
85% of Evangelicals say it is important that President Trump lead an orderly and peaceful transition to Joe Biden; 63% believe it is very important; and only 15% said they do not think it is important.   
IMPEACHMENT OR COVID-19?
64% of Evangelicals believe that Congress's move to impeach President Trump is a waste of time and money.

Significantly, however, more than 1-in-3 Evangelicals (36%) agree that Congress should impeach Trump.

That said, fully 84% of Evangelicals believe that Congress should make its priority dealing with the COVID-19 pandemic, while only 17% of Evangelicals say they prefer Congress to focus on impeaching Trump. 

80% of Evangelicals agree that efforts by House Speaker Nancy Pelosi and the Democrats to try to impeach the president after Biden is sworn in would be politically motivated and aimed at preventing the president from running again, stripping his Secret Service protection and preventing him from having a presidential library. Only 21% disagree. 

72% of Evangelicals agree that by continuing to attack President Trump, Democratic leaders like Biden and Pelosi are making the situation worse and keeping the country divided. Only 28% disagree.

56% of Evangelicals say they are less likely to vote for a member of Congress who votes to impeach the president. But 31% are more likely. 
BIG TECH THREAT
Fully 81% of Evangelicals agree that if Twitter, Facebook, Google and other "Big-Tech" companies can censor and take away the president's right to free speech that they can take away the right to free speech for any American. Only 19% disagree. 

77% of Evangelical voters agree that Big-Tech companies like Twitter, Facebook, Amazon, Google and Apple have too much power and need to be regulated to protect the freedoms and privacy of Americans. Only 23% disagree.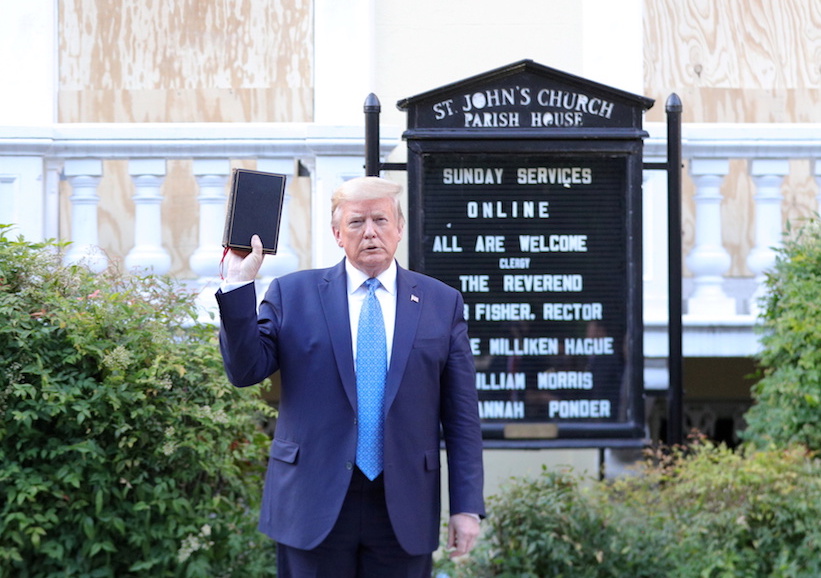 U.S. President Donald Trump holds up a Bible as he stands in front of St. John's Episcopal Church across from the White House after walking there for a photo opportunity during ongoing protests over racial inequality in the wake of the death of George Floyd while in Minneapolis police custody, at the White House in Washington, U.S., June 1, 2020. (Photo: REUTERS/Tom Brenner)
APPROVAL RATINGS
President Trump is leaving office with a 58% job approval rating among Evangelicals in the battleground states.

Noteworthy: 42% of Evangelicals say they disapprove of Trump's performance. Given the overwhelming support of Trump by Evangelicals at the polls in November, this is very likely due to Trump's performance in the last few weeks.

Speaker Pelosi has a 65% unfavorable rating among Evangelicals, while only 28% give her a favorable rating: 33% to 59%. 

Senate Majority Leader Chuck Schumer has a 56% unfavorable rating among Evangelicals, while only 21% give him a favorable rating.

Overall, Congress receives an extremely negative job rating – only 33% of Evangelicals approve the job that Congress is doing, while 67% disapprove. 
In a statement to ALL ISRAEL NEWS, McLaughlin & Associates noted that they "conducted this survey among 800 voters in the recent campaign's 17 battleground states on Jan. 10 and 11, 2021. All interviews were conducted online among adults who identified as registered voters who voted in the November 2020 election. 
"The interview distribution was structured to correlate with the electoral college vote by state (Arizona, Colorado, Florida, Georgia, Iowa, Maine, Michigan, Minnesota, Nevada, New Hampshire, New Mexico, North Carolina, Ohio, Pennsylvania, Texas, Virginia and Wisconsin). 
"The survey sample reflects the demographics of the November 2020 election. The accuracy of the 800-voter sample is +/-3.4% at a 95% confidence interval."

Joel C. Rosenberg is the editor-in-chief of ALL ISRAEL NEWS and ALL ARAB NEWS and the President and CEO of Near East Media. A New York Times best-selling author, Middle East analyst, and Evangelical leader, he lives in Jerusalem with his wife and sons.
Popular Articles
A message from All Israel News
Help us educate Christians on a daily basis about what is happening in Israel & the Middle East and why it matters.
For as little as $5, you can support ALL ISRAEL NEWS, a non-profit media organization that is supported by readers like you.
Donate to ALL ISRAEL NEWS
Latest Stories